An Incisive, In-depth Analysis on the Security And Vulnerability Management Market
This study offers a comprehensive, 360 degree analysis on the Security And Vulnerability Management market, bringing to fore insights that can help stakeholders identify the opportunities as well as challenges. It tracks the global Security And Vulnerability Management market across key regions, and offers in-depth commentary and accurate quantitative insights. The study also includes incisive competitive landscape analysis, and provides key recommendations to market players on winning imperatives and successful strategies.
Key Insights – Global Security and Vulnerability Management Market
Security and Vulnerability Management Market Vendors Focusing on Driving Sales through SMEs
Although small and medium enterprises (SMEs) have greatly benefited from the digital revolution, this paradigm shift has also made them increasingly vulnerable to cyber-attacks. Considering the SMEs possess significant digital assets and information, their security and vulnerability management frameworks do not match to that of large enterprises, often translating in SMEs going out of business. Moreover, SMEs being governed by the same set of regulations as the large enterprises, sans the resource and budget puts them in a tough spot. The SMESEC consortium developed a cost-effective cybersecurity framework for the SMEs to help them identify security treats and implement secure and innovative management strategies to protect their businesses. SMEs, specifically in developing economies are steadily adopting security and vulnerability management solutions, considering its significant impact on their operational costs.
Collaborating with Cloud Service Providers Would Boost Security and Vulnerability Management Market Prospects
Owing to the growing dynamic business requirement, cloud-computing is known to offer flexible, cost-effective, and proven delivery platform to business, in turn increasing their service delivery efficiency and keeping networks, systems and data secure—thereby, ensuring security and vulnerability management. With enterprises moving from on-premise storage to cloud-based storage such as Software as a Service (SaaS), Platform as a Service (PaaS), and Security and Data Protection as a Service (SDPaaS) will translate into more secure business perimeters by classifying vulnerabilities, limiting potential threats, improving compliance to regulations such as HIPPA and GDPR. Moreover, large enterprises are looking to integrate public and private clouds into hybrid clouds to meet security and vulnerability management requirements, technological needs, and optimize security and privacy with minimum investment. Netflix, the movie streaming giant turned to the cloud to improve its scalability owing to increasing consumer demand for more streaming and also protect the vast ocean of consumer data it collects during registrations. Apple too, switched to cloud computing to manage the release of its Siri. Cloud computing is projected to dramatically boost security levels, presenting opportunities to security and vulnerability management vendors.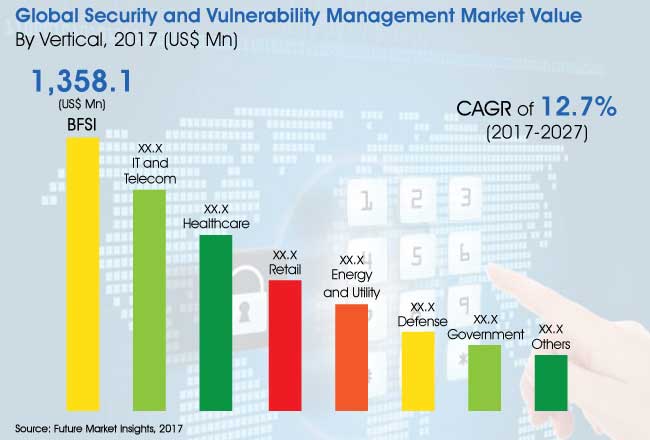 High Emphasis on New Product Development and Innovation in Security and Vulnerability Management Market
In order to keep up with the ever-evolving technological landscape, vendors offering security and vulnerability management solutions and services are reaching out to customers' business requirements through new and improved products. For instance, in 2017, Qualys Inc introduced 'Security Configuration Assessment' as an add-on in the vulnerability management suite, offering customers cloud-based tools to automate the configuration assessment of IT assets. In the same year, Micro Focus, another key player in the security and vulnerability management market launched 'Selenium', designed to reduce development costs and test executive time, thereby enabling enterprises to deploy efficient delivery cycles.
Stringency of Data Protection Laws Supplementing to Demand for Security and Vulnerability Management Software and Services
Demand for software and solutions for efficient security and vulnerability management is being driven by various government regulations, put in place for protecting personal information of individuals. For instance, EU's General Data Protection Regulation (GDPR) that came into effect on May 25, 2018 has shifted the power balance towards consumers, overhauling how businesses process and handle data. Failing to comply to such a regulation could cost companies 4% of their annual turnover or € 20 Mn. Considering the stringency, companies- big or small, are opting for efficient security and vulnerability management software and services to asses threats and protect data, thereby creating further demand for security and vulnerability management products.
Competitive Landscape – Global Security and Vulnerability Management Market
The global market for security and vulnerability management is projected to remain fairly fragmented with organized and unorganized players holding more than 64 percent of the total market share. As per Future Market Insight's in-depth analysis of the global security and vulnerability management market, strategic collaborations, partnerships, and acquisitions will be the most sought-after expansion strategies adopted by key players in the global security and vulnerability management market. For instance, in 2017, IBM Corporation collaborated with Cisco Systems to integrate Cisco's security solutions with IBM's QRadar, in order to provide threat intelligence research and coordination on major cyber security incidents. In the same year, Micro Focus completed the acquisition of Hewlett Packard Enterprise's software business segment, to solve complex technology problems in domains including hybrid IT, security and risk management, and predictive analytics. Rapid7's partnership with Coalfire would combine the power of Rapid7's vulnerability management solutions and Coalfire's platform.
For more insights on the competition landscape in the global security and vulnerability management market, speak to the expert analysts of Future Market Insights
The research study that our analysts have presented uncovers each and every aspect of the global security and vulnerability management market with the help of a robust research platform. It reveals several macroeconomic factors, SWOT analysis, regulatory aspects, and other aspects that govern the dynamics of the market influencing its growth. These traits help in devising an accurate marketing strategy or entry tactic, simultaneously dealing with the unforeseen events present within the market scenario.
Market Segmentation
By Vertical

By Component

By Enterprise Type

By Region

IT and Telecom

Retail

Government

BFSI

Healthcare

Utility

Defence

Others

Small Enterprises

Medium Enterprises

Large Enterprises

North America

Latin America

Eastern Europe

Western Europe

APEJ

Japan

MEA
We have adopted a strong research methodology to collect and analyse critical market data
A unique research methodology is applied to gather the necessary market data. Secondary research followed by primary research and key opinions from domain experts, market observers and other external sources is carried out. Extensive secondary research is initiated covering all the angles of the global security and vulnerability management market following which a primary research is carried out to deep dive even further. Simultaneously, market observers and domain experts that have a completely unbiased opinion about the market are consulted either via face to face interviews or via telephonic interviews, and key aspects and data points are gathered, which are re-examined in the next set of primary interviews. This implies that each key aspect or statistic or number is cross checked, re-verified, evaluated, analysed and validated over the course of the entire research. As every conversation gives a more or less different view, the statistics and data undergo a triangulation process to arrive at the final market numbers. This data point reflects maximum accuracy that fuels the credibility of the information shared in the security and vulnerability management market report.
This research report on the global security and vulnerability management market includes a dedicated section that covers the competitive landscape of the global market. This includes information on the key players dealing with security and vulnerability management. The competitive analysis on these key players reflects a detailed knowhow on their current scenario, their geographical spread, their expansion plans, the new strategies they have come up with, new developments in their products as well as innovation to enhance their product portfolio, mergers and acquisitions as an expansion strategy, marketing strategies, market share, revenue, company strength, strategic alliances, etc. This can give the reader a broad idea of the happening events in the market initiated by these players, with the help of which new plans or tactics can be developed and implemented.
Research report highlights
Unbiased, holistic view of the market covering major regions and sub regions of North America, Latin America, Western Europe, Eastern Europe, Asia Pacific excluding Japan (APEJ), Japan, and Middle East and Africa (MEA)

Detailed segmental analysis giving justice to the reader's investment

Trends, developments, restraints, drivers, challenges, opportunities etc., mentioned in the report uncovering all angles of the market

In-depth analysis with actionable intelligence that can serve the reader's purpose by assisting him/her in planning and executing growth and expansion strategies

Unmatched accuracy owing to a one-of-its-kind research approach

Competitive scenario explaining the present market conditions and how key players are making moves along those dynamics

Accurate market forecasts 10 years down the line based on past and present market assessments

Recommendations based on the analysis covered by the research experts
COVID -19 : Impact Analysis
Request the coronavirus impact analysis across industries and markets
Request Covid -19 Impact
CASE STUDIES
See how our work makes an impact.
At FMI, we design strategies that are adaptive, impactful, and implementable.