Key Insights – Global Security and Vulnerability Management Market
Security and Vulnerability Management Market Vendors Focusing on Driving Sales through SMEs
Although small and medium enterprises (SMEs) have greatly benefited from the digital revolution, this paradigm shift has also made them increasingly vulnerable to cyber-attacks. Considering the SMEs possess significant digital assets and information, their security and vulnerability management frameworks do not match to that of large enterprises, often translating in SMEs going out of business. Moreover, SMEs being governed by the same set of regulations as the large enterprises, sans the resource and budget puts them in a tough spot.
The SMESEC consortium developed a cost-effective cybersecurity framework for the SMEs to help them identify security treats and implement secure and innovative management strategies to protect their businesses. SMEs, specifically in developing economies are steadily adopting security and vulnerability management solutions, considering its significant impact on their operational costs.
Collaborating with Cloud Service Providers Would Boost Security and Vulnerability Management Market Prospects
Owing to the growing dynamic business requirement, cloud-computing is known to offer flexible, cost-effective, and proven delivery platform to business, in turn increasing their service delivery efficiency and keeping networks, systems and data secure—thereby, ensuring security and vulnerability management. With enterprises moving from on-premise storage to cloud-based storage such as Software as a Service (SaaS), Platform as a Service (PaaS), and Security and Data Protection as a Service (SDPaaS) will translate into more secure business perimeters by classifying vulnerabilities, limiting potential threats, improving compliance to regulations such as HIPPA and GDPR.
Moreover, large enterprises are looking to integrate public and private clouds into hybrid clouds to meet security and vulnerability management requirements, technological needs, and optimize security and privacy with minimum investment. Netflix, the movie streaming giant turned to the cloud to improve its scalability owing to increasing consumer demand for more streaming and also protect the vast ocean of consumer data it collects during registrations. Apple too, switched to cloud computing to manage the release of its Siri. Cloud computing is projected to dramatically boost security levels, presenting opportunities to security and vulnerability management vendors.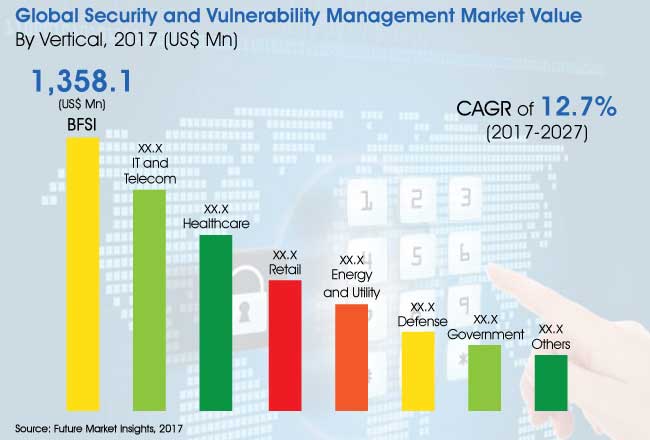 High Emphasis on New Product Development and Innovation in Security and Vulnerability Management Market
In order to keep up with the ever-evolving technological landscape, vendors offering security and vulnerability management solutions and services are reaching out to customers' business requirements through new and improved products. For instance, in 2017, Qualys Inc introduced 'Security Configuration Assessment' as an add-on in the vulnerability management suite, offering customers cloud-based tools to automate the configuration assessment of IT assets. In the same year, Micro Focus, another key player in the security and vulnerability management market launched 'Selenium', designed to reduce development costs and test executive time, thereby enabling enterprises to deploy efficient delivery cycles.
Stringency of Data Protection Laws Supplementing to Demand for Security and Vulnerability Management Software and Services
Demand for software and solutions for efficient security and vulnerability management is being driven by various government regulations, put in place for protecting personal information of individuals. For instance, EU's General Data Protection Regulation (GDPR) that came into effect on May 25, 2018 has shifted the power balance towards consumers, overhauling how businesses process and handle data. Failing to comply to such a regulation could cost companies 4% of their annual turnover or € 20 Mn. Considering the stringency, companies- big or small, are opting for efficient security and vulnerability management software and services to asses threats and protect data, thereby creating further demand for security and vulnerability management products.
Competitive Landscape – Global Security and Vulnerability Management Market
The global market for security and vulnerability management is projected to remain fairly fragmented with organized and unorganized players holding more than 64 percent of the total market share. As per Future Market Insight's in-depth analysis of the global security and vulnerability management market, strategic collaborations, partnerships, and acquisitions will be the most sought-after expansion strategies adopted by key players in the global security and vulnerability management market. For instance, in 2017, IBM Corporation collaborated with Cisco Systems to integrate Cisco's security solutions with IBM's QRadar, in order to provide threat intelligence research and coordination on major cyber security incidents.
In the same year, Micro Focus completed the acquisition of Hewlett Packard Enterprise's software business segment, to solve complex technology problems in domains including hybrid IT, security and risk management, and predictive analytics. Rapid7's partnership with Coalfire would combine the power of Rapid7's vulnerability management solutions and Coalfire's platform.
For more insights on the competition landscape in the global security and vulnerability management market, speak to the expert analysts of Future Market Insights
Market Segmentation
By Vertical
IT and Telecom
Retail
Government
BFSI
Healthcare
Utility
Defence
Others
By Component
By Enterprise Type
Small Enterprises
Medium Enterprises
Large Enterprises
By Region
North America
Latin America
Eastern Europe
Western Europe
APEJ
Japan
MEA
Need specific information?
Talk Show:
The Rise of Intelligent Packaging
Personalized, Connected and Sustainable
November 18, 2021
11:00-11:45 AM PST (USA & Canada)
This is a LIVE session