Security Labels Market Outlook & Key Findings
Security labels market is projected to surpass US$ 45 Bn by 2030, with barcode security labels at the growth forefront
Demand from food & beverage industry to go forth, indicating a growth of 1.9x through 2030
Security labels market is projected to expand at CAGR of 3.8% during the forecast period
North America and East Asia together to dominate the market with value share of 60% by 2030
Capabilities such as theft reduction, tamper-proofing, and visual identification of assets promise higher uptake of security labels
Soaring Diagnostics Keep Demand for Security Labels Buoyant
Amidst the COVID-19 pandemic and prior to it as well, diagnostics and clinical trials in laboratories have been fueling the adoption of security labels. A strict protocol to ensure sample integrity against heat, cold, and exposure to other elements has created an escalating demand for state-of-art security labels.
In recent years, development of autoclave labels that can withstand harshest environments has definitely boosted vendor confidence. In addition, development of inks for accurate branding and labelling with symbols to indicate level of hazard have generated a demand for specific security labels in labs.
In addition to diagnostics, demand for security labels is also seen in research and development of a wide range of chemical-based activities. They are for easy and quick identification to ensure proper storage, usage, and transportation. Investments in research and development as product innovation across sectors remains vital in a competitive market will result in a high uptake of security labels during the forecast period.
The demand for security labels is also being driven by the growing need to reduce counterfeit products in the market. Influx of counterfeit drugs in the market that can lead to debilitating condition of consumers as made end users focus on rightful packaging with the best of security labels.
Simplification of Complex Inventory Management Systems Favors Use of Security Labels
Inventory management is a complex part of every business operation that has always sought methods for simplification to reduce costs. Introduction of security labels, specifically for inventory management, has significantly helped sectors such as retail and food & beverages streamline operations and transactions. End-use segments are expected to invest in top notch security as the need for planning and tracking inventory is more than ever.
Asset tracking, tracking transfers between locations, and replacement of finished stock to ensure effective inventory control has propelled the demand for security labels in recent years. Thus, economies with growing e-commerce and food & beverages industries are expected to see a surge in use of security labels.
For instance, the retail industry in India has been experiencing healthy growth over the last decade, which creates opportunities for security label manufacturers to penetrate this untapped market. In addition, the labor costs in China and India are less compared to developed countries of Europe, which has encouraged manufacturers to set up new plants for production of security labels in these countries.
Spoilage and expiry of product is a prime challenge for the inventory system, which results in margin shrinkage for brand owners. As per industry sources, over 104 million metric tons of perishable products are transported between the cities of India each year. Around 30% of food wastage in India is due to issues related to transportation, which directly relate to the lack of effective temperature-controlled systems.
These trends and statistics indicate that the demand for security labels for perishable food products along with massive evolution of the pharmaceutical industry will create major opportunities for multinational companies operating in this space.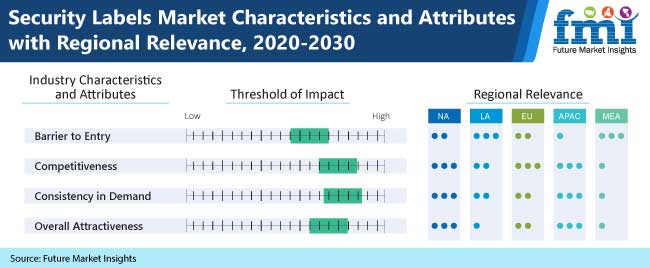 Barrier to entry is low in Asia Pacific region due to lower production costs and more advanced production capabilities. The scale of high-tech intensive manufacturing reduces the high startup costs compared to other regions. The Middle East and Africa and Latin America has fewer number of players in the security labels market, thereby resulting in reduced competitiveness in the market. Steadily growing demand for security labels in food & beverage, pharmaceuticals, electronics, and cosmetics & personal care industries will be seen across North America, Europe, and Asia Pacific regions.
Brand Owners Tilt Focus on Smart Security Labels to Maintain Product Authenticity
Technologies such as radio-frequency identification (RFID), electronic article surveillance (EAS), and near field communication (NFC) are gaining popularity among security label manufacturers. Combination of these technologies with security labels eliminates the chances of human error and eases in introduction of automation.
The smart security label technology works without human intervention and as opposed to barcodes it has the ability to read long range. This is increasing its acceptance for product identification, which is crucial in the retail sector. It is less sensitive to adverse conditions, which, in turn, has accelerated its usage production of security labels.
Furthermore, spoilage detection-based labels are an important labelling solution among pharmaceutical manufacturing companies to tackle issues of overstocking and expiry. They ensure product's authenticity and improve its quality and safety. Moreover, spoil detection-based smart labels minimize carrying costs, which is anticipated to make smart security labels a preferred labelling solution amongst end users.
COVID-19 Impact on Security Labels Market
Discontinuation and disruption in production across the globe has severely impacted the business for players in the security labels market. For instance, the United States, which accounts for significant consumption of security labels, has led to slowdown in sales of security labels.
Despite the uncertainty and a blip in sales, security labels are expected to pick up pace as they will be in high demand in diagnostic centres tackling with COVID-19 tests. Furthermore, increasing number of clinical trials to speed up the process of finding a vaccine for Coronavirus is expected to up the demand for these labels.
The market is likely to recover as nations lift lockdowns easing the supply chain and logistically challenges for the food and beverages, pharmaceuticals, chemicals & fertilizers sectors and other industrial supplies. This, in turn, will increase demand for improved labelling solutions by the consumers. In the years to come, the security labels market is likely to witness growth with increasing demand for efficient inventory management.
RFID on Security Labels Enables Premiumization
Security labels with RFID are used for higher value products due to their high costs compared to standard barcode labels. These are gaining popularity amongst "premium" category products, in terms of either in quality or price or both.
However, on the flip side, the expensive cost of RFID security labels restricts their the scope of their application in various end-use industries, as small and medium organizations are not able to bear their cost. Security labels cannot be used for inexpensive items, which might hinder its market growth.
Security labels Market: Regional Analysis
North America security labels market is leading the global market as the critical industries which medical devices and pharmaceuticals has been witnessing a soaring pressure to manufacture ventilators, sterilization equipment, and medical lab equipment as a response to the ongoing situation.
On the other hand, East Asia and Europe are expected to have a healthy growth rate in the security labels market as consumer demand for secured packaging is rising rapidly in these regions. Countries depending on supply chains for manufacturing of security labels might experience sluggish growth as the pandemic has created hurdles in the logistics and transportation networks.
However, slowdown in electronics & electrical industries and other industrial activities is expected to shadow the growth of security for a while. Many countries rely on global supply chain to procure raw materials for manufacturing activities, which has been disrupted due to COVID-19 across the globe.
Security labels Market: Competition Landscape
Global security labels market is fragmented in nature, and top players merely account for 10-12% of the global production. Key players operating in the market are focusing on expanding their reach globally, diversifying their product portfolio, and making rapid product development to a gain competitive edge.
Some of the key players in the Security labels market are-
3M Company
Avery Dennison Corporation
CCL Industries Inc.
Zebra Technologies Corporation
Brady Corporation
UPM Raflatac
Covectra, Inc.
Honeywell International Inc.
tesa SE
Mega Fortris Group
Sato Holdings Corporation
Muehlbauer Holding AG
Invengo Technology Pte. Ltd
Smartrac Group
Thinfilm Electronics ASA
Security labels: The Way Forward
The growth trend of the security labels market is likely to be upward. Though Y-o-Y growth is steady, the market is projected to record 4.5% growth from 2022. Industries such as food and beverages, pharmaceuticals, agrochemicals, personal care & cosmetics, and electronics & electrical will demand for security labels to prevent theft, counterfeit, and fraud.
Over the past few years, the e-commerce sector is witnessing robust growth, mainly driven by rapid adoption of technology along with an increasing number of smartphone users. Moreover, internet penetration is also expected to fuel this growth, directly influencing different industries such as packaging and labelling.
Labelling is employed not only to identify the brands but also to protect products from counterfeiting. Security labelling is one such solution catering to the e-commerce sector. It is gaining popularity among e-commerce companies owing to increasing counterfeiting and replacement of various cosmetic & personal care products. Technological advancements in labelling industries will also propel the progression of security labels in the e-commerce sector.
Key Segments Covered in the Security Labels Market
By Product Type
Barcode
Holographic Labels
RFIDs
EAS
NFC
Others (QR codes, etc.)
By Material
Plastic
Polyester
Vinyl
PP
Others
Foam (EPS)
Foil
Paper
By Pattern Type
VOID
Checkboard
Destructible
Others Customized Patterns
By Application
Bottles & Jars
Boxes & Cartons
Bags & Pouches
Other Containers (IBC's, Drum etc)
By End use Industry
Food & Beverage Industry
Healthcare & Pharmaceutical Industry
Chemicals & Fertilizers Industry
Electrical & Electronics Industry
Personal Care & Cosmetics Industry
Others (Homecare, etc.)
By Region
North America
Latin America
Europe
East Asia
South Asia
Oceania
MEA
Need specific information?