Introduction
The global QR code labels market was valued at US$ 996.8 million in 2018. The market is forecast to expand at a CAGR of 8.7% during the forecast period, 2019-2027.
QR code labels are a part of security labels and are now being widely used for all kinds of applications across the globe. The QR code labels market is segmented on the basis of label type, printing technology, and end use. QR code printing technology includes flexographic printing, digital printing, offset, gravure, and other printing technologies. QR code labels are a suitable option when a lot of information cannot be printed on a label due to space constraints.
QR code labels manufactures are now engaging in manufacturing a variety of waterproof labels, specially designed for harsh environments. Barcode and QR code labels have become one of the most popular ways to interact with consumers as well as to identify and track various products.
QR code labels are robust, high-density barcodes that are capable of carrying abundant data as compared to conventional barcodes. QR code labels have found extensive applications in inventory management, marketing & advertisement, security, mobile payments, and personal use. QR code labels store information such as webpages, URLs, text, and contact information.
The market for QR code labels is likely to witness positive growth owing to its high-storing capacity. QR code labels can store up to 7,809 numeric characters or 2,953 alphanumeric characters with spaces. QR code labels have a much higher storage capacity as compared to conventional barcodes with a capacity of 20 numeric characters. Additionally, QR code labels can store more information in a smaller space.
QR code labels are extremely helpful for manufacturers as they have limited real estate on product packaging. Initially, barcodes were a part of the automotive industry. The barcodes were printed on automobile spare parts, but eventually were subjected to the factory's harsh environment, whereas QR code labels can tolerate up-to 30% of damage or dirt.
Unlike the conventional barcode labels, QR code labels are scan able from any angle. QR code labels are used as anti-counterfeiting labels to protect various products from damage. The effects of counterfeiting have been witnessed in many industries including food & beverage, automotive, pharmaceutical, etc.
Counterfeiting actions have led manufacturers to embed QR code labels to their products. Anti-counterfeit solutions involve QR code-based identification that helps the end consumer and the company salesmen to scan and identify the authenticity of the product by using smartphones.
QR code labels make it easy for the consumer to access various discount coupons, cashbacks, and useful information regarding the product. Due to the presence of QR code labels on consumer products, consumers do not have to remember the URL or the website. In case of food products, nutritional facts, recipes, and product information are often not printed on the label due to space limitations.
In such cases, the QR code is linked to a website where all this information is accessible to the consumer. The food industry is expected to account for the highest share in the global QR code labels market.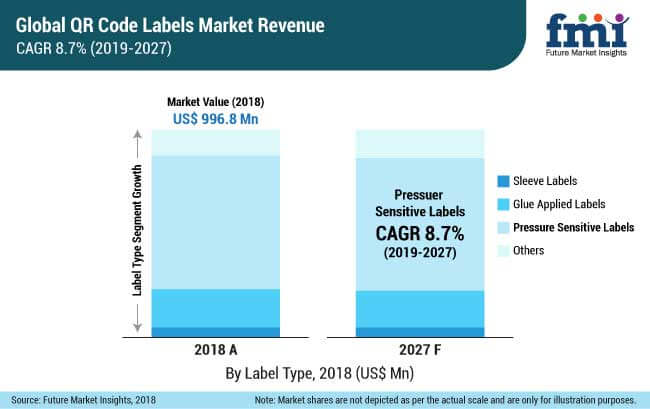 Key Trends
Alcohol retailers and wholesalers to incorporate QR code labels on premium spirit and beer bottles

From January 2018, all the alcohol retailers and wholesalers in Russia began their integration in the electronic monitoring and tracking system. The QR code labels system has now extended to beer products. The mass integration of QR code labels in Russia will allow the country to track and oversee the production, distribution, import, and sales of alcohol. It will help the government to implement laws against the illegitimate alcohol entering the market.

QR code labels used in Australia to track seafood and inform consumers about the history of products

QR code labels are used to track meat & seafood through transportation and to inform the buyer about the products. For instance, wholesale buyers can scan the QR code to obtain the information with regards to where the seafood was caught and by what methods.
North America has shown impressive growth in the production and consumption of QR code labels, such that it towers over rest of the countries in the APAC region, and beyond. The Chinese QR code labels market currently accounts for more than 40% of the Asia Pacific QR code labels consumption alone. North America's QR code labels market was significantly boosted, owing to the increase in the food & beverage sector is expected to continue the momentum of growth during the forecast period.
Manufacturers are expected to eye the Asia Pacific region for potential business expansion. Therefore, the outlook for the global QR code labels market is expected to be positive during the forecast period.
Competitive Landscape Analysis
Key players considered in the report on QR code labels include Lintec Corporation, CCL Industries, Packtica SDN Bhd, Label Logic, Inc., Hibiscus PLC, Data Label Co. UK., Advanced Labels NW, Coast Label Company, Label Impressions Inc., and Consolidated Label & Co.
Key Segment
Based on label type
sleeve labels
glue-applied labels
pressure-sensitive labels
other labels
Based on printing technology
flexographic
digital printing
offset lithography
gravure printing
other printing technologies
Based on end use
food & beverage
pharmaceuticals
personal care & cosmetics
automotive
homecare & toiletries
chemicals
industrial
others
Need specific information?
Talk Show:
The Rise of Intelligent Packaging
Personalized, Connected and Sustainable
November 18, 2021
11:00-11:45 AM PST (USA & Canada)
This is a LIVE session