Codeless Testing Market Snapshot
The codeless testing market will register exponential growth in 2021 and beyond, with the overall valuation estimated to reach US$ 1.5 Bn in 2021. Future Market Insights (FMI) projects codeless testing demand to increase at 15.5% CAGR between 2021 and 2031.
Following the onset of the COVID-19 crisis, the demand for codeless testing for remote operational applications will surge through 2021. The study also forecasts desktop applications of codeless testing to account for 36.9% of market share in 2021, while API testing applications are set to register relatively faster growth at 18.6% CAGR through the end of 2031.
Key Points Covered in Codeless Testing Market Study
Market estimates and forecast 2016-2031
Key drivers and restraints impacting market growth
Segment-wise, Country-wise, and Region-wise Analysis
Competition Mapping and Benchmarking
Market Share Analysis
Key Product Innovations and Regulatory Climate
COVID-19 Impact on Codeless Testing Market and how to Navigate
Recommendation on Key Winning Strategies
2016-2020 Codeless Testing Market Outlook Compared to 2021-2031 Forecast
The demand for codeless testing will rise at 15.5% CAGR between 2021 and 2031 in comparison to the 10.6% CAGR registered during 2016-2020. Most software testing companies have come a long way, from manual testing to mostly automated testing methods.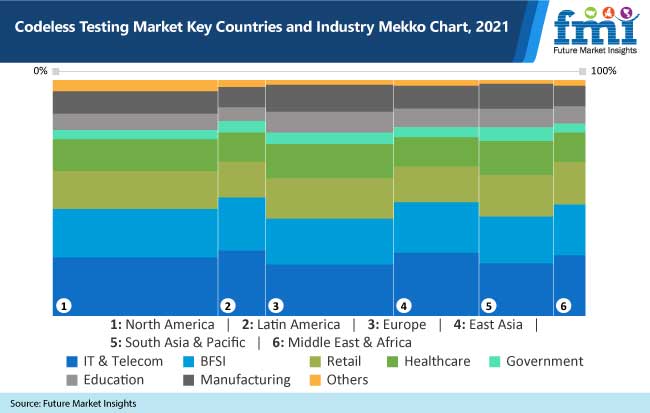 Testers can now automate test cases without any coding knowledge, rather than spending a lot of time on writing scripts, by using sophisticated and computer assisted coding software. In addition, codeless/script-less testing tools allow users to automate swiftly through reusable tests by enabling testers with minimal exposure to test automation.
The factors responsible for rapid growth of codeless testing tools include the easy evaluation of code by non-technical team members, the reduction of time that testers spend on recurring test cases, which will bolster demand for codeless testing in the near future.
The shift towards codeless testing has been widely driven by advent of Machine Learning (ML), machine learning as a services, and Artificial Intelligence (AI). AI is being used in all aspects of testing, including codeless automation testing, performance testing, regression testing, and functional testing. Over the past few years, AI and ML has been gaining importance, as it reduces the test lifecycle. These advanced technologies help to increase the ROI of software testing firms.
How are Increasing Investments in Artificial Intelligence Impacting Market Growth?
Codeless testing solutions are characterized on technologies including DevOps, the Internet of Things (IoT), and AI. Rising investments in artificial intelligence technology is estimated to create growth opporunities for codeless testing as it has the ability to create test cases based on actual user data and to learn from different user flows.
Thus, helping test engineers to reduce the time spent on creating new test data as AI automates test cases based on actual user data, is a major factor for companies to opt for codeless testing solutions.
Replacing static locators with dynamic locators is projected to make testing software stable, due to which execution and authoring of tests run at high speed. This helps to increase test handling cases and to make automated tests much more effective.
In October 2019, IBM Corporation, announced that the company has released its Auto AI. It is a new set of competencies for its flagship product "Watson Studio". Such new capabilities are designed for automating several of the monotonous and complex activities associated with optimizing, designing, and governing AI in the company.
What is the Impact of the COVID-19 Crisis on the Codeless Testing Market?
The COVID-19 pandemic has made automation coupled with testing a trending platform as companies take risks and expand business continuity plans. In May 2020, IBM Corporation had launched a comprehensive range of new AI-powered services designed to help enterprises in reducing the total costs of ownership and automation to survive upcoming disruptions.
At the time of the COVID-19 pandemic situation, major vendors operating in the market focused on automating IT operations to recover from the crisis. Companies will invest more in robotic process automation (RPA), artificial intelligence, and cognitive capabilities as businesses recover from the pandemic.
Country-wise Insights
How is the Codeless Testing Market Faring in the U.S.?
According to the study, the U.S. is expected to account for over 79% of the North America market through 2031. North America is predicted to remain one of the most attractive markets during the forecast period. This is contributed by major developments in the U.S. market for codeless testing.
For instance, in August 2019, Tricentis, which has a significant presence in the U.S., acquired TestProject, a community-powered automation testing platform designed for agile teams. As part of the commitment to TestProject, Tricentis plans to extend the community, help software testers enable the best Android and iOS test automation practices, while investing in research and development (R&D) to develop advanced products augmenting demand for codeless testing.
Why is the Demand for Codeless Testing Increasing in the U.K.?
Demand in the U.K. market is expected to rise at nearly 16% CAGR over the forecast period. Over the coming decade, the software testing services industry is expected to continue growing strongly.
Increasing software investment among U.K. businesses and the continuing expansion of service offerings within the industry are expected to facilitate demand for codeless testing tools.
Furthermore, IT adoption is expected to continue to expand, although at a much slower rate, which will likely encourage investment in information technology infrastructure and further generate industry demand.
As per the report, the U.K. is recognized as a primary market, and it is expected to continue exhibiting high demand for codeless testing through the forecast period.
How is China Contributing Towards Codeless Testing Sales?
By 2031, China will account for over 44% of sales of codeless testing solutions in East Asia. China is the fastest-growing economy and is expected to offer a favorable market for codeless testing vendors.
The country is witnessing accelerated growth of digital transformation and rapidly increasing connectivity. The country also has many established SMEs, which are growing at an exponential rate to cater to their large customer base, which will create a conducive environment for long-term growth.
Category-wise Insights
Why is the Demand for Codeless Testing Tools on the Rise?
Based on solution, codeless testing tools are the leading segment, accounting for nearly 59.5% of the market in 2021. The growing adoption of cloud-based automation and testing is analyzed to be one of the major drivers for codeless testing solutions.
Cloud based automation tools are cost effective, agile, and scalable owing to which these tools are witnessing significant adoption in SMEs and start-ups. Apart from this, the integration of machine learning and artificial intelligence in codeless testing tools is easing usage, which is also set to assist market growth during 2021-2031.
Software testers prefer codeless test automation as a critical component when it comes to the agile development procedure. These elements are estimated to create new growth avenues for codeless testing tools, during the forecast period.
How API Testing is Projected to Create Demand?
API testing application of codeless testing is estimated to account for a growth of 18.6% CAGR through 2031. In the software testing industry, API testing is becoming a subject of discussion and is central to software development. API codeless testing is now recommended at various stages of the product development.
It involves testing application programming interfaces (APIs) directly and as a part of integration testing in order to determine if they meet expectations regarding functionality, reliability, performance, and security.
API testing offers a number of advantages including finding bugs in a time-efficient manner. Once the logic is designed, tests can be built for validating the correctness in data and responses with API testing.
How are Large Enterprises Likely to Influence Demand?
The large enterprises segment is estimated to hold the largest revenue share of more than 60% in 2021. The increasing preference among enterprises for efficient testing solutions and automation capabilities is expected to drive the demand for codeless testing in the large enterprise segment.
Furthermore, the growing emphasis on strategic decision-making and resource allocation is expected to further drive the growth of the large enterprise segment in the market.
Why Does the IT and Telecom Segment Hold Major Value Share?
The IT and telecom sector is expected to contribute maximum share of more than 24% in terms of global demand for codeless testing in 2021. With the help of codeless testing, IT and telecom organizations can gain quick feedback on the mainframe, and supercharge innovation without the risk of bottlenecks that disrupt operations, hinder customer experiences, or impacting revenues.
Enterprises can improve quality, velocity, and efficiency on the mainframe while lowering the problems of shortage of experienced developers, thereby contributing significantly to the development of codeless testing solutions.
Competitive Landscape
Companies operating in the codeless testing market are aiming at product innovation and strategic partnerships with other manufacturers to expand their portfolio and production capacity to meet the demand of an expanding customer pool.
For instance, in March 2021, Ranorex GmbH introduced the latest version of Ranorex Studio 9.5. This release includes features such as reports merger and custom run test names. Ranorex Studio uses world-class UI object recognition across a variety of platforms. The company also has a powerful API that allows more flexibility for teams who prefer to code their automated tests.
In February 2021, Mabl announced the beta release of their new native desktop application bolstering SaaS solution portfolios that enable high-velocity software teams to accelerate innovation while achieving exceptional quality engineering.
Manufacturers are also focusing on mergers and acquisitions to maintain global presence.
For instance, in March 2021, Tricentis acquired Neotys. With this acquisition, Tricentis expanded its AI-driven, end-to-end continuous testing platform to offer a comprehensive testing solution to accelerate software delivery and innovation.
Scope of Report
Attribute

Details

Forecast Period

2021-2031

Historical Data Available for

2016-2020

Market Analysis

USD Million for Value

Key Countries Covered

US, Canada, Germany, U.K., France, Italy, Spain, Russia, China, Japan, South Korea, India, ASEAN, Australia & New Zealand, GCC Countries, Turkey, and South Africa

Key Segments Covered

Solution, Application, Enterprise Size, Industry, and Region

Key Companies Profiled

Ranorex GmbH
Mabl Inc.
Usetrace
Perforce Software, Inc.
Cygnet-Infotech
Worksoft, Inc.
froglogic GmbH
Statnetics LLC
ACCELQ Inc.
Micro Focus
Tricentis
Eggplant

Report Coverage

Market Forecast, Company Share Analysis, Competition Intelligence, DROT Analysis, Market Dynamics and Challenges, and Strategic Growth Initiatives

Customization & Pricing

Available upon Request
Key Questions Answered in the Report
How much is the global codeless testing market worth?

The codeless testing market was valued at ~US$ 1.5 Bn in 2021 and is estimated to grow at an exponential rate in the coming decade.

Which is the most lucrative application in the codeless testing market?

Desktop apps are currently the most attractive segment in the market, accounting for over 37% of revenue generated in 2020. However, API testing applications are expected to dominate the market share with over 40% through 2031.

Which are some of the leading companies offering codeless testing tools and services?

Some of the leading companies in this landscape are Ranorex GmbH, Katalon, Inc., Mabl Inc., Usetrace, and Perforce Software, Inc. among others. As per FMI, nearly 50-55% of the market share is currently covered by the top 15-20 players.

Which are the leading end user industries of codeless testing?

The BFSI sector is expected to dominate the market over the forecast period, generating a revenue of US$ 1.6 Bn by 2031. However, applications in the healthcare sector are estimated to surge at a CAGR of nearly 20% over the forecast period.

What will be the demand outlook for codeless testing?

The codeless testing market is expected to be valued at US$ 1.5 Bn by the end of 2021, and is likely to reach US$ 6.6 Bn by 2031.

What was the CAGR for the last 5 years in the codeless testing market?

The codeless testing market in last 5 years (2016 – 2020) grew by a CAGR of 10.6%.

What are the key trends of codeless testing market?

Key trends in the market include, increasing demand for automated testing and strong demand for codeless testing tools for the upcoming decade.

What is driving demand of codeless testing?

The rising uptake of technologies such as agile and DevOps is increasing the requirement of QA solutions that can keep pace. Therefore, codeless testing tools and related services are estimated to register high demand during the forecast period.

What are the top 5 countries driving demand?

The top 5 countries driving demand for codeless testing include the U.S., the U.K., India, China, and GCC countries.

What is the North America market Outlook?

North America is predicted to remain one of the most attractive markets during the forecast period. According to the study, the U.S. is expected to account for over 80% of the North America market through 2031.

What are the key market statistics in South Korea and Japan?

The codeless testing market in Japan and South Korea is projected to register CAGR of 19.7% and 17.5% respectively between 2021 and 2031.
Codeless Testing Market by Category
By Solution:
Codeless Testing Tools
Services

Testing & QA Services
Consulting Services
Integration & Implementation
Support & Maintenance
By Application:
API Testing
Mobile App
Desktop App
Web App
By Enterprise Size:
Small and Medium Enterprises (SMEs)
Large Enterprises
By Industry:
IT & Telecom
BFSI
Retail
Healthcare
Government
Education
Manufacturing
Travel & Hospitality
Media & Entertainment
Others
By Region:
North America
Latin America
Europe
East Asia
South Asia & Pacific
Middle East and Africa (MEA)
Need specific information?