Seed Testing Services Market By Test Type (Purity Test, Moisture Test, Vigour Test, Germination Test), Service Type (Off-Site Services, On-Site Services), Seed Type (Cereal Seeds , Vegetable Seeds, Flower Seeds), End User (Seed Manufacturers, Farmers, Agriculture Consultants, Research Bodies) & Region - Forecast to 2018-2028
Seed Testing Services Market - Analysis, Outlook, Growth, Trends, Forecasts
July 2019

REP-GB-9837

250 pages
Seed Testing Services Market - Key Research Findings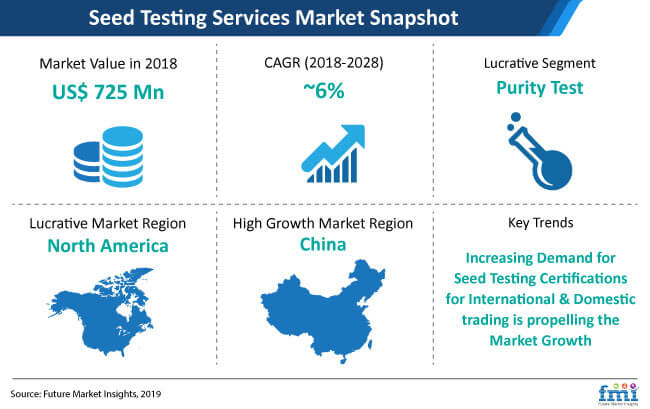 The global seed testing services market size in 2018 was ~US$ 725 Mn.
The seed testing services market is estimated to grow at a CAGR of ~6% during the forecast period 2018-2028.
Stringent international regulations for seed trading are driving the sales of seed testing services.
Collectively, North America and Europe are expected to account for about 45% of the revenue shares in the seed testing services industry by the end of 2028.

North America, owing to the strong presence of seed testing service providers, is expected to continue to be a prominent regional market for seed testing services.

Seed manufacturers and agriculture consultant are expected to remain prominent consumers for seed testing services market players.

The agriculture industry has witnessed significant growth over the past few years. Leading market players are focusing on acquisitions and strengthening their research & development sectors.
Seed testing service providers are expanding their services in developing countries due to increasing crop production.
Key Factors Shaping the Seed Testing Services Market
International Seed Certifications
International seed certifications are becoming mandatory for international and domestic trading, and thus, boosting the growth of the seed testing services market. Identification of seed quality is crucial for increasing crop production. Seed certification provides information about overall seed health and biological conditions. For instance, Orange certification for seed followed by the rules of International Seed Testing Association (ISTA), majorly require for international seed trading.
Moreover, companies are providing seed testing certification in Canada and USA, according to the rules of Association of American Seed Control Officials (AASCO). Furthermore, the blue certification, ISO certification, Natural Organic Certification Agro (NOCA) for organic crops, etc. are also provided by leading players. These certifications are provided after performing various seed tests.
Leading Players Expanding in Untapped Regions
Leading seed testing players are establishing their laboratory facilities in developing countries because of increasing demand for seed testing services. For instance, companies such as SGS, Intertek Group, and BUREAU VERITAS are expanding agricultural services in regions such as Asia Pacific and Middle East and Africa. The expansion of prominent players across the globe is estimated to increase the demand for seed testing services.
Advanced Techniques for Increased Crop Production
Developing techniques to maximize crop's yield is creating the demand for testing services that provide significant information about quality of agriculture products. This factor is projected for boosting the growth of the seed testing services market.
Also, high demand for maximizing crop production with cost savings has been directing the focus of growers towards seed testing services that give significant information about seed health. The sales of seed testing services are expected to increase in the near future because of increasing adoption of agricultural services across the globe.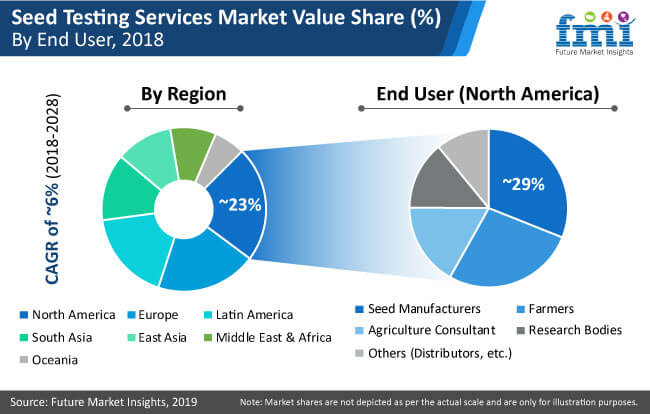 Seed Testing Services Market Structure Analysis
The global seed testing services market represents a fairly consolidated competition landscape, where majority of the key players maintain their strategic focus on seed certification schemes.
The seed testing services market has been relatively moderate in size, which remains a key factor for its dynamic and competitive nature.
Leading players of seed testing services are currently acquiring agricultural service companies to expand their testing services portfolio. Moreover, leading players are strengthening their R&D facilities through acquisitions and partnerships.
Introduction of individual test manuals for various seeds by international seed testing associations has been identified as one of the key developments in seed testing services.
For a stronger foothold in target markets, service providers of seed testing services will continue to rely on inorganic strategies such as mergers and acquisitions.
Deeper understanding of market trends and preferential shifts of end-use segments across various regions are expected to create a bottleneck for prominent players who are looking forward to capitalising on the untapped opportunities in the seed testing services market.
Seed Testing Services- Marking a New Era of 'Agro-Reliability'
Maximization of agricultural productivity calls for extensive quality inspection of agricultural products, such as fertilizers and seeds. Agriculture testing services are being set in motion by tight regulatory norms put in place to ensure optimal agricultural yields.
As food quality and safety used to, and will continue to govern operational paradigms in the agriculture industry, it remains undeniable that end users, such as seed manufacturers, farmers, and agricultural consultants, will continue to resort to agricultural testing services over the years to come.
Among all other types of agricultural testing, such as water, soil, and agricultural equipment testing, process of attesting seed quality, widely known as seed testing, has been gaining massive popularity. Mandates on attaining seed certifications for seed exports and imports is another key factor pushing the adoption of seed testing services.
Massive investments in agri-related ventures are foreshadowing new opportunities for seed testing service providers in 2019 and beyond, given that 'tested' and 'certified' are emerging as the new synonyms of 'quality'.
Seed Testing Services Market- Charting the Evolution
Practice of organized seed testing started more than a hundred years ago, with an initial objective of staving off the unscrupulous ways of seed trading. The first ever laboratory for carrying out the process of seed testing was set up in Germany in 1869, under the supervision of the renowned German botanist Frederick Nobbe. This particular establishment laid the foundation of set-up of various other laboratories across multiple regions, thereby making seed testing as a new norm of effectual agricultural practices.
Though seed testing was pursued as a research endeavor in the 19th century, yet in the recent years it has evolved to be a significant facilitator of seed trade, a crucial instrument of regulatory enforcement, and a chief quality assurance tool for seed industry. However, service providers active in this market will have to make sure that their seed testing services are keeping up well with the technological advancements in agricultural operations, which, in turn, would help them gain competitive advantages over their rivalry.
Stakeholders Targeting Lucrative Economies in Asia Pacific
The hegemony of developed regions in the global seed testing services market space continues, as a consequence of the widespread presence of seed testing service providers in these regions. Moreover, North America and Europe have also been emplaced as two of the major seed export hubs, which contributes to the parallel build-up of seed testing services across these regions.
Leading seed testing service providers active in North America and Europe are also focusing on operational expansion across fast-growing economies of East Asia, with an objective of consolidating their position in the global market space.
The Broader Perspective
The seed testing market space reflects a moderate degree of consolidation, wherein the leading companies continue to maintain strategic focus on offering exclusive seed certification schemes. Key service vendors in the seed testing services market are focusing on bringing beneficial services to end user's table, which is acting as a key aspect upholding their growth in this turbulent market space.
Leading service providers are equipping their clientele with enhanced access to highly experienced as well as qualified workforce, who safeguard customer satisfaction with reliable, consistent, and independent services, yet with extensive focus on business ethics and compliance. Key players are also drawing upon the increasing demand for hassle-free agriculture testing services by offering real-time, accurate, and reliable results with faster turnaround time (TAT).
How Growth Will Unfold?
Market players' focus on tailor-made services is likely to get stronger during the forecast period, as end users remain inclined toward personalized services to reap substantial benefits. Sensing latent opportunities brewing across developing economies of East Asia, market partakers are centering on strategic expansion in China and Japan via establishment of a bunch of exclusive laboratories.
Leading players in the seed testing services will continue to benefit from their extensive networks worldwide with multiple points of service. In addition, leading players are also pursuing green initiatives via introduction of paperless laboratories, which further served as an 'add-on' to their existing brand values. Service providers are also placing their bets on mergers and acquisitions that would further help them gain advantages from combined expertise as well as shared resource pools.
World's Most Profilic Intelligence Engine
Get Access To The World's Largest Market Research Database.
Sign Up Now
Key Segment
By Test Type
Purity Test
Moisture Test
Vigour Test
Germination Test
Others
By Service Type
Off-Site Services
On-Site Services
By Seed Type
Cereal Seeds

Maize
Soybean
Rice
Wheat
Other Cereals

Vegetable Seeds
Flower Seeds
End User
Seed Manufacturers
Farmers
Agriculture Consultants
Research Bodies
Others (distributors, etc.)
By Region
North America
Latin America
Europe
South Asia
East Asia
Oceania
Middle East and Africa
Need specific information?
Our Clients