An Incisive, In-depth Analysis on the Linseed Oil Market
This study offers a comprehensive, 360 degree analysis on the Linseed Oil market, bringing to fore insights that can help stakeholders identify the opportunities as well as challenges. It tracks the global Linseed Oil market across key regions, and offers in-depth commentary and accurate quantitative insights. The study also includes incisive competitive landscape analysis, and provides key recommendations to market players on winning imperatives and successful strategies.
Linseed oil, often termed as flaxseed oil, is derived from the ripened, dried seeds of the flax plant belonging to the Linum family. Linseed oil generally tends to be colorless to yellowish in color. The flax plant is one of the oldest plants on Earth, and has been cultivated even by ancient civilizations. The flax plant and linseed oil have been benefiting many generations of humans as well as animals, be it in the production of linen, ropes from the stem, or providing health benefits with medicinal properties. Linseed oil cake, or simply linseed meal, the by-product of the production of linseed oil, has been used in livestock feed to enrich the fatty acid profile of meat, milk, and eggs, owing to the high content of polyunsaturated fatty acids, particularly alpha-linolenic acid and conjugated linoleic acid, of linseed oil. With the scientific revolution and technological developments, the flax plant is cultivated mainly for the production of linseed oil by pressing, and is utilized in paints, varnishes, lubricants, and the leather industry.
Wondrous Effects of ALA-Rich Nutritious Linseed Oil to Combat Obesity
Most American diets lack sufficient amounts of omega-3 fatty acids, which can be fulfilled by consuming linseed oil as a salad dressing or in a smoothie. Linseed oil is a rich source of ALA (alpha-linolenic acid), which is a precursor of essential omega-3 fatty acids EPA (eicosapentaenoic acid). Several studies have pointed out that, including omega-3 fatty acid-containing food in the daily diet might help fight obesity in a healthier way,due to its ability to improve the adipocyte function. Researchers have studied the effect of the consumption of ALA from linseed oil in combination with diacylglycerol on obese people, and have stated that, visceral fat or adipose tissue accumulation in the abdominal area was significantly lowered. In addition to this, linseed oil is used in sports nutrition, since it helps improve the body's metabolic rate and also aids in burning body fat, which then acts as fuel for the muscles. With the substantiated robust connection between the diet and disease, many health conscious people are keen on consuming healthy food and keeping a track of the food that they are consuming. With the publicity of the health benefits of linseed oil, its demand is likely to get a boost. Moreover, being organic and of vegetarian origin, linseed oil is replacing other oils such as fish oil as a dietary supplement.
Anti-Cancer Properties of Linseed Oil and Further Prospects
Linseed and linseed oil is the largest source of lignans on Earth among all plant sources, a polyphenol compound found in plants. Lignan from linseed oil acts as phytoestrogens, a plant nutrient having anti-carcinogenic properties. Numerous studies on rats and mice have shown that, linseed oil rich in lignan can reduce the size of a tumor and prevent metastasis. Especially, studies on breast and prostate cancer have shown successful results in humans. Research conducted with linseed oil enriched in lignan provides evidence that, it is possible to prevent cancer. According to a study, the Budwig Diet, one of the most popular anticancer diets, which is obtained by linseed oil mixed with cottage cheese, leads to a chemical reaction between the sulfur protein in the cottage cheese and linseed oil due to the mixing of the oil and cottage cheese, which makes absorption of the water miscible oil into the cells possible.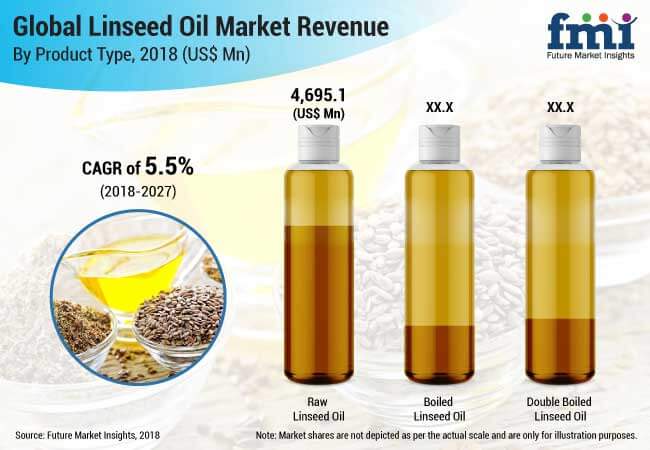 Bountiful Health Benefits of Linseed Oil
Many health benefits associated with linseed oil are due to the rich content of PUFA, fiber, protein, and vitamins. Linseed oil has been used since ancient times to treat constipation, diarrhea, and inflammation, reduce eczema, improve skin health, etc. Other health benefits provided by linseed oil include lowering cholesterol levels, improving gut health, helping in weight loss, lowering the risk of diabetes, improving heart and kidney health, treating the symptoms of ADHD, preventing osteoporosis and improving bone health, treating menopausal symptoms, etc. These health benefits from linseed oil are being studied by researchers. In terms of revenue, the global linseed oil market is expected to account for approximately US$ 6,800 million in 2018.
Linseed Oil – a Promising Niche for Aquaculture Feed Replacing Fish Oil
Currently, aquaculture is rapidly growing at a tremendous pace, causing concomitant growth in the aquaculture feed industry. Traditionally opted feed ingredients such as fishmeal and fish oil are limited due to current available resources. To meet the increasing demand for aquaculture feed, vegetable oils such as linseed oil and rapeseed oil are being adopted. Although the fatty acid composition of linseed oil and other vegetable oils is different as compared to fish oil, a mixture of vegetable oils can be used instead of a single vegetable oil. Studies have revealed that, substituting fish oil by vegetable-based oil such as linseed oil has no negative effect on the final weight, growth, survival, and fatty acid profile of the test aquatic animal.
FMI has compiled a study on linseed oil, which offers an analysis and forecast of the linseed oil market, in its publication titled, 'Linseed Oil Market: Global Industry Analysis 2013–2017 and Opportunity Assessment 2018–2027'. This report on the linseed oil market covers some of the vital facets that are key influencing factors on the demand and supply of linseed oil over the next several years. An in-depth review of the growth drivers, potential challenges, unique trends, and opportunities for market participants equip readers to fully comprehend the overall landscape of the linseed oil market. The report on the linseed oil market also covers analysis of the key regions and countries of particular interest that are anticipated to become frontrunners or remain laggards over the forecast period. The report covers a historical analysis of the market from 2013 to 2017, and provides forecasts from 2018 to 2027 in terms of volume in metric tons and revenue in US$.
Linseed oil is an essential oil that is extracted from the seeds of the flax plant by the pressing or extraction method, of which the cold pressing method is the most popular method for the production of this oil. Commercial linseed oil products available in the global market are categorized as raw linseed oil, boiled linseed oil, and double boiled linseed oil. The principal linseed oil producing countries in the world are the U.S., Russia, Canada, China, India, Kazakhstan, and Ukraine, besides others. Linseed oil has long been used in food processing and in traditional medicine to improve quality of the hair and skin, to regulate the blood pressure, for weight management, and to prevent arthritis. Research studies are also ongoing for its use in cancer treatment. Besides its uses in food and for medicinal remedies, linseed oil also finds promising usage in the paint and varnish industry, textile industry, animal feed, enamels, and cosmetics and personal care products.
This report on the linseed oil market has been broken down into different chapters to enhance clarity and provide context. A brief executive summary at the beginning of the report consists of some of the key findings of the study on the linseed oil market, as well as market estimates and growth rates for important segments. The following chapter presents the definitions and scope of the study, as well as the coverage in terms of the way the linseed oil market is structured. Subsequently, the chapter on market background presents the evolution of linseed oil, relevant economic indicators such as GDP and per capita spending, including an assessment of the supply chain, policy developments and regulatory scenario, and dynamics impacting the linseed oil market, as well as an explanation of the factors considered important to develop forecasts and estimates. The report on the linseed oil market also includes a chapter on pricing analysis, highlighting price point variations between different regions and products, including pricing forecasts. The following chapters dive deep into the global linseed oil market, covering detailed information based on type, nature, end use, packaging, and sales channel. The next set of chapters provide region-wise analysis and forecasts of the linseed oil market, covering vital aspects of the market in North America, Latin America, Europe, Asia Pacific excluding Japan, Middle East & Africa, and Japan.
A dashboard view of some of the key companies operating in the linseed oil market in terms of their offerings, regional presence, and other metrics is a precursor to the detailed profiles of these participants, including financial information, strategy overview, SWOT analysis, and market share, as well as analyst commentary. Some of the key players analyzed in the linseed oil market report include Cargill Inc., Archer Daniels Midland Company, Gustav Heess GmbH, Krishi Oils Limited, Natrol LLC., Merck KGaA, Henry Lamotte Oils GmbH, Bartoline Limited, AOS Products Pvt. Ltd., OPW Ingredients GmbH, Vandeputte Group, Sanmark Corp., Spectrum Chemical Mfg. Corp., Hangzhou Choisun Bio-Tech. Co. Ltd.,Alberdingk Boley GmbH, Grupo Plimon, etc.
For the estimation of the market size of linseed oil, linseed production in various regions/countries were taken into account, along with the production of various linseed by-products. The yield of linseed oil was then estimated based on different methods of extraction. To cross-reference the estimates of overall supply, the consumption of linseed oil was taken into consideration. Regional production as well as the consumption of linseed oil was considered for market sizing. The average utilization of linseed oil across different end-use applications was analyzed, including industrial, foodservice providers, and retail. This was cross-validated with the market share of linseed oil within the overall oilseeds market. The prices of linseed oil have been collected at the manufacturer level to arrive at the market size for linseed oil.
Our team of analysts review and interpret data from a variety of sources. Data attributed to 'FMI' is derived by using a combination of various approaches, which are then consolidated, interpreted, and extrapolated by FMI analysts. Data is sourced from government statistics, trade associations, company annual reports and investor presentations, press articles and directories, technical publications, and online databases, which are cross-referenced with FMI's reports and internal repository of data to filter and validate the collected information. Intelligence gathered from desk research is supplemented by extensive interviews with selected key expert participants across the value chain, not only to gain information specific to their roles and operations but also to obtain their perspective and insights of the issues impacting the linseed oil market.
Global Linseed oil Market: Segmentation
By Nature:
By Product Type:
Raw Linseed Oil

Boiled Linseed Oil

Double-boiled Linseed Oil

Others
By Application:
Dietary Food

Pharmaceuticals

Paint & Textile Industry

Leather Industry

Animal Feed

Personal Care

Processed Food

Others
By Distribution Channel:
Online Retailers

Grocery Stores

Wholesalers

Supermarkets
By Region:
North America

Latin America

Western Europe

Eastern Europe

Japan

Asia Pacific excluding Japan (APEJ)

Middle East & Africa
COVID -19 : Impact Analysis
Request the coronavirus impact analysis across industries and markets
Request Covid -19 Impact
CASE STUDIES
See how our work makes an impact.
At FMI, we design strategies that are adaptive, impactful, and implementable.