Hemp Seed Oil Market By Extraction process (Conventional, Organic), Grade (Food grade, Pharmaceutical grade), Extraction process (Cold pressed hemp seed oil, Refined hemp seed oil), End use (Food & beverages, Nutraceuticals, Cosmetics & personal care, Pharmaceuticals, Industrial products) & Region - Forecast to 2020 - 2030
Hemp Seed Oil Market - Analysis, Outlook, Growth, Trends, Forecasts
May 2020

REP-GB-11630

250 pages
Market Outlook& Key Findings
Hemp seed oil market is anticipated to grow at nearly

19.5%

in 2020 owing to rising awareness about its health benefits
New product launch by key players, especially in the sanitizer segment will aid the expansion of the market. For instance, recently SinglePoint Inc. launched a hand sanitizer Klen, which is infused with hemp seed oil
Key manufacturers are likely to invest in hemp seed oil as the market presents impressive growth opportunities backed by increasing applications of hemp seed oil
The inclusion of hemp seed oil in vegan products is further boosting its demand
Changes in the regulatory framework legalizing the use of hemp seed oil for human consumption is likely to create growth opportunities for market players
Hemp Seed Oil - Rising Health Concern Results in Surging Demand
Hemp seed oil is gaining popularity due to its rich content of omega-3 and omega-6, which offer numerous health benefits. Hemp seed oil helps in reducing inflammation, causing diseases related to the heart and cancer. The rising awareness about hemp seed oil and its various health benefits have resulted in its increased application in cooking oils, sauces and salad oil, baked foods, and nutritional supplements.
Furthermore, hemp seed oil is gradually finding applications in the pharmaceutical, nutraceutical, and cosmetics industries, which will bode well for the market in the coming years. It has also penetrated the pet care market, besides finding applications in the green building materials market and the biofuel market.
Manufacturers are also offering all-in-one hemp seed oil that can be used for food garnishing, skin health, tanning, and hair nourishment. Single product offering four-fold advantages could be a major breakthrough enabling the market to gain momentum in the coming years. Spurred by the increasing across diverse segments, the hemp seed oil market will exhibit growth at a positive rate.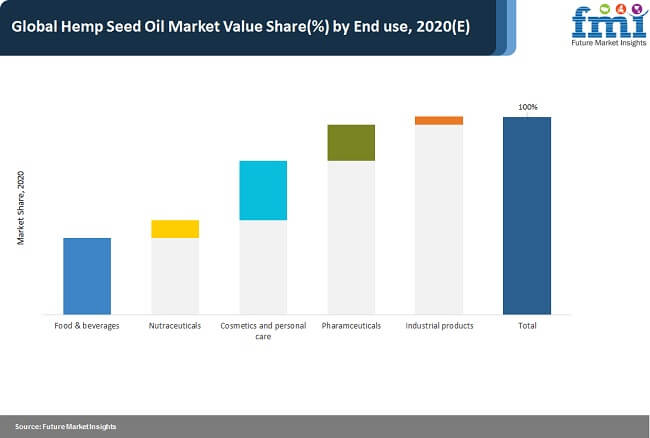 Hemp Seed Oil Market Analysis: Increasing Global Demand for Organic Products
Owing to the increasing production and rising worldwide consumption there is an upsurge in the demand for organic products. The USDA National Organic Program (NOP) has stated that hemp can be certified as organic if its production is managed organically. For instance, Nutiva provides hemp seed oil which is a USDA-certified organic product that can be used as an edible and a skin smoothening product. Increasing awareness about health benefits from organic products among the consumers is expected to boost the sales of the organic hemp seed oil.
Hemp Seed Oil is Gaining Popularity in the Middle East Due To Its Non-Intoxicating Properties
Hemp seed oil does not contain any kind of psychoactive chemical compound and is therefore considered safe for use in products particularly made for babies, children, and pregnant women. As the consumption of the oil does not lead to intoxication, it is permitted for use in the Islamic countries and also fits as per the kosher dietary law. This is a chief driver of the hemp seed oil market. Apart from halal and kosher certifications, the hemp seed oil is USDA approved for its organic qualities.
Most of the processing facilities in the market are built with state-of-the-art equipment and are ISO 22000:2005 certified by the German TUV and other regulatory bodies. These factors are likely to aid the expansion of the hemp seed oil market in the coming years.
Discretionary Spending Patterns of Gen Z Results in Increasing Sales of Hemp Seed Oil
According to a survey, Gen Z is the highest spender on beauty products globally. The findings of this 2019 stated that a majority of Gen Z shoppers are beauty spenders. The beauty products that are plant-based and naturally processed are most likely to be preferred by this generation.
The hemp seed oil, possessing good amounts of Omega 3and Omega 6, has wider applications in personal and skincare products. Owing to the curiosity of trying different and healthy alternatives, Gen Z and millennial are proving to key consumers in the hemp seed oil market.
Hemp Seed Oil Sales: Impact of COVID-19
The outbreak of COVID-19 has adversely impacted the global food industry including the hemp seed oil market. Lockdown enforced to contain the pandemic has made the procurement of raw materials considerably difficult for manufacturers. Furthermore, producers are facing problems related to the supply of finalized products in the market.
The overall supply chain and distribution network are hampered due to sudden lockdown. As a preventive step against the spread of the novel coronavirus, governments around the world have restricted trading activities including export and import of goods. These preventive measures have majorly impacted the market during the crisis.
Pricing and Misrepresentation: Key Challenges for Hemp Seed Oil Suppliers
The price of the hemp seed oil is 2-4 times more than the basic essential oils such as coconut oil, almond oil, sesame oil, and others. For example, BOHECO sells its 250 ml hemp seed oil variant for US$ 11.5 whereas organic coconut oil is available for US$ 3.0 in India. Furthermore, hemp seed oil is used as a base in CBD oil and is often incorrectly marketed as hemp oil or full-spectrum hemp oil, which is way more expensive than regular hemp seed oil.
Some of the brands market these blends as hemp-seed based to avoid FDA regulations on the cannabis-derived product. Product pricing would not be a restraint if countered by the right pricing and marketing strategies. Despite hemp seed oil being sold at higher prices, consumers are willing to pay more for its organic traits and high nutritive value.
Hemp Seed Oil Market: Region-wise Analysis
The global hemp seed oil market is valued at US$ 72.2 Mn in 2020. Regionally, North America and Europe are leading markets for hemp seed oil accounting for nearly 60% of the overall market share. However, during the forecast period, East and South Asia are expected to emerge as a more attractive market. The strong presence of key manufacturers and sales channels is favoring the dominance of North America and Europe in the hemp seed oil market.
Other than these regions, China, India, and MEA exhibit significant opportunities for hemp seed oil market players. At present, the average hemp seed oil consumption in China and India is significantly lower than in the US and Europe, and there exist immense opportunities for growth backed by the due to rising per capita disposable income and increasing usage of hemp seed oil in food products.
Leading suppliers in Hemp Seed Oil Market
The hemp seed oil market place is mainly dominated by the well-established companies. The hemp seed oil market currently at a nascent stage however it provides an attractive opportunities for the entry of new players. The key marketing strategies implemented by the manufacturer are clean-label claims, organic certified, organizing awareness campaigns, social media advertising which has helped them to get a competitive edge. Some of the key players in the hemp seed oil market are,
Americas
Nutiva Inc.
Canopy Growth Corporation
Connolis LLC
Maverik oils
NP Nutra
Hemp oil Canada
Europe
Agropro
Canah International SRL
Z- Company
Asia Pacific
Ecofiber Limited
13 Seeds Hemp Farm
Elixinol Global Limited
BOHECO
*The list is not exhaustive, and only for representational purposes. Full competitive intelligence with SWOT analysis available in the report
Hemp Seed Oil Market: The Way Forward
The long-term growth prospective of the hemp seed oil market remains optimistic, with FMI's analysis projecting revenue growth at over 18.5% constantly. The demand for nutritional supplements and healthy food products is prevailing in recent times and is further anticipated to aid the expansion of the market.
The most popular trends enabling growth in the market are increasing focus on living healthy and maintaining wellness. These trends greatly impact the purchase decision and preferences of consumers. As a result several companies operating in the food sector have included organic hemp seed oil to their product portfolios. In addition to this, information related to any product is more accessible to consumers due to the growth of the internet channel. Spurred by these factors, the hemp seed oil market will exhibit impressive growth in the coming years.
World's Most Profilic Intelligence Engine
Get Access To The World's Largest Market Research Database.
Sign Up Now
Market Segmentation
The Global hemp seed oil market is segmented in detail to cover every aspect of the market and present complete market intelligence to readers.
Nature
Grade
Food grade
Pharmaceutical grade
Extraction process
Cold pressed hemp seed oil
Refined hemp seed oil
End use
Food & beverages

Sauces and salad dressings
Dessert toppings
Baked foods
Margarine
Cooking oil

Nutraceuticals
Cosmetics & personal care
Pharmaceuticals
Industrial products
Region
North America
Latin America
Europe
South Asia
East Asia
Oceania
Middle East and Africa
Need specific information?
Our Clients