Seed Treatment Materials Market Outlook & Key Findings
FMI forecasts the global seed treatment materials market to exhibit 9.9% CAGR between 2020 and 2030
Sustainability practices in agriculture to push adoption, resultantly the underlying opportunity in seed treatment material to increase at least two fold by 2030
Online portals and web applications, educating farmers about seeds and plant growth regulations are an extension of growth strategies adopted by market players
Certified commercial seeds offer 99% genetic purity hence preferred more by crop growers. Knowledge about the same will fuel demand for seed treatment material
Organic trends will enable growth in seed biologicals and polymers segments. Of these, seed polymers are expected to account for higher share in the global market.
Adoption of Modern Farming Techniques Boosts Sales of Seed Treatment Materials
Traditional farming techniques usually involved sowing seeds in fields with hand. Inefficient and imprecise practices were more common in countries such as Mexico and India. With recent advancements in agriculture sector, low cost equipment have come to fore, speeding the farming process.
The demand for seed treatment materials has surged in response to the higher adoption of advanced farming technologies. The novel techniques have not only made sowing a more efficient process, but have resulted in the launch of better quality seeds.
Seed treatment materials make seeds uniform in size and shape, guaranteeing even distribution across farming fields. Modern farming techniques has time and again proven to improve the overall farm yield. Spurred by this, farmers across the world are likely to invest in them, including seed treatment materials.
Seed Coatings Materials Witness High Demand as Farmers Look for Advanced Ways of Protecting Seed and Reducing Spoilage
Seed treatment materials are in high demand and if FMI's projections hold true, the market will surpass its valuation of US$ 2.2 Bn by the end of 2020. The market is well positioned to exhibit 3% higher rate of growth than the remaining agricultural sector.
Agronomists around the world are researching on various methods of maintaining a balanced food supply to ensure uninterrupted supply of grains and improve the overall agricultural yield. Several technological developments are underway to help countries achieve this.
These advances are in turn transforming seed treatment processes. Manufacturers are developing new combinations of seed coating processes such as seed film coating, seed encrusting, and seed palleting for protecting the stored seeds from spoilage, nutrition loss, and damage from pests.
Several research and development (R&D) facilities are completely dedicated to innovating seed treatment materials. Distributors are taking additional efforts for seed safety to ensure the rising demand for grain is met. These measures will ascertain a non-volatile growth trajectory for agricultural produce as well as seed treatment materials.
Expansion of Seed-Coating Technologies to Wild Species will Fuel the Demand for Seed Treatment Materials
Seed coating products are mostly used during the cultivation of crops, fruits, and vegetables. This is due to the higher value of economic crops in comparison to turf grass, pasture, and flower.
Farmers are using wild species of crops since the start of agricultural practices. Some of these species are often associated with the cultivation of domesticated crops. They are therefore planted alongside domestic crops to promote exchange of beneficial traits between crops in natural ways.
Until recently, there was little attention given towards ecological restoration by the application of seed coatings on native species. However, better connectivity and access to the internet have rendered farming communities better educated. In the future, the demand for seed coatings for wild species is poised to surge.
Some of the leading agtech companies such as Syngenta and Bayer incur nearly 20% of their expenditure on R&D initiatives. Their intent remains discovering sustainable agriculture practices.
The demand for economical seeds is expected to rise on a commercial scale. These factors are likely to spur frequency of researches conducted by carpologists and agronomists to study the effect of seed treatment materials on wild species.
Measures Implemented to Contain Pesticide Residue in Soil to Increase Demand for Seed Treatment Materials
Using pesticides is often considered necessary for cultivation. On the flip side it is often associated with several negative impacts. For instance, use of pesticides over an extended period of time can hinder growth of higher plants.
Extensive use of pesticides can degrade the quality of yield by damaging the community of microorganisms living in the soil. They are also associated with toxicity and chronic adverse impact on human beings exposed to them.
Compelled by the rising demand for eco-friendlier alternatives, researchers and manufacturers of agrochemicals are experimenting with various techniques that can reduce carbon footprint as well as contain soil pollution.
There is ample focus towards reducing the residue level of pesticides in soil. To achieve this commercial seeds are coated with barely one-tenth of total pesticides used per hectare of cropland.
According to FMI, nearly 20% of farming community is expected to join the bandwagon of seed treatment ecosystem to improve plant and soil health and promote sustainable agriculture.
Leading Companies are jumping into Hiring Spree to Foster Better Future for Community
Leading companies operating in the seed industry are on spree of hiring experts to promote data sharing between them and farmers or consumers. Some of the emerging businesses in the sector claim that data sharing has become extremely important and thus having a data scientist on-board is imperative.
Seed companies traditionally recruited scientists or biologists who can engineer soil microbes. However, in order to success amid fiercely increasing competition these companies require not just innovation but strong sales figures.
To balance this criteria companies are hiring individuals who can form long term relationships with farmers and explain them the importance of data and its usage.
Measures such as robust internship programs, hiring economists or agronomists, are being adopted by the seed treatment market leaders to build a community that can train future leaders in agriculture.
Such initiatives are not only intended to gain competitive advantage in the market, but are steps taken towards building a sustainable future.
Region-wise Analysis: Globalization of Agriculture to Accelerate the Growth of Seed Treatment Materials Market
Globalization will prove to be a growth engine in low-income countries, giving a big push to agricultural practices. Until a few decades ago, the growth rate of agriculture production was around 3% per year. Globalization has enabled the agriculture production to grow at a faster rate of 4-6% per year.
Globalization will improve existing infrastructure and bring in several developments that will help in reducing costs and achieving a significantly higher growth rate compared to the past figures. Globalization of agriculture will therefore enable the seed treatment materials market to rise at an accelerated pace.
Expansion of distribution channels globally will give impetus to the seed treatment materials market. This, according to FMI, will create incremental growth opportunities, assisting the market to reach US$ 5.8 Bn by the end of 2030.
The use of pesticides has surged considerably in the U.S. and Brazil in the last five years. Acquisition of agrochemical companies in North America and setting up of production facilities in Latin America will create lucrative growth opportunities for the market.
In Asia Pacific as well the market will witness surging demand. Increasing awareness regarding the benefits of biological seed treatment materials will impel growth across high potential markets in the region.
A key point to consider here is that, the global seed treatment market is characterized by high capital investment, especially in developed markets. As shown in the chart below Europe, North America, and East Asia markets will register higher capital investments.
Europe and East Asia are likely to emerge as lucrative markets thus witnessing a higher degree of competition than the Rest of the World.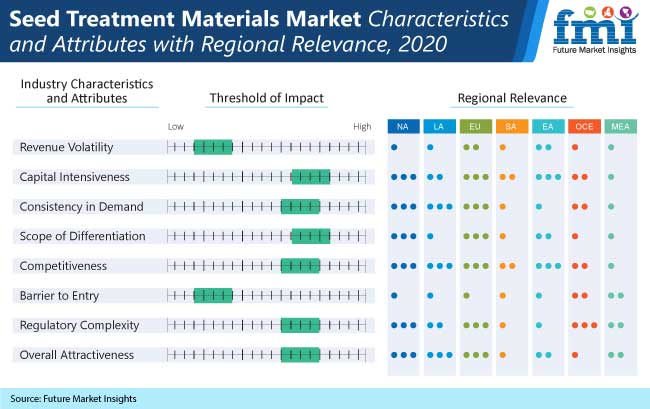 Leading Players Operating in Seed Treatment Materials Market
Seed treatment materials market will exhibit the presence of some of the behemoths in the agriculture sector. Future Market Insights profiles some of the leading companies operating in the seed treatment market. These are:
Americas
Corteva Agriscience
Eastman Chemical Company
FMC Corporation
Chromatech Incorporated
Europe
Bayer AG
Evonik
BASF SE
Novozymes A/S
Clariant Specialty Chemicals
Syngenta AG
Croda International Plc
Germains Seed Technology
Tozer Seeds Ltd
Asia Pacific
Nufarm Limited
Centor Oceania
ADAMA Agricultural Solutions Ltd.
UPL Limited
Jeevan Chemicals Pvt. Ltd.
Tagros Chemicals India Ltd.
Sumitomo Chemical
*The list is not exhaustive, and only for representational purposes. Full competitive intelligence with SWOT analysis available in the report
Seed Treatment Materials: The Way Forward
FMI's analysis reveals that the seed treatment market is still at a growth stage. This is indicative of immense underlying growth potential of the market.
Aided by continued research and development initiatives, the market will witness influx of advanced technologies. Rising demand for sustainable crop and food security is fuelling the demand for biological and physical advances in seed treatment to overcome germination constraints.
Changing regulations and ban on neonicotinoids will compelled manufacturers to opt for safer and more environmental-friendly ingredients. In addition to this, some of the leading companies are taking initiatives to fortify seeds with micronutrients so that they grow into healthier plants.
Spurred by aforementioned factors, the seed treatment materials market will exhibit robust growth in the near future.
The production process adopted for treatment of seed with coating ingredients has significantly improved in the past few years. These improvements have made the process a whole lot easier than before.
Also, they have made possible the precise calculation of coating, making seed treatment techniques easier and more attractive. With farming communities inclining towards higher uptake of advanced techniques, the demand for seed treatment materials is expected to surge in the near future.
Market Segmentation
Coating Type
Seed Film Coating

Matt Finish
Shine
Sparkle

Seed Encrusting
Seed Palleting
Application
Seed Polymers

Petrochemical-Based Polymers
Biopolymers

Binder & Fillers
Colourant (dispersed pigment colour)
Seed Biologicals

Biological Inoculant
Biocontrols
Pheromones
Biostimulants
Form
Treatment Method
Chemical seed treatment
Non-chemical seed treatment

Biological seed treatment
Physical seed treatment

Hot Water Treatment
Dry Heat Treatment
Crop Type
Cereals & Grains

Corn
Wheat
Rice
Sorghum
Barley

Oilseeds & Pulses

Soybean
Canola
Cotton
Sunflower

Other Crop Types

Turfs, forages, and alfalfa
Sugar beets & vegetables
Region
North America
Latin America
Europe
South Asia
East Asia
Oceania
Middle East & Africa
Need specific information?
Talk Show:
The Rise of Intelligent Packaging
Personalized, Connected and Sustainable
November 18, 2021
11:00-11:45 AM PST (USA & Canada)
This is a LIVE session