Agriculture Testing Services Market By Sample Type (Soil, Seed, Water, Fertilizer, Food), Service Type (Off-Site Services, On-Site Services), End User (Farmers, Agricultural Consultant, Fertilizer Manufacturers, Research Bodies) & Region - Forecast to 2018 - 2028
Agriculture Testing Services Market - Analysis, Outlook, Growth, Trends, Forecasts
July 2019

REP-GB-9861

250 pages
Agriculture Testing Services Market - Key Research Findings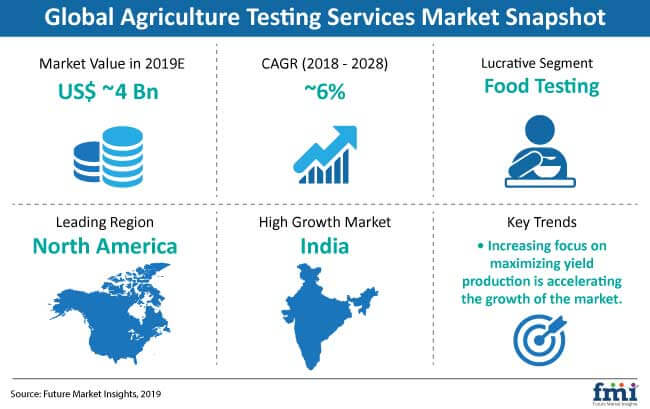 Global agriculture testing services market size in 2018 – ~US$ 4 Bn
The agriculture testing services market is expected to observe a CAGR of ~ 6% over 2018-2028.
North America and Europe are expected to remain prominent regional markets for the agriculture testing services market.

The presence of an adequate number of prominent agriculture testing service providers in these regions is ultimately contributing to the growth of the agriculture testing service market.

Latin America and South Asia hold a high potential for the growth of the agriculture testing services market.

Increasing demand for fertilisers and water testing in these regions is accelerating the growth of the agriculture testing service market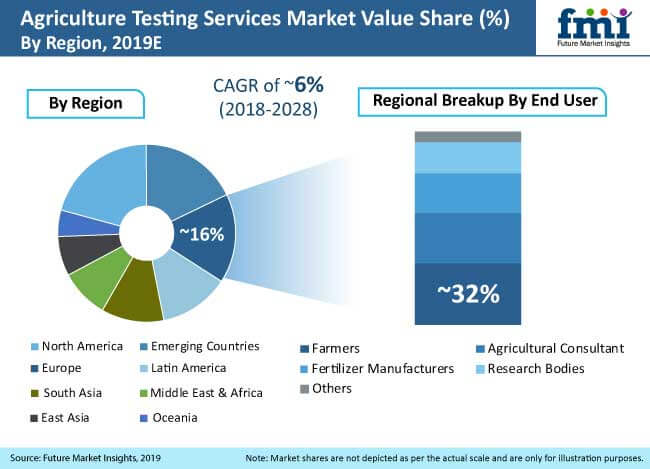 Top 3 Factors Shaping the Agriculture Testing Services Market
Continuously Increasing Food Production in Fast-developing Economies

Countries such as China, India, the UK, and the U.S., are among the leading food producers across the globe. Increasing demand for food and its quality testing to maintain the quality parameters is boosting the global agriculture testing services market. Stringent rules and regulations associated with food quality testing is another factor that is accelerating the growth of the agriculture testing services market.

Rapid Increase in Demand for Fertilisers in Latin American and East & South Asian Regions

The frequent requirement of fertilizers in the agriculture industry, especially in regions such as South Asia, East Asia and Latin America to raise yield production is one of the important factors that boosting the global demand for fertilizers.

The regular testing of fertilisers by industry manufacturers and agricultural consultants to inspect the nutrient proportion and other parameters is contributing to the growth of the agriculture testing service market. Moreover, the increasing consumption of nitrogen and phosphate fertilisers in key regions is also expected to fuel the growth of agriculture testing services.

Growing Significance of Soil Testing in Agriculture Industry

Agriculture production mainly depends upon the quality of the soil. Farmers are consistently focusing on improving the quality of the soil to boost the yield production.

The increasing importance for soil quality testing across the globe to maintain the required quality of the soil is anticipated to spur the demand for agriculture testing services. The expansion of arable land with its soil quality testing to boost crop production is another factor that is propelling the growth of the agriculture testing service market.
Agriculture Testing Service Market Structure Analysis
In the agriculture testing service market, tier 1 companies hold a revenue share of ~ 50%. Some of the prominent players in the market are Intertek Group plc, BUREAU VERITAS, Eurofins Scientific, SGS SA, TÜV NORD GROUP, ALS Ltd., AgroLab, Waters Agricultural Laboratories, Inc., Polytest Laboratories., A&L Great Lakes., AGQ Labs USA, Akshar Analytical Laboratory & Research Center, Agri-Labs, Inc., and J. K. ANALYTICAL LABORATORY & RESEARCH CENTRE, Lilaba Analytical Laboratories and Interstellar Testing Center Pvt. Ltd.
Agriculture Testing Services - Reaching Highest Standards of Screening & Safeguarding
Continuous focus on maximizing agricultural yield warrants quality inspection of soil, water, and agricultural products, such as seeds and fertilisers. Agriculture testing services will thus witness an increasing adoption in the coming years. In light of tightening regulatory norms for food quality and safety, and growing preference for transparent labelling, stakeholders in agricultural commodities and food products will continue to opt for agriculture testing services, over the years to come.
Market Set to Grow 1.9X between 2018 and 2028
The expanse of agri-food industry points to growing need for high-value commodity quality assurance. With testing service providers stretching their capabilities from physical, chemical, and geo-chemical, to contaminant, microbial, and GMO (genetically modified organisms) testing, it is crystal clear that screening, testing, and inspection services will see healthy demand.
South Asia Set to Outpace Europe
North America's lead in the market continues. However, South Asia's market attractiveness is progressing rapidly, which is likely to be outpacing that of Europe – currently the second leading regional market for agriculture testing services.
The rising levels of water and soil contamination, particularly in developing South Asian countries, continue to pose an increasing risk of crop failure, which is underlining the need for reliable agriculture testing services. Governments' efforts in terms of awareness programs offers an additional push.
The Broader Perspective
A wide range of agriculture testing services are already being employed for products/ingredients verification, label claims, and export markets. Spectacular increase in cultivation of GM plants, each year, continues to highlight the critical need for efficient GMO testing. GMO crops commercialisation is facing the scrutiny of FDA, USDA, and EPA, thereby pushing demand for GMO testing services.
How the Growth Will Unfold?
Leading providers of agriculture testing services remain focused on on-site and off-site services. With an increasing urge to comply with diverse certification and accreditation prerequisites, testing service providers are launching new testing labs.
World's Most Profilic Intelligence Engine
Get Access To The World's Largest Market Research Database.
Sign Up Now
Key Segment
By Sample Type
Soil
Seed
Water
Fertilizer
Food
Others
By Service Type
Off-Site Services
On-Site Services
By End User
Farmers
Agricultural Consultant
Fertilizer Manufacturers
Research Bodies
Others
By Region
North America
Latin America
Europe
South Asia
East Asia
Oceania
MEA
Emerging Countries
Need specific information?
Our Clients