An Incisive, In-depth Analysis on the Chia Seed Market
This study offers a comprehensive, 360 degree analysis on the Chia Seed market, bringing to fore insights that can help stakeholders identify the opportunities as well as challenges. It tracks the global Chia Seed market across key regions, and offers in-depth commentary and accurate quantitative insights. The study also includes incisive competitive landscape analysis, and provides key recommendations to market players on winning imperatives and successful strategies.
The demand for whole chia seeds will dominate the global market owing to the edible nature of chia seeds in whole form, unlike flax seeds
Increasing demand for chia seed as a 'super food' is the reason for the relatively high share in the global market. Chia seed oil is widely used in the pharmaceutical and cosmetic markets and this is anticipated to boost demand for chia seed oil over the forecast period. By form, the whole segment is expected to remain dominant in the global chia seed market throughout the forecast period and is expected to account for a revenue share of close to 60% by the end of 2027. Revenue from the whole segment in the global chia seed market is expected to increase at a relatively high CAGR of 7.2%. The oil segment is expected to account for a revenue share of about 18% by 2027 end. Revenue from the grounded segment in the global chia seed market is expected to increase at a relatively moderate CAGR of 6.5% in terms of value.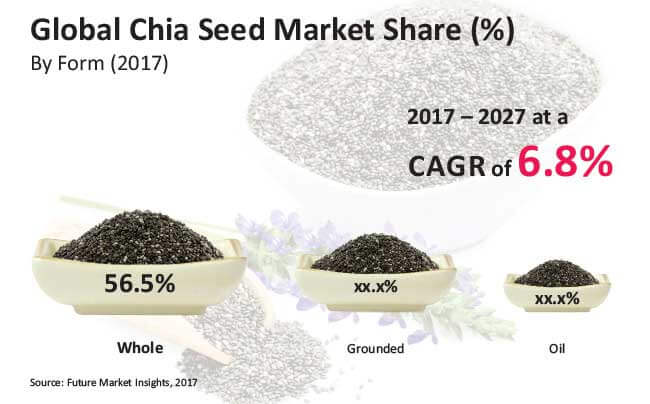 Growing preference for vegan food coupled with an increasing shift towards healthy snacks is boosting the growth of chia seeds market demand
Due to the fast paced and hectic lifestyle and changing eating patterns of people across the world, a large number of consumers are shifting towards ready-to-eat meals or packaged food products and snacks. However, most of the snacks lack in terms of essential nutrients and dietary fibre and are not ideally a healthy food option. On the other hand, chia seeds are good for health and therefore snacks made using chia seeds are a popular healthy food option available to consumers. This rising popularity of chia seed snacks is expected to fuel revenue growth of the global chia seed market.
Traditionally, chia seeds are produced all over Latin American countries due to favourable climate in the region. High domestic consumption in the region, along with rising population and economic standards is anticipated to boost the demand for chia seeds and eventually fuel the growth of the global chia seed market throughout the forecasted period.
Demand for protein alternatives along with consumer preference for vegan food products is increasing in Europe. This is due to growing social activities and awareness regarding animal welfare. Chia seeds contain the daily requirement of protein and hence is a best fit for health-conscious consumers. This factor is anticipated to drive revenue growth of the chia seed market in the region.
The Middle East region has a large consumer base for traditional food. Chia seed drinks are known as Tokhme–Sharbati of Persian origin and are consumed all over the Middle East. An increasing demand for traditional beverages and savouries in the region is expected to drive the growth of the chia seed market during the assessment period.
Preference for non-GMO seeds by manufacturers is trending the global chia seed market
GMO chia seeds are antibiotic resistant, have altered nutrient content and are herbicide resistant; whereas, non-GMO seeds have required nutrient content and are non-resistant to herbicide. This causes degradation of crop quality and yield. In order to offer better quality products, manufacturers are shifting their preference from GMO to non-GMO chia seeds and this trend is expected to continue over the forecast period.
Chia is a major component in various dietary products. Producers have already launched super blends of chia seed with other seeds and ingredients in their offerings. Such products with chia as a major ingredient are expected to increase over the forecast period and demand for such products is also anticipated to increase significantly. For instance, Mamma Chia, which is a leading private company in the chia seed market introduced its new energy drink named 'Seed Your Soul' with chia seed combined with the extract of different fruits.
The companies dealing in the production of chia seeds encourage farmers to grow cash crops organically by bringing the farmers under contracts and helping technologically, which is mutually beneficial to both parties. Also, key players in the global chia seed market focus on increasing their presence in the global market by securing all important certifications such as EUR, USP-NF, FDA, USDA, Official Mexican Norms, Codex Alimentarius and AOCS HACCP. The companies further lay emphasis on increasing investments in R & D activities in order to strengthen their product portfolio and maintain their position in the market. In a new report titled "Chia Seed Market: Global Industry Analysis (2012-2016) and Opportunity Assessment (2017-2027)," our analysts have described the key developments of companies operating in the global chia seed market by compiling first-hand information, qualitative and quantitative assessment by industry experts and market inputs from industry stakeholders and industry participants across the value chain.
We have observed that chia seed manufacturers in Australia are focussing on creating a strong presence in the global market by opening up regional offices in regions with highly untapped potential. These companies have acquired large regional brands to increase their presence in the global chia seeds market. Key players in the U.S. are using community and environmental values to showcase their products and this is resulting in expanding the consumer base. Our new report provides in-depth analysis of parent market trends, macro-economic indicators and governing factors along with market attractiveness of the different segments identified in the chia seed market. The report also maps the qualitative impact of various market factors on market segments and geographies.
The global chia seed market is segmented into the following categories
By Origin

By Colour

By Form

By Region

By End-Use Application

North America

Latin America

Western Europe

Eastern Europe

APEJ

Japan

MEA

Food and Beverages

Packed Chia

Nutritional Bars

Bakery and Snacks

Breakfast Cereals

Beverages

Others

Personal Care Products and Cosmetics

Animal Feed and Pet Food

Nutritional and Dietary Supplements
Report Structure
We have taken a detailed overview of the parent market while drafting the global chia seed market report. The changing market dynamics of chia seed products have been taken into consideration to get a crystal clear picture of the overall market. The report also highlights the recent industry trends and developments, market strategies of key players and product offerings, market segmentation and market size in terms of volume and value. This report also consists of historical demand trends, chia seeds growth rate, the financial performance of top companies across the seven regions, macro-economic indicators such as GDP and population, raw material production trends, raw material trade, the influence of increasing disposable income and raw material price trends. Besides, market definition, types and applications of chia seeds, demand and supply side drivers, and global restraints, opportunities and trends have been explained in detail in this exclusive report.
Research Methodology
We have adopted a systematic research approach while inspecting the global chia seed market. In-depth secondary research is used to arrive at the overall market size, top industry players, top products and industry associations. Our analysts have formulated a detailed discussion guide in order to conduct exhaustive interviews with industry experts, key market players, producers, distributors, suppliers and retailers of chia seeds. Data thus obtained is validated using the triangulation method, wherein primary and secondary research data along with Future Market Insights' analysis contribute to the final data points, which are scrutinised using advanced tools to garner qualitative and quantitative insights into the global chia seed market.
COVID -19 : Impact Analysis
Request the coronavirus impact analysis across industries and markets
Request Covid -19 Impact
CASE STUDIES
See how our work makes an impact.
At FMI, we design strategies that are adaptive, impactful, and implementable.