Greater Emphasis on Offering Eco-friendly Straws
After bans on using single-use plastic straws, manufacturers are offering straws that can decompose and have less impact on the environment. Consumption of straws is anticipated to increase owing to increasing fast food outlets and consumption of alcoholic and non-alcoholic beverages. Leading players are collaborating with raw material suppliers in order to create sustainable straws and avoid using plastic straws.
Rising Consumption of Compact Beverage Packages
To ensure consumers' convenience and hygiene at workplace, brand owners and corporates prefer straws along with tetra packs. Manufacturers directly provide packaged products to convenience stores and retailers. Consequently, the demand for packaged beverages is expected to fuel the straw market growth in coming years.
In 2017, total consumption of fruit juices & nectar in the European Union accounted for revenues that roughly equated 9 billion liters, in which Germany accounted for around 25% of it. According to UNESDA, soft drinks can be a part of healthy and balanced lifestyle, which add values to production and marketing of soft drinks, eventually increasing the consumption of straws in the region.
Enhanced Production Capabilities Translating into More Opportunities
Europe is anticipated to be one of the key regions that focuses on reducing usage of single-use plastic straws by replacing them with other reusable and biodegradable straws. This can create huge growth opportunities for manufacturers in the straw market.
Changing lifestyles and adoption of paper-based packaging in the East Asia region is also expected to bolster the growth of the straw market in the next decade. Local and regional players in the Asian region are expected to boost the growth of the straw market and increase value share of straws in the region.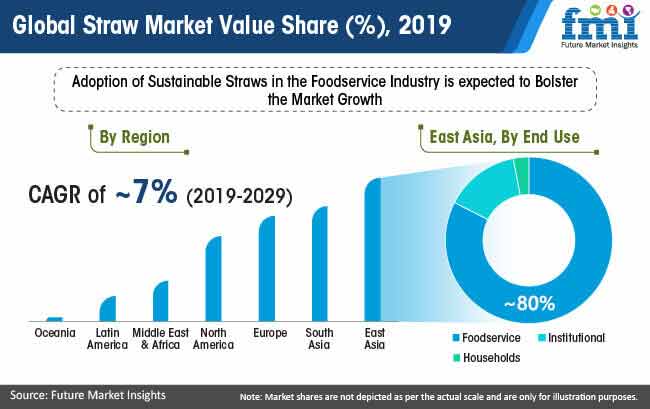 STRAW MARKET STRUCTURE ANALYSIS
Leading market players in the straw market include Hoffmaster Group Inc. and Tetra Pak International S.A.
Prominent manufacturers are investing in research & development activities for the production of sustainable and recyclable materials. These companies include PLA, bio-PE, PA 11, petroleum-based plastics, and starch-based plastics.
North America and Europe are estimated to show significant consumption rate of biodegradable products in next ten years.
Key Developmental Strategies and Competition Trends
Leading players are focusing more on product launches, mergers, and collaborations to expand their production capabilities. Key participants in the straw market are focusing on adopting business models and growth strategies in synchronization with biodegradability of straws. For instance, Hay Straws, a US-based manufacturer, offers straws that are made of wheat byproducts.
In 2018, Hoffmaster Group Inc. acquired Aardvark straws, a leading US-based paper straw manufacturer.
In 2018, Tetra Pak International S.A., introduced paper straws for its portion size carton packages.
Earlier in 2015, Hoffmaster Group Inc. had acquired Lapaco Paper Products Ltd., a recognized disposable paper products manufacturer.
Paper Straw Gathering Momentum
A majority of the global market revenues is accounted by plastic and paper, whereas other material alternatives such as metal, glass, bamboo, and silicone currently hold a negligible share. As the production of plastic straws is set to witness a massive dip in the following years, paper has been benefiting as a preferred choice of material among straw manufacturers.
Biodegradability and recyclability of bioplastics are also garnering R&D interests of companies. Portability and reusability will emerge as the most sought-after features shaping straw sales in the near future.
Incremental Opportunity Facing Asian and European Markets
Led by China and the U.K. respectively, global straw sales will remain concentrated in Asia and Europe. Profits worth of about US$ 4 Tn are attracting manufacturers from across the globe to these regional markets. The study also reveals lucrative profits in Germany and India, and this growth potential has been attributed to the flourishing functional beverage sector and rapid E-commerce expansion in these countries. The growth of foodservice industry and heightening sales of energy drinks will particularly account for the sustained consumption of straws in these economies.
Sustainable Straws - A Differentiating Strategy
As single use plastic straws are subject to regulatory backlash, key market players are turning to sustainable material choices such as metal, glass, bamboo, and paper. Although these eco-friendly alternatives are relatively expensive than plastic, they minimize the environmental impact and promote sustainability in the market. Paper will continue to gain higher traction than its glass and metal counterparts owing to the relatively low price point.
How Growth will Unfold
Foodservice industry would remain the key revenue generator for straw market players, reaping profits of around US$ 5 Tn by the end of 2019. Sales of straws in bars, lounges, and hotels will contribute a major share, whereas that in restaurants and motels will witness remarkable growth in the near future.
Cafes, on the other side, have been registering maximum annual growth in straw sales over the recent past. They are thus being perceived as an attractive revenue pocket for straw manufacturers. Demand growth in the institutional sector, especially in corporate environments, also appears positive. Manufacturers will further tap white spaces in the educational and healthcare industries for better returns.
STRAWS MARKET TAXONOMY
The global straw market is segmented in detail to cover every aspect of the market and present a complete market intelligence approach to readers.
Product
Plastic
Bamboo
Metal
Paper
Glass
Silicone
Others
Straw Length
<9 cm
9-15 cm
16-20 cm
>20 cm
Sales Channel
Manufacturers
Distributors
Retailers
E-retail
End Use
Foodservice
Institutional
Households
Region
North America
Latin America
Europe
South Asia
East Asia
Oceania
MEA
Need specific information?