Bubble Tea Market By Base Ingredient (Black Tea, Green Tea, Oolong Tea), Flavour (Original, Flavored), Sugar Content (Regular, Reduced Sugar/Sugar Free), Format (Ready-to-Drink, Instant Mixes), Toppings (Pearl, Grass Jelly, Red Bean), Distribution Channel (Direct, Indirect, Online Reatailing) & Region - Forecast to 2021 - 2031
Bubble Tea Market - Analysis, Outlook, Growth, Trends, Forecasts
November 2021

REP-GB-12310

372 pages
Bubble Tea Market Snapshot
Demand in the bubble tea market is expected to reach US$ 2.3 Bn in 2021. Looking forward, Future Market Insights (FMI) expects the global bubble tea market size to reach US$ 5.5 Bn by 2031, exhibiting growth at 8.8% CAGR for 2021-31.
Bubble tea is made using black tea, green tea, oolong tea, or white tea. It has a milk base and includes chewy tapioca balls or boba and fruit jelly.
Sales of bubble tea or pearl milk tea is growing in response to the high demand for healthier alternatives to carbonated drinks. With demand forecast to grow at an impressive pace, the overall bubble tea market will represent 2% of sales registered in the tea industry in 2021.
| | |
| --- | --- |
| Bubble Tea Market Base Year Value (2020A) | US$ 2.21 Bn |
| Estimated Bubble Tea Market Year Value (2021E) | US$ 2.3 Bn |
| Projected Bubble Tea Market Year Value (2031F) | US$ 5.5 Bn |
| Value CAGR (2021-2031) | 8.8% |
Bubble Tea Market Outlook 2016-2020 in Comparison to 2021-2031 Growth Forecast
As per Future Market Insights (FMI), the global bubble tea market grew at a steady CAGR of 7.1% between 2016 and 2020. Growth will pick up pace, thanks to improving availability of bubble tea worldwide, enabling sales in the bubble tea market to grow by 8.8% CAGR between 2021 and 2031.
Bubble tea was a revolutionary invention that was quickly adopted by the general public. Following the widespread immigration of Taiwanese individuals and the growing popularity of café culture, thanks to retail chains such as Starbucks, bubble tea became a great phenomenon in the US, starting in the 1990s.
Social media influence has played a critical role in making bubble tea popular worldwide. Bubble tea establishments developed a sensation by crafting beautiful drinks and encouraging customers to share artistic photos of their unique beverage online.
Bubble tea is a unique phenomenon in that it has maintained its appeal rather than fading away, as other trends do. Bubble tea's enduring success can be explained in part by the demography that consumes and sells the beverage.
Bubble tea appeals to and is offered by a younger demographic with a greater awareness of social media marketing, allowing the trend to continue to grow in popularity. It has remained popular due to its adaptability, rather than losing its novelty appeal as people's tastes have changed.
As consumer demand grows, it is expected that top bubble tea brands will be encouraged to introduce interesting and unique products to stand out in the market. As per FMI, the market is predicted to grow at a CAGR of 8.8% between 2021 and 2031.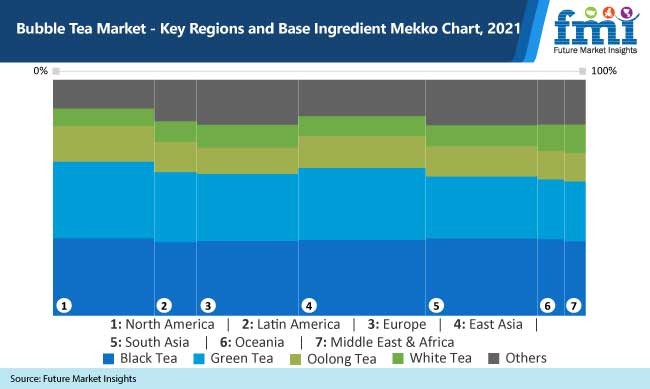 How Versatility of Tea Both in Terms of Flavor and Health Benefits Drives Spending on Bubble Tea?
Tea is a versatile beverage that is easily the most widely consumed beverage in the world. Tea makers have been experimenting with its zesty and appealing aroma for years, treating consumers to a variety of flavors, including oolong and green tea.
Bubble tea is one of the newest beverage trends that is causing a stir. Consumers are increasingly adopting a more thoughtful approach to health and wellbeing, which has resulted in the introduction of innovative plant-based teas that are packed with health benefits.
Consumers are pursuing self-care as they have become more aware about how stress hormones can harm their health and happiness. Natural beverages that enhance the immune system and increase physical energy are always appealing to them.
With no indications of slowing down, FMI predicts that demand for bubble tea will continue to rise. Tea's growing popularity as a nootropic beverage will continue to boost the market's growth. Bubble tea has a distinct flavour and is available in a variety of varieties, which is helping to drive market growth.
Has Stiff Competition Made Leading Brands More Imaginative in Launching New Products?
Bubble tea was first launched several years ago, but it wasn't until lately that it became popular. Bubble tea cafes began the trend of providing aesthetically beautiful drinks for customers as a result of information shared on social media, encouraging people to take photos and post on social media.
This trend has recently helped the market gain a lot of traction. Bubble tea, unlike a number of previous phenomena that have come and gone, is unlikely to fade away very soon. Despite fierce competition, the industry continues to provide opportunities for differentiation, which is projected to boost growth in the future years.
Every shop and manufacturer has a lot of leeway when it comes to launching their own varieties of bubble tea with a range of toppings and developing a brand identity. Instead of allowing competition to deter them, bubble tea companies have taken advantage of the opportunity to be more creative and impress their customers.
For instance, Tiger Sugar is known for its creamy bubble milk tea served with mouse, while The Alley is known for brown sugar tapioca pearl bubble tea. Dr. Bubbles, located in India, provided boba tea a makeover by introducing fruit popper and fruit jelly varieties.
What is the Impact of COVID-19 on the Bubble Tea Market?
Even with the reopening of cafés and franchisee stores, things aren't yet back to normal. The reality is that people are still coping with COVID-19, so everyone is returning to their normal routines with caution.
For businesses, this means restricting store occupancy and ensuring that high-touch areas and publicly shared electronics are regularly cleansed. To counteract this problem, store owners have tried a number of strategies, including curbside pickup, digital queues and menus, and encouraging cashless payments.
According to a Rapyd research performed in August 2020, COVID has made 54 percent of consumers nervous about handling currency, and 60% prefer to use contactless payments instead. Google Pay, Apple Pay, Samsung Pay, and Venmo will be the most used mobile wallets in 2020.
However, contactless payment isn't the only "touchless" experience that a company may offer. Customers may connect with you and your products in a number of ways from afar thanks to technology like augmented reality (AR) and virtual reality (VR).
Furthermore, in today's world, companies who can provide immersive and delightful shopping experiences remotely are more likely to be trusted and perceived as having integrity and a concern for their customers' well-being.
Country-wise Insights
What is Driving U.S. Bubble Tea Market?
The U.S. bubble tea market is projected to register growth at a CAGR of 12.4%, during the forecast period. The year 2020 saw a greater global awareness about relation between disease and meat consumption, which may have contributed to a 40% increase of vegans during the year.
In affluent countries like the US and Canada, as well as developing countries like India, where 20-40 percent of the population consumes vegan food, plant-based diets account for a major share of dietary choices.
As a result of changing consumer tastes, numerous bubble tea manufacturers now offer plant-based dairy alternatives. Cha Time, for example, serves bubble tea made with oat milk.
What China Bubble Tea Market Outlook?
According to FMI's analysis, the China market is forecast to grow at a CAGR of 7.5%. In the 1990s, when China's mainland economy began to open up, bubble tea began to receive widespread popularity around the world.
Consumers in China immediately picked up on the trend, and mainland entrepreneurs began to open their own local franchises. China is now a major bubble tea manufacturer. Demand for bubble tea will continue rising in China through the forecast period.
What is Driving Sales of Bubble Tea in Thailand?
According to FMI's analysis, the Thailand bubble tea market is forecast to grow at a CAGR of 8.7%. The product first appeared in Thailand more than a decade ago, but it quickly faded away. The beverage made a strong resurgence and became trendy again in 2018, thanks to social media influencers and internet foodies and bloggers "documenting" their bubble tea experiences.
Bubble tea franchises exploded in popularity all of a sudden. Bubble tea stores continue to sprout, with fresh menus and inventive products ranging from unique toppings to healthier options.
For its silky boba pearls, Mr. Shake Beyond is a local favorite. An ATM tea bar is a popular concept that allows customers to place orders via an ATM-style vending machine. Another business with a unique concept is Fire Tiger by Seoulcial Club, where one may order bubble tea directly from the shop's distinctive tiger's mouth.
An increase in the number of stores offering bubble tea will position Thailand as a highly attractive market..
What is Driving Bubble Tea Demand in Singapore?
According to FMI's analysis, the Singapore market is forecast to grow at a CAGR of 10.7%. Singapore's love affair with bubble tea began in 1992, a decade before most of its neighbors. The country's birthplace of bubble tea was the Bubble Tea Garden in Marina Square.
Pearl red bubble tea, yam shake, whisky red tea, honey egg yolk, and honey peppermint were all popular flavors back then. Unlike now, when most establishments sell milk tea in disposable plastic cups, bubble tea was served in fancifully formed cocktail glasses back then.
Bubble tea did not become widely popular until 2001, despite the fact that it was warmly appreciated by students. Long lines in front of bubble tea establishments became commonplace, with customers anxiously awaiting their orders.
The brands Cool Station, Quickly, and Milk Girl Ice Cup became well-known. In 2003, however, fierce rivalry flipped the bubble tea market on its head. DIY kits and seminars for making bubble tea became popular, and the market demand for bubble tea suffered as a result. As a result, numerous businesses in Singapore have closed their doors.
In 2007, the beverage reappeared on the scene. Foreign brands entered the market and won the hearts of people of all generations. By 2011, there were over ten franchises and approximately 500 shops selling pearl milk tea, including newer brands like Gong Cha and Koi.
Category-wise Insights
Why is Green Tea Gaining Traction as Bubble Tea Ingredient?
Demand for green tea is expected to grow by 11.4% CAGR and is expected to hold a market share of more than 38% of the overall bubble tea sales worldwide. Bubble tea brands often offer consumers the option to customize their tea base.
The most popular base ingredient is estimated to be green tea, which may be due to the perceived health benefits it offers. It is followed by black tea and other tea varieties such as earl grey and jasmine tea. Matcha tea also is gaining popularity as a base ingredient for bubble tea due to its unique flavour and health benefits.
What is Reduced Sugar/Sugar Free Bubble Tea More Popular?
Reduced sugar/sugar free bubble tea is expected to register healthy growth at 11.8% CAGR and is expected to hold a market share of more than 26%.
Reduced sugar/sugar-free bubble tea is becoming more popular as consumers have become more aware of the negative effects of excessive sugar consumption. Customers at bubble tea restaurants frequently have the option of adjusting the quantity of ice or sugar in their drinks. Sugar content is usually expressed as a percentage (e.g. 25%, 50%, 75%, 100% etc).
However, currently regular bubble tea holds a significant share of the global bubble tea market. Several brands alternatively offer brown sugar in their products owing to consumer perception regarding regular white sugar.
What are the Popular Bubble Tea Flavors?
On the basis of flavor, the bubble tea market is divided into two categories: original and flavoured. The original bubble tea is made using a combination of tea, sugar, and toppings. Milk-based bubble teas are also available from several bubble tea brands. Various flavours of bubble tea, such as fruit-flavored tea, vanilla, chocolate, mocha, honey, and nut-flavored tea, are included in the flavoured sector. Blended tea drinks are another variation of the drink. These versions are frequently made with ice cream or as smoothies containing both tea and fruit.
What are the Varieties Offered in Pearl Toppings?
Pearls is expected to register healthy growth at 10.3% CAGR and is expected to hold a market share of more than 35%.
Although there are numerous techniques to manufacture the chewy spheres seen in bubble tea, the most frequent topping is pearls (boba). The colour of the pearls varies depending on the additives added to the tapioca. Brown sugar turns most pearls black. Mango, strawberry, coconut, kiwi, and honey melon are some of the flavours available in pearls.
Will Online Retailing Emerge as the Fastest Growing Distribution Channel?
Online retailing is expected to register healthy growth at 11.9% CAGR. Bubble tea distribution channel include B2B, B2C and online retailing. The B2B segment is further classified into Hypermarket/supermarket, Convenience stores, grocery retailers, wholesale, and other store-based retailing. Online retailing is estimated to be the fastest-growing segment owing to increasing consumers preferring the convenience it offers. Several bubble tea brands offer online delivery of their products that may be pre-booked and arranged to be delivered at a specific time.
Competitive Landscape
Companies are focusing on launching novel drink blends with diverse flavors such as vanilla, apple, varied milk flavors, personalized sugar and ice level drinks, and so on in order to target the millennial group. Because millennials are recognized for their eagerness to sample new flavors, manufacturers have an opportunity to provide new flavoured drinks to the market. Over the predicted period, sales are expected to grow. Flavored drinks, in combination with the increased demand for bubble tea, present a strong potential for manufacturers.
Bubble Tea Supply Inc. announced in April 2020 debut of bubble tea, with a range of tastes in Bubble Tea Club, including traditional milk, mango, green apples, lychees, Thai and fruity flavours of honeydew and a range of 14 toppings.
In 2019, Secret Recipe joined the bubble tea bandwagon. A series of bubble tea flavours such as boba brown sugar with milk, boba caramel milk tea, boba milk tea, boba brown sugar milk tea, boba kopi-C, boba midnight blue, boba signature fruit tea, and boba cham were released.
In 2021 addition to growing its market presence, Gong cha is expanding its bubble tea offerings in 2021, continuing the company's well-known product innovation. This include the February launch of the company's Chocolate Lava Series, and the return of the popular Little Star Jelly Series and in April, a Heart Shaped Jelly Series of bubble tea, including Strawberry Honey Tea, Strawberry Milk Tea and Strawberry Smoothie flavors.
Scope of Report
| | |
| --- | --- |
| Attribute | Details |
| Forecast Period | 2021-2031 |
| Historical Data Available for | 2016-2020 |
| Market Analysis | USD Million for Value |
| Key Countries Covered | US, Canada, Germany, U.K., France, Italy, Spain, Russia, China, Japan, South Korea, India, Thailand, Malaysia, Indonesia, Australia, New Zealand, GCC Countries, Turkey, Northern Africa, and South Africa |
| Key Segments Covered | Base Ingredient, Flavour, Sugar Content, Format, Toppings, Distribution Channel, and Region |
| Key Companies Profiled | |
| Report Coverage | Market Forecast, Company Share Analysis, Competition Intelligence, DROT Analysis, Market Dynamics and Challenges, and Strategic Growth Initiatives |
| Customization & Pricing | Available upon Request |
World's Most Profilic Intelligence Engine
Get Access To The World's Largest Market Research Database.
Sign Up Now
Bubble Tea Market by Category
By Base Ingredient:
Black Tea
Green Tea
Oolong Tea
White Tea
Others
By Flavour:
Original
Flavored

Nut-Flavoured
Chocolate
Fruit
Honey
Mocha
Coconut
Caramel
Vanilla
By Sugar Content:
Regular
Reduced Sugar/Sugar Free
By Format:
Ready-to-Drink (RTD)
Instant Mixes
By Toppings:
Pearl
Grass Jelly
Coconut Jelly
Red Bean
Multiple/Others
By Distribution Channel:
Direct (B2B)
Indirect (B2C)

Hypermarket/Supermarket
Convenience Stores
Grocery Retailers
Grocery Retailers
Wholesale
Other Store based Retailing

Online Reatailing
By Region:
North America
Latin America
Europe
East Asia
South Asia
Oceania
MEA
Key Questions Answered in the Report
What is the bubble tea market size?
The global bubble tea market size is expected to reach US$ 2.3 Bn in 2021. By 2031, the market value is poised to surpass US$ 5.5 Bn at 8.8% CAGR.
What is the most popular bubble tea flavor?
Chocolate bubble tea, followed by nut-flavored bubble tea is most popular in the market.
What are the key trends shaping the bubble tea market?
High demand for flavored beverages derived from natural ingredients is encouraging flavor innovation in the bubble tea market. Consequently, some of the leading bubble tea brands are emphasizing on frequent product launches, which is expected to remain key trend in the market.
Who are the leading players in the bubble tea market?
Top players in the bubble tea market are Cha Time, Bubble Tea Supply Inc., Gong Cha, CoCo Fresh, Quickly, Kung Fu Tea, Tiger Sugar Korea, Boba Loca, Happy lemon, Lollicup USA, Inc., Share Tea. Key players accounted for around 40% of market share in 2020.
How was post-COVID bubble tea market performance?
Despite supply chain disruptions witnessed amid COVID-19, the bubble tea market registered 7.5% year on year growth in 2021.
What is the North America bubble tea market outlook?
The bubble tea market in North America will grow by 7.6% CAGR between 2021 and 2031.
What is the Europe bubble tea market outlook?
The Europe bubble tea market will register growth at 7.6% CAGR through 2031.
Need specific information?
Our Clients