Bubble Tea Market: Key Research Findings
Growing at a growth rate of over 8% annually, the bubble tea market will demonstrate impressive growth trends, backed by higher scope for versatile tea
Future Market Insights (FMI) projects black tea to account for the lion's share among products available in the market yet green tea is forecast to register a higher compound annual growth
East Asia to remain dominant, with Taiwan and Thailand as production and consumption capitals
Product launches to remain key strategies as market players seek to strengthen their foothold amid competition
Versatility of Tea Both in Terms of Flavor and Health Benefits Drives Spending on Bubble Tea
Tea is a versatile drink and easily the most popular beverage consumed around the world. For years, tea producers have been experimenting with its zestful and inviting aroma, treating consumers with plethora of flavors such as oolong and green tea among others.
Bubble tea has been among the newest trends creating buzz in the beverage industry. FMI foresees impressive growth prospects on cards for the bubble tea market, which is also projected to surpass US$ 2 Bn by the end of 2020
Innovative plant-based tea, packed with health benefits are frequently introduced in the beverage sector, impelled by the adoption of a more mindful approach in health and wellness among consumers.
The rising awareness that stress hormones can undermine health and happiness is inspiring consumers to pursue self-care. They are invariably drawn to natural beverages that boosts immune system and impacts physical energy.
With no signs of the trend slowing down, FMI projects the demand for bubble tea to scale higher. The increasing consumption of tea as a nootropic drink will continue aiding growth of the market. Bubble tea has a distinct taste and is available in a wide range of flavors, which is acting in favor of the overall market expansion.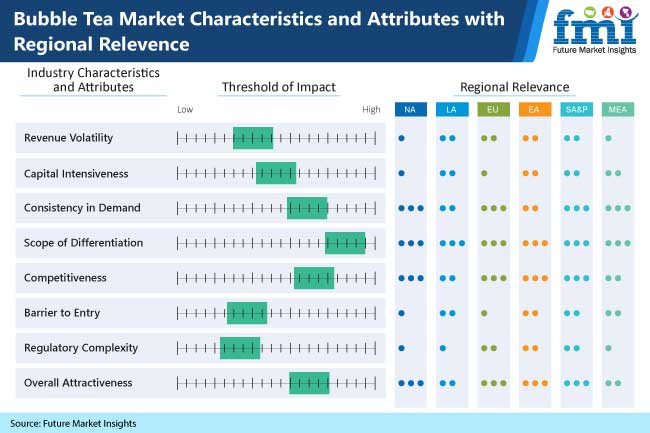 The bubble tea market shows high scope for differentiation as represented in the above image. Resultantly, the market has lesser barrier to entry of new players and offers a high degree of overall attractiveness.
East Asia and Europe will continue showcasing lucrative growth prospects. Despite sluggish growth due to headwinds by COVID-19 outbreak, the market is forecast to recover in the near future.
Market Players are Highlighting Health Benefits to Familiarize Consumers with Bubble Tea
Bubble tea is familiar to people around the world as bubble milk tea, boba juice, boba tea, or as pearl tea. Preparing bubble tea includes ingredients such as the familiar basics of tea and chewy tapioca balls, which also gives it the distinct name – pearl tea.
Depending on the flavor of tapioca balls, bubble tea offers comes in a variety of flavors such as peach, plum, mango, passion fruit, coffee, chocolate, and strawberry.
The chewy tapioca balls do not contain high calorie. Studies suggest that at a 1.1 once of uncooked pearls contain 68 calorie, but since tapioca balls are soaked in sugar mixture, their calorie count increases, which could be dampen the market's growth to an extent.
Citing this, several producers are moving towards healthier tea to offer low fat and low calorie content. Many are even advertising their products with taglines, underscoring antioxidant and anti-inflammatory properties of their bubble tea.
The bubble tea market covers white, green, and oolong tea. Due to the high familiarity of these teas among consumers, bubble tea has become widely popular across the globe.
It is often priced low to familiarize consumers with various flavors and encourage developing a habit of drinking bubble tea over time. Many even include fruits and jellies in bubble tea to introduce it among untapped markets at large.
Stiff Competition Has Made Leading Brands More Imaginative
Bubble tea was introduced several years back however it was not until very recently that it gained the limelight. Thanks to information circulated via social media, bubble tea shops started the trend of creating aesthetically pleasing drinks for consumers, which encouraged them to take photos and post on social media.
This trend helped the market gain a lot of traction in the recent past. Unlike several other trends that have come and gone, bubble tea is not likely to lose its popularity anytime soon. Despite stiff competition, the market continues to offer scope for differentiation, which is expected to encourage growth in the coming years.
Every shop and producer enjoys immense scope of launching their versions of bubble tea with a variety of toppings and create a brand specialty. Instead of letting competition stop them, bubble tea brands have used it as an opportunity to get more imaginative and wow their consumers.
For instance, The Alley is famous for brown sugar tapioca pearl bubble tea, while Tiger Sugar's specialty comprises its creamy bubble milk tea served with mouse. Similarly, India-based Dr. Bubbles gave the boba tea a makeover of sorts by launching fruit popper and fruit jelly versions.
Consumers Moving Away to Healthier Beverages Can Dampen Growth
Producers are primarily focusing on making bubble tea more cost-effective. Resultantly all major products in the market are available at a relatively low cost. Besides this, producers are reinventing flavors are experimenting with sugar, color, and preservatives to penetrate deeper into high potential market.
However, their strategy received a small backlash with consumers moving toward healthier beverages. Similarly, the increasing use of coffee as a substitute for tea in bubble might hamper growth of the market to an extent.
Meanwhile, the unprecedented COVID-19 outbreak could also result in sluggish growth of the market. As cafes and restaurants remain shuttered due to lockdown imposed across major cities, growth in the bubble tea market could be dampened.
Bubble Tea Market: Region-wise Analysis
Taiwan till date remains undisputed as the boba capital of the world. Bubble tea traces back its origin to Taiwan where midday caffeine break mostly involves a shoulder-slung bubble tea cup-holder as a popular accessory instead of a quick coffee run.
Besides Taiwan, bubble tea has gained impressive fan-following in Europe and North America as well.
Currently, Asia accounts for the leading market share. Besides Taiwan, Thailand has emerged as a lucrative market exhibiting high consumption of bubble tea. According to the ASEAN Post, Thailand demonstrated an average consumption of 6 cups of bubble tea per person per month in 2019.
In the coming years, however, Europe is expected to emerge as a strong site of growth for the bubble tea market. The rising demand for hot beverages is expected to boost the Europe market. The region also will witness high demand in Germany, the U.K., and the Italy.
Leading Suppliers in Bubble Tea Market
Companies operating in the bubble tea market are primarily focusing on expanding their presence worldwide. It is a common trend among them to launch novel varieties of flavor in bubble tea. For instance, a Malaysian-based restaurant chain called Secret Recipe launched a new flavor of bubble tea in 2019, which included the signature boba fruit tea, brown sugar milk tea, and kopi-C.
FMI profiles some of the leading companies operating in the market. These include:
Chatime
OCOCO International Co., Ltd.
Quickly Corporation
Gong Cha USA
Boba Guys, Inc.
ZEEKEI GmbH
Sharetea
VIVI BUBBLE TEA
8tea5
Kung Fu Tea
Ten Ren Tea, Inc.
Lollicup USA, Inc.
Tapioca Express, Inc.
Boise Boba
Woop Bubble Tea
Bubble Tea Market: The Way Forward
The demand for chilled milky beverage dotted with black pearls is not likely to fizz away any time soon. Bubble tea, which has become a phenomenon in the beverage sector, is expected to regain popularity as soon as the pandemic passes.
In East Asia especially bubble tea enjoys skyrocketing demand. Some of the top Taiwanese brands such as Daboba, Chawanjia, The Alley, Xing Fu Tang, The Black Whale, and JLD Dragon have claimed their presence across East Asia. Local establishments have mushroomed as well to peddle their concoctions to consumers.
The bubble tea brands are best known for their programs on consumer loyalty. They create strategies to make consumers feel a sense of belonging, which in turn is boosting their growth. Loyal consumers are likely to come back to their favorite bubble tea brands and chains as soon as shops open their shutters post lockdown.
Key Segment
Product
Milk Tea
Black Tea
Green Tea
Oolong Tea
Earl Grey Tea
Flavor
Flavored

Jasmine
Nut-flavored
Berries
Chocolate
Fruit
Honey
Ginger
Caramel
Vanilla

Unflavored
Region
North America
Latin America
Europe
East Asia
South Asia & Pacific
MEA
Need specific information?
Talk Show:
The Rise of Intelligent Packaging
Personalized, Connected and Sustainable
November 18, 2021
11:00-11:45 AM PST (USA & Canada)
This is a LIVE session