Bubble Wrap Packaging Market By Product (Bubble Sheets, Bubble Bags/mailers), Material (LDPE, HDPE, LLDPE), End-use (Manufacturing & Warehousing, e-Commerce, Logistics & Transportation) & Region Forecast to 2019 - 2029
Bubble Wrap Packaging Market - Analysis, Outlook, Growth, Trends, Forecasts
October 2019

REP-GB-5612

205 pages
Bubble Wrap Market – Key Research Findings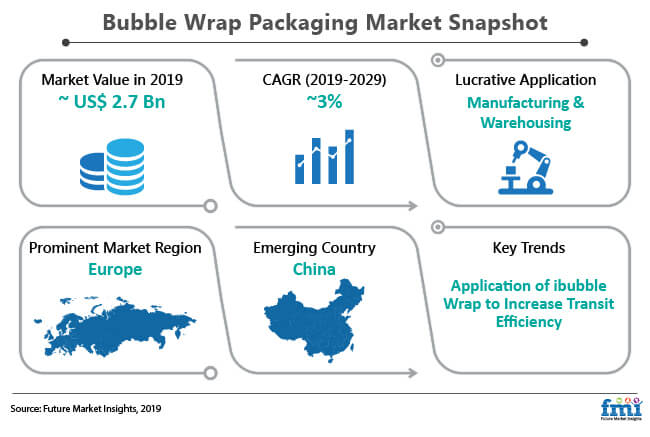 The global bubble wrap packaging market value is estimated to be ~US$ 2.7 Bn in 2019.
The bubble wrap packaging market is projected to grow at a CAGR of ~3% during the next ten years.
High application potential of bubble wrap packaging in e-commerce, manufacturing & warehousing, and logistics & transportation is likely to result in increased market share over the period 2019-2029.
North America and Asia Pacific are expected to remain prominent regions in terms of market value share, cumulatively accounting for more than half of the global bubble wrap packaging market.
Key Factors Shaping the Global Bubble Wrap Packaging Market
Incessant Rise in the Popularity of e-Commerce Industry

The retail market is experiencing massive transformation in every sectors, be it hypermarkets or retail e-commerce. Manufacturers and retailers invest and put significant amount of efforts on their products to meet high performance goals. Faulty packaging can affect consumers' choice for a lifetime.

For large retailers, the impact of damaged products on the bottom line can result into loss of thousands of dollars. However, bubble wrap packaging brings about positive consumers' experience as well as ensures product safety.

Moreover, increase in usage of mobile and low cost data have pushed the growth in the e-Commerce industry. This is expected to drive the growth of bubble wrap packaging market.

Bubble Wrap Packaging to Guard Shipped-out Items

Packaging plays a crucial role during the shipping & transportation of viscous & fragile products, which is expected to increase the demand for different packaging solutions. To enhance the quality of product shipping throughout the supply chain, (bubble wrap packaging) protective packaging is used. This reduces the risk of damage in products from manufacturing and warehousing till the product reach end users.

Each manufacturing industry is somehow dependent on product packaging, which also improves the visual appearance of products and maintains them throughout the transit. Along with the attribute of visual appearance, product protection plays an important role during manufacturing, storage, and transportation. Cushioning (bubble wrap) and void filling are used to protect consumer and industrial goods, which enhance the quality of packaging. Also, increment in the manufacturing sectors' output is expected to impact the growth of global bubble wrap packaging market positively.

Adoption of iBubble Wrap Packaging Due to its Distinctive Functionality

Customary bubble wrap contains sealed pockets of air that makes a popping sound when squeezed. iBubble is made in a design of arranged columns of connected air pockets, wherein, air is force to pass into the next bubble. With the introduction of iBubble into the market, the issues of space management in transportation and warehousing with traditional bubble wrap has also been considered. It is also comparatively easier to use during the transit of cargos.

Conventional bubble wrap packaging has added/increased the cost generation significantly. It reached a situation when several manufacturing companies terminated their productions, as there was a sharp decline in profit margins. This stimulated the invention of iBubble wrap material, which reduced the cost of shipping and warehousing. This has made manufacturers of bubble wrap packaging to adopt iBubble wrap for its unique functionality with lesser cost involved in it, and save up to one-fifth of production costs. All these factors lead to rising demand for bubble wrap packaging in the global market.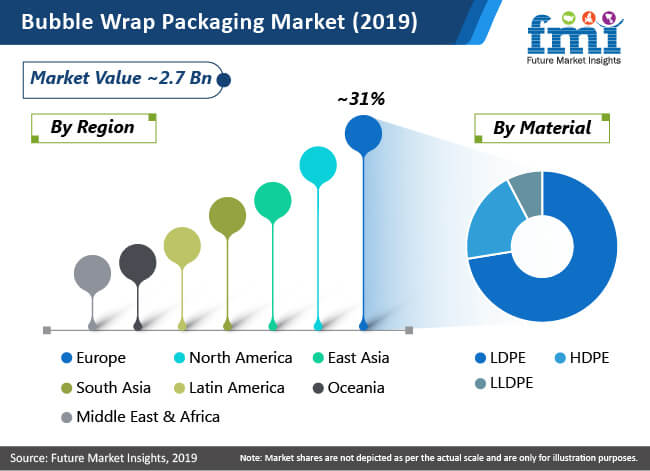 Compostable and Recyclable Bubble Wrap as an Eco-Friendly Course of Action

Retail outlets are promoting programs to spread awareness among consumers about issues of plastic bags and film recycling at over 180,000 major grocery and retail chain outlets in the United States. Eventually, this will help build a positive image of these retail outlets among consumers. Some manufacturers are providing environment-friendly bubble wraps packaging, which is expected to enhance the sales of bubble wrap packaging in the near future.

Polycell Corporation is offering oxo-biodegradable eco bubble. It incorporates Reverte oxo-biodegradable additives into polyethylene resins, which can be degraded up to some extent.
Jiffy Packaging Co. Limited is providing green bubble, which is made of 50% recyclable materials.

In 2018, the global production capacities of bio-plastics was ~2.11 million tonnes in terms of volume, with nearly 65% of the volume being utilized in the packaging industry. Companies can provide Kraft air bubble mailers and bags, with bubble film (bubble wrap packaging) made from bio-plastic. This will save the overall cost and reduce the environmental impact of conventional bubble wrap packaging.
World's Most Profilic Intelligence Engine
Get Access To The World's Largest Market Research Database.
Sign Up Now
Key Segment
Product
Bubble Sheets
Bubble Bags/mailers
Material
End-use Industry
Manufacturing & Warehousing

Pharmaceuticals
Electronics & Electricals
Automotive & Allied Industries
Food & Beverages
Cosmetics & Personal Care
Others (Agriculture, Healthcare etc.)

e-Commerce
Logistics & Transportation
Region
North America
Latin America
Europe
South Asia
East Asia
Oceania
Middle East and Africa
Need specific information?
Our Clients