Sulfur Hexafluoride Market By Grade (Technical, Electronic), Application (Electrical Transmission and Distribution, Semiconductor Manufacturing) & Region – Forecast 2019 - 2029
Sulfur Hexafluoride Market - Analysis, Outlook, Growth, Trends, Forecasts
March 2020

REP-GB-11177

250 pages
Sulfur Hexafluoride Market Pegged at 5.8% CAGR, Electronics Industry Accounts for Inordinate Consumption
[250 pages Report] Growth of sulfur hexafluoride market is propelled by heightened demand from electronics industry. Role of sulfur hexafluoride as a dialectic medium in manufacturing electronic appliances is strengthening its demand. The sulfur hexafluoride market is projected to expand at the rate of approximately 5.8% CAGR over the forecast period (2019-2029).
Moreover, the medical applications of sulfur hexafluoride are gaining traction in recent years. For instance, sulfur hexafluoride is extensively being used for non-invasive surgeries to examine the cause and location of the ailment. Hence, medical applications are significant contributors to the growth of sulfur hexafluoride market.
Electronic Grade Sulfur Hexafluoride to Witness Profuse Demand through 2029
On account of its extensive usage in high-voltage circuit breakers, electronic grade sulfur hexafluoride constitutes the majority revenue share. Growing demand for power & energy generation is complementing the growth of electronic grade sulfur hexafluoride market. Moreover, role of sulfur hexafluoride in manufacturing integrated circuits is projected to favour sulfur hexafluoride market growth.
The semiconductor industry in particular is boosting the demand for electronic grade sulfur hexafluoride where it is utilized as a chamber cleaning gas. Further, growing consumption of sulfur hexafluoride in particle accelerators is supplementing the sulfur hexafluoride market growth. Electronic grade sulfur hexafluoride is essential for clearing plasma chamber walls off silicon-based layers.
Sulfur Hexafluoride Market Demand Bolstered by Power & Energy Application
In terms of application, power & energy holds the leading sulfur hexafluoride market share. Use of sulfur hexafluoride in this segment is projected to witness an upward trend through the forecast period. Emerging Asian economies in particular have greater need for energy consumption which is strengthening the regional demand for sulfur hexafluoride market.
Manufacturers continue to prefer sulfur hexafluoride for producing Gas Insulated Switchgear (GIS), switchgear, and high-voltage circuit breakers to meet the soaring demand in this sector. These components are utilized in power & energy generation plants. Hence SF6 is majorly driven by power & energy generation industry and is projected to continue the trend through 2029.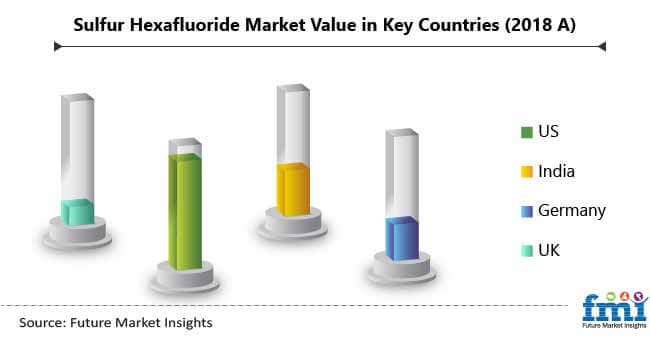 Asia Pacific Continues to Ratchet up Demand for Sulfur Hexafluoride Market
Flourishing manufacturing sector in emerging economies is to be attributed for robust growth of Asia Pacific sulfur hexafluoride market. The regional market is witnessing relatively less fluctuation in prices of sulfur hexafluoride market. Local manufacturers thus continue to strive towards matching the huge demand for sulfur hexafluoride in the region.
Stricter regulatory norms in developed regions such as Europe have restricted the supply and production of sulfur hexafluoride. Hence, regional manufacturers have lowered the production volume thereby slowing the sulfur hexafluoride market growth. Further, the existing market players in developed regions have significantly increased the price.
Sulfur Hexafluoride Market Leaders Uptake Multifaceted Strategies for Strong Global Position
Some of the sulfur hexafluoride market players featured in this report are Advanced Specialty Gases, Air Liquide, Electronic Fluorocarbons, LLC, Axcel Gases, American Gas Products, Solvay S.A., Praxair Technology, Inc., Honeywell International, Fujian ShaowuYongfei Chemical Co. Ltd., Air Products and Chemicals, Inc., Chengdu Kemeite, Concorde Specialty Gases Inc., and Liming Research Institute.
Major manufacturers continue to opt for multipronged strategies for unassailable competitive edge. Some of the key developmental strategies being adopted by industry leaders include collaborations, joint ventures, product development, and partnerships. This trend is projected to continue through 2029.
World's Most Profilic Intelligence Engine
Get Access To The World's Largest Market Research Database.
Sign Up Now
Sulfur Hexafluoride Market: Segmentation
The global sulfur hexafluoride market is segmented in detail to cover every aspect of the market and present a complete market intelligence approach to readers.
By Grade
By Application
Electrical Transmission and Distribution
Semiconductor Manufacturing
By Region
North America
Latin America
Europe
MEA
Asia Pacific
Need specific information?
Our Clients