Taurine Market – Key Research Findings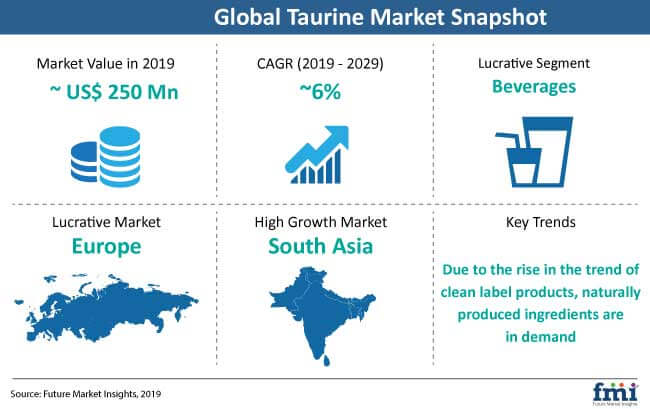 Global taurine market revenues estimated by the end of 2019 - ~US$ 250 Mn
Driven prominently by the thriving 'natural and plant-based ingredients' trend, taurine sales are likely to grow at 6% CAGR through 2029.
Billowing consumption of health drinks and nutritional dietary supplements will continue to provide a strong push to demand for taurine in years to come.
Expensive price point of taurine continues to restrict rapid penetration in cost-sensitive end-use sectors and developing regional markets.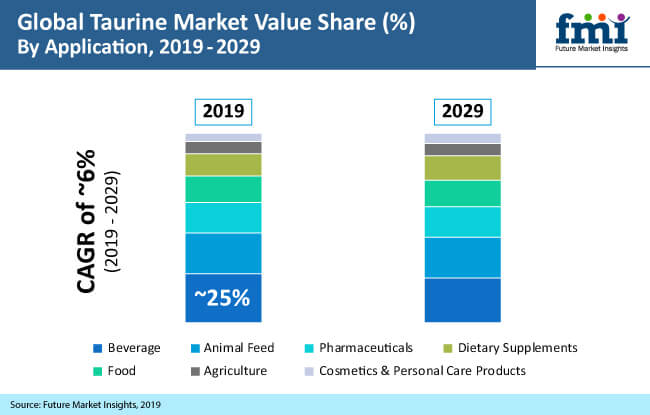 Top Factors Shaping the Taurine Market
Increased Popularity of Plant-based and Natural Products
Almost 90% of the taurine supplied in the global market is produced by chemical synthesis, Ethylene Oxide process. The trend for natural and plant-based products is rising in across globe due to health halo surrounding plant-based ingredients and products. Consumers tend to buy processed products with the knowledge of ingredients used and their effects.
Due to this and heightened consumer awareness, many consumers are hesitating while buying products that contain chemicals or ingredients of chemical origin. Taurine market growth is highly restrained by this factor. Although natural taurine that is manufactured is high in demand, its high price point allows for end use only among high-end manufacturers as an ingredient in their products.
Health Benefits Associated with Taurine Consumption
Taurine is endogenously present in the brain, heart, and liver of the humans and plays a vital role in few physiological processes. Its metabolic actions include bile acid conjugation, osmoregulation, and membrane stabilization. Deficiency of Taurine can lead to various conditions such as cardiovascular diseases, retinal degradation, epilepsy, etc.
Supplementation of taurine has been proven to be beneficial for health. Demand for dietary supplements has been increasing across globe, due to increasing health consciousness. Thus, consumption of taurine containing supplements is increasing in the market, in turn increasing the demand for taurine.
Pluri-ethnic Population Leading to the High Demand of Energy Drinks Especially in the Developed Regions
Energy drinks are more popular among teenagers. Consumption of energy drinks is highly affected by consumer perception about energy drinks, weight status, and socio-demographics.
It has been found that Polynesian teenagers consume more energy drinks than the Europeans adolescents, due to the good and neutral perception about the energy drinks. The use of taurine in sports nutrition especially in the energy drinks is high and this has led to the high demand of taurine in the developed regions.
Taurine Market Structure Analysis
Global taurine market is classified into three tiers, where tier-1 companies hold a prominent market share and have a strong presence across the globe.
Leading companies operating in the global taurine market include Qianjiang Yongan Pharmaceutical Co., Jiangsu Yuanyang Chemical Co., Ltd., Fuchi Pharmaceutical Co., Ltd., Ajinomoto Co., Inc., Kyowa Hakko Bio Co., Ltd. etc.
Most of the key players in global taurine market are based out of East Asia, as industrial production is higher in these regions and also cost of production is low.
Moreover, it has been observed that majority of the organized players operating in global taurine market are focusing on expanding their production capacity and to launch innovative products by strengthening their R&D facility. This will help the companies strengthen their foothold in global taurine market.
Taurine – Innovation & Development are the Key Factors
Taurine has been gaining high demand in line with an accelerated tectonic shift of F&B and related industries to resonate with evolving consumer preferences. However, with increasing environmental concerns associated with the process of taurine synthesis, particularly sizeable amount of waste production, questions its overall sustainability. A number of stakeholders are thus focusing on R&D activities to minimize the waste stream resultant of the commercial taurine production.
Market Projected to Expand 1.7X between 2019 and 2029
The taurine market is expected to register steady growth through 2029, primarily driven by increasing R&D investments and widening application base in cosmetics and personal care products. Beverages represent the most lucrative segment for manufactures of taurine. Increasing proclivity for products with natural ingredients continues to influence the demand for naturally-sourced taurine.
Europe Maintains Lead, South Asia Presents New Opportunities
Taurine manufacturers continue to witness lucrative opportunities in developed markets, which collectively account for 50% sales. The health conscious consumer clustre in these regions directly fuels consumption of energy drinks and dietary supplements, thereby creating rising demand for taurine. Developing countries in South Asia are expected to create fresh opportunities of growth, in line with high purchasing power and increasing demand for healthier and 'better-for-you' products.
The Broader Viewpoint
Our viewpoint on taurine market opines that despite growing demand, the taurine landscape will remain influenced by regulatory scenario of taurine production. Through robust R&D initiatives, taurine manufacturers are focusing on production capacity expansion and new launches. Thriving demand for natural and clean-label products is further compelling manufacturers to innovate their production strategies.
Contemplating the Future of Taurine Landscape
Synthetic taurine continues to be widely used in a number of applications, whereas naturally-sourced taurine has been gaining momentum recently, as 'natural' product claims gather traction among consumers.
Key Segment
By Source
Natural

Bovine and Ovine Animals
Aquatic Animals
By Application
Dairy Products

Bakery products
Cereal Products

Beverages

Energy drinks
Caffeinated Drinks
Soft and Carbonated Drinks

Animal Feed

Aquaculture feed
Poultry feed
Cat Food
Dog Food

Dietary Supplements
Cosmetics and Personal Care

Skin care products
Hair care products
Toiletries

Agricultural
Pharmaceuticals
By Region
North America
Latin America
Europe
East Asia
South Asia
Oceania
Middle East and Africa
Need specific information?