Transcutaneous Monitors Market – Key Research Findings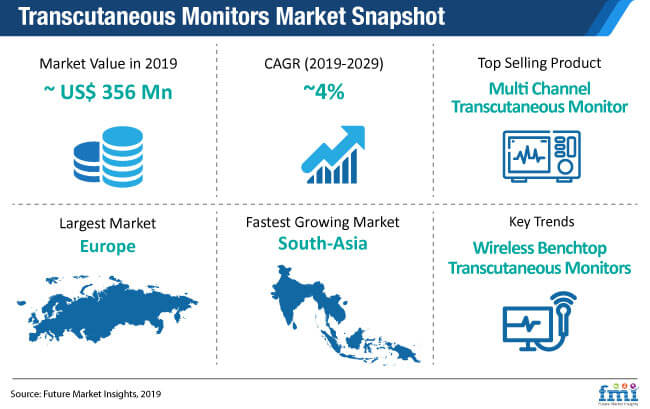 In the transcutaneous monitors market, technologically advanced transcutaneous monitors sharing the maximum amount of revenues since the latest technology and novelty in the multichannel transcutaneous monitors drive the growth of the transcutaneous monitors market. ~ 90% of the market share is captured by the multichannel transcutaneous monitors due to high demand in the market.
Multichannel transcutaneous monitors have the greater advantage as it provides multiparameters that are important for patient monitoring. Companies are trying to make new innovations in the transcutaneous monitoring such as wireless & IR technology-based. However, with the advanced technology and novelty, the cost is the important parameter since customer ask for transcutaneous monitors with wider adaptability and low cost.
In comparison to multichannel transcutaneous monitors, single channel transcutaneous monitors is likely to show a slower growth rate over the forecast period, due to its low demand.
Recently, Philips has launched the IntelliVue TcG10 monitor that has advanced parameters like measurement of the CO2 and O2 through blood capillaries with the faster rate. Such kind of technological innovations is expected to drive the growth of the transcutaneous monitors market. Some of the multichannel transcutaneous monitors have the capacity to couple with multiple types of sensors that are primarily used in patient monitoring.
Trends Including Touch Screen and Auto-calibration Capacity in Transcutaneous Monitors
Transcutaneous monitors are electronic devices that require proper maintenance and calibration after proper interval of time. Auto calibration helps to give accurate and stable results. Manual auto calibration requires skilled technician who can perform the calibration of the transcutaneous monitors.
However, this is time consuming and costly process. Newly launched auto-calibrated transcutaneous monitors have the auto-calibration capacity, which helps to save time and detect man-made errors during the calibration. On the other side, manufacturers like Masimo and Philips are making innovation of transcutaneous monitors in a faster rate.
Recently launched Rad-97 series transcutaneous monitors have additional features like gorilla glass display for clear visualisation. Such kind of new innovations in the patient monitoring may result into more demand for the transcutaneous monitors.
Rising Prevalence of Chronic Disorders in the Growing Population
According to WHO's data, 60% population of the world are suffering from chronic disorders. Increasing number of chronic disorder population is expected to fuel the growth of the transcutaneous monitors market. In most conditions, chronic disorders people may need to admit to the ICU. In this scenario, patient monitoring plays an important role.
It involves the measurement of ECG, blood gas monitoring, and vital sign monitoring. Here, newly introduced multi parameter multichannel transcutaneous monitors unmet the demand from customers by providing all the vital signs indicators in a single monitor.
Restraining Factors that Impact the Transcutaneous Monitors Market
Stringent regulatory approval process acts as a main barrier for the entry of new manufactures in the transcutaneous monitors market. Transcutaneous monitors belongs to class 2 devices category. However, there is form 510(K) exemption for class 2 devices but the market authorization and clinical trial failure leads to a loss of small scale manufacturers in the transcutaneous monitors market.
Poor reimbursement scenarios in the developing countries also responsible for the negative impact on the payer and buyer relationship. In the developed countries, the situation for reimbursement is becoming more complex and requires lot of efforts. These factors are responsible for the low investment by foreign investors in the transcutaneous monitors market.
Europe Poised for High Penetration with Advanced Technologies
In Europe, more number of hospitals are present with good infrastructure and facilities as compared to other developed countries. However, there is a penetration of more number of top market players in this region. Due to good business environment & supportive regulatory framework, foreign investors are attracted towards the Europe region.
In Europe, local government is facilitating good R&D facilities for the new startup companies. In this way, the European transcutaneous monitors market has created new hope for the foreign and local manufactures.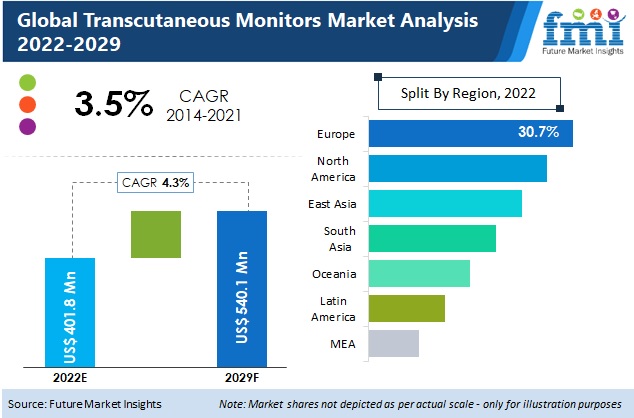 Leading Market Players are Harbingers for Growth
Masimo and Philips are among the leading players in the transcutaneous monitors market with advanced technology. They have continued to dominate the transcutaneous monitors market due to advanced R&D facilities and future optimistic view regarding the patient monitoring techniques.
Both GE Healthcare and Radiometer are emerging players who are pioneering robust solutions in the patient monitoring technology services with prime focus on customized vital sign monitoring solutions across the value chain. GE Healthcare and Radiometer prime focus is to provide state of the art solutions for their clients in order to enable them to outperform in competitions.
Analyst's Viewpoint
After in-depth analysis of the transcutaneous monitors market, we can conclude that the market is growing with a fast rate. The Europe and North America region are sharing attractive opportunities for the transcutaneous monitors market and applications. The technological advancement in the patient monitoring methods can fulfill the demand of the transcutaneous monitors market.
The leading players in the transcutaneous monitors market is expected to grow with exponential rate by adapting novel technology in the transcutaneous monitors market. However, the harsh regulatory scenario and unbalanced economic conditions of the developing countries may restrain the growth of transcutaneous monitors market.
Monitoring Partial Pressure of CO2 and O2 to Ensure Adequate Ventilation
Transcutaneous monitors (TCM) are garnering significant traction among the geriatric and neonate patients suffering from sleep-related breathing disorders such as, sleep apnea, and obesity hypoventilation syndrome.
Transcutaneous monitors perform a non-invasive method – transcutaneous monitoring – based on relative heating technique (RHP) to measure the skin-surface partial pressure of carbon dioxide (tcPCo2) and oxygen (tcPO2). This technique further helps deliver precise concentration of the partial pressure of arterial carbon dioxide (PaCO2) and oxygen (PaO2).
Easy diffusion of CO2 and O2 throughout the body tissues and the skin enables fast detection of PCO2 and PO2, when the sensor – a Severinghaus electrode – is placed on the skin surface after sensing a change in the pH of the electrolytic solution, electrochemically. Further, inclusion of temperature sensitive feature leads to stable O2 and CO2 status and reduced dependence on blood gases required in neonatal intensive care unit (NICU).
Multiple Channel Monitors for Accurate Overview of Blood Gas Levels
Transcutaneous monitors containing multiple channels are creating leeway in healthcare settings, on account of providing dynamic status of variable oxygenation (tcpO2) and ventilation (tcpCO2) status. Auto-calibrating of TCMs and sensors allow transmission of low-noise data in digitized form in the sensor head, which can be stored in digitally embedded chips updated for future purposes.
Multichannel transcutaneous monitors provide a multitude of measurements – SpO2, tcPCO2, pulse rate (PR) and RHP. Medical professionals are able to compare the current data with the set baseline by the numerical indication and graphical representation on the monitor. Inclusion of multiple sensors allow measurements at various sites.
However, developing economies are confronted with the challenges of under-skilled technician for accurate interpretation of data and undersupply of TCMs exhibiting the feature of sensor auto-calibration.
Further, low and middle income countries (LMIC) are reluctant to afford advanced transcutaneous monitors due to high installation costs, thereby creating a hindrance in the growth of the transcutaneous monitors market.
Market Players Eyeing Developed and Developing Regions
Increasing demand for ICUs and NICUs, in the view of rising prevalence of chronic respiratory disorders in both developed and developing regions are grabbing attention of the market players. Rapidly growing number of geriatric population – in Europe and North America as well as China – who are at the high risks of contracting chronic diseases is likely to result in increased hospital visits, thereby potentially raising the demand for medical devices such as transcutaneous monitors.
Insufficient ICUs for patients in regions, including Hong Kong, China, is prompting market players to fill the supply in certain Asian regions. Manufacturers are further tapping into opportunities in countries such as Australia for enhanced geographical footprint.
'Portable' and 'Multi-Channel' - Key Tenets to Define Stakeholders' Tactics
Citing technological innovations in MRI field, leading market players such as, Philips & Massimo, are launching MRI compatible patient monitoring systems. Healthcare institutions often encounter electricity outage – a barrier for continuous monitoring, as such, market forces are upgrading to wireless transcutaneous monitors armed with Bluetooth or IR (Infrared) technology, and rechargeable batteries for longer battery life. In addition, wireless TCMs are lightweight and portable, making them ideal for patients residing in remote locations.
Inaccurate relative heating conditions lead to incorrect data of blood gas variations, influencing manufacturers, including Radiometer, and Koninklijke Philips N.V., to introduce transcutaneous monitors with stable RHP level. Conventional TCMs incorporate limited number of sensors, resulting in inadequate information of blood gas levels.
Market participants for instance, GE Healthcare, are developing multi-sensor transcutaneous monitors that can capture blood gas levels of every organ, providing exact value of tcPCO2 level from the skin. Furthermore, organized and emerging players are turning to the production of multi-channel TCMs to offer multiple measurements – tcPCO2, tcPO2, and PR – in sync within a short time period.
How Growth Will Unfold
The rising aging and neonate demographic, as well as incidents of chronic illnesses are likely to orchestrate the global transcutaneous monitors market to a robust growth trail over the forecast timeframe. As per the WHO's report, about 60% of the global demographic are suffering from chronic illnesses, where the patients are admitted to ICU (Intensive Care Unit) for ECG measurement, and blood gas monitoring by Next generation blood gas monitor systems. About 65% of the global populace complain of having sleep related disorders, as such, transcutaneous monitors are equipped with in-built polysomnography technology.
As per the American Thoracic Society, almost 10% of the neonates are born preterm in the US, resulting in the increasing demand for NICUs at ~ 12%. Furthermore, the geriatric cohort is expected to remain the center of attraction, following fastest growth rate as compared to other age groups. In consequence of these factors, manufacturers in the transcutaneous monitors market are likely to witness a period of sustained demand in the years ahead.
Key Segment
By Channel Type
Single Channel Transcutaneous Monitors Market
Multi-Channel Transcutaneous Monitors Market
By End User
Hospitals
Diagnostic Laboratories
Ambulatory Surgical Center
Home Care Settings
By Region
North America
Latin America
Europe
South Asia
East Asia
Oceania
Middle East and Africa
Need specific information?
Talk Show:
The Rise of Intelligent Packaging
Personalized, Connected and Sustainable
November 18, 2021
11:00-11:45 AM PST (USA & Canada)
This is a LIVE session