Introduction
Gaming has been enjoying the limelight since thelast few years and this hasdirectly affected the global gaming monitor market. The market is exhibiting impressive growth in gaming integration, spurred byadvanced monitoring features introduced by some of the leading market players.
These companies are investing in research to develop and launch technologically advanced gaming monitors. These constant modifications and innovations are projected to drive the global market throughout the forecast period.
Rising interest in online gaming tournaments is forecast to boost the market. Increasing internet penetration also is playing a major role in propelling the growth of the market. Noticeablyrising demand for E-sports is expected to create lucrative opportunities through the forecast period. Moreover, excellent sales performances of curved gaming monitors are anticipated to bode well for the market.
Future Marketing Insights (FMI) has projected the global gaming monitor market to exhibit a CAGR of 6.4% during the forecast period. The market is projected to reach US$ 5,603 Mn by the end of 2030.
Technological Improvements Creating Lucrative Opportunities
The graphics processing units (GPU) technology and game content are undergoing constant improvements, which have been making gaming monitors more attractive for users. Key market players are aiming more on the graphics card, hard drive, and memory work to create a balanced gaming ecosystem.
A faster refresh rate enables the image to update every second and thus is responsible for a smoother view. This number of changes per second is measured in hertz (Hz). The faster refresh rates are essential for gaming. It permits the screen to match pace with every step of the player. This has made manufacturers launch products that have better refresh rates.
Other improvement gaming monitors are launched with is graphics enhancements or High Dynamic Range (HDR). This feature is responsible for a gaming experience that has exceptional color performance, deeper saturation, more diverse contrast, brighter highlights, and darker shadows.
Growth in Digital Infrastructure Indicate Promising Future
The speedy growth in digital infrastructure due to the availability of affordable electronics gadgets and low-cost data services is likely to bode well for the market. This also is supported by risinginternet penetration. Internet penetration is directly linked to the large-scale adoption of e-Sports which itself is a source of major market growth. Moreover, the increasing young population and their easy access and control on the internet are key factors driving demand for online gaming.
Increasing Number of e-Sports Championships
Gaming audience and player engagement have grown significantly in the last fewyears. This has paved the way fore-Sports to enter mainstream gaming culture and garner a huge following. This has, in turn, created numerous growthopportunities for gaming monitors players.
Owing to the augmented demand for competitive games and disposableincome, gaming companies are making large investments in expanding the e-Sports penetration in the countries. Moreover, taking advantage of growing interest among gamers, numerous prominent e-Sports companies are organizing e-Sports tournaments globally.
COVID-19 Resulted in IncreasingInterest for Gaming
The COVID-19 outbreak has brought significant changes around the world. People were compelled to stay inside during initial months, especially when several countries across the world imposed either partial or complete lockdowns to contain the spread of the virus.
Consumers were thus compelled to explore their interests, while they followed social distancing norms. This resulted in augmenting the demand for gaming monitor as gaming became one of the most preferred activities that gained limelight during lockdowns.
Thus, the pandemic resulted in significant growth in sales of gaming monitors and maintained a balance in the market. FMI estimates a positive recovery in the market as soon as the market reopens without any restrictions.
Key Challenges
The high price of a gaming monitor is likely to restraint the growth of the global market. If the buyer is on a tight budget then purchasing a high price gaming monitor becomes difficult. A high-performance gaming monitor generally costs higher. This might result in limited growth of the market in the future if this challenge will remain unresolved.
Region-wise Analysis
North America Gaming Monitors Market
North America accounts for lion's share of the global market and is forecast to remain dominant through the forecast period. The growth of North America is attributable to the presence of key market players in the region. FMI expects remarkable growth in the region with a CAGR of 4.9% during the forecast period.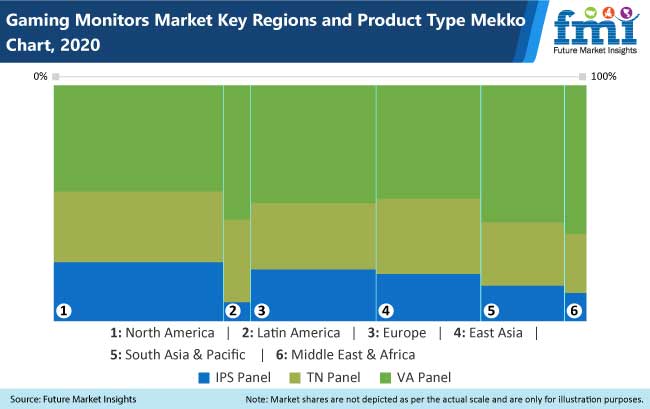 The thriving video gaming market in the U.S. and Canada has been aiding the overall growth of the market. The U.S. accounts for leading share in theNorthAmerica market. Moreover, the U.S. recorded around 40%growth in video game use and spending on video games, hardware, hardware, and accessories during the COVID-19 pandemic.
Request a Sample Specific to North America Market
Europe Gaming Monitors Market
Europe is one of the highly lucrativemarkets for gaming monitors. The growth of the region is due to the early adoption of advanced and innovative technologies in these regions. The major growth of the market is driven by the augmented production and sales of VA panel gaming monitors. Moreover, shift towards the adoption of IoT enabled devices for better connectivity in Europe is contributing to the growth of the market.
Request a Sample Specific to Europe Market
East Asia Gaming Monitors Market
East Asia is the third-largest region in the gaming monitors market. FMI forecasts the regional market to exhibit a higher rate of growth than North America and Europe during the forecast period. Presence of most of the major players in the region is driving the growth of the market. East Asia is expected to come up with productive opportunities for revenue generation during the forecast period.
Request a Sample Specific to East Asia Market
Category-wise Insights
Screen Size of Less Than 27 inches Remains First Choice
By screen size, less than 27 inches segment is forecast to remain as the first choice of users. This segment currently accounts for the largest share of the market and is expected to gain growth with a 6% CAGR through the forecast period.
Online Stores Remains Dominant
By sales channel, the online stores segment is expected to remain dominant during the assessment period. The growth of the segment is attributable to the benefits it offers over the traditional offline channel. This segment has eased the pathway of communication between retailers and consumers. It has emerged as a cost-effective platform for both consumers and manufacturers. Thus, the segment will augment the overall growth of the market.
VA Panel Gaming Monitors Leads Market
VA panel gaming monitors have higher possible refresh rates. They hold higher maximum brightness, better color reproduction, and better viewing angles. Owing to its advantages over other panels, by panel type, the VA panel gaming monitor segment will continue to witness lead in the market. The other one in the race, accountable for a sizeable share of the market, will be TN panel gaming monitors.
Consumers Leads Among End Users
Growing interest of consumers in gaming has resulted in the consumer segment to lead the market. According to FMI, by end-user, the market will receive large support from this segment during the forecast period. Upraised adoption of gaming monitors among consumers aged between 18 to 35 years is foreseen to propel the growth of the global gaming monitors market.
Competitive Landscape
The gaming monitors market is extremely competitive. The key players are focusing on launching new products and solutions more frequently. The shift of manufacturers towards an approach that enhances customer base as well as to diversify their product offerings is projected to propel the growth.
For instance, LG launched LG UltraGear is the first 4K Nano IPS 1ms gaming monitor. LG's this innovation accurately show-off next-gen GPU. This 4K 27-inch HDR monitor holds 1ms response time and a 144Hz refresh rate. What made it more impressive is the introduction of Nano IPS tech that offers stellar viewing angles and a wider color gamut.
Players are also engaging in mergers and acquisitions to collaborate and invest in developing regions with a motive to expand their consumer base, advance the business, and to enhance product offerings.
FMI gives an in-depth study of the market dynamics and lists major players competing in the gaming monitors market. Some of them include ASUSTeK Computer Inc., Samsung Electronics Co. Ltd., Dell Inc., HP, AOC Systems Incorporated, LG Electronics, Lenovo Group Limited, and Acer Inc among others.
The list is only indicative – a full list of gaming monitors market key playersis available upon request
Global Gaming Monitors Market Report: Scope
| | |
| --- | --- |
| Attribute | Details |
| Forecast Period | 2020-2030 |
| Historical Data Available for | 2015-2019 |
| Growth Rate (2020-2030) | 6.4% CAGR |
| Market Analysis | US$ Mn for Market Value and '000 Units for Market Volume |
| Market Value for 2020 | US$ 3,008.9 Mn |
| Key Regions Covered | North America, Latin America, Europe, South Asia & Pacific, East Asia, Middle East & Africa |
| Key Segments Covered | By Panel Type - IPS Panel, TN Panel, VA Panel, By End-user – Commercial, Consumer, By Sales Channel – Online Stores, Offline Stores, By Screen Size - Less than27 inches, 27-32inches, More than32 inches |
| Key Companies Profiled | ASUSTeK Computer Inc., Samsung Electronics Co. Ltd., Dell Inc., HP, AOC Systems Incorporated, LG Electronics, Lenovo Group Limited, Acer Inc. |
| Report Coverage | Market Forecast, Competitive Landscape, Region-wise and Category-wise Insights, COVID-19 Impacts, Key Trends, Key Challenges |
| Customization & Pricing | |
Key Questions Answered by the Report
At what rate theglobal gaming monitors market is forecast to grow?

According to FMI, the global market is expected to rise at a CAGR of 6.4% between 2020 and 2030.

Which are the lucrativemarkets for gaming monitors?

North America holds lion's share of the market. Europe and East Asia also accounts for a sizeable share of global market and holds dominance backed by surging demand and production in their strong markets.

Which are the top companies in the gaming monitors market?

Some of the leading companies operating in the gaming monitors market are ASUSTeK Computer Inc., Samsung Electronics Co. Ltd., Dell Inc., HP, AOC Systems Incorporated, LG Electronics, Lenovo Group Limited, and Acer Inc among others.

What is the outlook on the market?

Due to COVID-19, manufacturing activities of the global market were affected owing to the restrictions imposed by governments and current financial scenario. But, FMI foresees recovery attributable to the increasing interests towards gaming.

Which is the most preferred size of gaming monitors ?

Less than 27 inches size is foreseen to remain as the most preferred size throughout the forecast period.

What are key factors driving the global gaming monitors market ?

Rising internet penetration, increasing adoption of e-sports, and consistent technological improvements by manufacturers are expected to drive the gaming monitors market.
World's Most Profilic Intelligence Engine
Get Access To The World's Largest Market Research Database. Ngage with a revolutionary intelligence engine that scale and pricing that flexes as per your needs
Sign Up Now
Key Segments
Panel Type
IPS Panel Gaming Monitors
TN Panel Gaming Monitors
VA Panel Gaming Monitors
End-user
Sales Channel
Online Stores
Offline Stores
Screen Size
Less than 27 inches
27-32 inches
More than 32 inches
Regional Outlook
North America – U.S., Canada
Latin America – Brazil, Mexico and rest of Latin America
Europe – Germany, France, Italy, UK, Spain, BENELUX, Russia, and rest of Europe
South Asia & Pacific – India, Thailand, Indonesia, Malaysia, Australia & New Zealand, and rest of South Asia & Pacific
East Asia – China, Japan, South Korea
Middle East & Africa - GCC counties, Northern Africa, South Africa, and the rest of Middle East And Africa
Need specific information?