Introduction
The healthcare sector is witnessing steady growth across various countries in Western Europe. The healthcare industry is seeking the help of recruitment agencies to hire healthcare professionals. Medical recruitment agencies provide three types of professionals to any healthcare organisation or institution: permanent, temporary and locum candidates. Medical recruitment agencies charge a fee for recruiting healthcare professionals in hospitals, Clinical Research Organizations (CROs) and rehabilitation centres. Recruiting a healthcare professional or to help professionals by placing them in a healthcare organisation is known as medical recruitment.
The pharmaceutical industry is entering an inspiring period in medicine development. It plays a vital role in increasing the demand for healthcare industry recruitment services. Growth in the pharmaceutical industry is rapidly boosting production, exports and R&D expenditure. This is expected to result in a significant increase in the employment of new workforce in the region, which is expected to drive the medical recruitment market in Western Europe.
Revenue generated by the Western European medical recruitmentmarket is estimated to exhibit a single digit CAGR, and hence, is expected to reach US$ 21,223.0 Mn by 2028. On the basis of vertical, the Nursing/Healthcare segment in the medical recruitment market is estimated to hold the largest share in 2028. The Nursing/Healthcare segment in the medical recruitment market is also expected to exhibit a single digit CAGR. On the basis of candidature, the healthcare professionals segment in the medical recruitment market is estimated to hold approximately 55.6% of market share in 2028.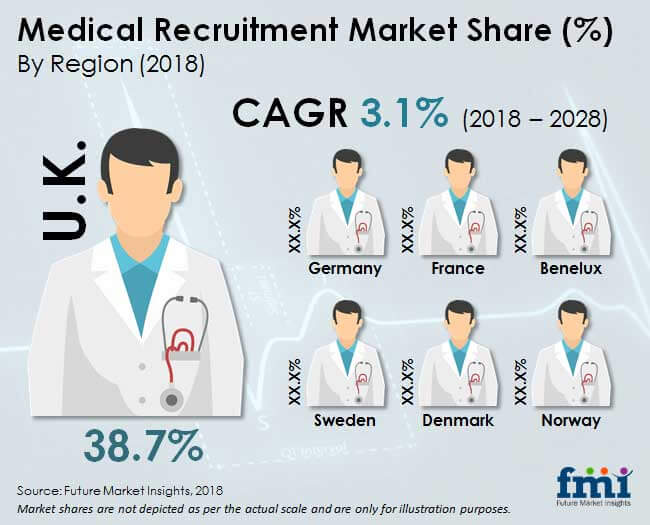 The medical recruitment market in the U.K. is expected to witness the highest growth in the Western European market owing to an increase in the number of research projects related to healthcare as well as the growth of the pharmaceutical industry in Western Europe.
Some popular agencies contributing to the medical recruitment market are Medacs Healthcare, Euromotion Medical, CPL Healthcare, ProClinical Recruitment, TFS Healthcare, EGV Recruiting, CCM Recruitment and IMS Recruitment.
In June 2017, the University of Kentucky Health Care Committee, U.K. approved a US$ 1.5 Bn budget, which includes three projects and a lease for additional space at Turfland Clinic for the fiscal year 2017.
Key Segments Covered
Vertical
Animal Health
Biotechnology
Diagnostics
Medical Devices

Medical Capital Equipment
Medical Consumables
Surgical Manufacturing & Distribution

Medical Research/Clinical Research
Nursing/Healthcare
Optometry
Paramedical Staff
Pharmacy
Regulatory and Quality
Scientific Research
Pharmaceutical Industry
Candidature
Biological and Medical Scientists
Compounders
Health Information Technicians
Healthcare Professionals

Anesthesiologist Technicians
Dentists
General Physicians
Lab Assistants
Mental Health Specialists
Nurses and Paramedical Staff
Radiologists
Surgeons

Medical Social Workers
Optometrists
Pharmacists
Pharmacovigilance and Regulatory Affairs
Veterinary Physicians
Medical Representatives
Service

Homecare Services
Managed Services

Consulting Services
Recruitment Process Outsourcing (RPO)
Vendor Management

Specialist Care Services
Recruitment Services

Permanent Positions
Temporary Positions
Key Region Covered:
Western Europe Medical Recruitment Market
Germany
France
U.K.
Benelux
Norway
Sweden
Denmark
Need specific information?