Regulatory Reforms Centered at Holistic Vehicular Safety Remain Pivotal in ADAS Testing Equipment Market Growth: FMI Study
A new market research report by Future Market Insights (FMI) tracks the progress of ADAS (Advanced Driver Assistance Systems) testing equipment market over the course of next decade, 2019–2029. The report provides critical insights which indicate that the global sales of ADAS testing equipment accounted for the revenues worth ~US$ 67 Mn in 2018, and is projected to witness strong growth at a CAGR of ~12% over the foreseeable period.
Advanced Driver Assistance Systems Market
A recent market study published by FMI on the ADAS testing equipment market includes globa...
Growing significance of advanced safety techniques among automakers as well as passengers to prevent the rising incidents of road adversaries is set to fuel the demand for ADAS in road transportation mediums, says FMI study. Stringent government reforms will continue to compel automobile manufacturers to conduct safety trials on four-wheeler models, with an aim to promote new-age solutions that can eventually lead to the development of 'one-size-fits-for-all' ADAS testing equipment and thereby, facilitate comfortable driving.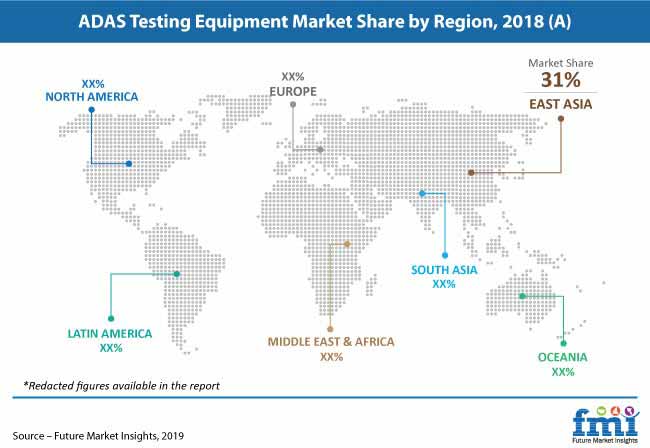 Accidental fatalities between two vehicles as well as between vehicles and pedestrians have become a growing concern at a global level. As the production of vehicles in increasing, this has further amplified concerns vis-à-vis human safety. FMI's study examines how the advent of connected technologies and other microeconomic factors are propelling the ADAS testing equipment market.
Equipment Manufacturers Focus on Hardware-oriented Design to avoid Code Bloat
The report findings suggest that hardware equipment leave software tools behind by a huge margin. Car manufacture validation teams are employing combination of sensors in ADAS testing equipment, for instance, radar and camera, to provide precise and dynamic results in extreme scenarios unlike individual sensors that have restricted operation. Further the hardware components can be tailored to the needs of the end users.
On the other hand, cases of fatal accidents involving self-driving automobiles are compelling customers to doubt the efficiency of software technology, motivating carmakers to undergo technology disruptions, says FMI. ADAS developers are increasingly inclining towards System on Chips (SoC) that are created to allow autonomous driving operations in hardware, decreasing the number of lines of software code needed in the arrangement to a huge extent, which further assists counter operational safety risks.
Furthermore, both automobile OEMs and Tier-1 suppliers are coming up with innovative designs that incorporate SoCs, enabling greater processing bandwidth, lessened system latency, and decreased power utilization.
Customers Demanding a Safer Commute amid High Costs
Four-wheeler drivers are increasingly shifting towards OEMs from tier-1 suppliers, although the latter is exhibiting faster growth. FMI's study suggests that rising demand for automobiles that are fully-equipped with ADAS are finding favor among different economies as these vehicles have already undergone the testing stage, facilitating a more comfortable and safer experience for customers, while driving. Many countries have further decided to double the production of compact and mid-size vehicles that are armed with ADAS, realizing the legal constraints and significance of driver's safety.
However, both the automobile OEMs and tier-1 suppliers are likely to be witnessing a slight decline over the forecast timeframe, owing to rising adoption of two-wheelers among the demographic in low and middle-income countries (LMIC) for routine commute. The policymakers of these economies are refusing to permit the launch of ADASs due to unfavorable road conditions, which is an important growth influencer for the market according to the report. Further, high costs associated with ADAS-fitted vehicles remain a prime barrier restricting consumer preference.
For more insights on the global market for ADAS testing equipment market, write to the analyst at press@futuremarketinsights.com
About the Automotive Division of FMI
The automotive division of FMI offers a novel approach and innovative perspective in the analysis of the industrial automation market. Comprehensive coverage of capital, portable, process, construction, industrial, and special purpose machinery across the manufacturing sector and distinctive analysis about the installed base, consumables, replacement, USP-feature-application matrix make us a pioneering voice in the industry. We are preferred associates with established as well as budding industry stakeholders, and channel partners when it comes to sustaining, growing, and identifying new revenue prospects.
About Future Market Insights (FMI)
Future Market Insights (FMI) is a leading provider of market intelligence and consulting services, serving clients in over 150 countries. FMI is headquartered in Dubai, and has delivery centers in the UK, U.S. and India. FMI's latest market research reports and industry analysis help businesses navigate challenges and make critical decisions with confidence and clarity amidst breakneck competition. Our customized and syndicated market research reports deliver actionable insights that drive sustainable growth. A team of expert-led analysts at FMI continuously tracks emerging trends and events in a broad range of industries to ensure that our clients prepare for the evolving needs of their consumers.