Canine Atopic Dermatitis Treatment Market to Benefit from Production of Monoclonal Antibodies; Set to Surge 4X by 2029
Development of resistance to various therapeutic agents is contributing to increasing demand for immuno-specific drugs and vaccines. In this regard, scientists have noted that the production of monoclonal antibodies for canine atopic dermatitis treatment could prove largely helpful, and could be more stable as compared to biological drugs, which will create opportunity for the growth of the canine atopic dermatitis treatment market.
Canine Atopic Dermatitis Treatment Market
A recent market study published by Future Market Insights on the canine atopic dermatitis ...
"Rising increase in the adoption of pets in developed countries and increasing influx of medical information over the Internet are factors promoting the growth of the canine atopic dermatitis treatment market.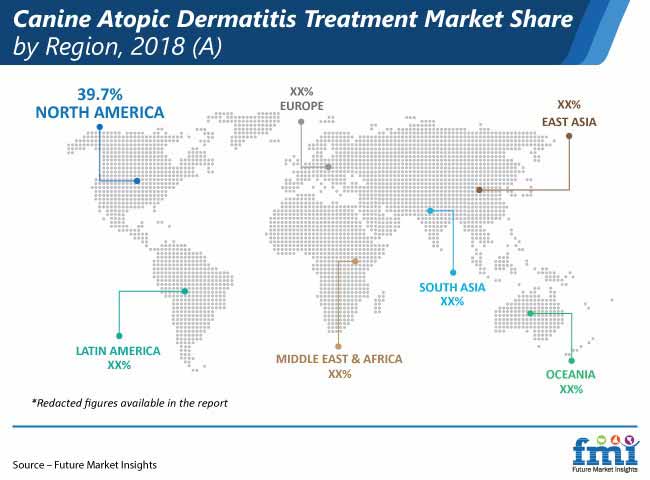 FMI - a well-established name in the market research domain - forecasts that, the canine atopic dermatitis treatment market will experience a major upturn post 2026, reaching US$ 2.4 Bn by 2029.
Key Takeaways of Canine Atopic Dermatitis Treatment Market Study
Immunosuppressants are anticipated to be highly preferred treatment for canine atopic dermatitis, and contribute more than 45% revenue share in the canine atopic dermatitis treatment market.
Due to growing resistance to various therapeutic chemical agents, the demand for high specificity biologics such as monoclonal antibodies is expected to increase during the forecast period.
The injectable segment is anticipated to dominate the market by route of administration for administrating monoclonal antibodies.
In terms of distribution channel, retail pharmacies are expected to gain more than 50% of market share during the forecast period.
North America is the dominating region, while East Asia is expected to offer lucrative opportunities, owing to rapid increase in healthcare programs and industrialization.
Leading Manufacturers Following Acquisition Strategy to Increase Regional Presence
Leading manufacturers in the canine atopic dermatitis treatment market are focusing on regional acquisitions to enhance their product portfolios and expand their regional presence. For instance, in 2018, Zoetis completed the acquisition of Nexvet Biopharma. This collaboration strengthened the development platform of mAb therapies and added new alternatives to treat diseases in companion animals. In 2017, Elanco Animal Health (Eli Lily and Company) reported an acquisition of Boehringer Ingelheim Vetmedica, Inc., which includes an array of rabies vaccines, feline and canine products, and several pipeline assets.
Want more insights?
The canine atopic dermatitis treatment market, a new study by Future Market Insights, provides a market study on canine atopic dermatitis treatment from 2014–2018, and presents demand projections for 2019–2029, on the basis of drug class (corticosteroids, immunosuppressants, antibiotics, antihistamines, emollients, essential fatty acids, and antipruritics), mode of administration (topical, oral, and injectable), and distribution channel (veterinary hospitals, veterinary clinics, retail pharmacies, drug stores, and mail-order pharmacies), across seven prominent regions.
About the Healthcare Division at Future Market Insights
Future Market Insights facilitates corporates, government, investors, and associated audiences in the healthcare sector to identify and accentuate vital aspects applicable to product strategy, regulatory landscape, technology evolution, and other crucial issues to achieve sustainable success. Our unique approach to gathering market intelligence equips you in devising innovation-driven trajectories for your business. Know more about our sector coverage here
About Future Market Insights (FMI)
Future Market Insights (FMI) is a leading provider of market intelligence and consulting services, serving clients in over 150 countries. FMI is headquartered in Dubai, and has delivery centers in the UK, U.S. and India. FMI's latest market research reports and industry analysis help businesses navigate challenges and make critical decisions with confidence and clarity amidst breakneck competition. Our customized and syndicated market research reports deliver actionable insights that drive sustainable growth. A team of expert-led analysts at FMI continuously tracks emerging trends and events in a broad range of industries to ensure that our clients prepare for the evolving needs of their consumers.