Surge in Demand for 'Recyclable' Lead Acid Batteries with Enhanced Conductivity and Durable Life-cycle Finds FMI Study
Aug 21,2019 | Industrial Automation & Equipment
Future Market Insights (FMI), recently published an extensive report that assesses the lead acid battery market. In addition, the report includes a global industry analysis for the period 2014–2018 and opportunity assessment for 2019–2029. The report highlights the recent developments in the lead acid battery market and provides detailed market insights for the forecast period 2019-2029. According to the report, the global lead acid battery market was valued at ~ US$ 64 Bn in 2018, and is estimated to grow at a CAGR of ~5% through the forecast period of 2019- 2029.
The demand for lead acid batteries is expected to experience a significant growth owing to an exponential rise in the production of commercial vehicles (HCVs and LCVs) to fulfil the escalating demand from the transportation and automotive sector.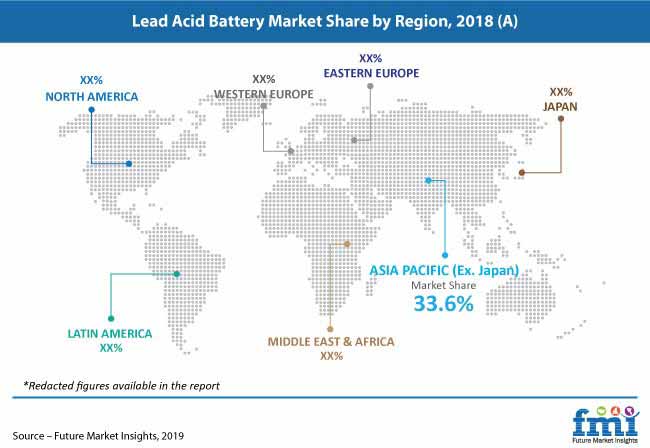 Traditionally, lead acid batteries have received acceptance as power boosters for applications in conventional vehicles. However, established and upcoming manufacturers are putting forward new developments in the lead acid battery space to drastically improve conductivity and shelf-life of lead acid batteries in comparison to lithium-ion batteries, explores FMI's research.
Although, there was a significant growth in the adoption of lithium-ion batteries in electric vehicles (EV), the developing economies are relying on advanced lead acid batteries for energy storage. Further, the environment ministries of several nations are formulating stringent policies to restrict lead contamination by proposing efficient recycling of cast-off lead composites, which is likely to have a moderate effect on the lead acid market in the coming years.
For More Detailed Insights on Lead Acid Battery Market
Adoption of Enhanced Flooded Batteries for Power Supply on the Rise Owing to Maintenance Requirements
According to the FMI report, enhanced flooded batteries (EFB) have garnered noteworthy popularity among car manufacturers in Asia and Europe primarily due to the low upfront costs. Further, other factors that are predominantly contributing towards the adoption of advanced EFBs include, high backup power and its ability to operate when charged partially. Thus, enhanced flooded batteries have emerged as one of the most ideal candidates for applications in HCVs and low-end automobiles. Carbon-based composites and conducting polymers play a key role in improving the dynamic charge threshold and durability of EFBs. However, EFBs require timely maintenance in the form of water to compensate for the used electrolyte through the vents. Further, as the electrolyte tends to evaporate in hot conditions, EFBs are not ideal for high-temperature applications. Furthermore, although EFBs have the capacity to function in extreme cold environments, its life-cycle is significantly hindered owing to the freezing water. However, despite the aforementioned restraints, EFB is a preferred choice in reserving power supplies for storing grid energy and utility.
Owing to improved cycling functionalities and efficient operation at a low charge, absorbent glass mat (AGM) batteries are widely used in high-end vehicles with idle start-stop (ISS) feature. AGM batteries have emerged as an ideal choice for applications in remote locations owing to the capillary action exhibited by AGMs to hold the electrolyte which plays an imperative role in preventing leakages and eliminating the need for regular condition checks, finds the FMI report. The adoption of AGMs is expected to snowball in the coming years as high cold cranking amps (CCA) enable efficient powering in cold conditions. However, some of the factors that could potentially dent the adoption of AGMs include, soaring initial investments and short product life-cycle.
Transportation and Telecom Sectors Likely to Remain at the Forefront
The detailed FMI study projects that the transportation industry is expected to be one of the primary end-use industry of lead acid batteries. Further, the high rate of adoption in the transportation sector is essentially influenced by the surge in production of LCV's, HCVs, passenger vehicles (PV), and two-wheelers that require an ignition spark. The report indicates that the widespread usage of conventional vehicles in the developing economies of ASEAN and nations such as India is likely to propel the demand for lead acid batteries in the region in the foreseeable future. The unprecedented backup capacity of lead acid batteries is a major factor that has generated significant interest from the telecom sector to use lead acid batteries. Further, lead acid batteries are likely to find applications in providing standby power to base transceiver stations (BTS) and remote hybrid stations to prevent network outages.
For more exclusive insights on the lead acid battery market, write in to the team of market research analysts at press@futuremarketinsights.com
About Industrial Automation & Equipment division of FMI
The Industrial Automation & Equipment division at FMI adopts a novel approach and innovative perspective in analyzing the global machinery and industrial automation market. A range of FMI's market research reports offer comprehensive coverage of capital, portable, process, construction, industrial, and special purpose machinery used across manufacturing sector. The team also conducts distinctive analysis about installed base, consumables, replacement, and USP-feature application matrix, making us a prominent voice of authority in the industry. We are associates of choice for established as well as budding industry stakeholders and channel partners when it comes to sustain, grow, and identify new revenue prospects.
About Future Market Insights (FMI)
Future Market Insights (FMI) is a leading provider of market intelligence and consulting services, serving clients in over 150 countries. FMI is headquartered in London, the global financial capital, and has delivery centres in the U.S. and India. FMI's latest market research reports and industry analysis help businesses navigate challenges and take critical decisions with confidence and clarity amidst breakneck competition. Our customized and syndicated market research reports deliver actionable insights that drive sustainable growth. A team of expert-led analysts at FMI continuously track emerging trends and events in a broad range of industries to ensure that our clients prepare for the evolving needs of their consumers.