Trace Oxygen Analyzer Market Players Prioritize Innovations to Launch Products with Enhanced Functionalities, FMI
Sep 17,2019 | Testing Equipment
A new market research report published by Future Market Insights on the trace oxygen analyzer market includes the global industry analysis 2014–2018 and opportunity assessment 2019–2029. The report analyses the trace oxygen analyzer market and provides critical insights for the forecast period 2019-2029. As per the findings of the report, the global trace oxygen analyzer market is projected to experience significant growth over the forecast period due to multiple driving factors.
The global trace oxygen analyzer market is predicted to be valued at ~ US$ 1,127 Mn in 2019, increasing at a CAGR of ~ 6% during the forecast period 2019-2029. This growth is majorly driven by the increasing usage of trace oxygen analyzers in rapidly expanding end-use industries such as pharmaceutical & healthcare, chemical & petrochemical, electronics, power generation, food & beverages, among others.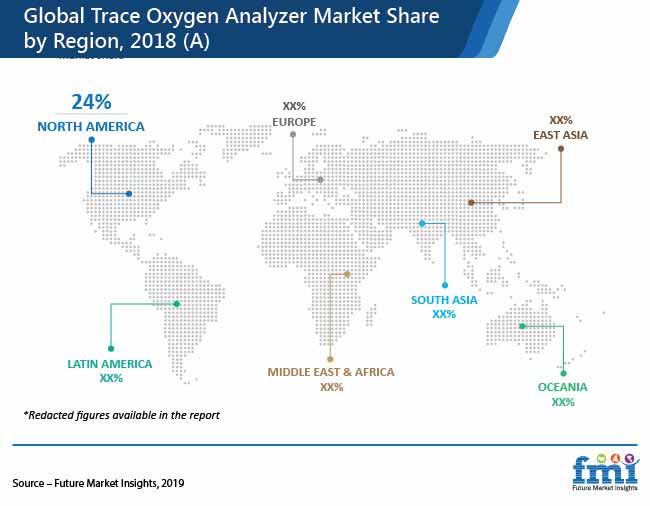 Manufacturers operating in the global trace oxygen analyzer market are likely to invest resources in R&D activities to develop oxygen analyzers with enhanced functionalities and sensing technologies. As per the FMI analysis, growing demand for zirconia oxygen analyzers is expected to provide an impetus to the overall growth of the market.
Lucrative Growth Opportunities in South Asia
Regions such as East Asia and North America are expected to hold a prominent market share in terms of value. On the other hand, South Asia is likely to offer greater opportunities for stakeholders in trace oxygen analyser market, on the account of rapid expansion of chemical and power generation industries which significantly contribute to the GDP growth along with continued revolution of industries in countries such as India. Moreover, the regulations for environmental monitoring are increasing in South Asian countries, due to increasing pollution, especially in India. Therefore, the demand for trace oxygen analyzers is estimated to increase significantly during the forecast period.
For More Detailed Insights on Trace Oxygen Analyzers Market
In recent years, the economic condition of South Asian countries has seen substantial improvement. In consequence, the analytical testing equipment manufacturing industry in South Asia is gaining significant and positive momentum, which is forecasted to increase the growth of the trace oxygen analyzer market in the region.
Chemical & Petrochemical and Pharmaceutical to Remain Key End-Use Industries
The global market of trace oxygen analyzer is segmented on the basis of product, portability, end-use, and regions such as North America, Latin America, Europe, South Asia, East Asia, Oceania, and Middle East & Africa. The FMI report also includes analysis of developing countries.
By product, the zirconia oxygen analyzer segment is expected to hold a prominent value share of the global trace oxygen analyzer market, owing to measurement accuracy and highly advanced specifications.
On the basis of portability, the portable mode is expected to hold majority share of the global trace oxygen analyzer market value, due to surge in on-field applications and easy accessibility. For instance, Alpha Omega Instruments Corp., introduced a portable trace oxygen analyzer (Series 3520) with a highly accurate sensor, specifically designed for industrial plants and commercial applications.
On the basis of end use, the pharmaceutical & healthcare segment is anticipated to be prominent in the trace oxygen analyzer market, due to increasing demand for trace oxygen analyzers in manufacturing plants and laboratory analysis for various applications. For example, trace oxygen analyzer are widely used in pharmaceutical plants to reduce the risk of mixing oxygen gas with other reactant gases.
Trace Oxygen Analyzer Market: Vendor Insights
The report highlights some of the prominent market players that hold a significant market share in the trace oxygen analyser market. Some of the key players in the global trace oxygen analyzer market include, Emerson Electric Co., AMETEK Inc., Yokogawa Electric Corporation, Teledyne Technologies Incorporated, Inc., HORIBA, Ltd., and Nova Analytical Systems.
For additional insights on the trace oxygen analyzer landscape, write to the analyst at press@futuremarketinsights.com
About Testing Equipment division of FMI
The Testing Equipment division of FMI is a specialized department catering to unique requirements in the industry. Exclusive coverage of the testing equipment market includes valuable information on regular, compliance, destructive, and non-destructive testing services and associated equipment. The team also executes several complex projects pertaining to the area of manufacturing and process industries, research and academia, testing and certification institutions, government agencies dealing into scientific and environmental research, and defense organizations. Our research studies are trusted and widely referred by stakeholders for gaining insights and developing cutting edge strategies.
About Future Market Insights (FMI)
Future Market Insights (FMI) is a leading provider of market intelligence and consulting services, serving clients in over 150 countries. FMI is headquartered in London, the global financial capital, and has delivery centres in the U.S. and India. FMI's latest market research reports and industry analysis help businesses navigate challenges and take critical decisions with confidence and clarity amidst breakneck competition. Our customized and syndicated market research reports deliver actionable insights that drive sustainable growth. A team of expert-led analysts at FMI continuously track emerging trends and events in a broad range of industries to ensure that our clients prepare for the evolving needs of their consumers.