An Incisive, In-depth Analysis on the Australia Conveyor Maintenance Market
This study offers a comprehensive, 360 degree analysis on the Australia Conveyor Maintenance market, bringing to fore insights that can help stakeholders identify the opportunities as well as challenges. It tracks the global Australia Conveyor Maintenance market across key regions, and offers in-depth commentary and accurate quantitative insights. The study also includes incisive competitive landscape analysis, and provides key recommendations to market players on winning imperatives and successful strategies.
COVID -19 : Impact Analysis
Request the coronavirus impact analysis across industries and markets
Request Covid -19 Impact
In order to avoid adverse effects on critical operations due to conveyor downtime, proper maintenance and functioning of conveyor components is necessary in key industries
Conveyor systems are one of the most crucial parts used in mining, industrial and power industries, which also account for significant contribution to Australia's economy. With critical operations affected by conveyor downtime, proper maintenance and functioning of conveyor components is pivotal to end-user industries such as mining, industrial & automotive, pharmaceutical, food processing, and others (power, fertiliser, transport and logistics).
The Australia conveyor maintenance market was valued at US$ 542.6 Mn in 2015. The Australia conveyor maintenance market is estimated to be valued at US$ 558.7 Mn by 2016 and is estimated to touch a market valuation in excess of US$ 700 Mn by end of 2026 registering a CAGR of 3.1% over the forecast period (2016 – 2026). The market is projected to represent incremental opportunity of nearly US$ 200 Mn between 2016 and 2026.
Increase in mineral commodity production and new mining establishments to drive the Australia conveyor maintenance market revenue growth
Mining industry is one of the major contributors and drivers of the Australia conveyor maintenance market owing to extensive utilisation in mineral extraction, processing and transporting. The volatility in commodity prices in Australia has shifted focus of mining companies from trading to expansion of mineral resources. Mining companies are increasing mineral volume production, as a result of which production of prime commodities such as iron ore and coal production increased in 2015. This increase in production, extraction and processing is predicted to create a sustainable demand for maintenance services. Likewise new mining establishments and projects related to iron ore, gold and coal are estimated to start during the period 2016–2022, and are expected to create fresh revenue streams for suppliers and service providers.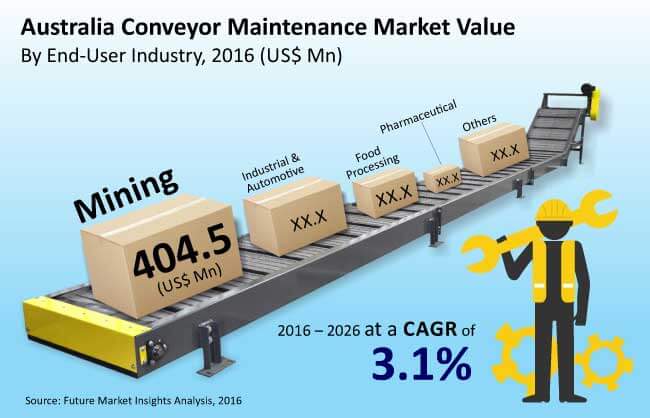 Maintenance providers are expected to benefit by offering one-time maintenance services during the assessment period
Mining companies are aiming at reducing operating expenses and are therefore engaging in economic and flexible contract options. Rio Tinto, Glencore and Anglo American are among the leading mining companies in Australia that engage in multiple short-term contracts for different components and services. Although belt replacement maintenance depends on multiple factors such as operating loads, belt speed and other factors, belts with width 2000mm-2400mm require less frequent maintenance as compared to lower width belts. For components such as idlers & roller and pulley lagging, mining companies prefer opting for lowest price per unit as they require highest volume replacement.
Plant expansion and capacity addition in the mining sector to create lucrative growth opportunities
As the mining industry is witnessing relatively moderate growth, mining companies aiming at extracting high volume of coal and iron ore are expected to invest significantly in infrastructure and machinery. The clearance of a number of billion dollar projects that aim to expand existing operations or establish new plants is likely to create lucrative opportunities for both installers as well as maintenance service providers. With average service and maintenance contracts ranging from 3 to 5 years, service providers can focus on flexible service and component replacement packages.
Mining and coal handling and management of power plants to contribute significantly to the maintenance services market; however, the market is anticipated to be boosted by sales of replacement components
By end-use industry, the mining segment is likely to maintain its dominance throughout the assessment period and account for over 70% share by the end of 2026. Owing to declining demand from component services and maintenance services in coal fired plants, the others segment will likely hold a significant market share during the assessment period. Revenue from the mining segment is estimated to reach US$ 404.5 Mn by 2016 end and is projected to create incremental $ opportunity in excess of US$ 165 Mn between 2016 and 2026. Increasing mineral commodity production in Western Australia and New South Wales is anticipated to significantly boost the revenue of the segment.
Future Market Insights presents a comprehensive analysis of the Conveyor Maintenance Market of Australia in a new publication titled 'Conveyor Maintenance Market: Australia Industry Analysis and Opportunity Assessment, 2016–2026'. In this report, Future Market Insights has focussed on offering detailed insights and in-depth research on the Australia conveyor maintenance market over a 10 year forecast period 2016 – 2026. In this report, we have covered the important factors boosting the Australia conveyor maintenance market growth, untapped opportunities for manufacturers, trends and developments shaping the dynamics of the Australia conveyor maintenance market and other insights across various key segments. In addition, we have identified the key drivers and restraints likely to impact the development of the Australia conveyor maintenance market. Changing trends are also analysed and incorporated in the report to equip clients with exhaustive information about the market resulting in better decision making. Macroeconomic factors that directly and indirectly affect the Australia conveyor maintenance market are also incorporated in the report.
Report description
In the report, we have begun by giving an overall view of the Australia conveyor maintenance market. Our report provides analysis of the Australia conveyor maintenance market in terms of market value (US$ Mn). To make our report structured and easy to comprehend, we have divided the report into four sections namely by conveyor type, by service type, by component type and by end use industry. After the overview, we have included a detailed and all-encompassing analysis of key trends and information about drivers and restraints from the supply and demand sides that are likely to have a profound impact on the Australia conveyor maintenance market. This kind of data will broaden the horizons of our clients who want to invest in the Australia conveyor maintenance market and help them make strategic decisions that are bound to deliver results in the stipulated time frame.
Australia Conveyor Maintenance Market Segmentation
By Conveyor Type

By Service Type

By Component Type

By End–use Industry

Component Fixing

Maintenance Services

Conveyor Belt

Roller and Idler

Cleaner

Others (Skirting clamps, pulley lagging, fastener, impact beds & splicing kits )

Mining

Industrial and automotive

Pharmaceutical

Food Processing

Others (Power, Fertiliser, transport and logistics)
A section of the report highlights the demand for conveyor components. It provides a market outlook for 2016–2026 and sets the forecast within the context of the Australia conveyor maintenance market, including the new technological developments as well as product offerings for niche applications in the Australia conveyor maintenance market.
In the final section of the report, Future Market Insights has provided a competitive landscape to provide report audiences with a dashboard view of the competitors operating in the Australia Conveyor Maintenance market. In order to give a clear idea of market participants, a section of the report encompasses state wise supplier pool analysis. We have provided a detailed market share analysis of the Australia conveyor maintenance market on the basis of key participants. In addition, detailed profiles of manufacturers are also included within the scope of the report to evaluate strategies, key offerings and recent developments in the Australia conveyor maintenance market.
What is our research methodology?
Market value is inferred through in-depth secondary research and validated from industry experts through primary interviews. Each interview is thoroughly analysed and the average market value is deduced and reconfirmed prior to incorporating in the report. For component replacement, average replacement time period, maintenance strategy and service type demand for leading mining companies is analysed to assess the revenue for Australia conveyor maintenance market. For the 10-year forecast of the Australia conveyor maintenance market, various macroeconomic factors and changing trends have been observed, giving an idea about the future of the market. Other important factors considered to arrive at market forecast are the size of the current market, inputs from the supply side and the demand side and other dynamics shaping the scenario of the market.
Important metrics included in the report
We have included several key metrics in our report to give solid figures that support our assumptions and assertions. It is important to note that in an ever fluctuating economy, we not only conduct forecasts in terms of CAGR, but also analyse the market on the basis of key parameters such as year-on-year (Y-o-Y) growth to understand the predictability of the market and pinpoint the right opportunities in the Australia conveyor maintenance market. Also, all the market segments have been analysed in terms of Basis Point Share (BPS) to understand the individual segments' relative contribution to market growth. This detailed level of information is important for identification of many key trends in the Australia conveyor maintenance market.
Last but not the least, in order to understand the key growth segments in terms of growth and performance in the Australia conveyor maintenance market, we have developed a unique market attractiveness index to help identify real market opportunities.
Analyst Viewpoint
We have observed that with increasing production volume of mineral commodities, the demand for components such as idler, cleaner and conveyor belt has increased significantly. The demand for conveyor belt replacement is expected to expand at a relatively higher rate. With increasing adoption of automated conveyor monitoring systems, the demand for breakdown maintenance services is expected to reduce and therefore leading companies are expected to engage with multiple service and component contractors on a short-term basis. Capacity addition during the second half of the forecast period is expected to propel revenue enhancement of the mining industry segment in the Australia conveyor maintenance market.
Harish Tiwari
Global Head - Business Development
Akshay Godge
Client Partner - Global Business Development
CASE STUDIES
See how our work makes an impact.
At FMI, we design strategies that are adaptive, impactful, and implementable.