Conveyor System Market - Key Research Findings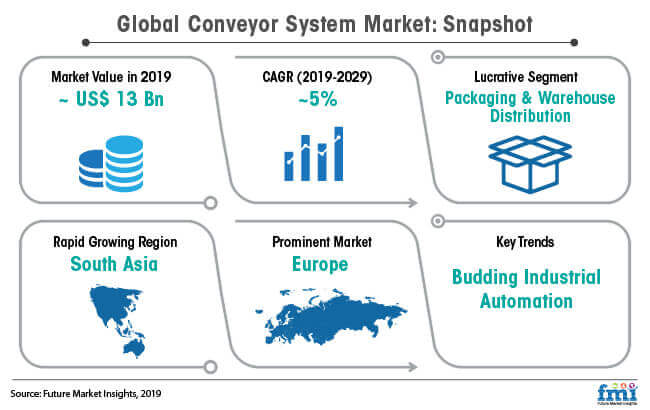 The global conveyor system market was valued at ~US$ 12 Bn in 2018.
The conveyor system market is anticipated to grow at a CAGR of ~5% over the forecast period of 2019-2029.
The packaging & warehouse distribution segment by end-use type in the global conveyor system market is estimated to be the most opportunistic segment during the forecast period.

In packaging & warehouse distribution end-use industry, adoption of smart factory solutions, such as conveyor systems, is growing aggressively aiming to reduce overall manufacturing costs, bring down manpower costs, and enhance productivity.

Europe is estimated to account for about one-fourth of the global value share in the conveyor system market throughout the projected period.

In terms of global logistics trade ranking, Germany holds 1st position and the U.K. holds 9th Also, both countries generate about one-fifth of their GDP from construction and mining, and construction & mining segment holds about 15% of the Europe conveyor system market. Therefore, the region is expected to be the most lucrative region in the global conveyor system market.
Key Factors Shaping the Conveyor System Market
Conveyor Systems: Carrying the E-commerce Burden
The era of intralogistics is undergoing radical change and with the globalization of the economy, supply chain cycles are shortening and international flow of goods (import & export) is increasing and accelerating. Supply chain and business processes are becoming more complex, and the consumers more demanding.
Simultaneously, competitive pressure is increasing among developed & developing economies, and individual conveyor systems market players. Consequently, automated equipment, such as conveyor systems, are gaining traction.
In 2018, the global e-commerce market was valued at 27.7 trillion as consumers are becoming more dependent on online purchasing, which demands optimum utilization of warehouse space and fast delivery. This, in turn, creates need for automated handling equipment such as conveyor systems.
Circular Economy Gaining Traction in Material Handling Equipment
End-use industries are increasingly focusing on reducing energy costs with the use of efficient products and processes. The current paradigm of manufacturing is moving towards a circular economy. A material handling facility utilizes a great deal of energy. Lighting, heating, cooling, machines drives, and peak time operations are major areas where energy is consumed more and needs to be optimized.
This presents both a challenge and an opportunity for energy savings as many facilities may still use old, inefficient motors. In tune with this requirement, manufacturers of conveyor systems are introducing energy-efficient conveyor systems for various applications. For instance, major manufacturers are developing conveyor systems with better visco-elastic properties, which can reduce energy consumption by up to 20%.
Market Drifting to Usage of High Strength and Durable Materials
In recent years, belt driven conveyor systems are gaining significant traction in the global market. The belt that is used as a drive, is the key driving component in a conveyor system. The most common type of belt materials used are polyurethane & neoprene. Additionally, top manufacturers are plying to give their consumers high quality belts, which can last longer with negligible maintenance.
Thus, development of belt material is expected to reduce maintenance costs and reduce overall operating cost of the conveyor system, in turn, contributing towards the growth of the market.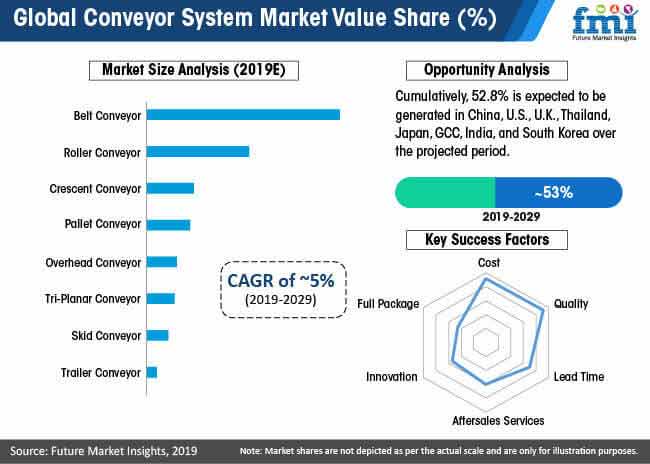 Conveyor System Market Structure Analysis
The global conveyor system market is mostly fragmented with a large number of small- and medium-sized conveyor system manufacturers due to moderate manufacturing costs and high demand. Key global players, such as Daifuku, BEUMER GROUP, Interroll Holding AG, Murata Machinery, Schaefer Systems International and Dürr Group, accounted for about one-fourth market share, whereas other small and medium-sized players accounted for 73% to 75% in 2018, with mostly regional presence and a limited global presence.
Manufactures are trying to improve capabilities of conveyor systems to work with higher delivery rates all the while providing process reliability. Also, they are developing conveyors designed in variety of sizes and specifications in terms of width to handle unit and bulk handling capacities, to be used in production assembly lines and distribution lines as well.
Defining the Role of Conveyor System in Factories of the Future
Industry 4.0 is gradually penetrating across a number of industries, bringing a wide range of options that need to be exploited effectively. With a wealth of technologies ready to be integrated into the existing infrastructure, industry operators are constantly focusing on maximizing their efficiency and creating an agile environment to align with demanding world of consumers.
As technologies develop and factories get leaner and smarter, conveyor system – the workhorse of every processing and manufacturing plant – has been undergoing a paradigm shift. On the quest to do more with less, the conveyor system is moving from oversized drive rolls, large motors, and rubberized belts to sleek, efficient, flexible machines that fit in small locations and handle a variety of tasks, rather than merely moving products from one point to another.
Moreover, the conveyor system is becoming a critical part of a smart automation system, on the back of developments such as smart sensors, advanced communication systems, internet o things (IoT) etc. As orientation of parts become huge in every system today, the rapid actions of products to be placed in specific way and in an exact location will require conveyor system to perform as expected to meet the applications' demands.
New Designs with IIoT in Mind – Key Growth Promoter
Conveyor system is a key element in all automated facilities and applications, and with recent innovations in automation and robotics, the systems is getting smarter – offering potential benefits of predictive maintenance, energy efficiency, and electric actuation. Rapid penetration of e-commerce industry across the globe, has led to a radical upheaval in warehouses and logistics industry, and its impact is profoundly noticeable in the conveyor system market.
Additionally, industries such as automotive, manufacturing, and food & beverage are on an ascent, with continued automation, recovery of economic conditions in certain countries, rapid revolution of industries, and increased disposable incomes. As a result, the conveyor technologies will continue to witness steady demand in the years ahead.
Further, amid the rise of disruptive technologies, particularly Industrial Internet of Things (IIoT) and Machine Learning, manufacturers are hard pressed to replace large mechanical and pneumatic conveyor systems with clean, reliable and all-electric systems. As the fast-paced technologies are gaining prominence in everything from cars and washing machines to modern restaurants, stakeholders are placing their focus on incorporating smarter motors and controllers for easier and quieter operations.
Outlining Growth Prospects in Developed and Developing Regions
The demand for conveyor system is currently based on significant growth of the e-commerce industry and consequent expansion of warehousing. Growth prospects of the conveyor system market continue to be high in Europe and North America with greater adoption of newer technologies across industries which has further incited manufacturers to intensify their production capabilities.
In addition, market consolidation in Asian countries will remain key to gaining distinct competitive edge, as expansion and construction of new manufacturing facilities in China, India, Indonesia, and Thailand are likely to generate a healthy demand for conveyor systems.
Demand for Mixed-model Assembly Lines to Dictate Stakeholders' Strategies
As manufacturing recovers and natural resources dwindle, accelerated processing and transportation are of paramount importance, creating robust demand for versatile and smart conveyor systems. Growing complexity of production systems in recent times, has led to surge in the demand for mixed-model assembly lines – creating new roles for conveyor systems and challenges for market players.
As single purpose lines where the slowest process and large assembly station define the entire process become less prevalent, manufacturers are hard-pressed to incorporate smart components to align with newer trends and offer compact footprints. Space has been a critical factor in many manufacturing and processing environments, leading to development in conveyor design that allows the system to take up less space.
Compact footprints of conveyor system will continue to be on the trend list, as its application scope widens from traditional industries to pharmacies and restaurants, enabling automated ordering and delivery system. In addition, although conveyor systems are versatile and able to fill the gap between processes, specific-function conveyors are necessary for defined purposes. Manufacturers are thus focusing on offering customized design for the end user, along with maintenance and repair services to stay ahead of the pack.
How Growth Will Unfold
Innovations in conveyor system market go in hand with growing popularity of circular economy, compelling industries to place their focus on reducing energy costs by using efficient products and processes. Manufacturers are constantly pinning their hopes on automation and smart technologies to create variations in their products, identify and leverage white spaces in their application, and ultimately to fulfill the ever-evolving demands.
An embrace of R&D is underway in the market in line with growing technological requirements such as RFID tagging which provides product traceability. Although the global conveyor market shows a fair level of fragmentation, startup companies are likely to have difficulty thriving die to increasing price pressure in end-use industries, especially automotive.
Further, reliance on imports for procuring raw materials and growing pricing competition with low-quality belt manufacturers continue to pose as a potential challenge for key stakeholders in the market.
Key Segment
Product Type
Belt Conveyor
Roller Conveyor
Pallet Conveyor
Overhead Conveyor
Tri-Planar Conveyor
Crescent Conveyor
Skid Conveyor
Trailer Conveyor
Others
Operation Type
Manual
Semi-Automatic
Automatic
By Capacity
Unit Handling
Bulk Handling
Application
Packaging & Warehouse Distribution
Textile & Paper
Construction & Mining
Automotive & Transportation
Consumer Electronics
Food & Beverage
Chemical & Pharmaceutical
Region
North America
Latin America
Europe
East Asia
South Asia
Oceania
MEA
Need specific information?