Introduction
Automotive, mining, construction, waste management, and petrochemical industries across several regions such as North America, Europe, and China are showcasing potential growth opportunities for manufacturers of fifth wheel coupling. Construction and industrialisation is increasing across the globe owing to the growth in the economy of developing nations, which is expected to accelerate the growth of the global fifth wheel coupling market as it provides transportation solutions to these industries.
The growth of surface mining and the petrochemical industries, mainly in the Middle East and Africa and Europe is expected to propel demand for transportation. This is likely to increase the need for fifth wheel coupling for cost-effective movement of materials, to provide safety and to increase productivity.
The surging waste management industry, particularly sectors such as food waste management and medical waste management, across developing regions is also anticipated to lead to a gradual rise in the global fifth wheel coupling market.
Increasing awareness among people regarding environment safety is projected to fuel the growth of the waste management industry, which in turn is expected to trigger the growth of the logistics industry and indirectly impact revenue growth of the fifth wheel coupling market. Capabilities such as high load carrying capacity are further expected to drive the demand for fifth wheel coupling across several emerging economies.
China is expected to lead the global market owing to the presence of leading players in the region
The presence of leading players in the China market for fifth wheel coupling is surging the production as well as circulation of fifth wheel coupling. Moreover, the growing demand for heavy duty trailers is also expected to bode well for the growth of the market in the region. The noticeable contributor to climate change, emissions as well as fuel ingestion in the on road transportation sector is freight vehicles. Moreover, tractor-trailers account for a significant percentage of emissions, fuel consumption, and vehicle-kilometers travelled in heavy-duty vehicles.
The surge in construction and mining activities across China is expected to propel the demand for heavy duty vehicles, which will directly impact the sales of fifth wheel coupling in the region. Governmental guidelines and promotion of fuel-saving technologies to decrease GHG emissions and fuel-consumption within their heavy-duty vehicle fleet is another noteworthy factor that has of late fuelled the demand for new advanced trailers, thus benefitting the global fifth wheel coupling market in return.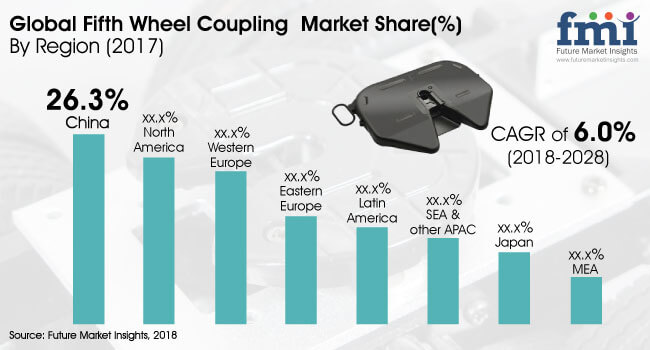 North America fifth wheel coupling market to experience significant growth owing to increasing demand from the automotive industry
North America is a matured automotive market and has high penetration rate of technologically advanced and expensive products. A hefty share of commercial vehicles in the region is equipped with cutting-edge fifth wheel coupling systems such as fifth wheel backup camera system. Moreover, momentous sales of heavy commercial vehicles in North America is making the market more disposed towards the adoption of advanced technologies.
For instance, in 2017, Fontaine Fifth Wheel Company developed the lightest steel fifth wheel assembly that has an extremely high load capacity. The disposable income of consumers in the region is also rising and their preferences are changing as well, thus making room for frequent shifting. As a result, the demand for heavy duty vehicles is increasing, thereby benefitting the market for fifth wheel coupling in the region.
Market Taxonomy
By Product Type
Compensating
Semioscillating
Fully Oscillating
By Operation
Hydraulic
Pneumatic
Mechanical
By Capacity
Below 20 Tons
Between 20 – 30 Tons
Between 30 – 45 Tons
Above 45 Tons
By Material Type
Cast Steel
Cast Iron
Fabricated Steel
Aluminum
Others (Pressed Steel, Stamped steel, etc.)
By Sales Channel
By Region
North America
Latin America
Western
Europe
Eastern Europe
China
SEA and Other APAC
Japan
MEA
Need specific information?