Boxes & Cartons Mainstay for Bespoke Packaging, Bottles Close in
Boxes & cartons account for more than one-third of the global market value, owing to rapid increase in demand for luxury footwear and products for kids. However, bespoke packaging is no longer 'just a box' and change is coming thick and fast in line with growing number of affluent consumers across the globe.
Bottles with personalized labels or individualized message, for both alcoholic and non-alcoholic beverages packaging, are being offered by companies to create more personal connection with their consumers. These factors played a significant role in Coca Cola's Share a Coke campaign replacing its logo on bottle labels with common individual forenames.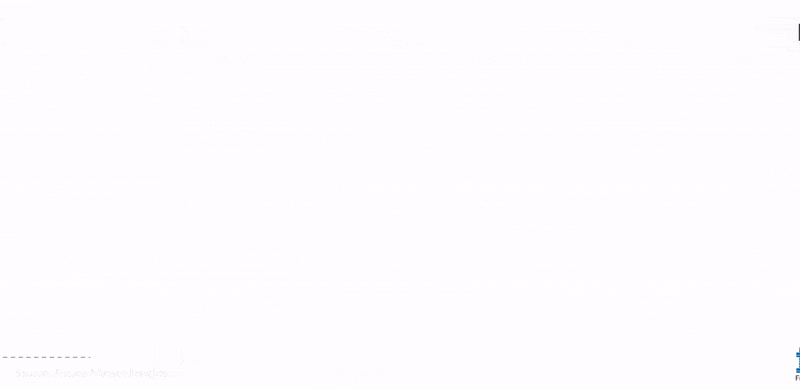 Europe Remains in the Vanguard
Europe continues to offer greater opportunities, due to companies dealing in products such as confectioneries, personal care & cosmetics, and even tobacco are venturing into the luxury markets. In order to retain and attract a large segment of consumers, numerous brands in the region are focusing on offering products positioned on an 'everyday luxury' platform, and bespoke packaging is seen as a way to achieve such objective. Market consolidation in East Asia will further remain a key to gaining a competitive edge, on the account of increased adoption of urban lifestyle and spending on luxury goods.
High-end vs Sustainable: Market Players Prioritize Winning at Both
Currently, the challenge in the bespoke packaging market is to maintain its high-end appeal whilst becoming sustainable. Today, mounting concerns over the ubiquity of plastic within the industry along with consumers' willingness to pay more for environment friendly products are influencing market players to be active in innovating new products, particularly from sustainable perspective.
Consumer-focused packaging within e-commerce as well as brick-and-mortar business are further likely to bring monumental changes in the bespoke packaging space. Simultaneously, with technological advances in digital printing, sensors, and Internet of things (IoT), the market is expected to reach new heights, allowing products to be tracked, secured, and monitored.
How Growth will Unfold
In recent times, significant rise in popularity of flexible packaging paper is weighing on a same scale as growing adoption of paper & paperboard for bespoke packaging. As bespoke packaging worth around US$ 5 Bn sold in 2019 were made of paper & paperboard, manufacturers have specifically focused in this category. In order to stay ahead of the curve, market players are also focusing on capitalizing on other materials such as glass for beverages and textile for fashion accessories & apparels sectors.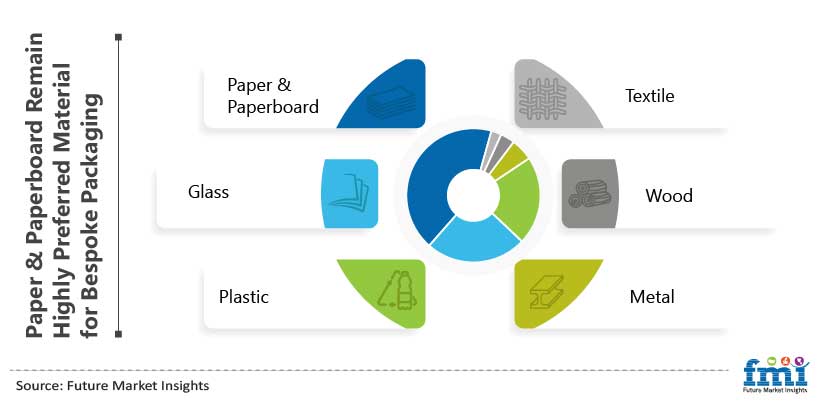 FREQUENTLY ASKED QUESTIONS ABOUT GLOBAL BESPOKE PACKAGING MARKET
What is the global status of the bespoke packaging market?
The global bespoke packaging market is estimated to register a substantial CAGR during the forecast period of 2019-2029. The bespoke packaging market is expected to grow 1.8x its current market value by 2029.
What are the key factors shaping the dynamics of the bespoke packaging market?
Growing demand for personalized and sustainable packaging from the e-Commerce and food industries are expected to be a key driver shaping the growth of the bespoke packaging market. Moreover, the ongoing premiumization trend in packaging of apparels is anticipated to offer lucrative opportunities to players in the bespoke packaging market in the foreseeable future.
Which end-use industry is expected to the most lucrative?
As per FMI research, the fashion accessories & apparels industry is expected to be a highly attractive end user for players in the bespoke packaging market during the forecast period of 2019-2029, followed by consumer goods & durables, and personal care & cosmetics industries.
Which countries offer substantial growth opportunities for players in the bespoke packaging market?
The U.S., China, Italy, France, and Japan are estimated to be leading countries in the bespoke packaging market, while Germany, China, and Switzerland are expected to register impressive growth during 2019-2029.
Which region is expected to generate the highest sales in the bespoke packaging market?
Europe is expected to be the most prominent region in the bespoke packaging market, and is projected to generate highest sales during the forecast period of 2019-2028. This is attributable to the growing demand for premium packaging from fashion, apparels, electronics, and cosmetics industries in this region.
What is the degree of competition in the bespoke packaging market?
Global bespoke packaging market is fragmented. Regional companies are also involved in the bespoke packaging market and have the potential to offer customization options. Top 10 players with advanced designing and technology resources are anticipated to lead the bespoke packaging market, some of which include WestRock Company, DS Smith Plc, KOLBUS GmbH & Co. KG, McLaren Packaging Limited, and Burt Rigid Box Inc.
BESPOKE PACKAGING MARKET TAXONOMY
The global bespoke packaging market is segmented in detail to cover every aspect of the market and present a complete market intelligence approach to readers.
Product
Mailers & Envelopes
Boxes & Cartons
Bags & Totes
Pouches
Bottles
Others (Composite Cans, Wraps, & Others)
Material
Paper & Paperboard
Glass
Plastic
Metal
Textile
Leather
Wood
End-use Industry
Fashion Accessories & Apparels
Food
Beverages
Consumer Goods & Durables
Personal Care & Cosmetics
Others
Region
North America
Latin America
Europe
South Asia
East Asia
Oceania
Middle East & Africa
Need specific information?