Biaxially Oriented Polyamide (BOPA) films Outlook & Key Findings
BOPA films market is projected to reach over US$ 1.58 Bn by 2030, with nylon 6 grade at growth forefront
Food industry to remain key end user of BOPA films and witness an expansion of 1.8x of its current value by 2030
BOPA films market is projected to expand at CAGR of 5.4% during the forecast period of 2020 and 2030
Europe and East Asia together to dominate the market with a share of 52% in the global market
Lightweight and dimensional stability have resulted in growing applications of BOPA films across verticals
Increasing Consumption of Packaged Food Triggers Phenomenal Growth in Demand for BOPA Films
Skyrocketing purchase of packaged food through modern sales channels such as supermarkets and hypermarkets have resulted in a high demand for BOPA films. Additionally, rise of e-commerce that has enabled quick sale of packaged food items has also generated a massive demand in the market.
The market is also being driven by the rapid shifts in consumer preference towards the online modes of purchasing packaged food, which has further hiked the demand for packaging solutions.
Processed food products are susceptible to damage if they are exposed to biological or atmospheric impurities. Thus, producers are constantly striving for ways to maintain the quality while prolonging the shelf life.
The excellent protection offered by BOPA films against moisture and gas are expected to make them a preferred packaging solution amongst end users.
Innovations in terms of product development to development of packing material, design technology, and properties of packaging material are expected to serve well for the vendors operating in the market.
The outstanding barrier properties of BOPA films are expected to be its selling points during the forecast period that will be sensitive to hygiene and cross-contaminations.
The high demand for ready-to-eat meals, processed food, and canned fruits & vegetables is projected to be assertive in using BOPA films as safety of consumers will take priority.
Orientation- a Key Success Factor for the Growth of BOPA Films
The improvement in mechanical, optical, and barrier properties of oriented films has strengthened the case for usage of BOPA in pharmaceutical packaging. Biaxially-oriented polyamide films offer greater performance and superior barrier against oxygen and moisture even at low thicknesses, making an apt choice amongst food suppliers.
The perfect balance in mechanical properties between machine direction and cross direction has created an excellent niche for the market in industrial and consumer packaging.
Orientation is a vital part of the polymer processing industry to convert bits of plastic resin into precious packaging films. Thus, BOPA films are expected to gain momentum as they are expected to outperform in flexible packaging market given their unique features.
Recycling Challenges to Make Companies Rethink their Production Strategies
Over the years, there has been shift in preference from monolayer flexible packaging to multilayer packaging due to the latter's superior functionality, barrier, thickness, low cost, and subsequently increasing applications.
However, the process of recycling or disposing of multilayer packaging is complicated and requires hefty investments from manufacturers. The delamination process of multilayer films is too difficult in practice, wherein the cost of recycling is higher than manufacturing a new one.
Oriented coextruded films with polyamide face some challenges with respect to upkeep of adhesive tie layer and film after orientation. Furthermore, too much orientation of polyamide film decreases the resistance of the material, and thus sometimes creates problems in recycling process.
Single layer plastics are precisely recyclable, although multilayer BOPA formats are challenging due to the presence of different polymers and other materials. These, factors are expected to hinder the market growth of BOPA films to some extent.
Therefore, increasing adoption of multi-layer barrier films in flexible packaging for enhanced shelf life possess an extensive recycling and disposal challenge. This is likely to limit the market growth of BOPA films, pushing companies to rethink their product strategies.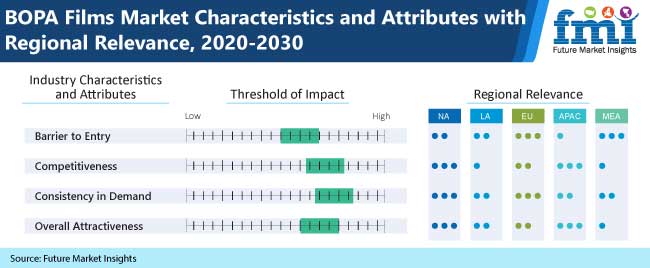 Top players in BOPA films market such as Unitika Ltd., Mitsubishi Chemical Corporation, and Toray Advanced Film Co., Ltd., have created cutthroat competition in Asia Pacific region.
Furthermore, the region is expected to show consistency in demand throughout the forecast period as food and beverages industry witnesses an explosive growth. The rapid expansion of pharmaceutical industries in this region are also projected to contribute to this demand trend.
As of the major players are headquartered in North America and Europe the barrier to entry for new players is relatively high in these regions. This also translates to competitiveness for new entrants being on the medium to higher range.
The Middle East and Africa has low market share in BOPA films market but expected to attract BOPA films manufacturers in the upcoming years with decent presence of chemical and petrochemical industries, which are expected to offer excellent opportunities for packaging.
East and South Asia Hold Lion's Share as they Lead with Raw Material Suppliers on their Side
Europe and North America are expected to hold more than 1/3rd of the market share by 2020. Meanwhile, Latin America, is expected to holds a market share of 6.5% through 2020, offering many remunerative growth opportunities to BOPA films players.
South Asia is likely to have a high growth rate as the market has lucrative opportunities due to an influx of local players and large number of MNCs operating in the region.
Future Market Insights finds East Asia is the largest market accounting for more than 33% of the BOPA films market due to availability of raw materials, growing production across verticals, and an evident rise in packaging activities.
Our study also indicates that Oceania has a meagre market share of 2.6% owing to the limited presence of the manufacturers and lower population of the region. On the other hand, the Middle East & Africa has a low market share of 5.7% but is likely to surge ahead with growth in the food & beverage and chemical industries in the years to come.
COVID-19 Impact on BOPA Films Market
Disrupted manufacturing activities due to stringent social distancing norms have created several hurdles in the supply chain of BOPA films. The exceptionally high dependence on East Asia for raw material has further addled the issues of production and supply for the BOPA films market.
The market has also been at the receiving end, as the demand from food and beverages industries has dropped incredibly low with lockdowns. In the light of these factors, analysts anticipate that the growth rate of BOPA films will remain sluggish in Q3 and Q4 2020.
However, with new measures to restrict infections, repairing supply chains for food services, and stabilizing e-commerce activities, BOPA films market is expected to get back on its bases by the start of 2021.
Furthermore, amidst the pandemic, vendors will have to adapt by finding new vendors or focusing on self-reliant measures to ensure business continuity.
Facility Expansion and Product Innovations Remain Top Priority of BOPA Films Manufacturers
In the consolidated BOPA films market, manufacturers are constantly focusing on enhancing product features to increase consumer convenience and stay one step ahead of their competitors. Also, they are widening their product portfolio by catering to a wider array of applications.
In addition, R&D and capacity expansion in the BOPA films market is expected to grow significantly over the forecast period as sustainability becomes a big debate in packaging. BOPA films market players are strongly focusing on expansion and product developments. For instance:
In 2019, Japan-based manufacturer Unitika Ltd. announced its plan to expand its production capacity from 16,500 tons/year to 26,500 tons/year for its Indonesia-based manufacturing plant by the end of 2020.
In 2019, Domo Chemicals launched "Nyleen" BOPA and CPA films for lower environmental impact with LCA declaration.
In 2019, Oben Holding Group S.A.C. opened its second BOPA (Nylon) line with a production capacity of 13,000 MT/year installed in Peru. This new addition increased the company's BOPA total capacity to 20,000 MT/year.
BOPA Films: Competition Landscape
The global BOPA films market is consolidated with over 45-55% of the market share held by key manufacturers, who are focusing on providing tailored solutions as per the demand of end-use industry.
The leading manufacturers operating in the global BOPA films market are focusing on maximizing production volume, expanding their reach globally, and diversifying their product portfolio.
For Instance, in 2017, Winpak Ltd. announced BOPA film capacity expansion to add the annual production capacity of 11,000 to 14,000 metric tonnes of BOPA films for sale in North America. This expansion enabled Winpak to maximize its production volume of BOPA films to serve its North American consumers.
Some of the key players in the BOPA films market are-
Unitika Ltd.
Mitsubishi Chemical Corporation
Toray Advanced Film Co., Ltd.
Winpak Ltd.
Kolon Industries Inc.
Hyosung Corporation
Domo Chemicals
Oben Holding Group S.A.C.
A.J. Plast Public Company Limited
Sojitz Plastics America Inc.
BOPA Films Market: The Way Forward
The growth trend of the BOPA films market is likely to be upward. Though Y-o-Y growth is steady, the market is projected to record 5.3% growth from 2023. Food, pharmaceutical and healthcare, electrical and electronics, chemicals, industrial packaging are some of the prime end-use industries.
Thus, their growth will be directly reflected on the growth of BOPA films market. Re-closability, re-usability, and ease of carrying are expected to remain decisive factors for purchasing packaged goods, which is likely to propel the demand for BOPA films globally.
The major use of BOPA film is within mainstream flexible packaging where its excellent features give it an advantage over rival film substrates, which have opened up ample of opportunities for local players and new entrants.
Besides this, reduced oil prices globally have led to a significant decrease in the value of plastics, making companies to provide more functional BOPA films at affordable pricing to consumers to achieve the packaging necessities.
There are plentiful of opportunities in the BOPA films market, which include product development, plastic films recycling, and use of bio-based plastics for manufacturing of sustainable alternatives
Key Segment
By Grade
By Thickness
Up to 10 Micron
11 to 20 Micron
21 to 30 Micron
Above 30 Micron
By End Use
Food
Pharmaceutical and Healthcare
Electrical and Electronics
Chemicals
Others (Industrial Packaging
By Region
North America
Latin America
Europe
MEA
East Asia
South Asia
Oceania
Need specific information?