Nylon Films Market to Grow 1.6X by 2029
Enhanced 'shelf life' and 'barrier properties' have been the key concerns among various industries all over the world. The packaging industry, particularly, is undergoing carrying out R&D activities in order to tick these two boxes, which, in turn, is boosting the popularity of flexible plastic packaging formats over conventional rigid packaging solutions. These evolving trends are boding well for the worldwide growth of the nylon films market, which will cross the US$ 1 Bn mark in 2023.
Frequently Asked Questions about Global Nylon Films Market
What are the future prospects of the nylon films market?
The nylon films market is anticipated to witness gradual growth, with the market creating an incremental opportunity of US$ 581 Mn over the forecast period.
What is the key factor driving the growth of the nylon films market?
Flexible packaging converters highly prefer nylon films for packaging perishable products such as meat, cheese, and other processed food items, attributable to the excellent oxygen and aroma barrier properties of such films. Improved shelf life of these products is another factor that is expected to contribute to the increased adoption of nylon films by packaging manufacturers over the forecast period of 2019-2029.
Which players are identified as tier-1 players in the nylon films market?
Unitika Ltd., Toray Plastics Inc., Winpak, Kolon Industries, Hyosung Corporation, and Honeywell International LLC are some of key players in the nylon films market that FMI has identified as tier-1 players. Most of these players focus expansion through strategic acquisition of regional players to maintain their market position in the nylon films market.
Which brands are associated with the nylon films market?
Some of the popular brands associated with the nylon films market are EMBLEM by Unitika Ltd., RAYFAN from Winpak, AMIDROLL brand by KOLON industries, a series of SUPERNYL films by Mitsubishi, HARDEEN from Toyobo, and NYLEEN from Domo Chemicals.
Which region accounts for the highest generation of revenue in the nylon films Market?
In terms of market growth, the East Asia nylon films market is projected to be at the forefront through 2029. This can be attributed to the increasing adoption of nylon films by food packaging manufacturers for the enhanced shelf life and improved barrier properties of these films.
Which end-use industry offers high potential opportunities for market players?
The food industry is anticipated to account for a significant market share in the nylon films market, and remain the most lucrative segment throughout the forecast period. However, the pharmaceuticals segment is expected to generate an impressive incremental opportunity over the next five years, due to the rising demand for multi-layer films because of their excellent barrier properties.
Nylon 6 Remains Preferred Grade Type
Nylon 6 films account for a voluminous share of the market revenue, which is likely to increase throughout the period of projection. As the trend of lightweight packaging is gaining ground, films and coatings made from nylon 6 continue to define manufacturers' bottom lines. By 2025, the adoption of nylon 6 grade type will hit the US$ 1 Bn mark. On the other hand, nylon 66 is expected to see steady demand growth due to its greater mold shrinkage, which further complicates the manufacturing process.
Primacy of Asian Markets to Sustain Through 2029
Capturing over one-third share of total consumption, the nylon films market in East Asia will continue to attract significant capital investments from manufacturers over the next decade. With China leading the regional market, growth will be shaped by the rising popularity of convenience foods, as well as booming chemical industry. While sales opportunities are also lucrative in the developed regions of Europe and North America, the adoption of nylon films in South Asia would surge at a rapid CAGR, which, in turn, is resulting in the realignment of strategies regarding the South Asia nylon films market.
Bettering Shelf Life with a Blend of Innovation
Influenced by the accelerating consumption of ready-to-eat single-serve meals, manufacturers are embracing innovative packaging formats such as modified atmosphere packaging (MAP) and vacuum packaging in an effort to enhance the durability of their products. Moreover, they are introducing multi-layered nylon films (8, 9, or 11 layers), especially for healthcare applications. This multilayer flexible packaging solution is still in its early stage, yet, its cost-effective quotient is expected to boost its prominence in other industries.
Surging demand for nylon 6
Nylon 66 to witness sluggish traction
11 to 20 microns nylon films remain sought-after
Moderate adoption of 21 to 30 microns films
BOPA accounts for 3/4 revenue share
CPA to witness steady demand growth
Adoption in food industry remains bullish
Demand from pharmaceutical sector on the rise
How Growth will Unfold
As flexible packaging solutions continue to make headway in every vertical, globally, industrial operators are rethinking their existing business models. The food industry, being the early adopter, will remain the key revenue generator in the nylon films market, and will register revenue over US$ 1 Bn by 2029. Under the end-use category, the packaging of perishable products such as meat, cheese, and processed food would complement global demand growth. Although pharmaceutical and electrical industries have relatively lesser market share, manufacturers are also eyeing these end-use industries for potential sale opportunities.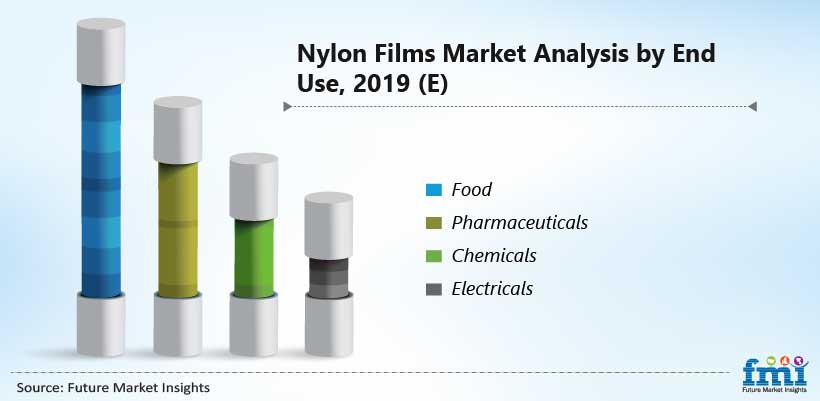 * This data is only a representation. Actual data may vary and will be available in report.
Click Here To Know How The Growth Will Unfold
Custom Market Research Services
FMI offers custom market research services that help clients to get information on their business scenario required where syndicated solutions are not enough.
Overview
Nylon Films Market Analysis 2019 - 2029
A recent market report published by Future Market Insights on the nylon films market provides global industry analysis for 2014-2018 and forecasts for 2019-2029. The report offers a comprehensive assessment of the most important market dynamics. After conducting thorough research on the historical as well as current growth parameters of the nylon films market, the growth prospects of the market are obtained with maximum precision.
Nylon Films Market Taxonomy
The global nylon films market is segmented in detail to cover every aspect of the market and present complete market intelligence to readers.
Thickness
Upto 10 Microns
11 to 20 Microns
21 to 30 Microns
Above 30 Microns
End Use
Food

Meat
Cereals
Cheese
Processed Food

Pharmaceuticals
Electricals
Chemicals
Other Industrial
Region
North America
Latin America
Europe
South Asia
East Asia
Oceania
MEA
How the research was conducted?
Primary Research
Primary research interviews with key opinion leaders and other participants were conducted for data collection and validation of the below information:
Key Segments in the Nylon Films Market
Market Share Analysis
Average Selling Price (US$) and Market Growth
Key Regulations in Packaging Industry
Market Size
Key Trends & Developments
Competition & Key Vendor Strategies
Secondary Research
Industry Journals
Beverage Packaging Industry Growth
Regional Metal Packaging Consumption
Annual Reports/SEC Filings/Investor Presentations
Primary Interview Splits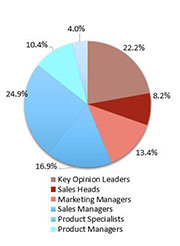 To Learn More About our Comprehensive Perspective on Nylon Films Market,
Get in touch
COVID -19 : Impact Analysis
Request the coronavirus impact analysis across industries and markets
Request Covid -19 Impact
CASE STUDIES
See how our work makes an impact.
At FMI, we design strategies that are adaptive, impactful, and implementable.