Key Growth Influencers - Cling Film Market
High-end Applications in Healthcare Owing to Waterproof and Moisture Barrier Qualities
Plastic or shrink wrap, also known as cling film, functions as an ideal material that is used for the treatment and applied as first aid in healthcare and pharmaceuticals industries. Essential reasons for its applications are as follows:
Traditional bandages get quickly soaked when they come in contact with moisture. On the other hand, cling film makes it more ideal for watersports, as it is waterproof.
As cling film is impermeable, it helps in keeping the infection out and moisture in, which makes it perfect for exposed tissue or burns. Additionally, the wound can be determined by physicians without removing the bandage or dressing.
Flourishing Demand for Ready-to-Eat Meals
Leading restaurants as well as food and beverage stores are now identifying several benefits of using cling film. Most companies are manufacturing these cling films and offer them at wholesale prices. This indicates that they are available at extremely low and affordable prices. Getting them in bulk also allows users to store their food items in more efficient and organized manner.
They are also used for preparing tasty meals in restaurants and even for catering purposes. These films are also used to make sous vide cooking, which is a type of cuisine that is ideal for chicken and steak items while preserving their tender and juicy flavors. This enhanced flexibility in cooking is what makes professional chefs to recommend cling film for a large variety of preparations.
Rapid growth of urbanization in emerging economies such as China and India has led to the growth in adoption of on-the-go food consumption habit among consumers. Increase number of single-person households as well as fast-paced lifestyle have led many people to prefer for ready-to-eat meals. Increasing adoption of modified atmospheric packaging technology has resulted in a growing demand for cling films.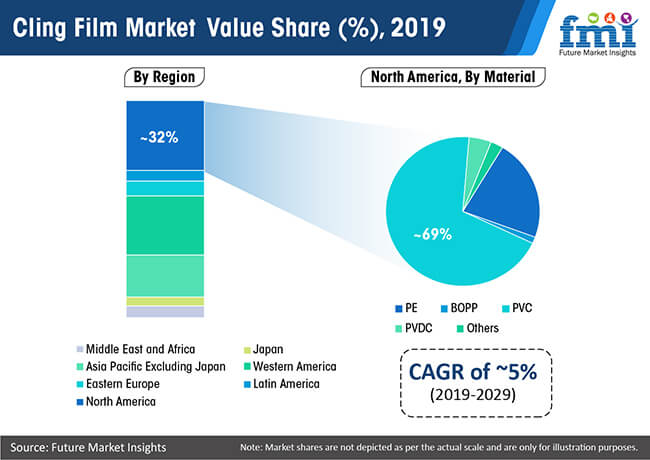 Stringent Regulatory Restrictions on Plastic Films
The environmental impact of polymers is acting as a repulsive force for the plastic films market. Approximately 359 million tonnes of plastic is produced in 2018, with 3.2% increase associated to the last year. Every year only 10% plastic is recycled out of total generated on the globe. This has led to stringent regulations against the usage of plastic films from various governing bodies, especially for single-use plastic films.
Manufacturers are required to comply with the legislative requirements of regional governments to sell their products. Therefore, biodegradable products are superseding plastic products, translating into increased usage of environment-friendly materials for packaging.
When these films are discarded, they end up in landfills where they do not decompose for generations. Also, their recycling needs elaborate procedures for different applications, which are considered non-economical at the commercial level. These processes are complex and not feasible for industrial use. When these films are disposed in water bodies, mostly oceans, they settle at the base, owing to their insoluble chemical structure, and harm aquatic animals on chronic, as well as acute basis.
Cling film Market Structure Analysis
Intertape Polymer Group, Berry Global, Inc., Gruppo Fabbri Vignola S.p.A, Klöckner Pentaplast Europe GmbH & Co. KG, Manuli Stretch S.p.A., MOLCO GmbH, Wrapex Limited, Harwal Group of Companies, CeDo Ltd, and Anchor Packaging Inc. are some of the leading manufacturers in cling film market. The cling film market is relatively moderate in size, which remains as a crucial factor for its dynamic and competitive nature.
In this report, individual strategies followed by these companies in terms of improving their product portfolios, creating new marketing strategies, and acquisitions and mergers have been elaborated. Penetration into the largely untapped market in emerging economies create new opportunities for cling film manufacturers.
Cling Film Market: Segmentation
Material
Thickness
Up to 9 microns
9 to 12 microns
Above 12 microns
End Use
Food

Meat
Seafood
Baked Foods
Dairy Products
Fruits & Vegetables
Ready-to-Eat Meals
Others

Healthcare
Consumer Goods
Industrial
Others
Region
North America
Latin America
Western Europe
Eastern Europe
Asia Pacific Excluding Japan
Middle East and Africa
Japan
Need specific information?