Cling Film Market Snapshot
Revenue generated in the cling film market is expected to increase by 3.0% in 2021. Between 2021 and 2031, the market valuation is expected to double reaching US$ 1.9 billion. As per the latest study by Future Market Insights (FMI), sales will continue growing in the market at a ten-year compound annual growth rate (CAGR) of 5.0% annually, through 2031.
Application in food industry will account for more than half of sales in the market through 2031. However, demand in consumer goods will rise at a higher pace of 5.2% CAGR over the course of the assessment period.
Key Points Covered in the Cling Film Market Study
Market estimates and forecast 2014-2031
Key drivers and restraints impacting market growth
Segment-wise, Country-wise, and Region-wise Analysis
Competition Mapping and Benchmarking
Market Share Analysis
Key Product Innovations and Regulatory Climate
COVID-19 Impact on Cling Film and How to Navigate
Recommendation on Key Winning Strategies
2014-2020 Cling Film Market Outlook Compared to 2021-2031 Forecast
The global market value of cling film is expected to increase at 5.0% CAGR during 2021-2031 in comparison to the 2.9% CAGR registered during 2014-2020. This steady rise in sales can be attributed to high demand for on-the-go and processed food.
Cofresco Foodservice stated that waste management of food can be controlled by usage of cling film made of polyvinyl chloride because of its ability to improve shelf life. Thanks to initiatives undertaken by various organizations, modern consumers are better aware about preserving the environment.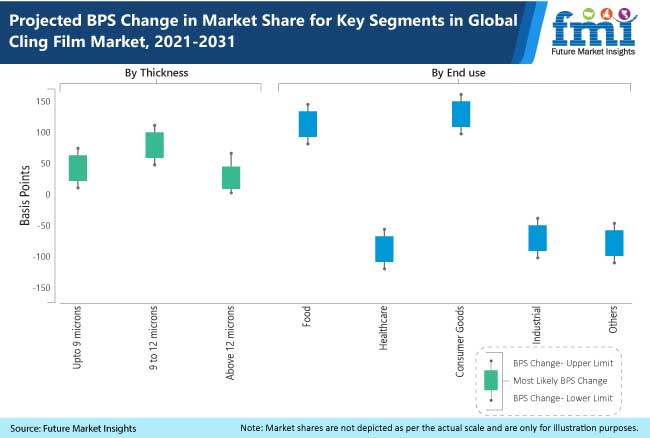 They also are more conscious about food safety and hygiene. Against this backdrop, consumers are gradually shifting towards the use of cling film to minimize the risk of contamination.
Besides sales in food sector, application is expected to increase in the healthcare industry as well. Cling film have diverse applications within the healthcare sector. Cling films are ideal to cover burns or exposed bones / tissue to minimize the risk of infection.
How are Innovations of Bio-based Materials Amplifying Sales?
Key players are focusing on developing safe, cost-effective and sustainable packaging solutions that are ideal for food preservation. The launch of bio-based polyethylene is intended at offering more eco-friendly solutions.
These materials are derived from renewable feedstock. Such practices are aimed at providing high performance plastics which also will reduce carbon footprints.
Plastic manufacturing companies like Dow and Thong Guan are devoted to discovering and using advanced technologies to manufacture cling film using fewer resources. Polyethylene made out of eco-friendly materials for cling film is manufactured using bio naphtha from tall oil as it is a byproduct of paper pulp.
Companies are focusing on research to derive plastic films from starch, cellulose or proteins that are completely edible and harmless if consumed by animals or people. Such efforts are likely to bode well for the market.
How is the Demand for Modified Atmospheric Packaging Aiding Demand?
Flexible packaging films with modified atmosphere packaging (MAP) properties allow different levels of permeability in order to modify the internal environment of these packages to maximize the shelf life of the product.
MAP modifies the internal atmosphere of the package with optimal blend of oxygen, carbon dioxide, and nitrogen. The respiration needs of packaged food products are met through controlled and finely adjusted component structures, that will support the adoption of cling film options.
What is the Impact of COVID-19 on the Cling Film Market?
The packaging value chain has an important role to play in finding future-proof solutions to meet sustainability and resource-efficiency requirements arising during the covid-19 pandemic.
Demand will rise for packaging used in dietary supplements, fruits & vegetables, frozen & processed food items, meat, seafood, consumer goods and more. Consumers are transitioning to online grocery purchases and online food deliveries for safe high-quality packaging.
Cling film can be packed closely to the product, with transparency, appearance, and cleanliness with dustproof and moisture resistant properties. The rise in manufacturer and consumer preference towards cling films for its efficient qualities are driving sales.
Country-wise Insights
How is the Cling Film Market Set to Fare in the U.S.?
The U.S. market is forecast to rise at a growth rate of 4.4% during 2021-2031 and is estimated to hold a market share of 81.2% in 2021 in the North America market. The U.S. is North America's largest contributor in the production of food packaging.
The cling film market continues to grow rapidly driven by economic growth, expenditure, and changing consumer lifestyle in addition to the expansion of key players in the country. As per a report published by Plastics Europe, the U.S. is the leading trade partner of the European plastics industry.
The U.S. has significantly reduced their energy prices increasing their competitiveness. This has had a significant impact on raw material availability, thereby supporting production levels.
Why are Key Players Willing to Invest in the Indian Market?
According to FMI's research, India is growing steadily with numerous small-scale companies and large-scale companies who are ready to spread out their reach across the globe. India is one of the fastest growing markets for cling film owing to the expansion of food service centers. Consequently, the consumption of cling film in India is expected to increase at a promising growth rate of 6.3%, during the assessment years.
As the food industry is rapidly growing in India due to the changing lifestyle of consumers, increasing government initiatives and the awareness of personal health and hygiene supports growth in the cling film market. Growth in this market is anticipated due to economic development, low cost of labor, and low set up cost for manufacturers.
How is the Evolving Healthcare Industry Aiding Sales in China?
China is currently the next most attractive market for new entrants during the forecast period, according to FMI. China's market is estimated to hold a market share of over 40% in the Asia Pacific excluding Japan region and is estimated to display a year-on-year growth of 3.4% in 2021.
North America and Europe being the leading markets for manufacturers, many key players are displaying interest in investing in multiple profit earning opportunities to expand their global presence to the China market.
Why are Cling Film Manufacturers Eyeing to Expand their Footprint in Russia?
The demand for cling film in the Russia is expected to rise at nearly 5.9% CAGR over the forecast period. This growth was mainly attributed to import restrictions, which played a key role in stimulating domestic production, creating competitive prices in local and international markets.
The rise in number of factories of food packaging and high consumer demand for fresh foods and a higher standard of living are factors that are likely to account for over 58.3% of the Eastern Europe market by the year 2031.
According to Interpack processing & packaging, Russian trading volume for packaged food reached around 27.5 million tons in 2018 and crossed 29 million tons by 2019.
How are Cling Film Manufacturers Fuelling Demand in Australian & New Zealand?
Australia is one of the rapidly growing manufacturers in the cling film market, it will hold a market share of almost 11.6% in the Asia Pacific excluding Japan region by the year 2031.
According to Food standards of Australia & New Zealand, the high standards of living of Australian consumers, and stringent rules of the government are factors supporting the adoption of cling film, anticipating steady growth in the forecast period.
Category-wise Insights
What Material is Preferred for Cling Film Products?
Polyvinyl chloride accounted for revenue totaling US$ 828 million in 2021 with a market share of 68.9% in 2021. The segment it estimated to expand 1.6 times its current market size by the year 2031.
As per the FMI analysis, the use of polyvinyl chloride is growing at a significantly higher rate than other materials as it is capable of withstanding harsh impacts and extreme temperatures.
Stringent rules regarding the global use of plastics and the environmental hazards caused by the extensive use of plastic materials for packing foods has forced manufacturers to switch to materials with superior reuse and recycling properties.
Which Thickness of Cling Film is Most Commonly Preferred by Consumers?
By thickness, cling film up to 9 microns holds a dominant share of 65.6% in 2021 across the globe. These products are challenged with the use of materials that may not adequately withstand external pressure that may cause damage.
On the other hand, cling film of thickness 9 to 12 microns is expected to hold a market share of 22.9% in 2021 and is estimated to reach a market share of 22.2% in the year 2031.
Why Is the Consumer Goods Industry Gaining Traction?
The consumer goods segment in the cling film market is anticipated to grow a robust 5.6% CAGR over the forecast period. Demand of consumer goods have significantly increased since the COVID-19 outbreak owing to lockdown restrictions and the convenience of e-commerce.
Companies are forced to start online services, which in turn is increasing the demand for safe and high-quality packaging that does not contaminate food or create physical damage to non-food items.
The consumer goods segment is forecasted to witness a gain of 130 bps of current value share, and expand 1.8 times its current market value, by the end of 2031.
Which Application of Cling Film Market Holds the Maximum Share?
By application, food packaging is the leading segment in the cling film market followed by consumer goods sector. Food packaging reflects a market share of 51.8% with a CAGR of 5.2% over the next decade.
Cling film has emerged as a superior packaging solution for packed foods including meat, seafood, confectionaries, processed dairy products, fruits & vegetables, ready to eat food items, and more. Cling film packaging for meat is reaching US$ 366.4 million in 2031 with a ten-year compound annual growth rate (CAGR) of 6.3%.
Competitive Landscape
Companies operating in the cling film market are aiming for strategic collaborations and partnerships with other manufacturers to expand their portfolio and production capacity.
In 2021, Berry global group Inc. announced an investment of more than $70 million in food & beverage, e-commerce and consumer goods sector to support continued growth in consumer packaging films.
In 2020, Gruppo Fabbri Vignola S.p.A developed a certified compostable cling film that is appropriate for food packaging. The cling film will have an ideal combination of breathability, aesthetics, and mechanical performance and is also suitable for industrial uses.
Compostic announced the launch of certified home-compostable plastic alternative cling film for consumers in the U.S. through online sales channels in 2021.
Scope of the Report
Attribute

Details

Forecast Period

2021-2031

Historical Data Available for

2014-2020

Market Analysis

USD Million for value and Tonnes for Volume

Key Regions Covered

North America, Latin America, Western Europe, Eastern Europe, APEJ, Japan, Middle East & Africa.

Key Countries Covered

US, Canada, Germany, U.K., France, Italy, China, Poland, India, Russia, Brazil, Mexico, Australia, GCC Countries, Northern Africa.

Key Segments Covered

Material Type, Thickness, End Use, Region

Key Companies Profiled

Berry Global Group, Inc.
Intertape Polymer Group (IPG)
Gruppo Fabbri Vignola S.p.A
Kalan SAS
Fine Vantage Limited
Rotofresh - Rotochef s.r.l.
Manuli Stretch S.p.A.
Klöckner Pentaplast Europe GmbH & Co. KG
Adex S.r.l.
MOLCO GmbH
CeDo Ltd
Wrapex Limited
BENKAI Co., Ltd.
Multi Wrap (PTY) LTD
Anchor Packaging
Pragya Flexifilm Industries
3M Company
Anhui Jumei Biological Technology Co.,Ltd

Report Coverage

Market Forecast, brand share analysis, competition intelligence, DROT analysis, Market Dynamics and Challenges, Strategic Growth Initiatives

Customization & Pricing

Available upon Request
Key Questions Answered in the Report
What is the current valuation of the cling film market?

The cling film market is estimated to be valued at US$ 1.2 Billion in 2021.

Which is the most lucrative market for cling film?

North America currently leads the global cling film market. Sales of cling film in North America, Western Europe and APEJ together account for more than 79% of global sales throughout the forecast period.

Which is the top-selling cling film type by thickness?

In terms of thickness, up to 9 microns is expected to outpace other segments and is estimated to reach nearly US$ 1,292.4 Million, by 2031.

Who is the leading end user of cling films?

The food industry is the leading the market, accounting for over half of sales registered through 2031.

Which are some of the leading companies offering cling film?

Some of the leading companies analyzed in the report include Berry Global Group, Inc, Intertape Polymer Group (IPG), Gruppo Fabbri Vignola S.p.A, Kalan SAS, Fine Vantage Limited, Rotofresh - Rotochef s.r.l., and Manuli Stretch S.p.A., among others. These players are estimated to hold 20% to 30% share in the global cling film market.

Which material type is more preferred for cling film manufacturing?

PVC is the most lucrative segment in terms of materials and is expected to outpace other categories during the forecast period. The segment is estimated to reach 590 thousand tons by 2031.

What are the key factors driving cling film sales?

The key factors driving the cling film market are high demand for on-the-go and processed food. Also, increasing use of cling film in healthcare due to the water proof attributes acts as a supporting factor in increasing market growth.

What are the key trends prevailing in the cling film market?

Considering the demand for modified atmospheric packaging for fresh produce, the demand for cling film is expected to reflect an upwards trajectory. A higher focus on the development of bio-based cling film packaging during the pandemic will influence developments.

At what rate will the India cling film market grow?

FMI has forecast the India cling film market to exhibit a CAGR of 6.3% between 2021 and 2031.

What is the incremental opportunity of the cling film market in North America?

According to FMI's analysis, the cling film market is estimated to display an incremental opportunity of US$ 171.8 Million in North America during the forecast period.
Cling Film Market by Category
By Material type:
Polyethylene

Low Density Polyethylene (LDPE)
High Density Polyethylene (HDPE)
Linear Low Density Polyethylene (LLDPE)

Bi-axially Oriented Polypropylene (BOPP)
Polyvinyl Chloride
Polyvinylidene Chloride
Others
By Thickness:
Up to 9 micron
9 to 12 micron
Above 12 micron
By End Use:
Food

Meat
Seafood
Baked Foods
Dairy Products
Fruits & Vegetables
Ready to Eat Meals
Others

Healthcare
Consumer Goods
Others
By Region:
North America
Latin America
Europe
South Asia
East Asia
Oceania
Middle East and Africa (MEA)
Need specific information?