BOPET Packaging Films – Capacity Utilization Outstripping Adoption
The flexible packaging landscape is making a paradigm shift toward biaxially oriented polyethylene terephthalate (BOPET) films. As capacity utilization levels are witnessing a notable rise, business profit margins are expected to soar alongside capacity expansions by leading players.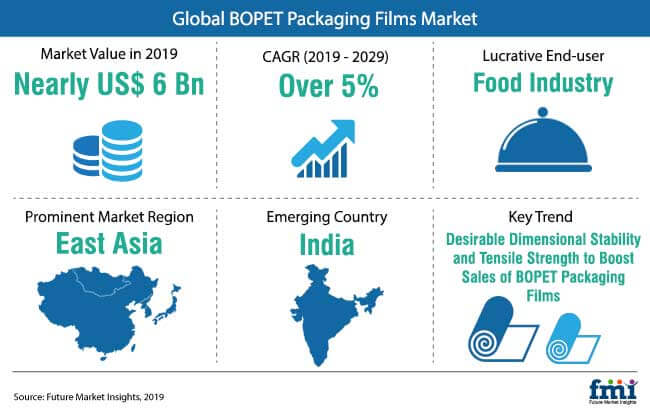 BOPET Packaging Films Market – Key Research Findings
The global BOPET packaging films market size in 2018 – nearly US$ 6 Bn.

The BOPET packaging films market is expected to witness a CAGR of over 5.0%, during 2019-2029.

East & South Asia, cumulatively, are expected to account for nearly 40% of the global BOPET packaging films market in terms of market value share.

East Asia is expected to represent an incremental opportunity of US$ 1.4 Bn by the end of the forecast period.

Among the various thicknesses, the 15-30 micron segment led the charts, followed by 30-50 microns, in 2018, owing to the superior performance offered by BOPET packaging films even at low thicknesses.

Among the various oriented packaging films, BOPET packaging films offer high stiffness, good heat-resistance, and a decent balance of oxygen and moisture barrier.
Tier 1 manufacturers of BOPET packaging films are widening their product offerings, and offering metallized, coated, and other specialized films to cater to specific applications.

The bags & pouches segment is witnessed to be one of the most remunerative segments in the global BOPET packaging films market. These are commonly used for making pouches such as retort pouches. As retort stabilization requires dimensionally-stable base films, BOPET packaging films are preferred. This is expected to buttress the demand for BOPET packaging films during the period of forecast.
Key Factors Shaping the Global BOPET Packaging Films Market
Demand for Packaged Food to Fuel the Demand for BOPET Packaging Films
Pouches such as stand-up and retort pouches, lidding films, and metallized film used for food packaging are among the most prominent applications of BOPET packaging films. Rising concerns regarding extended shelf life to reduce food waste throughout the supply chain have aided in bolstering the demand for BOPET packaging films.
As the snacking trend is witnessing a rise, the usage of single-serve as well as re-sealable flexible packaging solutions is growing. Thus, growth is anticipated to be driven by the increased consumption of packaged food, and sustainability benefits BOPET packaging films.
Application of BOPET Packaging Films in Labels & Laminates
BOPET packaging films find application in manufacturing labels and tapes, attributing to their superior heat sealability and dimensional stability. These labels are used in several end-use industries such as beverages, personal care & beauty, pharmaceuticals, and household industries. Moreover, dimensional stability allows BOPET packaging films to remain stable during printing as well as lamination processes. This makes them an apt choice for manufacturing laminates and wraps.
BOPET Packaging Films Market: Structure Analysis
The global BOPET packaging films market is considered as a fragmented market due to the presence of several regional players.

Key tier-1 players in the BOPET packaging films market include Toray Plastics (America). Inc., Jindal Poly Films Ltd., DuPont Teijin Films, and Uflex Ltd.

Leading manufacturers in the BOPET packaging films market are enhancing their production capacities and investing in their existing production facilities to strengthen their foothold in the global market.

In July 2018, SRF Limited announced the setting up of a BOPET film line & resin plant in Thailand. This will add 40,000 Tonnes per annum (TPA) to the existing capacity of the company's film lines.

In 2016, Jindal Poly Films Limited invested a significant amount to modernize and expand its plant capacity of metallized and coated films in India.
Market Set to Grow 1.8X between 2019 and 2029
BOPET films are being touted as the next-generation recyclable packaging – the USP that remains the most significant growth driver of the market. Key players are targeting categories, such as fresh meat, snacks, and coffee, offering price and weight reduction.
Opportune Potential of Developing Markets
Opportunities are imminent for BOPET packaging films manufacturers in developing markets, and they are responding by installing new production lines. Adoption in these markets remains influenced by a confluence of trends – the emphasis on sustainable materials, and shift from large-volume technical applications to commodities, in flexible packaging landscape.
The FMI Perspective
Raw material suppliers continue to seek potential customers, meanwhile BOPET film manufacturers are planning convenient sourcing strategies. Leading players are directing their efforts toward investment and substitution opportunities, to benefit from developments in the flexible packaging industry.
Over 30% sales accounted by application in bags & pouches
Application in wraps and laminates to collectively account for nearly
Over US$ 3 Bn opportunity slated in food industry, in 2019
1/5th of market share accounted by beverages industry
How Growth will Unfold
Sales of BOPET packaging films will surge as emphasis on total recyclability of flexible packaging products grows, devoid of any impact on quality or shelf-life. Demand for bags & pouches will remain high, whereas gains are expected to remain steady for tapes & labels in the near future.
Tapes & Labels | Bags & Pouches | Laminates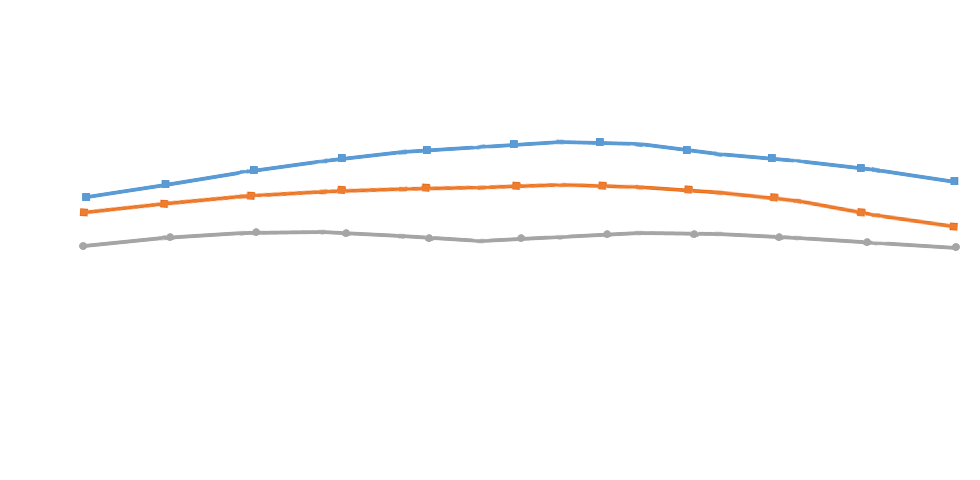 * This data is only a representation. Actual data may vary and will be available in report.
Click Here To Know How The Growth Will Unfold
Custom Market Research Services
FMI offers custom market research services that help clients to get information on their business scenario required where syndicated solutions are not enough.
Overview
BOPET Packaging Films Market: Global Industry Analysis 2014-2018 & Opportunity Assessment 2019-2029
A recent market study published by FMI, "BOPET Packaging Films Market: Global Industry Analysis 2014-2018 & Forecast 2019-2029" offers a comprehensive assessment of the most important market dynamics. After conducting thorough research on the historical, as well as current growth parameters of the BOPET packaging films market, the growth prospects of the market are obtained with maximum precision.
BOPET Packaging Films Market Taxonomy
The global BOPET packaging films market is segmented in detail to cover every aspect of the market and present complete market intelligence to the reader.
By Thickness
Below 15 Micron
15-30 Micron
30-50 Micron
Above 50 Micron
By Application
Labels
Tapes
Wraps
Bags & Pouches
Laminates
By End-use Industry
Food

Meat
Fresh Produce
Confectionery
Dairy
Others

Beverages
Cosmetics & Personal Care
Electrical & Electronics
Pharmaceuticals
Other Industrial
Region
North America
Latin America
Europe
South Asia
East Asia
Oceania
Middle East & Africa
How the research was conducted?
Primary Research
Primary research interviews with key opinion leaders and other participants were conducted for data collection and validation of the below information:
Key Segments in the BOPET Packaging Films Market
Market Share Analysis
Average Selling Price (US$) and Market Growth
Comparative Analysis of Several Oriented Packaging Films Present in the Market
Market Size
Key Trends & Developments
Competition & Key Vendor Strategies
Secondary Research
Flexible Packaging Association
Industry Journals
Plastics Europe
Food Service Packaging Industry Growth
Annual Reports/SEC filings/Investor Presentations
Primary Interview Splits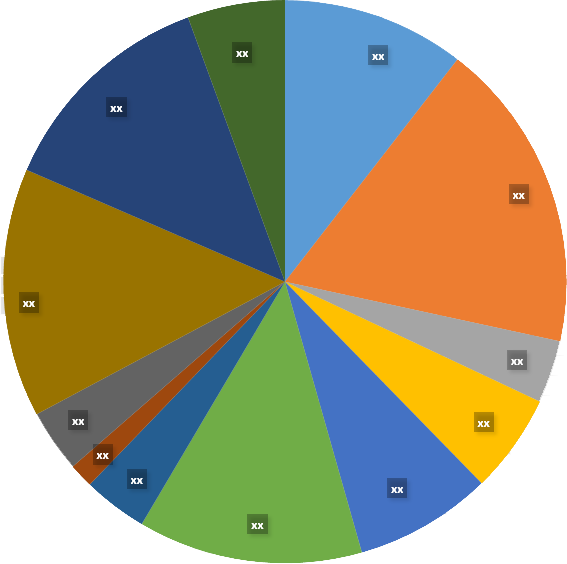 To Learn More About our Comprehensive Perspective on BOPET Packaging Films Market,
Get in touch
COVID -19 : Impact Analysis
Request the coronavirus impact analysis across industries and markets
Request Covid -19 Impact
CASE STUDIES
See how our work makes an impact.
At FMI, we design strategies that are adaptive, impactful, and implementable.