An Incisive, In-depth Analysis on the Cervical Pillows Market
This study offers a comprehensive, 360 degree analysis on the Cervical Pillows market, bringing to fore insights that can help stakeholders identify the opportunities as well as challenges. It tracks the global Cervical Pillows market across key regions, and offers in-depth commentary and accurate quantitative insights. The study also includes incisive competitive landscape analysis, and provides key recommendations to market players on winning imperatives and successful strategies.
Factors boosting revenue growth of the global cervical pillows market across key geographies
Rising sports injuries in North America: One of the important factors boosting revenue growth of the cervical pillows market in the region is a growing instance of neck and other sports related cervical injuries. Tearing of ligaments and muscles of the neck is a common occurrence with people who regularly play sports. Head, shoulder and neck injuries are caused by direct blows; and cervical pillows are increasingly preferred by sportspeople as well as athletes for pain management.
High Incidence of spinal and neck Injuries in Latin America: Owing to rising vehicle accidents and increasing sports activities among the general population as well as athletes, there are high chances of spinal and neck injuries. In such situations, chiropractors and hospitals highly recommend cervical pillows to patients for relief. In whiplash recovery of the neck, medical professionals recommend neck collars and neck pillows to patients for proper placement and alignment of the neck. In intensive care units of hospitals, doctors recommend special C-PAP pillows for neck support to help patients in an unconscious state.
Cervical screening programs in Western Europe: In this region, prevention programmes are routinely held to educate people and create awareness regarding cervical injuries cervical cancer screening and the associated treatment options. Such programmes also include regular screening that helps diagnose spine and neck related injuries. Such programmes create increased awareness about the various neck and spine deformities and diseases and help people undertake proper treatment to ensure correct alignment of the spine and neck.
Increased awareness and adoption of cervical pillows in Eastern Europe: For better sleep and support for cervical positions, cervical pillows are proven to be therapeutically effective. For the screening and effective management of cervical diseases, governments in several countries of Eastern Europe are conducting various awareness programmes among the population. People are becoming more aware about the various products available for cervical support and pain management and are quick in the adoption of products that offer immediate and long-term relief, such as cervical pillows.
Growing spending on healthcare and rising disposable income in APEJ: Lifestyles of the population in this region are changing rapidly. Life expectancy is expected to increase significantly in Southeast Asia as compared to other parts of the region. This will challenge healthcare providers to equip themselves with the necessary skills and resources in caring for the elderly population.
Lifestyle modification in Japan: Health professionals caring for the adult Japanese population need information regarding the influence of lifestyle changes in order to direct their counselling efforts to promote healthy living. Due to the rapidly evolving lifestyle changes coupled with high workload, more number of Japanese people suffer from cervical pain and associated ailments.
Increasing incidence of cervical spondylosis among the geriatric population in MEA: Spondylosis diagnosis peaks between the ages of 50 – 59, with approximately 3 in every 1000 people being diagnosed. Men and women are equally affected, but men tend to be diagnosed at a younger age. In South Africa, rugby injuries are most likely to be blamed for this condition. Due to high incidence of cervical spondylosis and whiplash injury of the neck, people across the MEA region prefer cervical pillows for proper spine alignment and pain management.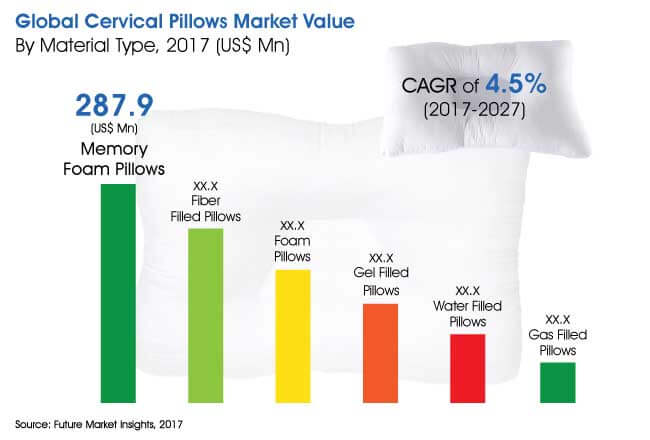 Memory foam pillows segment to dominate the global market for cervical pillows
Memory foam pillows is the largest segment by material type in the global cervical pillows market, which is estimated to represent US$ 287.9 Mn, or 31.1% share of the total market in 2017 and is projected to reach US$ 463.7 Mn by 2027, expanding at CAGR of 4.9% over the forecast period. The fiber filled pillows segment was valued at US$ 182.7 Mn in 2017 and is expected to grow at a CAGR of 4.1% during the forecast period 2017 – 2027.
Before coming up with this new report on the global cervical pillows market, our analysts have inspected the global as well as regional markets in detail. Our expert team of analysts working extensively in the healthcare domain have focussed on the various forecast factors and have offered their unique perspective and assumptions on the global market for cervical pillows. Pricing analysis, value chain analysis and a list of active key participants are some of the other core components of this report. To present a clear picture of the global market to our clients our analysts have conducted in-depth research to provide detailed information about the market size, forecast factors, drivers, restraints, trends and opportunities of all the seven regions that have been covered in this report. Apart from regional insights, we have also given comprehensive information on various market segments and sub-segments. For the better understanding of the entire market, we have segmented the market based on grade, application, product, and region.
Report Structure
This report includes the global cervical pillows market overview that consists of market size and forecast, Y-o-Y growth and absolute $ opportunity. The analysts have taken a 3600 view of the key market dynamics and have also provided information on the various micro-economic factors, supply and demand side drivers, restraints, opportunities and key trends that are likely to impact the global cervical pillows market growth. Another section of the report presents the market definition and taxonomy. Product-wise Weighted Average Selling Price (ASP) has been considered to deduce market values. Top-down approach has been used to assess market numbers for each product category, while bottom-up approach has been used to counter validate the market estimations. All the currencies are converted to US$ at an average conversion rate of 2015. We have referred to credible sources such as World Bank and various companies' annual and financial reports while studying this market. Key market splits have been deduced through extensive surveys and comprehensive primary research. At the end of the report, we have also provided certain key strategic recommendations for both existing and new market players to emerge sustainably profitable.
Market Taxonomy
By Product Type

By Material Type

By Application

By Distribution Channel

By Region

Cradle Pillows

Neck Pillows

Side Pillows

Cervical Rolls

Basic Cervical Pillows

Foam Pillows

Fiber Filled Pillows

Memory Foam Pillows

Water Filled Pillows

Gas Filled Pillows

Gel Filled Pillows

Cervical Spondylosis

Trauma based Whiplash Recovery

Temporomandibular Disorders

Hospital Pharmacies

Retail Pharmacies

e-Commerce

North America

Western Europe

Eastern Europe

Latin America

·Asia Pacific Excl. Japan (APEJ)

Japan

Middle East and Africa
Research Methodology
Each interview is thoroughly analysed and average market volume is deduced and reconfirmed prior to incorporating in the report. The price of cervical pillows is deduced on the basis of type, where the average price of each cervical pillow type is inferred across all the seven assessed regions. The market value of the global cervical pillows market is thus calculated from the data derived from the average selling price and market volume.
For the 10-year forecast of the global cervical pillows market, various macroeconomic factors and changing trends have been observed, giving an idea about the future of the market. Other important factors considered to arrive at market forecast include the size of the current market, inputs from the supply side and the demand side and other dynamics shaping the scenario of the market. In the compilation of this report, the forecasts are conducted in terms of CAGR, while other important criteria such as year-on-year growth and absolute dollar opportunity have also been incorporated, presenting useful insights and future opportunities likely to emerge in the global cervical pillows market.
COVID -19 : Impact Analysis
Request the coronavirus impact analysis across industries and markets
Request Covid -19 Impact
CASE STUDIES
See how our work makes an impact.
At FMI, we design strategies that are adaptive, impactful, and implementable.