Clean Label Flour Market - Key Research Findings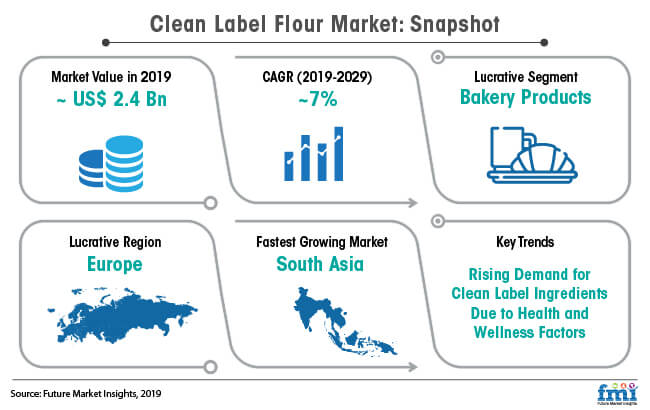 The global clean label flour market in 2019 is estimated to be valued at ~US$ 2.3 Bn.
The clean label flour market is anticipated to grow at a CAGR of ~ 7% during the forecast period of 2019-2029.
Wheat as a source of clean label flour is expected to remain the most preferred product among a wide range of end users. Whereas, rice is expected to gain traction with a high growth rate in the forecast years, with demand being high in Europe, North America, South Asia, and Oceania.

The demand for wheat can be primarily attributed to economical cost and greater awareness among consumers.
Wheat has been a primary alternative to white flour for many years and the trend is likely to continue in the upcoming years.

Clean label flour market in South Asia is expected to record a relatively high growth rate as compared to other regions.

South Asia is estimated to continue to be the opportunistic market for clean label flour manufacturers and distributors, owing to growing inclination towards clean label products and rising awareness among consumers.

Over the past few years, the number of clean label products on store shelves has skyrocketed, including clean label flour in several retail outlets. Clean label flour is an essential ingredient and has massive consumption in multiple applications including bakery products, packaged foods, sauces and dressings, confectionery, and more, which are driving its market growth.
Key Factors Shaping the Clean Label Flour Market
Increasing Number of Health-concerned Population

Clean label flour consumption accounts for around 15-20% of global clean label ingredients consumption, with Europe and North America being the topmost customers and matured markets for ready-to-eat meals, snacks, and others. Developing clean label flour markets such as Asia Pacific, exhibit an increased adoption of clean label ingredients.

Asian Pacific countries such as India and China, are expected to experience substantial expansion in terms of consumption of clean label flour. Health consciousness is continuously playing an important role in customers' choice in line with growing inclination towards healthier food products due to increasing obesity and heart problems. Such factors have undoubtedly resulted in increased sales of clean label flours in the last few years.
Millennial Population Causing an Upsurge in the Clean Label Industry

Millennials are huge drivers of the 'clean label' trend. They makeup around 25% of the population and are predicted to have spending power in trillions. Foodservice providers could emphasize on-going trends to innovate healthier foods to keep up with millennials. Growing health awareness among millennials has led the foodservice providers to come up with healthier products. The result is likely to lead to increasing use of clean label ingredients, and subsequently spurring the growth of the clean label flour market.
Europe to Lead the Global Clean Label Flour Market

Region-wise, Europe is anticipated to lead the clean label flour market during the forecast period, due to advanced production capabilities, significant marketplace, and growing number of health-conscious consumers. In addition, the clean label flour market in North America is expected to gain a significant amount of share in terms of revenue during the forecast period.

The developing region, South Asia, is expected to register a whopping CAGR of ~9%, owing to the increasing per capita spending on healthy foods along with ever-rising population.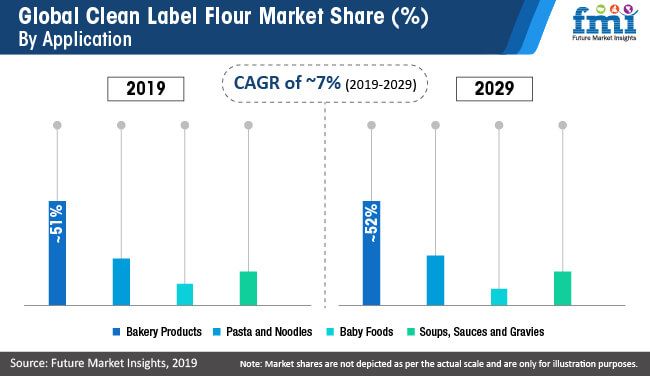 Clean Label Flour Market Structure Analysis
The global clean label flour market is highly competitive and mainly dominated by top 10 players. Players are continuously evolving in this market to launch a better product than their competitors.
The key players operating in the clean label flour market are increasing their presence in the global market through mergers, acquisitions, and alliances with local or medium scale companies in the clean label flour industry. Further, these players are launching new products in the market to cater to the changing demands of consumers.
Investments in the research and development are carried out by almost all the major players, as evolving consumer demand remains a major driving force for the clean label flour market.

Major players in the clean label flour market are Ardent Mills, Ingredion Incorporated, Arrowhead Mills, Groupe Limagrain and Codrico Rotterdam B.V. amongst others.
Market Segmentation
Product
Wheat
Corn
Coconut
Rye
Others
Application
Bakery Products
Pasta and Noodles
Baby Foods
Soups, Sauces and Gravies
End User
Food Industry
HoReCa / Foodservice
Sales Channel
Direct Sales/B2B
Indirect Sales/B2C

Hypermarkets /Supermarkets
Convenience Stores
Mass Grocery Retailers
Food and Drink Specialty Stores

Online Retailing
Region
North America
Latin America
Europe
East Asia
South Asia
Oceania
Middle East and Africa
Need specific information?