An Incisive, In-depth Analysis on the Coagulation Analysers Market
This study offers a comprehensive, 360 degree analysis on the Coagulation Analysers market, bringing to fore insights that can help stakeholders identify the opportunities as well as challenges. It tracks the global Coagulation Analysers market across key regions, and offers in-depth commentary and accurate quantitative insights. The study also includes incisive competitive landscape analysis, and provides key recommendations to market players on winning imperatives and successful strategies.
The global coagulation analysers market is estimated to be valued at US$ 756 Mn in the year 2017 and is projected to reach a value of US$ 1,514 Mn at the end of the year 2027, exhibiting a CAGR of 7.2% during the period of assessment. Coagulation analysers are designed to handle multiple blood samples at one time by using a bar code system, which eliminates the need to manually label each test sample.
Rise in the prevalence of blood clotting disorders in North America, particularly in the U.S.
In order to monitor the effectiveness of anticoagulants, regular blood tests such as PTT, PT and D-dimer are carried out through coagulation analysers using anticoagulant therapy. Abnormal bleeding in patients can occur due to disorders in the blood clotting system, blood vessels or platelets. When the body is unable to produce clotting factors to stop bleeding, this may lead to clotting disorders. A type of clotting disorder is deep vein thrombosis in which there is a formation of blood clots within the deep veins, commonly in the legs. According to CDC, about 900,000 people in the U.S. could be affected each year due to this disease. It is also suggested that around 60,000-100,000 people in the U.S. die due to this disease. This ever increasing disease burden of blood clotting disorders is expected to drive the U.S. coagulation analysers market during the period of assessment.
Rise in point of care testing in developed countries driving market revenue growth
Numerous point-of-care assays are available for various types of coagulation tests. These assays are easy to perform and their main advantage is that they possess a faster turnaround time than their laboratory counterparts. Portability, easy usage, and connectivity are the factors that are increasing the demand for point-of-care testing. In order to control the adverse effects of anticoagulation therapy, immediate results of coagulation testing are needed, and this demand is met by point-of-care testing. In various developed countries, self-testing of prothrombin by patients at home is popular. This type of testing provides accurate and quick results, leading to the growth of the global coagulation testing market during the period of assessment. Moreover, the rapidly expanding pharmaceutical industry has induced public and private groups to focus on the safety profile of such products, leading to the growth of the global coagulation testing market during the assessment period.
Regulatory challenges may restrain the market growth of coagulation analysers
Even though point-of-care testing has its obvious benefits, it still faces challenges such as increase in testing variability due to a less controlled testing environment, repeatability and reproducibility in results; and it also carries a risk of multiple infections due to blood borne pathogens. Moreover, stability testing and a lack of operator training in home care settings are some of the challenges likely to restrain the global coagulation analysers market.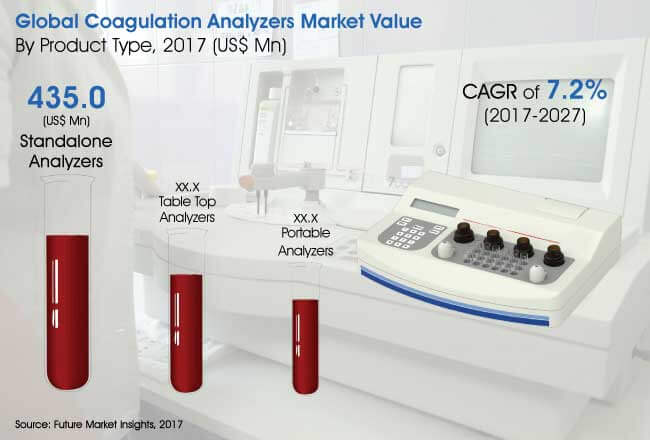 Global coagulation analysers market analysis by product type
By product type, the standalone analysers segment is estimated to be valued at US$ 435 Mn in the year 2017, and is projected to reach a valuation of US$ 831 Mn in the year 2027, exhibiting a CAGR of 6.7% during the forecast period. Standalone analysers is the largest segment in the global coagulation analysers product type category.
Future Market Insights presents yet another comprehensive and an insightful report titled 'Coagulation Analysers Market: Global Industry Analysis 2012 – 2016 and Opportunity Assessment 2017 – 2027'. A coagulation analyser is a type of automated analyser and is used to measure levels of blood platelets, coagulation pathway speed, and levels of thrombolin and thromboplastin in blood samples.
Report Structure
This report is divided into four distinct parts to offer clarity and easy readability to the report audiences. The first section is the introduction section, which contains the executive summary of the report, the market taxonomy and the definition of the product namely, coagulation analysers. The economic factors impacting the coagulation analysers market are also given in the introduction section along with the current market trends. In addition, a region wise scenario of coagulation disorders is also highlighted in the introduction section. Also, market structure analysis and value chain analysis, along with opportunity analysis and pricing analysis of the coagulation analysers market is given in this section. The second part of the report features the regional coagulation analysers market analysis and the regions are chosen as per the market taxonomy. In this section, the regional market dynamics are indicated. These market dynamics include drivers, restrains and trends that play an important role in shaping the market. The last part of the report comprises the global coagulation analysers market analysis and forecast by region, by product type and by end user. This section of the report contains important market numbers such as market attractiveness index, incremental dollar opportunity and basis point share analysis.
Competition Landscape
Another part of this report presents the competition landscape that contains information about the important players operating in the global coagulation analysers market. This competition landscape provides important information about these companies such as company description, product overview, key developments, strategic overview and key financials along with a SWOT analysis. The competition landscape is a valuable part of the report as it gives guidance both to the established players and the new entrants in this market about the level of competition prevalent in the market.
Research Methodology
Overall market size has been analysed through historical data, primary responses, and public domain data. Revenue of companies in the coagulation analysers market has been benchmarked to ascertain the market size for the base year. Macroeconomic indicators such as GDP and industry growth have been considered to forecast the market size over the forecast period. The historical growth trend of end-use industries, market participants' performance, as well as the present macro-economic outlook has been taken into consideration for estimating the overall market trend forecast. This data is then validated using the triangulation method and is extensively scrutinised using advanced tools to garner quantitative and qualitative insights into the global coagulation analysers market.
Market Taxonomy
Product Type

End User

Region

Standalone Analysers

Table Top Analysers

Portable Analysers

Hospitals

Clinical Laboratories

Others

North America

Latin America

Western Europe

Eastern Europe

Asia Pacific excluding Japan

Middle East and Africa

Japan
COVID -19 : Impact Analysis
Request the coronavirus impact analysis across industries and markets
Request Covid -19 Impact
CASE STUDIES
See how our work makes an impact.
At FMI, we design strategies that are adaptive, impactful, and implementable.