Introduction
Collagen casings are used while manufacturing all varieties of sausages. There was a time when only animal intestines were commercially available for the making of casings. But over the past 30 years, a significant increase in the use of collagen casings has been observed, as these help foodservice providers reduce costs and automate production. They are well-matched with present-day traceability requirements and food hygiene, and also, technical specifications can be determined in advance.
Collagen casings are fabricated from collagen, which is derived from the corium layer of animal hide, including cattle hide. Collagen-rich tissue is standardized under high pressure, ring-thrusted, and eventually hardened, which results in a mechanically robust collagen casing.
There have been plenty of advancements in collagen casings over the past few years, some as a result of technical developments and others as a result of upgraded manufacturing unit systems. Continuous investments over many years by key manufacturers have enabled the provision of modern, unique, safe, and secure collagen casings that work more efficiently on sausage production lines at much higher speeds, and produce better sausage products that are widely accepted by customers around the globe.
The two significant varieties of collagen casings available commercially are edible collagen casings and non-edible collagen casings. Over the last decade, a solid rise in the volume of collagen casings used in sausage production has been witnessed. Lower cost prospects for sausage providers, combined with consumer acceptance, continue to drive the demand for edible collagen casings.
Development in the accessibility of processed meat products and different types of sausages gives rise to increased average meat consumption across both, emerging and developed markets, which, in turn, is flourishing the collagen casings market.
Collagen Casings Market: Segment-wise Analysis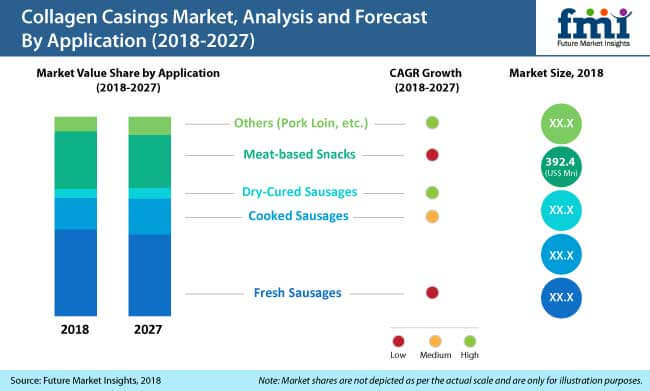 On the basis of product type, the collagen casings market is segregated into edible collagen casings and non-edible collagen casings. Edible collagen casings are dominating the market share, owing to the functionalities they provide, and the fact that they are edible is also helping market growth further.
On the basis of caliber, the collagen casings market is segregated into small and large. Small caliber casings are mainly used for fresh sausages and are considered edible. More than 50% of the market share is held by small caliber collagen casings and is expected to stay strong throughout the forecast period. Large caliber collagen casings are used for cooked sausages and are non-edible.
On the basis of application, the collagen casings market is segregated into fresh sausages, cooked sausages, dry-cured sausages, meat-based snacks, and others. The segment that is expected to be relatively strong over the forecast period is the fresh sausages segment. It is anticipated to maintain its high share in the collagen casings market over the forecast period, though, the growth rate at which it is increasing is relatively moderate.
On the basis of end use, the collagen casings market is segregated into industrial food processing, foodservice, private label, butcheries and meat processors, and others. The foodservice segment is projected to lead the collagen casings market among the end use segments, with an ordinary growth rate during the forecast period.
Collagen Casings Providing a Cost-Effective Solution to Sausage Producers
The use of collagen casings for making sausages brings with it an array of cost saving measures, mainly because they are easier and more consistent to work with than gut. The use of collagen casings for the production of sausages has increased significantly in the last decade. Collagen casings are gaining intrinsic popularity among foodservice providers.
Collagen Casings Rapidly Replacing Natural Casings
Collagen casings are replacing natural casings because of their convenience of use, consistent sizing, and the fact that they can be used on high-speed equipment and are less complicated than natural casings. The shift from natural casings to collagen casings that has been observed in the past few years is remarkable. The share of collagen casings in the overall casings market is increasing significantly, and is expected to overtake the natural casings market share in the next few years.
Expansion of Meat Industry Creating Sustained Growth Opportunities for Collagen Casings Market
One of the primary factors anticipated to boost the collagen casings market across the globe is the expansion of the overall meat industry in various developing and less-developed countries, alike.
Meat production continues to rise with demand coming from developing countries. At least sixty percent of the meat production is now done in developing nations.
Visibly Rapid Rise of Veganism Trend Sabotaging Meat Industry, Thereby Impeding Collagen Casings Market Growth
Veganism is being adopted with incredible speed. Big food chains such as Pizza Hut, Zizzi, and more are introducing vegan ranges for three key factors – environmental concerns, animal concerns, and personal health. Also, numerous manufacturers are providing alternatives for meat such as meat sustitutes and more. All these factors are sabotaging the meat industry, which could result in hampering the growth of the collagen casings market.
Global Collagen Casings Market: Segmentation
Collagen Casings Market – By Product Type
Collagen Casings Market – By Caliber
Collagen Casings Market – By Application
Fresh Sausages
Cooked Sausages
Dry-Cured Sausages
Meat-based Snacks
Others (Pork Loin, etc.)
Collagen Casings Market – By End Use
Industrial Food Processing
Foodservice
Private Label
Butcheries and Meat Processors
Others
Collagen Casings Market – By Region
North America
Latin America
Europe
China
Asia Pacific excluding China
Middle East & Africa
Need specific information?