Deployable Military Shelter Market By Material Type (Polymer Fabric, Composite), Shelter ( Rigid Wall Shelters, Soft Wall Shelters ), Size ( Small, Large ), Application (Medical Facility, Aircraft Base, Command Post, Vehicle Mounted, Personnel, Operations Centre) & Region – Forecast 2019 - 2029
Deployable Military Shelter Market - Analysis, Outlook, Growth, Trends, Forecasts
January 2020

REP-GB-8030

280 pages
Polymer Fabric to Capture 3/5th Revenue Share in Deployable Military Shelter Market
The attributes of light weight and high tensile strength are likely to push the demand for polymer fabric deployable military shelters over the next decade. Despite sharing similarities with nylon, polyester will remain the preferred material for manufacturing deployable military shelters as it can be recycled easily and efficiently. Further, sales of polyester-based deployable military shelters will grow twofold compared to that of their nylon counterparts by 2029 end.

Deployable Military Shelter Market Opportunities Prevail in North America
The demand for deployable military shelters majorly depends on an upsurge in regional military strength and military budget. North America, accounting for nearly 30% share of market revenues, currently leads the global Deployable Military Shelter Market.
Owing to surging overseas troop deployment in countries - Japan, Germany, and Afghanistan, market players will reap maximum returns from the US. Europe and East Asia also reflect immense growth potential, collectively holding over 2/5th market share. Russia and China will maintain their supremacy these regional markets respectively on grounds of swelling military spending.
Stakeholders Must Focus on All-in-one Approach
Deployable Military Shelter Market players, in order to gain competitiveness, must develop multipurpose deployable military shelters that offer a large operation base for various purposes such as operations center, military communications, and medical facilities. Integration of multiple facilities at a single location is efficient in terms of time, cost, and space. This all-in-one approach would be a differentiating strategy for stakeholders and mark an impactful trend molding the future of deployable military shelters market through the foreseeable period.
Deployable Military Shelter Market- How Growth will Unfold
The adoption of deployable military shelters is significantly centered on increased military and security forces at the national borders. Accounting for nearly a fourth market share, personnel shelters remain the key application area. Vehicle-mounted deployable military shelters are also seeing healthy demand growth as they offer tactical and operations base, in sync, for military missions on the go, especially in remote and stealth operations. The need to gain tactical advantage over the enemies is another factor pushing the demand growth of vehicle-mounted deployable military shelters.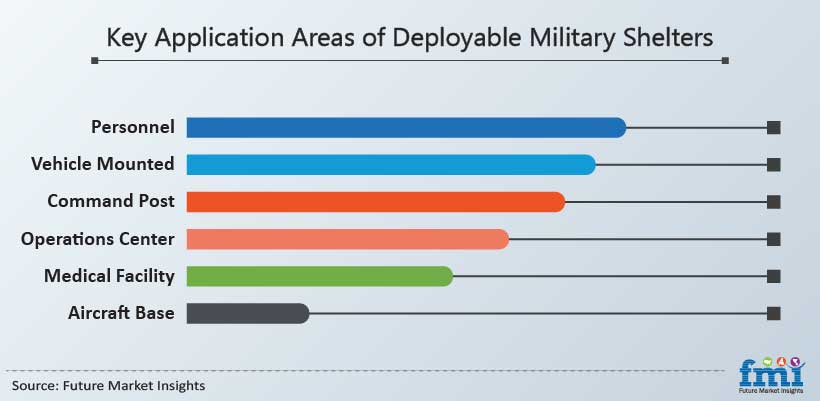 Frequently Asked Questions About Deployable Military Shelter Market
What will be the market worth of the deployable military shelters in 2029?
The global deployable military shelter market is projected to reach beyond the value of US$ 1 Bn by the end of 2029, which would be majorly propelled by enhanced mobility and ease of integration with communication and other systems.
How is government investment in the military sector supporting market growth?
Governments of various economies such as the U.S. China, India, the U.K., Germany, and France have massively expanded their military budget to provide financial support and showcase the country's military powers to the world. The result is expected to lead to increased demand for deployable military shelters.
Which factors are driving the demand for deployable military shelters?
Rise in overseas and domestic troop deployment, increasing border conflicts due to emergence of various terrorist groups, and growing installation of security surveillance systems have created significant demand for deployable military shelters.
Which is the top application area for deployable military shelters?
Demand for deployable military shelters for personnel application is expected to witness the highest growth. Expanding military bases and advent of innovative carbon-hybrid lightweight deployable military shelters are further adding value to the market.
Which region will be at the forefront of demand in the global deployable military shelter market?
North America holds 31% of the total share of deployable military shelter market, owing to robust government expenditure. Further, Europe continues to offer greater opportunities for market players.
What strategies are the leading market players adopting to gain competitive edge?
In order to stay ahead of the pack, key players in the deployable military shelter market are focusing on innovative offerings that provide superior interior comfort with highly energy-efficient insulation and customizable accessories.
World's Most Profilic Intelligence Engine
Get Access To The World's Largest Market Research Database.
Sign Up Now
Deployable Military Shelter Market Taxonomy
Material
Shelter
Rigid Wall Shelters
Soft Wall Shelters
Size
Small (up to 6 Meters)
Large (above 6 Meters)
Application
Medical Facility
Aircraft Base
Command Post
Vehicle Mounted
Personnel
Operations Centre
Region
North America
Latin America
Europe
South Asia
East Asia
Oceania
MEA
Need specific information?
Our Clients