Introduction
Military communications constitute a vital part of the security, economic, and scientific capabilities of several countries, worldwide. Regional governments are increasingly focusing on advanced communications technologies for enhanced operational efficiency for improved security and digital communication capabilities. With growing use of smart devices and sensors in the defense sector, the market for military communications is likely to encounter with abundant revenue generation opportunities in near future.
Expanding military investments are expected to uplift the global military communications market. In addition, demand for military communication systems is also constantly on the rise in disaster relief centers, to deliver quick response.
Growth of semiconductor industry due to downscaling of chemical and material costs, is expected to pose a cascading impact on the military communications market. The governments of several countries are taking numerous initiatives to facilitate the manufacturing of military communication systems and solutions, which is another strong factor that will support the growth of military communications market.
Extended and rapid economic growth in Asia and increasing sophisticated military technology are transforming the global defense landscape. Rapid developments in defense infrastructure in various countries of the region are creating huge demand for military-technical capabilities.
Revenue Slump to Deter North America's Military Communications Market Growth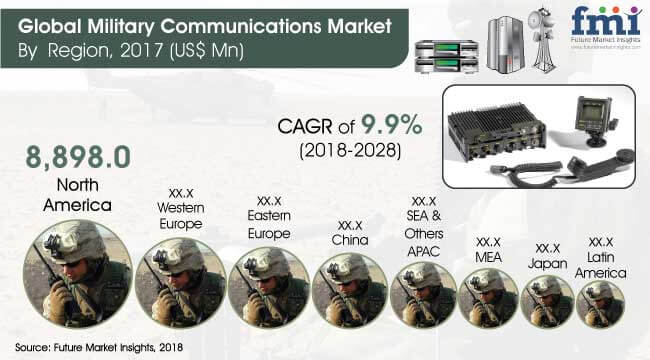 The critical need for communication equipment for protecting information and the urgency of maintaining consistent communication between the military forces are the core dynamics fueling the growth of the military communications market in North America. Connected technology and robust network environment will continue to fuel the market for military communications in North American region, through 2028. On the flipside, Western Europe, in terms of growth rate, will possibly outgrow North America's market, which is primarily attributed to strong presence of a majority of key players in European region.
Strong Growth Opportunities Await Developing Asian Economies in Military Communications Market
Through the next decade, North America is anticipated to lose its market value share, owing to highly progressing regions such as China, South East Asia and others of APAC, and Japan. The development of space infrastructure in emerging economies is presumed to create lucrative growth opportunities for several military communication solution providers. Growth in the defense infrastructure and satellite communication in ASEAN countries and prominently in India, has been creating immense scope for the growth of military communications market.
Multiple government initiatives towards the technological development of military communications will also support the growth of the market during the next few years. Growing need for upgraded communication systems, aerial surveillance vehicles, and battle space management systems is creating rapid demand for C4ISR (Control, Command, Communication, Computer, Intelligence, Surveillance and Reconnaissance) systems in the region.
Excellent penetration of IoT in military operations is significantly impacting military intelligence, surveillance, and reconnaissance operations. Moreover, the exponential growth of the IoT industry is producing more powerful and energy-efficient military communication equipment.
Technological advancements in miniaturization, low power computing, radio frequency identification, and M2M communication are a few other significant factors expected to potentially push the prospects of the global military communications market over 2018-2028. During this projection period, the global market for military communications is foreseen to expand at a CAGR of 9.9%, attaining a value in excess of US$ 68 Bn through 2028.
Market Taxonomy
The global military communications market has been segmented into:
End User
Air Force
Land Force
Naval Force
Component
Systems

Satellite Communication Systems
Radar & Sonar Systems
Radio Systems

Services

Consulting
Testing & Integration
Support & Maintenance
Application
ISR
Situational Awareness
Command & Control
Region
North America
Western Europe
Eastern Europe
Latin America
SEA and Others of APAC
China
Japan
MEA
Need specific information?