About the Report
The rising demand for experiencing adventure sports and embracing activities that have the thrill factor on an excursion is fuelling the demand for the diving tourism. The upwelling in outdoor and water sports activities among millennials, besides legalization of underwater weddings are creating lucrative prospects for diving tourism market. Driven by the rising number of divers worldwide, diving tourism's popularity is expected to soar considerably in the coming years.
In its new study, ESOMAR-certified market research and consulting firm Future Market Insights (FMI) offers insights about key factors diving demand for diving tourism. The report highlights the significant increase in demand for diving tourism in 20+ high-growth markets, along with analyzing the impact COVID-19 has had on the water adventure tourism industry in general, and diving tourism in particular.
Historic and Future Outlook
Diving is one of the significant parts of the marine tourism industry. Its training became commercialized and internationalized in the 1930s, however, developed extremely since 1967 and today represents a multibillion-dollar tourism industry across the globe. Assumed as safe and affordable, scuba diving is one of the world's fastest emergent recreational sports. Considering its notoriety, scuba diving is now being conducted in various regions across the globe. According to FMI's analysis, diving tourism sales have grown at a ~6.1% CAGR between 2015 and 2019.
The number of sightseers visiting Mexico, Indonesia, Bahamas, Bay Island, Florida, and California has suddenly increased in the last few years, as the world's top destinations for scuba diving. Subsequently, restaurants, luxury hotels, cafes, lodging, and transportation industries are also growing in these destinations, thereby creating a good growth of tourism.
The number of divers is expected to witness a CAGR of approximately 5.5% during the forecast period 2020-2030. The increasing interest in scuba diving and rise in new tour and travel start-ups in developing countries is expected to boost the travelers and number of divers across the world. FMI has forecast the diving tourism market to expand at 5.9% CAGR between 2020 and 2030.
How is Big Brand Participation Aiding Growth?
Presence of behemoths such as Apeks Marine Equipment Ltd., Mares, Atomic Aquatics, and others in the manufacturing of diving equipment is boosting diving tourism. Reliability on the technology and manufacturing quality of these companies boost consumer confidence to experience scuba diving at various locations.
There is immense focus towards updating existing technologies as these companies aim at keeping pace with dynamic trends. For instance, Apeks Marine Equipment Ltd has recently introduced MTX-R Regulator, which is developed in accordance with standard specified by the United States Navy Experimental Dive Unit. It also has been put through extreme cold water test.
Mares is considered to be one of the leading manufacturers of scuba diving gears. The company has been contributing towards revenue generation within the market through its innovative line of products. It has recently released a new firmware for its Genius dive computer to offer home display with improved features.
Big brand participation has been aiding innovation and research & development initiatives (R&D) within the market. Their efforts towards updating technologies and ensuring greater safety will bode well for the market in the coming years.
Sustainable Development Aiding Growth of Diving Tourism
The growing interest of people to experience exciting underwater activities that can trigger adrenaline rush is prompting a rise in demand for the diving tourism sector. People, families now travel to specific destinations such as Brisbane (Australia), Barracuda Point (Malaysia), Great Blue Hole (Belize), Thistlegorm (Egyptian Red Sea), and many others surfing to experience the diving in the best setting.
With such prominence of diving at these sites, governments have been actively participating in promoting sustainable diving among vacationers. For instance, Bali Scuba joined Green Fins Initiative in May 2019 in order to address reef degradation. The effort is led by the Reef World Foundation and the United Nations Environment Programme (UNEP) and is aimed at promoting sustainable snorkeling and diving experiences around the world.
Are Stringent Compliances Aiding Growth?
Recreation departments and governments in the West have made it compulsory to maintain significant level of security at diving destinations. They have implemented stringent regulations to ensure that round the clock emergency service is accessible in the event of a mishap.
Diving gear, training of activity associates, technical support are assessed consistently and are legalized to be operational only on meeting quality standards. Such broad endeavors for safe underwater activities are indirectly benefitting the diving tourism industry.
With the high-risk involved in the diving activity, trustworthiness is of key importance. Diving certifications, legislation, and standards are the most critical tools for dive tour operators to be reliable professional partner for an individual.
There are various organizations that issue dive certificates to qualified divers among which the well-known is the Professional Association of Diving Instructors (PADI). The organization issue more than one million certificates every year.
Some of the certifications which are require for scuba diver:
The Professional Association of Diving Instructors (PADI)
Open Water Diver (OWD)
Advanced Open Water Diver (ACWD)
Rescue Diver
Master Scuba Diver
Dive Master
Adaptive Support Diver
Adventure Diver
These certifications have become highly sought-after among divers across the world. Like in any other sports activities, these certifications often inspire people to purse training for participating in water sports and activities organized around the world. With diving gradually becoming mainstream, diving tourism is expected to gain traction around the world.
How are Underwater Innovations Transforming Diving?
Water adventure tourism or water-based tourism is gaining traction around the world. Advent of latest technologies has made diving safer and more enjoyable than ever before, opening a whole new demography of amateur divers interested in enjoying diving as a form of adventure sports.
Nautical and aquatic activities are evolving with time, particularly due to the launch of innovative products that offer improved diving experience with greater safety. For instance, a new French innovation introduced in the market that tied scuba diving with smart technology.
A team of experienced engineers have come together for developing the technology, consisting of a server with unique data analysis and processing and an acoustic sensor, which is connected to a smartphone application. This technology is called O'Dive and it is intended to evaluate and improve diving conditions so that the risk of decompression sickness is minimized.
Mismanagement Could Challenge Growth at Various Levels
Although the popularity of water adventure sports is rising, there are issues with regards to risk management and equipment. Tourists may be worried that water sports gear might be defective and is not tested sometimes owing to brand new packaging that gives a feeling of confirmation to travelers. Such faults are can lead to unprecedented mishaps.
Water sports organizations also face issues with respect to misbehavior of the vacationers, trip cancellations, and overall resources and tour management issues. Moreover, there could be, gear misuse, poor gas management, and rough water conditions can cause life-threatening risks. These are the some of the aspects associated with underwater sports activity which may hinder the growth of diving tourism in the forecast period.
Country-wise Insights
How Big is Scuba Diving in the U.S.?
FMI has projected North America to remain one of the most lucrative markets throughout the course of the forecast period. In the US, more than 70% of the divers are under 50 years of age and the Caribbean is a popular diving destination for divers on the East Coast of the United States.
According to Diving Equipment and Marketing Association (DEMA), recreational scuba diving and snorkeling add about $11 billion to the US gross domestic product. Annually some 1.38 million dives are made in California, and annual direct expenditures from SCUBA diving in California range from $161 million to $323 million. Moreover, non-market use value of SCUBA diving in California ranges $21 million to $128 million.
How is Government Support Aiding U.K.'s Diving Tourism?
The U.K. has emerged as one of the popular destinations for diving tourism in Europe. Britain is often identified as home to some of most beautiful spots for scuba diving in the world. From Scottish reefs in the North Sea to flooded quarries hiding old airplane wrecks, the U.K. has several scuba diving spots with excellent visibility.
For instance, Lundy Island was the first place to be called a Marine Conservation Zone in the country. It is well known as one of the most vibrant sites for marine life with great visibility and at least 10 diveable wrecks. Scapa Flow is another popular site where 52 German Naval Ships were scuttled during the Second World War.
The presence of a large number of domestic travelers are supporting diving tourism growth in the U.K. According to the United Nations World Tourism Organization (UNWTO), four-fifth of tourists prefer travelling across domestic destinations. Driven by this trend, underwater tourism and adventure activities such as scuba diving has become increasingly popular in the country.
Moreover, in 2015 a three year £40 million Discover England Fund was announced by the government, which was aimed at delivering world-class tourism products to help inbound travel flourish within England. Favorable government policies are aiding overall expansion of diving tourism in the U.K.
How Popular is France's Diving Tourism Scene?
Tourism in France contributes significantly towards the country's GDP. According to the Organization for Economic Co-operation and Development (OCED), tourism accounts for nearly 6% of the country's GDP. France's thriving tourism sector has been creating lucrative prospects for diving tourism.
The Ministry of Europe and Foreign Affairs has been responsible for promoting tourism in France. Meanwhile the Ministry of Economy and Finance has assumed the responsibility for regulatory framework determining the country's tourism policy.
South of France has especially been a favorite among scuba divers. Destinations such as Cote d'Azur has excellent visibility ranging between 30 and 40 meters. Besides this, Le Tombant Des Americains, The Riou Archipelago—Marseille are among popular diving destinations in the country.
Ship Wreck Locations Attracting Diving Tourism in Germany
European divers may take a few diving vacations every year. On long-period dive trips, tourists spend more than US$ 490 every day on a normal 10–multi day occasion. Divers from Germany generally spend more on their holidays than Italian divers. Especially German divers have a relatively high expenditure, because they prefer higher-quality accommodation.
Germany covers more than 350,000 square kilometers of Central Europe. The country has witnessed many shipwrecks and World War II buffs often find these destinations exceptional spots for diving activities. Some of the most beautiful wrecks are located in Helland and Hanau in the Baltic Sea.
Besides this, supporting diving tourism in Germany is the country's highly suitable weather conditions. In general Germany has cold winters and pleasant summers. As such diving condition in Baltic Sea varies with temperature ranging from 2 ° C in March to 20 ° C in the months of summer. Divers also can enjoy astonishing varieties species such as carp, trout, pike, perch, bream, and turbot around the underwater vegetation.
What Drives Diving Tourism in Australia?
The special thing about diving in the South Pacific, especially Australia is the nature of the marine climate with its pristine, rich and diverse submerged fauna and flora offering an awesome reef, wrecks and a broad assortment of segregated diving sites.
The most well-known sites in Australia for dive experts organizing tours is the Great Barrier Reef, which represents significant share of the market and attracts tourisms from across the world. The bustling recreational dive and snorkeling industry in Great Barrier Reef also is identified as a UNESCO World Heritage Site.
As per the barrierreef. org, Reef added nearly 64,000 jobs and contributed nearly US$ 6.4 Bn in value to the Australian Economy in 2015-2016. While COVID-19 has caused significant disruptions to this industry, recovery is on cards especially as soon as activities resume once the pandemic passes.
Category-Wise Insights
Online Booking, Recreational Activity More Popular Among Travelers
Online booking mode is gaining more traction than phone booking and in-personal booking. Online platforms offer 24/7 access to interested travelers and better convenience in terms of bookings and payments. Moreover, travelers can search and compare information on travel destinations, accommodation, eateries, and other details on the internet, which has made online booking a more prevalent method across the world.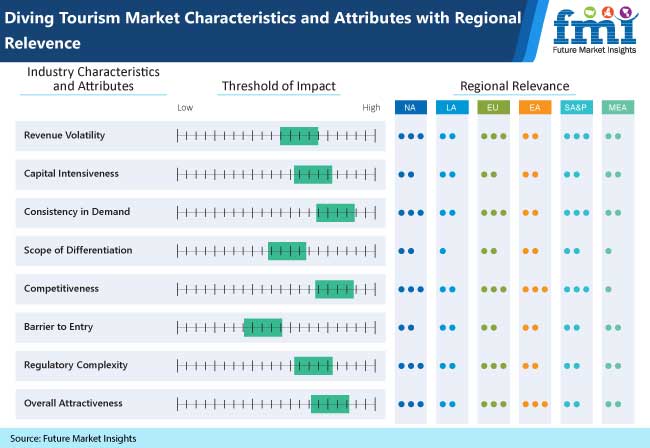 Diving as a recreational activity is being loved by allowing to increase in the number of active divers across the world. According to the Diving Equipment and Marketing Association (DEMA), there are between 2.7 to 3.5 million active divers in the United States and more than 6 million active divers across the world.
No Age bar Drives Growth in Diving Tourism
According to the Sports & Fitness Industry Association (AFIA), 68% of all scuba divers and 74% of core participants in scuba diving are males. While the number exhibits a sharp disparity in consumer orientation, the number of women divers is gradually increasing around the world.
Children as young as eight years old can begin participating in scuba diving activities. Several studies have suggested that scuba diving has several benefits and can contribute to social, emotional, and physical development. In fact, there is no specific age restriction for diving activities. However, diving requires being in a condition of good health both mentally and physically.
Competitive Landscape
Companies operating in the diving tourism market are driven by changing consumer needs and preferences. Some of the players in diving tourism are aiming at strategic collaboration with travel advisors. For instance, in 2019, to provide travel advisors commissionable access to all of Gray Line Las Vegas's sightseeing products, Gray Line Las Vegas partnered with Project Expedition. Through this partnership, the company's travel advisors can earn a 10% commission on more than 12,000 curated things to do across 800 cities around the world, including day tours, shore excursions, and transfers.
Further, companies such as Fly & Sea Dive Adventures, Bluewater Travel, The Natural Travel Collection Ltd., Quicksilver Group, and others operating in the diving tourism business focusing more on sustainability. For instance, Hidden Depths Dive Tours is focusing primarily on sustainability and working hard to reduce its impact on the environment. From going paperless by taking the help of many local suppliers and always thinking about the small things, the company can make a difference.
In addition to this, the Professional Association of Diving Instructors (PADI) is committed to ocean conservation. PADI also creates a growing number of ocean ambassadors to help defend and preserve the marine environment for generations to come. For the same, PADI has partnered with Project AWARE which empowers divers around the world to work together for a clean, healthy, and abundant ocean system. Thus, the organization focuses on eco-friendly and sustainable diving activities.
Moreover, in December 2020, Project Expedition hosted its first-ever Travel Advisor Choice Awards. The event is hosted by the company to help the company bring the Trip Advisor Community together. In this event, the top prize, a 3-day trip to England or Wales sponsored by Rabbie's, was won by Mark Elie of K&E Travel.
Some of the leading companies operating in the market are:
Fly & Sea Dive Adventures
Project Expedition
Bluewater Travel
Island Expeditions Company Limited
The Natural Travel Collection Ltd.
World Dive and Sail International
Entrada Travel Group
Quicksilver Group
Dive Adventures
PADI Travel
Hidden Depths Dive Tours
Caradonna Adventures
Advanced Diver Mexico
*The list is not exhaustive, and only for representational purposes. Full competitive intelligence with SWOT analysis available in the report.
Scope of the Report
Attribute

Details

Forecast Period

2020-2030

Historical Data Available for

2015-2019

Market Analysis

USD Million for value

Key Regions Covered

North America, Latin America, Europe, East Asia, South Asia, Oceania Middle East & Africa

Key Countries Covered

US, Canada, Germany, U.K., France, Italy, Spain, Poland, Russia, China, Japan, South Korea, India, Thailand, Malaysia, Vietnam, Indonesia, Australia, New Zealand, GCC Countries, Turkey, Northern Africa, South Africa

Key Segments Covered

Diver Type, Tourist Type, Age Group, Tour Type, Consumer Orientation, Booking Mode, and Region

Key Companies Profiled

Fly & Sea Dive Adventures
Project Expedition
Bluewater Travel
Island Expeditions Company Limited
Liveaboard Adventures
National Geographic Expeditions
Deep Blue Adventures
Caradonna Adventures
Advanced Diver Mexico
The Natural Travel Collection Ltd.
PADI Travel
Hidden Depths Dive Tours
Scuba Travel
Dive The World
World Dive and Sail International
Entrada Travel Group
Quicksilver Group
Dive Adventures

Report Coverage

Market Forecast, brand share analysis, competition intelligence, DROT analysis, Market Dynamics and Challenges, Strategic Growth Initiatives

Customization & Pricing
Key Questions Answered in the Report
Q1. What is the diving tourism market size?
The global diving tourism market is expected to witness a CAGR of 5.9% during the forecast period 2020-2030. As per FMI, the global diving tourism market valuation is around US$ 2,841.1 Mn in 2019.
Q2. Which is the most lucrative market for diving tourism?
Europe currently leads the global market for diving tourism. Sales in Europe will be over 37% of total demand throughout the forecast period.
Q3. Which promotional strategy followed by leading companies in the diving tourism industry?
The leading companies in the diving tourism industry promote their services through social networking sites and apps. The company offer attractive deals from time to time to expand its customer base for underwater adventure sports. Moreover, innovation in services every year significantly helps the companies to attract new customers.
Q4. Which are some of the leading companies in the diving tourism sector?
Some of the leading companies offering exceptional diving services are The Natural Travel Collection Ltd., Island Expeditions Company Limited, Quicksilver Group, World Dive and Sail International, Deep Blue Adventures, Project Expedition, Scuba Travel, Bluewater Travel, Entrada Travel Group, and among others.
Q5. What is the outlook on diving tourism?
In spite of the fact that diving is a significant part of the travel & tourism industry that is creating billions of dollars across the world, the issue of environmental change and its outcomes will surely have an adverse effect on the growth of the diving tourism industry in foreseeable future. Further, the diving industry has the potential to stay strong even in the backdrop of worldwide environmental change.
Key Segments
Diver Type
Professional Diver
Active Diver
Casual Diver
New Diver
Tourist Type
Age Group
15-25 Years
26-35 Years
36-45 Years
46-55 Years
56 Years & Above
Tour Type
Independent Traveler
Tour Group
Package Traveler
Consumer Orientation
Booking Mode
Online Booking
Phone Booking
In-Personal Booking
Region
North America
Latin America
Europe
East Asia
South Asia
Middle East and Africa (MEA)
Oceania
Need specific information?
Talk Show:
The Rise of Intelligent Packaging
Personalized, Connected and Sustainable
November 18, 2021
11:00-11:45 AM PST (USA & Canada)
This is a LIVE session