Eggshell Membrane Powder: Making its Way into the Wellness Scene
Agricultural bio-waste has been a known concept. However, increasing awareness about the associated health benefits are recently rendering them an attractive market value. With emerging applications across agricultural, biological, and environmental engineering domains, agricultural by-products are climbing up the popularity scale. Powdered eggshell membrane is among one of the high-potential members in this category, which is gaining widespread recognition across various end use sectors. The trend of using eggshell membrane derivatives for supplementation or fortification has been around for a while, which further involves its use in nutraceutical, dermatological, and cosmetic products. Eggshell membrane powder was initially perceived as a natural elixir to treat osteoarthritis, which marked its entry into the pharmaceutical industry. Today, the eggshell membrane powder is being used in a range of products with umpteen therapeutic benefits.
Eggshell Membrane Powder Market - Key Research Findings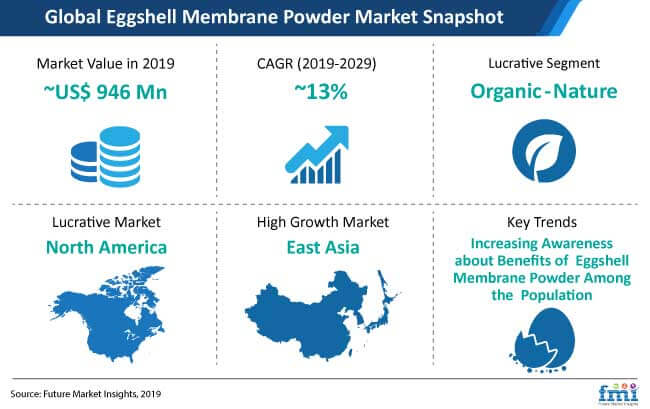 The global eggshell membrane powder market size in 2019 is ~US$ 946 Mn.
The eggshell membrane powder market is expected to grow at a CAGR of ~13% during the forecast period 2019-2029.
Besides adoption for protective and anti-allergic functions, increasing demand for eggshell membrane powder-based products has been driving the sales of eggshell membrane powder as a raw material.
Collectively, East Asia and North America are likely to account for half of the revenue shares in the eggshell membrane powder industry, by the end of 2029.

North America, due to the strong presence of egg and egg-based products industry, will continue to be a prominent regional market for eggshell membrane powder manufacturers.

The building & construction industry is expected to remain a prominent application area to invest in, for eggshell membrane powder market players.
Key Factors Shaping the Eggshell Membrane Powder Market
Universal Approach towards Health
Consumers are shifting their wellness approach and choosing healthier products instead of only looking for functional ingredients. They are stressing more on natural products and avoiding products that are full of additives, and stabilizers, even though these products claim to be low-fat. Moreover, consumers are not willing to compromise on taste despite following a holistic approach. As a result, consumers are opting for more natural and nutraceutical products made from eggshell membrane powder.
Increasing Frequency of Innovative Launches
Increasing emphasis of manufacturers on introducing innovative elastomeric coating solutions is projected to assist the market growth in the near future. The compelling demand for non-conventional insulating materials for better temperature optimization has been directing manufacturers' focus to R&D of thicker coatings with advanced technical characteristics. While the newly developed eggshell membrane powder is supposed to replace and overcome the shortcomings of the conventional insulators, such as glass wool, cotton, and wood, it is highly likely that the sales of eggshell membrane powder will be on the rise.
Use of Egg Membrane Powder in the Medical Field
Egg membrane could also be used in the medical field for bone grafting i.e. preparing artificial bones, and replacing other plastic and steel materials used in manufacturing of artificial bone. Usage of artificial egg membrane powder-based bones is more preferable, due to its calcium content, which resembles the human bone constituents. It is also used in drug-delivery therapy. The nano-particles of eggshell are also used in drug-delivery systems, thus, accelerating the market demand.
Increasing Demand for Pet Food Supplements
The pet food supplement industry is an emerging industry, as consumers are becoming fonder of their pets and take proper care of their nutrition. In order to ensure that their pets get adequate nutrients, consumers prefer pet food supplements that are organic and natural, to avoid any adverse effects on pets. Egg membrane protein powder is mainly used in pet supplements to reduce bone disorders and comfort them in case of seasonal allergies. Hence, this evolving demand for pet supplements is driving the global egg membrane protein powder market.
Increased Investment of Large Players in the Overall Eggshell Membrane Powder Food Business
A large number of companies in the overall nutraceutical food market are focusing on developing and growing their eggshell membrane powder business. These companies are increasing their investments in the production of organic eggshell membrane powder. It is one of the significant factors, which is driving the global eggshell membrane powder market at a rapid pace.
FMI's research finds that the eggshell membrane powder market was valued nearly US$ 946 Mn in 2019, and is estimated to record ~ 13% Y-o-Y growth in 2029. The eggshell membrane powder market is expected to be a profitable business due to the global demand for eggshell membrane powder.
The eggshell membrane powder market is expected to witness a major transformation in the near future, with increasing pollution, contamination, and rise in health-conscious consumers wanting to consume health-beneficial products, due to their eggshell membrane benefits. All these factors are raising the global demand for use of organic products in food products and beverages, and functional beverages.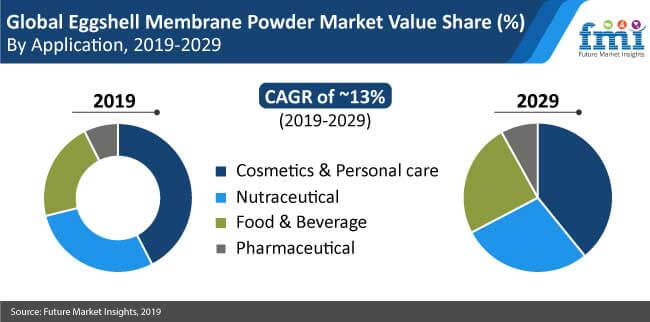 Eggshell Membrane Powder Market Structure Analysis
The global eggshell membrane powder market represents a fairly consolidated competition landscape, where majority of key players maintain their strategic focus on the development of solid distribution partnerships and joint ventures, targeting a firmer global footprint.
The eggshell membrane powder market has been relatively moderate in size, which remains a key factor for its dynamic competitive nature.
Leading manufacturers of eggshell membrane powder are currently prioritizing R&D and new product launches to resonate with the booming consumption of eco-friendly products in North America, Europe, and China.
Portfolio extension is also identified to remain one of the key developmental strategies adopted by manufacturers of eggshell membrane powder.
For a stronger foothold in target markets, eggshell membrane powder manufacturers will continue to rely on inorganic strategies, such as mergers and acquisitions.
Deeper understanding of the market trends and preferential shifts of end-use segments across various regions are likely to create a bottleneck for prominent players, looking forward to untapped opportunities in the eggshell membrane powder market.
No Longer a 'Scrap' – Set to Attain the 'Novel Food' Status
Eggshell membrane powder is being touted as a high-potential ingredient in functional foods and dietary supplements, on account of its ability to condition and promote joint health. The use of eggshell membrane powder as a source of dietary calcium, across the food & beverages industry, is gaining significant momentum, as the F&B producers have been directing their investments to naturally-sourced ingredients that promise high value in return. With the first-ever approval as a 'novel food' across EU, eggshell membrane powder is set to officially enter the category of novel foods, at a global level.
An aggravating shift towards vegetarian and vegan diets is likely to hold a strong impact on the penetration of eggshell membrane powder in coming years. While this trend is placing the onus on development and commercialization of ethical and plant-based alternatives, it is creating a considerably challenging scenario for the market players to sustain growth in the eggshell derivatives landscape.
Entering Europe's Pet Food Scene
The rich calcium, collagen, and elastin profile of eggshell membrane powder has been considered to be idea for the pet food, when it comes to maintaining bone health and keeping seasonal allergies at bay. While a number of recently conducted research studies have revealed the possible effectiveness of eggshell membrane powder as a pet food ingredient, it is also gaining recognition for its abilities to induce pain diminishing effects, which complements the complete regime of effective pet care. The trend is likely to be seen more prominently across Europe.
The Broader Perspective
Cosmetics with 'natural' ingredients have captured a dedicated space on retail shelves, which can be attributed to the continuous assessment and re-assessment of products, by consumers. Eggshell membrane powder comprises a multitude of collagen types, such as hyaluronic acid, elastin, and keratin, which contribute to the overall attributes of eggshell membrane powder, including hydration and elasticity. Such particulars are touted to solidify the potential of eggshell membrane powder as an effective raw material for cosmetic and personal care products. Eggshell membrane powder is also deemed to be one of the most-effective ingredients to fend off aging, which further contributes to its potential to penetrate in the cosmetics and personal care industry.
Conventional remains top-selling
Demand for organic sees an upswing
Cosmetics & Personal Care retains its lead
Revenues from food & beverages remain significant
How Growth will Unfold
The growth of eggshell membrane powder market will revolve around consumer-centric innovations, with leading market players keeping a constant eye on the evolving market trends. Brands are participating in various conferences, promotional events, and online marketing campaigns, for the fact that exceptional product reach has been, and will continue to be the key to enhanced sales performance. The market players are also paying attention to constant improvements in the existing as well as new product prototypes, and to achieve the same they are investing in strategic partnerships with prominent companies operating in the life sciences domain. Research and development will continue to be the epicenter of manufacturers' growth strategies.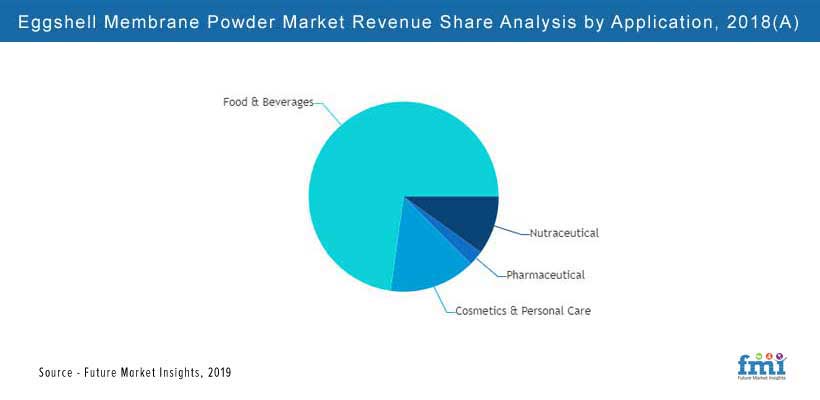 * This data is only a representation. Actual data may vary and will be available in report.
Click Here To Know How The Growth Will Unfold
Custom Market Research Services
FMI offers custom market research services that help clients to get information on their business scenario required where syndicated solutions are not enough.
Overview
A recent market study published by FMI on the eggshell membrane powder market includes global industry analysis 2014-2018 & opportunity assessment 2019-2029, and delivers a comprehensive assessment of the most important market dynamics. After conducting a thorough research on the historical as well as current growth parameters of the eggshell membrane powder market, the growth prospects of the market are obtained with maximum precision.
Eggshell Membrane Powder Market Taxonomy
The global eggshell membrane powder market is segmented in detail to cover every aspect of the market and present complete market intelligence approach to the reader.
By Application
Nutraceutical

Dietary Supplement for Human
Dietary Supplement for Pet

Pharmaceutical
Cosmetics & Personal Care
Food and Beverages

Bakery & Confectionary
Snacks & Savory
By Region
North America
Latin America
Europe
South Asia
East Asia
Oceania
Middle East and Africa
How the research was conducted?
Primary Research
C - Level Executives
Marketing Directors
Product Managers
Business Development Officers
Production Managers
Procurement Heads
Sales Executives
Distributors
Traders
Raw Material Suppliers
Industry Experts
End Users
Current market dynamics and challenges
Yesteryear trends
Market characteristics
Market performance and growth quadrants
Competition structure and market structure
Strategic growth initiatives
Near-term and long-term market growth prospects
Market segment splits and authenticity
Opinions on market projections and validity of assumptions
Secondary Research
Industry Publications

World Bank
European Food Safety Authority

Industry Associations

United States Department of Agriculture
Foreign Agricultural Service
The American Chemical Society

Factiva
Company Press Releases
Annual Reports and Investor Presentations
Research Papers
Government Websites and Publications
Trade Websites
Primary Interview Splits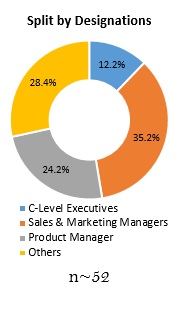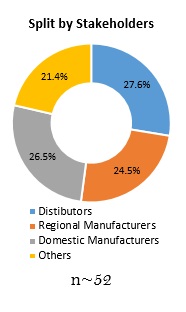 To Learn More About our Comprehensive Perspective on Eggshell Membrane Powder Market,
Get in touch
COVID -19 : Impact Analysis
Request the coronavirus impact analysis across industries and markets
Request Covid -19 Impact
CASE STUDIES
See how our work makes an impact.
At FMI, we design strategies that are adaptive, impactful, and implementable.