Report Scope
Base year considered - 2020
Actual estimates/Historical data - 2015 – 2019
Forecast period - 2020 – 2030
Forecast units - Value (USD) Bn, Volume (MT)
Segments covered - Membrane Material, Module Design, Application, Technique and Region
Regions covered - North America, Latin America, Europe, Asia, Oceania and MEA
Key Players - 3M Company, The WABAG Group, Pall Corporation, GEA Group, Dow Company, Koch Membrane System, and Veolia Water Technologies
Report coverage - Revenue forecast, company share, competitive landscape, growth factors, and trends
Key Research Findings
Asia Pacific is a crucial market. The market is empowered mainly by increasing use of membrane filtration systems at water treatment plants across this region
Membrane filtration systems market will gain in response to the expansion of the bio-based pharmaceutical market
Membrane filtration systems are commonly used for wastewater purification and for sterilization, concentration processes and separation in food & beverage sectors
China accounts for the largest share in the Asia Pacific market
Population growth in China has spurred the need for purification technologies to ensure the availability of healthy drinking water and hygienic food and dairy products
Structure Analysis
KEY PLAYERS OPERATING IN THE GLOBAL MEMBRANE FILTRATION SYSTEMS MARKET INCLUDE 3M COMPANY, THE WABAG GROUP, PALL CORPORATION, GEA GROUP, DOW COMPANY, KOCH MEMBRANE SYSTEM, AND VEOLIA WATER TECHNOLOGIES. THESE COMPANIES FOLLOW A RANGE OF APPROACHES, SUCH AS PRODUCT LAUNCHES AND MEMBRANE FILTRATION SYSTEMS EFFICIENCY RESEARCH & DEVELOPMENT TO ESTABLISH A COMPETITIVE MARKET POSITION.
THE BUSINESSES ARE USING VARIOUS APPROACHES TO IMPROVE THEIR MARKET POSITION, SUCH AS INNOVATIVE WAYS OF ADDRESSING THEIR CUSTOMERS' FLOW CONTROL AND FILTRATION REQUIREMENTS
Reverse Osmosis (RO) Technology to Witness High Demand
Reverse osmosis (RO) technology is used to extract the harmful pollutants from water. In general, this cycle extracts minerals like iron, chlorine, lead, salt, manganese and calcium. In terms of water purification, reverse osmosis provides high efficiency; it can usually extract up to 99 per cent of most mineral pollutants. RO is thus experiencing remarkably high demand among techniques available in the market for water purification purposes.
In general, this method extracts minerals including iron, fluoride, lead, salt, manganese, and calcium. The water that is used in the beverage industry usually comes from municipal sources. This water is drinkable, but contains elements of hardness or deposits of heavy metals that typically come from the pipes that hold the water; these elements in the water that affect the taste of the water, and therefore the taste of the drinks. RO is therefore widely utilized in beverage production to prevent these problems.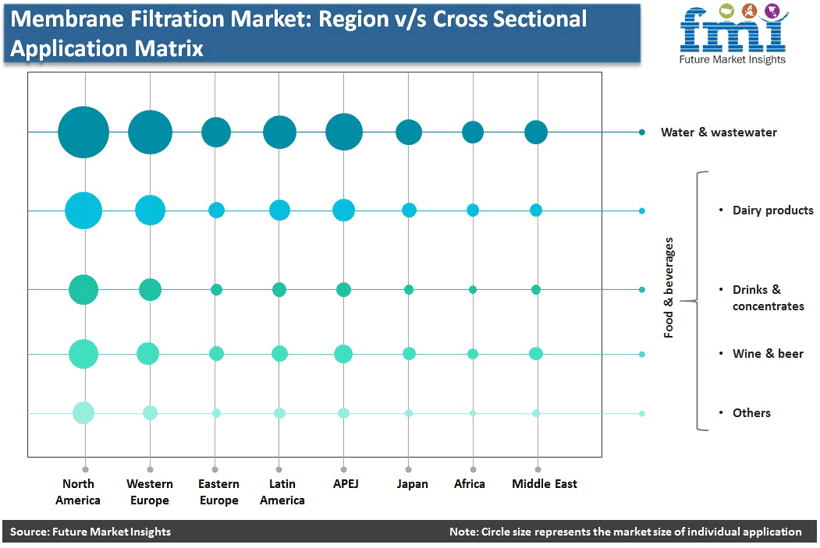 Asia Pacific is Projected to Account for the Largest Market Share
Within the membrane filtration systems market, Asia Pacific holds more than a third of the market share. - use of membrane filtration systems in water purification plants and the dairy and food industries for pasteurization, sterilization and concentration processes in this area are generating enormous demands for membrane filtration systems technology. Asia Pacific membrane filtration systems market dominated by China.
Mainly driving a country's membrane filtration systems market is the growing use of membrane filtration systems technology for water purification. The rising population in this country has resulted in an increasing need for sustainable purification technologies to ensure healthy drinking water supplies. India is expected to be the fastest growing food & beverage membrane filtration systems market during the review period.
Microfiltration is expected to register a High CAGR
Microfiltration (MF) is a separation device powered by pressure, and is commonly used to concentrate, purify or remove macromolecules, colloids and suspended particles from the solution. This is widely used for pharmaceutical cold sterilization. It has been shown that pharmaceuticals lose their potency upon introduction of heat.
MF membranes are used as a means of extracting bacteria and other harmful fluids from liquids, a procedure called 'cold sterilization,' which rejects heat use. In recent decades, the use of microfiltration technology has increased as pharmaceutical testing and product production have increased. Microfiltration has thus become a vital part of pharmaceutical research and development, and potential demand for microfiltration technology is expected to increase.
How Growth will Unfold
Due to the rising awareness among consumers about safety and filtration processes, the demand for membrane filtration systems is increasing. Additionally, advances in membrane filtration systems technologies, high growth in the dairy industry, and growth in the bio-based pharmaceutical industry, and rapid development in generic production are the key factors that are driving the membrane filtration systems market.
The future prospects for market growth are projected to be the recycling of used water, purification of waste water and separation of initial ingredients in pharmaceutical synthesis. A high setup cost for membrane filtration systems is, however, a restraining growth to an extent.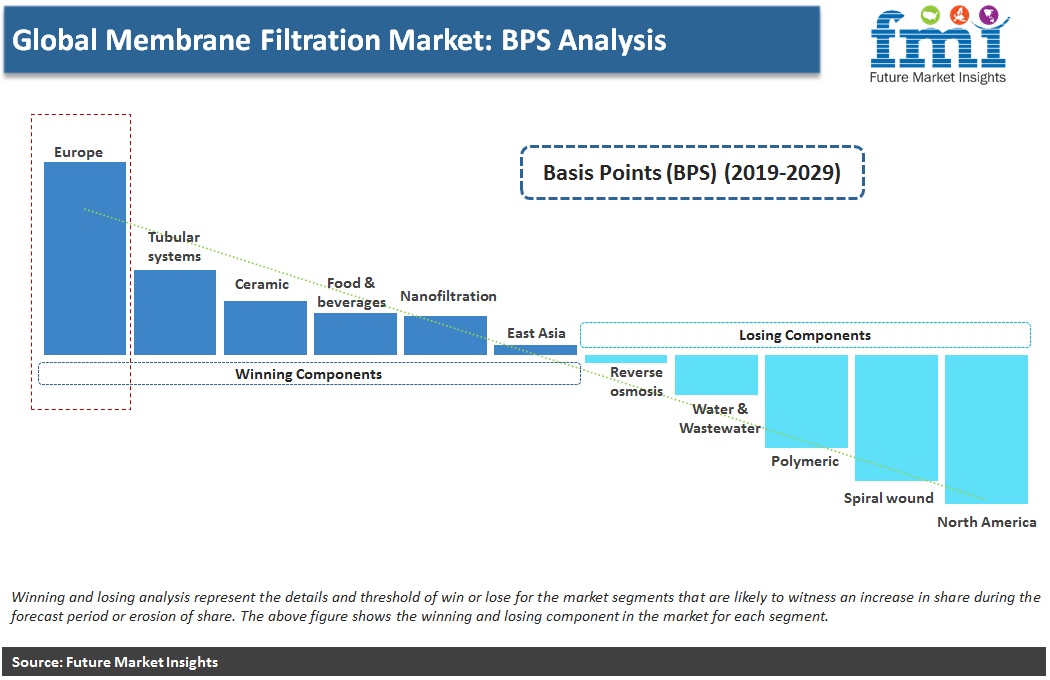 MEMBRANE FILTRATION SYSTEMS MARKET TAXONOMY
The global membrane filtration systems market is segmented in detail to cover every aspect of the market and present complete market intelligence to readers.
Application
Water & Wastewater
Food & Beverages
Module Design
Spiral Wound
Tubular Systems
Plate & Frame
Hollow Fiber
Membrane material
Technique
Reverse Osmosis(RO)
Ultra filtration (UF)
Microfiltration(MF)
Nano filtration(NF)
Region
North America
Latin America
Europe
Asia
Oceania
MEA
Need specific information?