Membrane Microfiltration Market: Value and Forecast
The global membrane microfiltration market is expected to expand at a CAGR of 7.8% in revenue terms over the forecast period 2018–2028. The global membrane microfiltration market is expected to be dominated by Western Europe with a 22.3% revenue share in 2018.
Membrane Microfiltration Market: Product Outlook
In water treatment systems, microfiltration membranes help in removing small particles and solids such as iron (rust), manganese (rust), clay, silt and sand, bacteria, and viruses.
In some of the water treatment systems, membrane microfilters help to pre-treat water before it passes further through the RO or some other treatment system. Pre-treatment with microfiltration allows the RO and the other treatment systems to work efficiently. In some cases, microfiltration is used as a post-treatment after aeration.
Microfiltration membranes are most commonly used as part of water treatment plants or household plumbing for the water to pass through the filters. Microfiltration membranes and associated systems are usually low cost and easy to maintain.
They are usually self-monitoring in nature, i.e., when the filter is clogged or need to be changed, the flow of water automatically decreases. The increasing need of quality water is one of the major factors expected to contribute to the growth of microfiltration membranes market, as they are prominently needed in quality water management. India, China, and other developing economies, with their rapid population growth, urbanization, and water scarcity present enormous opportunities for the existing players and new entrants in the membrane microfiltration market.
In terms of revenue share, the U.S, Japan and China are expected to stand at the first, second, and third place, respectively, in the global membrane microfiltration market. By region, Western Europe is expected to be a large market for membrane microfiltration due to presence of numerous key manufacturers.
China is expected to grow at a CAGR of 11.2% (2018-2028) owing to significant growth in various end-use industries, where the demand for membrane filtration is high. Ceramic membranes are expensive in comparison with polymeric ceramic membranes, but they have a twice the life cycle of polymeric membranes and the maintenance charges are considerably less. Ceramic membranes also ensure process stability and are resistant to high pressures.
The advantages of ceramic microfiltration membranes hamper the adoption of polymeric microfiltration membranes, which is expected to hinder the growth of the membrane filtration market to some extent.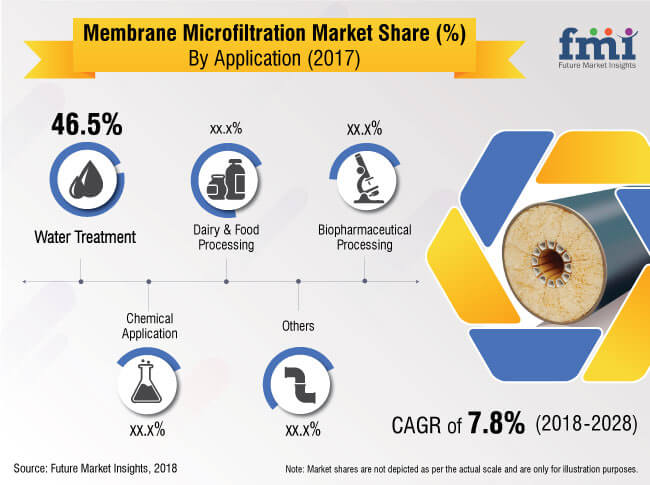 Membrane Microfiltration Market: Key Insights
Suppliers are focused on meeting the increasingly stringent demand of various industries where purity and quality standards are key to the manufacturing processes.
The North America membrane microfiltration market is expected to represent an absolute dollar opportunity of US$ 60.7 Mn in 2019 over 2018.
North America is one of the most lucrative markets for membrane microfiltration. In industries such as biopharmaceuticals, chemicals, and food and beverage, membrane microfiltration suppliers are focused on providing a broad range of purification solutions.
The growth of the Latin America membrane microfiltration market is fuelled by the improving water treatment infrastructure and a sustainable growth in the biopharmaceutical and food and beverage industries.
China is expected to be a fast-growing membrane microfiltration market due to increasing expenditure by the government on water management and waste water treatment.
Dead-end filtration poses disadvantages such as difficulties in navigating through the particles which leads to quick drops in the flow rate of liquid in various processes in the water treatment, dairy & Food processing, biopharmaceutical processing and other applications. Hence, cross flow filtration is the preferred membrane filtration technology.
Factors and Trends Impacting the Growth of the Membrane Microfiltration Market
An interesting development application driving the interest in microfiltration membrane technology is its ability to operate at higher temperatures.
Manufacturers are now running continuous fermentation, rather than a batch process. The coming years would see a considerable increase in demonstration plants working on continuous fermentation, where microfiltration membranes are poised to play a significant role.
Manufacturers are developing microfiltration units that use large filter cartridges rather than an amalgamation of many small filtration units. The system would occupy a smaller area. This would not only reduce the number of connections in the filtration system, but also lower the maintenance cost.
Microfiltration is an alternative to heat treatment to reduce the presence of bacteria and improve the microbiological safety of dairy products, whilst preserving the taste.
Microfiltration membranes are nowadays being adopted in the production of biofuels and are being integrated into bio-refineries to lower the overall energy cost, increase valuable product recovery, and reduce the amount of waste.
The Global Membrane Microfiltration Market is Segmented Based on:
Material Type
The global membrane microfiltration market by material type is further sub-segmented into cross-flow filtration and dead-end filtration modalities covering Polyethersulphone (PES) membranes, Polypropylene (PP) membranes, Polyvinylidene difluoride (PVDF) membranes, Polytetrafluoroethylene (PTFE) membranes, Poly Ether ketone (PEEK) membranes, Polyimide membranes, and Cellulose membranes. The cross-flow filtration is expected to be the dominant segment in the global membrane microfiltration market owing to its relative advantages over dead-end filtration. High demand for filtration and separation technologies in various industry-specific processes globally is expected to drive the demand for membrane microfilters.
Application
By application, the global membrane microfiltration market is segmented into water treatment applications, dairy & food processing applications, biopharmaceutical applications, chemical applications, and others. The water treatment is expected to be the dominant segment in the global membrane microfiltration market followed by dairy & food processing applications, and others.
Region
By region, the global membrane microfiltration market is segmented into North America (the U.S. & Canada), Latin America (Brazil, Mexico, and Rest of Latin America), Western Europe (Germany, France, the U.K., Italy, Spain, BENELUX, Nordic, and Rest of Western Europe), Eastern Europe (Russia, Poland and Rest of Eastern Europe), Asia Pacific excluding China and Japan (India, Australia & New Zealand and Rest of Asia Pacific), China, Japan and Middle East and Africa (GCC Countries, South Africa and Rest of MEA).
Need specific information?
Talk Show:
The Rise of Intelligent Packaging
Personalized, Connected and Sustainable
November 18, 2021
11:00-11:45 AM PST (USA & Canada)
This is a LIVE session