Upsurge in the Prevalence of Joint Degenerative Diseases such as Osteoporosis and Osteoarthritis
The cases of joint degenerative diseases, such as osteoporosis and osteoarthritis, are on rise due to growing number of road accidents, lifestyle changes, rise in geriatric population, growing demand from the geriatric population, and increasing prevalence of arthritis. Osteoporosis is the condition in which the bones become weak with an increased susceptibility to fracture. Elbow fixation is a type of surgery used to stabilize the elbow bone. Elbow fixation can be done by open and closed reduction technique. In open reduction technique, orthopedic surgeons reposition the elbow bones during surgery and in closed reduction the surgeon moves the bone to proper place without surgically exposing it. Advancements in minimally invasive surgeries as medical device manufacturers are largely focusing on emerging economies due to large patient base and growing demand for bone-related surgeries. Moreover, rising number of revision surgeries coupled with growing capabilities of advanced biomaterial-based implants is further supporting the market growth. The internal fixation of the elbow bone involves the use of screw plates, wires to adjust the bones and fix them in the correct place. This surgery is done under general anesthesia. According to the WHO, osteoarthritis is one of the most disabling diseases in developed countries. It has been estimated that around 10% of men and 18% of women aged over 60 years have symptomatic osteoarthritis, which includes moderate and severe forms. Other risk factors include obesity, physical inactivity, smoking, excess alcohol and injuries.
The elbow fixation system market is segmented on the basis of fixation type external Fixation and internal Fixation. The internal fixation is further segmented into Plate and Screw Fixation devices, Intramedullary Nails, Hip Screws and others. Significant cost savings can be achieved through early use of prosthetic services and products. The provision of prosthetic services and products in many cases reduces the need of expensive treatments, and represents a cost-effective solution to the third-party payers in the U.S. The elbow fixation devices are compact, simple, integrated with joint distraction mechanism, highly versatile, simple and easy to use.
Effectiveness of Elbow Fixation Surgery
The technological advancements, such as use of specialized plate and screw fixation devices, intramedullary nails, hip screws as it avoids damage to structures, allow easy asses to the injury area, fulfill mechanical demands of the patient, have made the devices effective of the elbow fixation surgery. The companies in the market are focusing on mergers and agreements with other medical device companies, in order to manufacture cost-effective products. The benefits of the external fixation include less disruption of the soft tissues, proper blood supply, and reduces the side effects of bone-related surgeries. The elbow fixation devices are devices that enable surgeons to carry out the elbow fixation procedure and provide solutions to bone fracture and diseases. Moreover, the companies in the market, as their key developmental strategy, are focusing on product innovation coupled with R&D programs and government initiatives in order to meet the increasing demand from the end users in the global elbow fixation systems market.
Elbow Fixation Systems Market Assessment by End User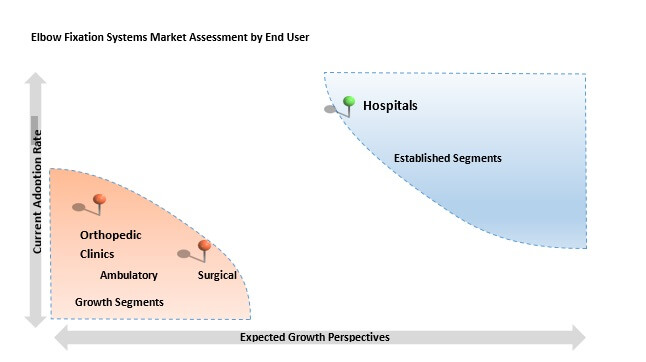 Factors Driving the Elbow Fixation System Market
Increasing incidence of trauma/accidental injuries, increase in health care expenditure and technological advancements in the elbow fixation devices are some of the factors driving the market. The growing awareness for orthopedics-related diseases due to government initiatives, reimbursement policies comprising Medicare, Medicaid and the U.S. Department of Veterans Affairs—accounting for approximately 40% to 50% of reimbursements for limb prosthetics services and devices—are also factors driving the growth of the market. Manufacturers are also introducing technologically advanced innovations to leverage the untapped market opportunities. Top manufacturers are expanding the value chain to forward integrate the market in developing economies. In addition, increasing investment in terms of healthcare spending and investment in healthcare facilities by the governmental authorities are expected to impel the demand for elbow fixation system in the near future. On the other hand, currency fluctuation due to changing economical/trade practices is a factor expected to hamper the import export activities of the hospital suppliers.
Regional Market Outlook
North America is the dominant region in the global elbow fixation market due to lifestyle changes, new product innovations, and early treatment adoption, as well as rise in the number of cases of osteoporosis and osteoporotic fractures in the U.S. Europe is the second leading market for elbow fixation systems due to increasing development activities and large research base. The Asia Pacific market is also expected to grow at a higher rate owing to large target patient pool, rapid population growth, adoption of western lifestyle, and growth in research and development.
Competition Outlook
Examples of some of the players identified in the global elbow fixation market are Stryker Corporation, Zimmer Biomet, DePuy Synthes, . Manufacturers are focused on developing new custom-made implants for minimally invasive surgeries, which is expected to increase their respective market shares. The companies in the market are outsourcing the manufacturing of elbow fixation systems in order to reduce their manufacturing costs and compete in the market with reduced prices. Besides, the companies are entering into mergers and acquisitions to expand their existing product portfolio and market presence globally
Small-Scale Manufacturers/Providers

Medium-Scale Manufacturers/Providers

Large-Scale Manufacturers/Providers

Stryker Corporation

Zimmer Biomet

DePuy Synthes

Smith & Nephew PLC
Key Data Points Covered in Report
The report covers exhaustive analysis on:
Elbow Fixation Systems Market by product type, end user and region
Regional level market analysis of North America, Latin America, Europe, Asia Pacific Excluding Japan, Japan, Middle East & Africa by test type, end use segments and country
Elbow Fixation Systems Market Dynamics & Opportunity Assessment
Historical Actual Market Size, 2013 - 2017
Elbow Fixation Systems Market Size & Forecast 2018 - 2028
Elbow Fixation Systems Current Trends/Issues/Challenges
Competition & Companies involved
Report Highlights:
Shifting industry dynamics
In-depth market segmentation
Historical, current and projected industry size, recent industry trends
Key Competition landscape, market structure, regulatory scenario
Epidemiology outlook for diseases
Economical spending, regional healthcare outlook, consumer healthcare expenditure
Installed Base of Elbow Fixation System
Strategies for key players and product offerings, channel strategies, regional foot print, channel footprint
Potential and niche segments/regions exhibiting promising growth
A neutral perspective towards market performance in terms of value and volume
Market Segmentation
By Product Type
External Fixation
Internal Fixation

Plates and Screws
Intramedullary Nails
Hip Screws
By End User
Hospitals
Orthopedic Clinics
Ambulatory Surgical Centers
By Region
North America
Latin America
Europe
Asia Pacific Excluding Japan
Japan
Middle East & Africa
Research Methodology
The market sizing of elbow fixation system will be done by the procedure-based triangulation approach. The demand-side approach will be followed to assess the actual market size of Pelvic Floor Diagnostic Testing. Secondary research will be done in the initial phase to identify the feasibility of the target services and its respective segments in end-use facilities and the future impact of new technologies. Each piece of information will be eventually analyzed during the entire research project, which will help build a strong base for the primary research information.
Primary research participants include demand-side respondents such as laboratory managers, procurement managers, hospitals, diagnostic service centers as well as key opinion leaders in addition to supply-side respondents such as equipment manufacturers who provide valuable insights on trends, research application of products and technologies, purchasing patterns, services offered and associated pricing.
NOTE - All statements of fact, opinion, or analysis expressed in reports are those of the respective analysts. They do not necessarily reflect formal positions or views of Future Market Insights.