Obesity Management Market by Drug Type (Bupropion and Naltrexone, Orlistat, Lorcaserin, Phentermine and Topiramate, Liraglutide), Surgery Type (Gastric Bypass Surgery, Adjustable Gastric Banding Surgery), Distribution Channel & Region - Forecast to 2021-2031
Obesity Management Market - Analysis, Outlook, Growth, Trends, Forecasts
June 2021

REP-GB-587

177 pages
Obesity Management Market Snapshot
The global obesity management market revenue will total US$788.6 Mn in 2021, according to Future Market Insights (FMI) analysis. Rising at a CAGR of 5.1% between 2021 and 2031, the market is expected to reach US$ 1.3 Bn by 2031.
The demand for gastric sleeve surgery procedures will accelerate considerably in the near future. It is also expected to emerge as dominant segment, in terms of surgery type, accounting for a market share of 41.3% in 2021.
Key Points Covered in Obesity Management Market Study
Market estimates and forecast 2016-2031
Key drivers and restraints impacting market growth
Segment-wise, Country-wise, and Region-wise Analysis
Competition Mapping and Benchmarking
Brand share and Market Share Analysis
Key Product Innovations and Regulatory Climate
COVID-19 Impact on Obesity Management Market and How to Navigate
Recommendation on Key Winning Strategies
2016-2020 Obesity Management Market Outlook Compared to 2021-2031 Forecast
In the last 5 years, the obesity management market has been observed to grow at a CAGR of 4.7%, wherein, liraglutide had the largest market share, reaching 34.7% in the year 2020.
According to the World Health Organization (WHO), there has been a three-fold increase in the global obese population since 2010. Obesity related concerns often increase healthcare expenditure.
Obesity is accompanied by a a large comorbidity burden, as it is considered to be a key underlying driver behind four chronic diseases including ischemic heart disease, cerebrovascular disease, cardiovascular disease, and diabetes.
According to the WHO 2020 statistics, there are 1.6 billion overweight adults and 650 million obese adults worldwide. Factors that can contribute to obesity include genetics, environmental factors, and medications.
Healthy eating and increased physical activity are important parts of weight management. Weight management drugs and surgery are the most appropriate treatment to reduce weight for obesity cases of higher severity.
Obese people are at higher risk of acquiring type 2 diabetes, cardiovascular disease, and some cancer types. Today's lifestyle is expected to boost obesity growth in the forecast period. Over the forecast period of 2021-2031, the market is expected to expand at more than 5.0% CAGR.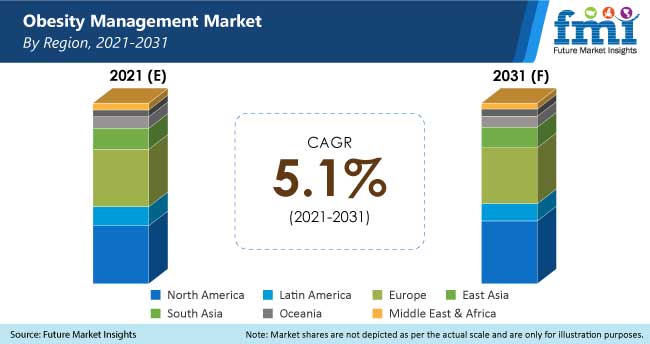 What are the Key Opportunities for Market Players in the Coming Decade?
One in three adults in North America are obese. Obesity leads to many chronic diseases which can be avoided with weight management. According to the AHA, obese patients should be treated by reducing weight through lifestyle modifications, pharmacological treatment, and/or bariatric surgery for the initial stage of hypertension.
The NHS in the U.K. has implied that weight loss programs make people aware of the disadvantages of obesity, helping obese people to lose weight. People are becoming conscious about body aesthetics.
Also, there has been a significant increase in healthcare expenditures or out-of-pocket spending globally due to the condition. Developed nations are increasing healthcare expenditure levels are improving their reimbursement policies to help people in health treatments.
Increasing obesity in children and adolescence will give a huge opportunity for market growth. It has been observed that obese children are more susceptible to remain obese in adulthood. This will promote obesity management in the forecasted period.
What are the Factors Restraining the Demand for Obesity Management?
The high cost of surgeries and drugs may create a barrier to obesity management. Developing nations do not provide favorable reimbursement policies for weight management surgeries. As weight management is a long-duration process, medical payers are averse to providing reimbursements. This may act as a considerable restraint for the market.
Also, safety concerns about obesity management drugs are driving clinical trials, with only a few being launched into the market. Key drug formulations can lead to drug-induced cardiovascular diseases or cancer. These incidents can result in drug recalls.
For instance, the FDA has called for Eisai to pull its weight-loss drug Belviq from the market after clinical trials demonstrated an increased incidence of cancer in users.
What is the Impact of the COVID-19 Crisis on the Obesity Management Market?
The COVID-19 pandemic is expected to negatively impact the growth of the obesity management market, with a significant reduction in visits to the physicians' office and a subsequent slump in the number of prescription and obesity management drug purchases and surgeries during the crisis.
The nationwide programs for COVID-19 vaccine availability are expected to aid market recovery in the coming years. The slump is not expected to last too long as obese people are at higher risk of acquiring the SARS-COV2 virus.
There has been a high number of obese people admitted to the hospital. HCPs and other companies are developing strategies on telehealth platforms to continue consultations with obese patients.
Country-wise Insights
How are Obesity Management Market Players Faring in the U.S?
The U.S. dominates North America with a total market share of over 63.0% in 2021 and is projected to continue with a high growth rate throughout the forecast period. Obesity in the the country is a major health issue resulting in numerous diseases.
The National Center for Health Statistics at the CDC stated that 42.4% of U.S. adults were obese as of 2017-2018. According to CDC, the obesity rate in the U.S. has reached 20%, which increased from 15% in a decade. Also, reimbursement policies in the U.S are upgraded for bariatric surgery to attract more patients choosing surgery for weight management. Moreover, key players in North America are focusing on expansion of business for developing obesity management drugs.
What are the Key Factors Enabling Growth in Germany?
Germany leads the Europe obesity management market with a share of 17.6% in 2021. According to the Robert Koch Institute, 67% adults in Germany are overweight. Germany has a prominent cholesterol and type 1 diabetes problem.
The German federal government is imposing policies to control the growing obese population. Also, there has been an increase in the number of anti-obesity clinics in the country. These factors will support the growth of obesity management in the country.
How Lucrative is the Russia Market for Obesity Management?
Russia holds a significant lucrative position in Europe, with a market value of US$ 36.6 Mn in 2021. The number of Russians diagnosed as obese has increased by almost 50% since 2014. According to the WHO, more than 60% of Russia's population is overweight, 20% of whom are obese.
The Russian Health Ministry is continually striving to develop strategies to improve the overall health of the population. According to the World Factbook, Russia has a prevalence of adult obesity of 23.1%.
What is the Scope of Growth for the Obesity Management Market in China?
The market for obesity management in china is exhibiting a CAGR of 4.3% and is expected to account for more than 42% of the East Asia market throughout the projection period. National survey data suggests that more than half of all Chinese adults are now overweight or obese.
The country's rapid economic growth in recent decades has led to major changes in lifestyle, diet, and exercise habits. In 2020, the National Health Commission report found that more than 50% of adults are classified as overweight, of whom 16.4% are obese.
What is the Scope of Growth of Obesity Management in India?
India dominates the South Asia market with a market share of 60.9% and is projected to grow at a CAGR of 4.8%. Rising expenditure on healthcare is expected to boost the market in the country.
The prevalence of obesity among adults is expected to triple between 2010 and 2040, and by 2040, an estimated 30% of the population is likely to be overweight. Increasing consumption of energy-dense food, sedentary lifestyle, lack of health care services and financial support are leading to growth in the obese population in the country.
According to the ICMR-INDIAN study of 2015, the prevalence of obesity and central obesity varies from 11.8% to 31.3% and 16.9%-36.3% respectively.
Category-wise Insights
How Does Liraglutide Contribute to Revenue Generation?
Liraglutide accounted for the largest market share of 32.4% in the year 2021. Liraglutide is a glucagon-like peptide 1 (GLP-1) receptor agonist, which has a protracted pharmacokinetic profile while maintaining its biological activity.
These products induce weight loss by reducing appetite and energy intake. Also, GLP-1 receptor agonists can cause significant weight loss in a short period, which will drive growth through the upcoming decade.
Why is Gastric Sleeve Surgery Reflecting Higher Demand in Obesity Management?
Gastric sleeve surgery will continue to dominate the market during the forecast period and is expected to hold around 43.5% of the market share through the end of 2031. Gastric sleeve surgery very convenient and safe with superior patient outcomes.
Hormonal changes are induced in this procedure to help weight loss. These hormones not only reduce weight, but also help in relieving high BP and heart disease related to weight issues. It is the simplest procedure and has a shorter surgery time.
What is the Scope of Sales Through Hospital Pharmacies?
Hospital pharmacies account for more than 50.0% of the global distribution channel in 2021. Higher footfall in hospitals for anti-obesity consultations contributes to a high share of of market revenue.
Competitive Landscape
Manufacturers in the obesity management market are primarily aiming to carry out strategic collaborations in addition to investments into research and developement to consolidate growth in the market.
For Instance, In January 2018, H2-Pharma announced a partnership with Cheplapharm Arzneimittel GmbH and re-launched XENICAL® 120 mg capsules via its newly formed branded division.
In Feb 2020, VIVUS, Inc. announced that its Korean marketing partner, Alvogen, has launched Qsymia in the Republic of Korea.
In June 2021, Novo Nordisk received FDA approval for Wegovy semaglutide injection for chronic weight management in adults with at least one weight-related condition.
Scope of the Report
Attribute

Details

Forecast Period

2021-2031

Historical Data Available for

2016-2020

Market Analysis

USD Million for Value

Key Regions Covered

North America, Latin America, Europe, East Asia, South Asia, Oceania Middle East & Africa

Key Countries Covered

US, Canada, Germany, U.K., France, Italy, Spain, Poland, Russia, Nordic, China, Japan, South Korea, India, Thailand, Malaysia, Indonesia, Australia, New Zealand, GCC Countries, South Africa

Key Segments Covered

Technology, Dosage Form, Distribution Channel, and Region

Key Companies Profiled

GlaxoSmithKline Plc.
VIVUS, Inc.
Novo Nordisk A/S
Currax Pharmaceuticals LLC
Cheplapharm Arzneimittel GmbH
Bausch Health Companies Inc.
Takeda Pharmaceuticals, Inc.

Report Coverage

Market Forecast, Competition Intelligence, DROT Analysis, Market Dynamics and Challenges, Strategic Growth Initiatives

Customization & Pricing

Available upon Request
World's Most Profilic Intelligence Engine
Get Access To The World's Largest Market Research Database.
Sign Up Now
Obesity Management Market by Category
By Drug Type:
Bupropion and Naltrexone
Orlistat
Lorcaserin
Phentermine and Topiramate
Liraglutide
By Surgery Type:
Gastric Bypass Surgery
Adjustable Gastric Banding Surgery
Gastric Sleeve Surgery
Duodenal Switch Surgery
Others
By Distribution Channel:
Hospitals Pharmacies
Retail Pharmacies
E-commerce
Region:
North America
Latin America
Europe
East Asia
South Asia
Oceania
Middle East and Africa (MEA)
Key Questions Answered in the Report
How much is the obesity management market worth?
In the year 2021, the global obesity management market will reach US$ 788.6 Mn.
What will be the demand outlook of obesity management?
According to FMI analysis the obesity management market will surpass US$ 1.2 Bn in 2031.
What was the last 5 year CAGR for the obesity management market?
Between 2016 and 2020, the obesity management market grew at a CAGR of 4.10%.
What is the share of top 5 players in the obesity management market?
GlaxoSmithKline Plc., VIVUS, Inc., Novo Nordisk A/S, Currax Pharmaceuticals LLC, and Cheplapharm Arzneimittel GmbH account for 89.5% of the market.
What are the top 5 countries driving demand in the obesity management market?
The U.S., Australia, India, GCC countries, and Japan are leading countries driving demand for obesity management.
What is the North America obesity management market outlook?
North America will account for more than 32% of the global market in 2021, and is expected to hold 34.8% in 2031.
What is the value share of obesity management in Europe?
The Europe obesity management market is set to reach 31.8% by 2021 end.
Which countries are key producers of obesity management solutions?
The U.S., U.K., and Denmark are the leading countries producing obesity management solutions.
Which companies are the key exporters of obesity management products?
GlaxoSmithKline Plc, VIVUS, Inc., and Novo Nordisk A/S are key exporters of obesity management products.
What is the key obesity management market statistics in South Korea and Japan?
In 2021, South Korea and Japan account for 0.9% and 5.7% of the global obesity management market.
Need specific information?
Our Clients