KEY GROWTH INFLUENCERS - ESTERS MARKET
Rising Demand for High-performance Lubricants from Industrial Sector
Oil, automotive and industrial lubricants are few of the most prominent elements of this rapidly transforming industrial world. Prompt growth of industrialization, supported by economic growth in developing countries, has led to an up surge in manufacturing activities. Advancements in technology such as introduction of automation and increased adoption of modern age machinery such as Industry 4.0, are driving the demand for high-performance lubricants.
The demand for industrial lubricants, which account for over one-fourth of the total lubricants consumed across the globe, is estimated to witness a steady growth in the coming decade. This growth for industrial lubricants is expected to contribute to the consumption of esters as base stocks, hence driving growth in the global esters marketplace.
Availability of Wide Range of Ester-based Fluids with Multiple Properties Propelling Growth
Several types of ester-based fluids such as phosphate esters and silicate esters are widely used as lubricants, hydraulic fluids, and lubricant additives. Phosphate esters are used in fire retardant lubricants for industrial and multi fuel gas turbines & equipment, foundries, and steel mills hydraulic fluids. They are also preferred due to their high resistance to compression in hydro-electric servo systems.
Silicate esters offer excellent low-temperature properties. Silicate esters are being extensively used for low-temperature refrigeration compressor lubrication. Hence, the demand for esters is anticipated to remain strong, owing to their efficient applications in numerous end-use industries along with the limited presence of alternative products in the market.
Stringent Environmental Regulations Associated with Consumption of Esters
Regulations play a significant role in the manufacturing of chemicals and have a direct impact on the esters marketplace as well. Usage of esters in lubricants and food ingredients is highly monitored. It is known that lubricants decompose under heat. That apart, disposal of lubricants with waste water is not easy. Oil- and water-based lubricants pose environmental hazards.
Both kinds of lubricants release harmful VOCs and particulate matter such as ash into the atmosphere, which may sometimes react with other particulate matter to form poisonous or polluting substances. As a result, manufactures and users of lubricants must make and use products compatible with local regulations and pollution prevention priorities.
The U.S. EPA (Environmental Protection Agency) and other environmental agencies have listed regulations pertaining to the use of lubricants and lubricant additives. Since base stocks contain almost over 90% of lubricant content, such regulations on lubricants directly impact the esters market. Also, certain environmental policies limit the use of specific esters in food applications depending upon their toxicology results.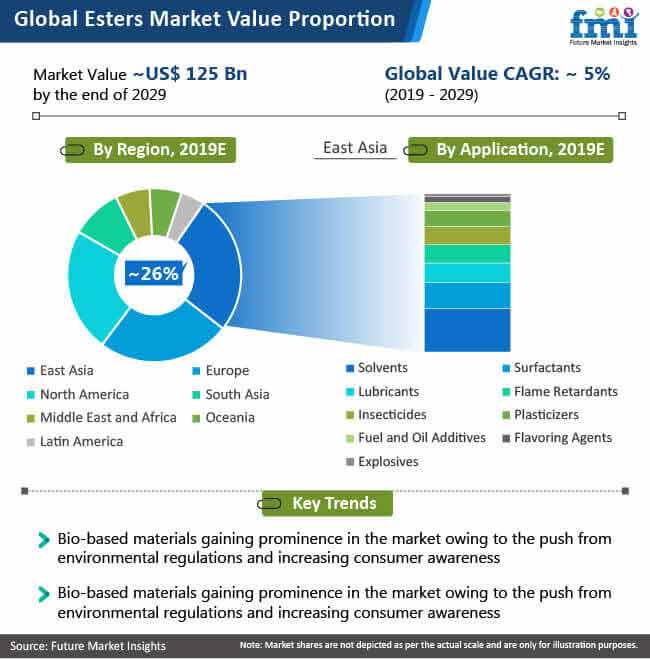 Esters Market Structure Analysis
The global esters market is largely fragmented with the presence of numerous large-, small- and medium-scale enterprises. A significant number of key players maintain their strategic focus on the development of solid distribution partnerships, joint ventures, and a firmer global footprint.
One of the key points noted in the esters market is that manufacturers are reorganizing their businesses with a view to lay significant emphasis on certain business areas and establish leadership in the same.
Furthermore, to achieve a stronger and firmer foothold in target regions and specific segments, global ester manufacturers rely strongly on inorganic strategies for developmental growth such as mergers and acquisitions with other players involved in the same business.

For instance, INEOS acquired Ashland Global Holdings' composites business division for nearly ~US$ 1 Bn. The former company gains access to a vast product line of vinyl esters with this acquisition.

Expansion into high growth regions is another strategy adopted by key market players.
Esters Market: Segmentation
Product
Dibasic Esters
Polyol Esters
Methyl Esters
Nitrate Esters
Vinyl Esters
Phosphate Esters
Acrylic Esters
Sucrose Esters
Fatty Acid Esters
Application
Lubricants

Automotive Lubricants
Aviation Lubricants
Industrial Lubricants
Marine Lubricants
Food-grade Lubricants

Solvents
Plasticizers
Fuel and Oil Additives
Flame Retardants
Insecticides
Explosives
Surfactants
Flavoring Agents
End-Use Industry
Chemicals

Plastic and Polymers
Soaps and Detergents
Explosive
Paints and Coatings
Agrochemicals and Domestic Hygiene Products
Pharmaceutical
Industrial Chemicals

Food
Automotive and Aviation
Marine
Textiles
Cosmetics and Personal Care Products
General Manufacturing
Region
North America
Latin America
Europe
South Asia
East Asia
Oceania
Middle East and Africa
Need specific information?
Talk Show:
The Rise of Intelligent Packaging
Personalized, Connected and Sustainable
November 18, 2021
11:00-11:45 AM PST (USA & Canada)
This is a LIVE session