An Incisive, In-depth Analysis on the Europe Garbage Bag Market
This study offers a comprehensive, 360 degree analysis on the Europe Garbage Bag market, bringing to fore insights that can help stakeholders identify the opportunities as well as challenges. It tracks the global Europe Garbage Bag market across key regions, and offers in-depth commentary and accurate quantitative insights. The study also includes incisive competitive landscape analysis, and provides key recommendations to market players on winning imperatives and successful strategies.
High-Density Polyethylene (HDPE) material type segment is expected to register highest CAGR in the Europe garbage bag market over the forecasted period
High-performance characteristics and excellent tensile strength are anticipated to increase the market share of HDPE garbage bags. This segment accounted for a revenue share of close to 30% in the garbage bag market in Europe in 2016 and is likely to gain more than 100 basis points by 2026. Revenue contribution of the HDPE segment is projected to register a CAGR of 5.5% during the forecast period. The HDPE segment is a relatively cost-effective option and therefore likely to experience a rapid Y-o-Y growth rate during the forecast period. Its cost-effectiveness and ability to hold a significant weight is anticipated to propel the market for HDPE garbage bags over the period of assessment. HDPE garbage bags are relatively inexpensive and can hold considerable weight compared to other material types. The segment is projected to expand 1.7x during the forecast period. By value, the segment is likely to create an incremental opportunity of more than US$ 300 Mn between 2016 and 2026.
The biodegradable quality of HDPE garbage bags is likely to drive its demand across the European region
The waste management policies in Europe aim to reduce the environmental and health impacts of waste and improve the region's resource efficiency. The policy also strives to enhance the use of oxo-biodegradable or oxo biodegradable bags, to collect waste generated in households, industries, and institutions. This is expected to fuel the demand for HDPE garbage bags over the forecast period. Disposable income and purchasing power of consumers is leading to increasing demand for convenient and cost-effective garbage bags for collecting waste. These macroeconomic factors are anticipated to positively impact the demand for HDPE garbage bags in Europe. Furthermore, improvement in Europe's economic performance and the rising standards of living of the middle income population group is expected to strengthen the sale of HDPE garbage bags.
Biodegradable plastic garbage bags such as HDPE bags are made up of domestic biomass materials, which reduce dependency on oil and provide a domestic solution to plastic resin or film manufacturers. They are also easier to recycle and can be used more frequently. Moreover, with the mounting pressure of consumers and legislators to address the environmental issues caused by harmful garbage bags, the demand for HDPE garbage bags is anticipated to grow significantly over the assessed period. Demand for premium garbage bags is likely to gain traction particularly in the advanced economies of Germany and the U.K. Two major trends fuelling their sales are their stretchable strength and odour control nature. Consumers are willing to pay a premium for these features. This particular factor is creating robust development in the HDPE garbage bag segment.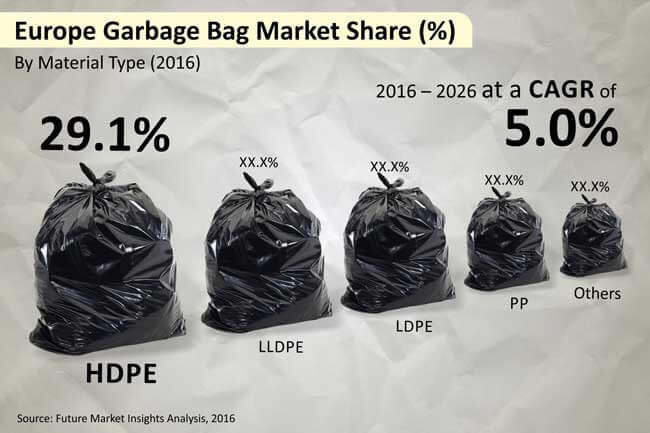 Increasing taxation and stringent government policies pertaining to the ban of HDPE plastic bags is anticipated to hinder its growth during the projected period
The government of Europe is actively imposing regulations in order to restrict sales of lightweight bags, with various countries such as France and Italy enforcing a complete ban on single-use HDPE plastic bags. These bans on plastic bags can help mitigate harmful impacts on the environment particularly oceans, rivers, lakes, and the wildlife inhabiting them. This is one of the major restraints faced by HDPE plastic garbage bags, which is influencing manufacturers to shift to the production of eco-friendly and green plastic garbage bags. Governments across Europe are increasing taxation and imposing extra charges on the use of plastic garbage bags. Customers at large retail outlets and convenience stores are charged extra for plastic garbage bags. Such initiatives play a major role in reducing consumption of HDPE garbage bags and compel manufacturers to shift production towards more eco-friendly and biodegradable garbage bags.
After examining the Europe garbage bag market in detail, the analysts of Future Market Insights have published the key findings in a new report titled "Garbage Bag Market: Europe Industry Analysis & Opportunity Assessment, 2016-2026," for a forecasted period of 10 years. This report provides a comprehensive forecast and analysis of the Europe garbage bag market. It provides historical data of 2015 along with forecast from 2016 to 2026 in terms of revenue (US$ Mn) and volume ('000 MT). The report also includes macroeconomic indicators along with an outlook on consumption patterns in Europe. It includes drivers and restraints of the Europe garbage bag market and their impact on each country over the projected period. The report also comprises a study of current issues with end users and opportunities for garbage bag manufacturers. It also includes detailed pricing analysis by material type and value chain analysis.
In order to provide users of this report with a comprehensive view of the Europe garbage bag market, we have included a detailed competitiveness analysis and information on key market players with unique selling propositions. The dashboard provides a detailed comparison of garbage bag manufacturers by parameters such as operating margin, unique selling proposition, collective market share, and geographic concentration. The study encompasses market attractiveness analysis by material type, end user, size and country.
We have considered country-wise demand patterns while estimating the market for various end users in the Europe garbage bag market
Market numbers have been estimated based on average consumption and weighted average pricing of garbage bag by material type and the revenue is derived through country-wise pricing trends. Market size and forecast for each segment has been provided in the context of the European region and individual country markets. The Europe garbage bag market has been analysed based on expected demand. Prices considered for the calculation of revenue are average country prices obtained through primary quotes from numerous regional garbage bag manufacturers, suppliers, and distributors. All key end users have been considered and potential applications have been estimated on the basis of secondary sources and feedback from primary respondents. Country-wise demand patterns have been considered while estimating the market for various end users of garbage bags in different countries in Europe. Top-down approach has been used to estimate the Europe garbage bag market by country. Market numbers for the different segments based on material type, end user and size have been derived using the bottom-up approach, which is cumulative of individual country numbers. The company-level market share has been derived on the basis of revenues reported by key manufacturers. The market has been forecast based on constant currency rates. A number of primary and secondary sources have been consulted during the course of the study.
The market has been segmented as under:
By Material

By End User

By Size

By Country

Low-density polyethylene (LDPE)

Liner low-density polyethylene (LLDPE)

High-density polyethylene (HDPE)

Polypropylene (PP)

Others

Retail & Consumer

Institutional

Industrial

7-16 gallons

20-30 gallons

32-35 gallons

40-48 gallons

+55 gallons

Germany

France

Italy

Spain

U.K.

BENELUX

Russia
Our unique research methodology
The forecast presented in this report on the Europe garbage bag market assesses the total revenue by value across the market. In order to offer an accurate forecast, we have started by sizing the current market, which forms the basis of how the Europe garbage bag market will develop in the future. Given the volatile characteristics of the market, our expert analysts have triangulated the outcome of different types of analyses based on adoption trends. In addition, it is imperative to note that given the ever-fluctuating nature of the European economy, we not only conduct forecasts in terms of CAGR but also analyse the market on the basis of key parameters such as year-on-year (Y-o-Y) growth to understand the predictability of the market and to identify the right opportunities across the market. The other key feature of our report is the analysis of all key market segments in terms of absolute dollar opportunity. This is traditionally overlooked while forecasting the market. However, absolute dollar opportunity is critical in assessing the level of opportunity that a provider can look to achieve, as well as to identify potential resources from a sales and delivery perspective in the Europe garbage bag market.
COVID -19 : Impact Analysis
Request the coronavirus impact analysis across industries and markets
Request Covid -19 Impact
CASE STUDIES
See how our work makes an impact.
At FMI, we design strategies that are adaptive, impactful, and implementable.