Paper Bags Market - Key Research Findings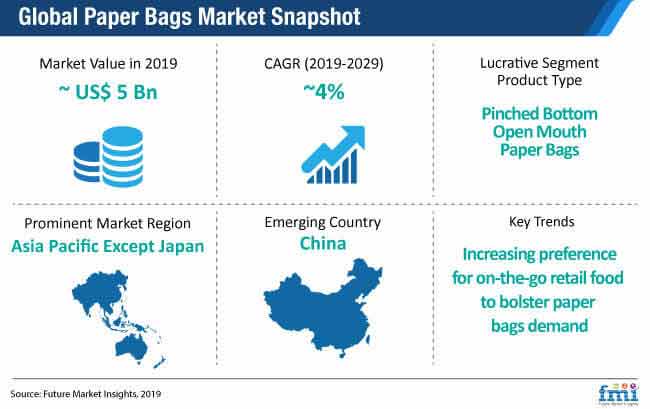 The global paper bags market size is estimated to reach ~US$ 5 Bn in 2019.
The paper bags market is expected to grow at a CAGR of ~4% during the forecast period of 2019-2029.
Rapidly increasing number of shopping malls, super markets, and developed retail sector have been significantly fuelling the demand for paper bags across the world.
Asia Pacific Excluding Japan is likely to offer greater opportunities for paper bags market players during the forecast period.

Owing to increased retail industries coupled with increasing preference for eco-friendly and biodegradable packaging among consumers, the paper bags market is exponentially growing in the region.

As per FMI analysis, pinched bottom, open mouth paper bags remain the most preferred among consumers as compared to other types of paper bags,

The pinched bottom, open mouth paper bag's flap closure helps control infestation, and it has been the top-selling factor of the product.
Key Factors Shaping the Paper bags Market
Continuous Growth in the Demand from Retail Sector Expected To Bolster Paper Bag Sales

The global paper bags market is poised to face heavy demand from the retail sector, which accounts for more than half of the total sales. The retail sector has been showing strong performance in most of the regions, barring Latin America and Eastern Europe. Both these regions are yet to come out of the clutches of the economic slowdown, with the recovery process gradually picking up pace.

In the MEA region, a significant share of the demand for paper bags is expected to be from the building and construction industry. Most of the region has been involved in war, which has been dragging along for over a decade, and has resulted in a state of political stalemate. As peace is restored in the region, foreign firms are expected to come in and facilitate the international efforts to rebuild the war-torn nations.

Moreover, many countries have come forward and shown keenness for the same, which in turn, is likely to create significant demand for paper bags, particularly to carry cement and other construction materials.

Strong Consumer Preference for Biodegradable Packaging to Create High Sales Opportunities

With increasing awareness about health issues and negative impact of alternate packaging solutions, end users are having more demand for paper bags. As per the survey done by European Commission in 2017-18, 70% of consumers voted in favour of banning single-use and non-decomposable bags in the supermarket. Almost 79% consumers are opting for paper bags, as they are pleasant to handle and touch. 80% consumers prefer grocery bags that are biodegradable in nature. Hence the key players are adopting recent technologies which helps to boost quality and strength of the paper bags as per the requirement of consumers.

Emphasis on Eco-Friendly Products to Promote Paper Bags Market Growth

In order to reduce the impact of global warming, climatic change, and environmental pollution, many governments are emphasizing the use of eco-friendly and easily recyclable packaging solutions, thereby potentially raising the demand for paper bags. For instance,

In 2015, The European Parliament passed a Directive 94/62/EC for the consumption of plastic bags. Due to this many retailers switched from plastic bags to paper bags.
As per BBC news, the health and beauty chain, The Boots Company PLC has started replacing plastic bags with brown kraft paper bags in 2,458 store outlets at a reasonable price from June 2019. The company is aiming to replace 900 tonnes of plastic by recycled brown kraft paper bags printed with water based ink.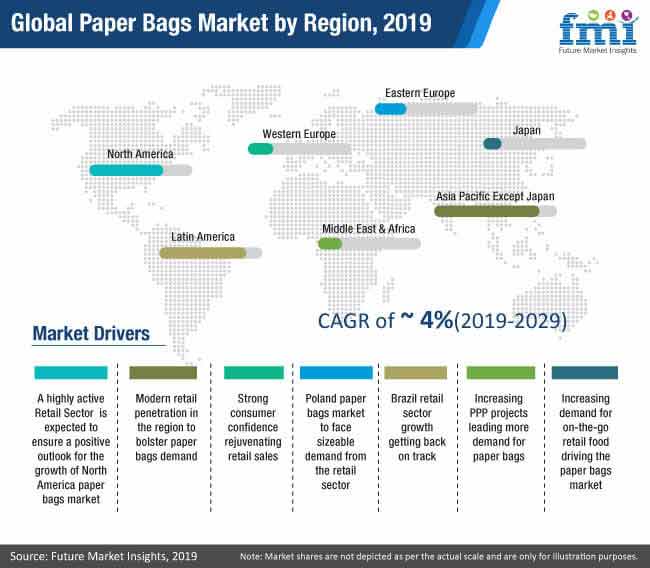 Expansion and Acquisitions are the Key Strategies Adopted by the Leading Players
In the global market report for paper bags, the competition landscape is discussed. Key players profiled in the paper bags market are The Mondi Group plc, Smurfit Kappa Group, El Dorado Packaging, Inc, International Paper Company, United Bags, Inc., Welton Bibby And Baron Limited, Global-Pak, Inc, Paperbags Limited, Novolex Holdings, Inc., York Paper Company Limited, JohnPac Inc., and other companies. These key players are strategically aiming for maximum revenue generation by following mergers and acquisitions, partnerships, product innovations, and technological advancement. For instance,
Novolex Holdings Inc. acquired Waddington Group for enhancing its packaging portfolio in May 2018. The company is continuously expanding its product portfolio by acquiring specific product-centric ventures.
The Mondi Group Plc. is planning to achieve both, organic and inorganic growth by means of acquisitions and expansion of production capacity throughout Europe, which is exemplified by the company's acquisition of Excelsior Technologies for £33 million euros in 2017.
Increasing Deforestation Might Restrain the Growth of Paper Bags Market
Although paper bags are known to be much more environment-friendly as compared to plastic, many questions have been raised regarding the justification of using disposable paper bags. Many people use paper bags at least twice before throwing them away.
To experts, cutting down of millions of trees in exchange for a few minutes of paper bags usage amounts to reckless use of available resources. As per estimates, nearly 14 million trees are cut down in the U.S. to cater to the demand for nearly 10 billion paper bags.
Also, in the U.S., nearly 80% of the paper bags end up in landfills, where they do not degrade for decades. In addition, the recycling process of paper bags is not a cakewalk. These factors, to some extent, will deter the growth of the market.
Paper Bags Market: Taxonomy
By Product
Sewn Open Mouth
Pinched Bottom Open Mouth
Pasted Valve
Pasted Open Mouth
Flat Bottom
By Material
By Thickness
By Region
North America
Asia Pacific Excluding Japan
Western Europe
Eastern Europe
Latin America
Middle East and Africa
Japan
By Thickness
Agriculture and Allied Industries
Building and Construction
Food and Beverages
Retail
Chemicals
Others
Need specific information?