Paper Edge Protectors Market Outlook & Key Findings
Paper edge protectors market is projected to reach over US$ 4 Bn by 2030
Consistent demand for paper edge protectors across the world attributable to strapping protection, uniform load distribution, and stabilization properties
Paper edge protectors market to expand at CAGR of 4.5 % during the forecast period 2020-2030
East Asia anticipated to dominate the global paper edge protectors market to reach a market value share of over 32% by the end of 2030
Rising prominence of e-commerce platforms coupled with the need for protective packaging to offer lucrative opportunities to the manufacturers of paper edge protectors
Geographical Expansion Shapes Competitive Landscape
Expansion of geographical footprint has been identified as the key growth strategy adopted by market players to gain edge amid cutthroat competition. Several market players are focusing on acquiring organizations in the Europe to achieve the same. On these lines,
Kunert Peiting GmbH & Co KG, recently announced plans of expanding the production capacity of its Peiting plant in Germany. Additionally, the company is focusing on installing state of the art technologies in its production line of paper edge protectors.
The latest technologies are expected to bolster in increasing the production volume and subsequently strengthen its foothold in the competition of global paper edge protectors market.
Along similar lines, VpK Packaging Group completed acquisition of Finland-based Corenso, a leading paper edge protector manufacturer. The move is expected to aid the organization to penetrate the paper edge protector market in Europe and China.
Latching onto the sustainable energy trend, which has been identified as a key growth influencer, Smurfit Kappa Group PLC.,, in May 2020, announced a 32.9% reduction in fossil CO2 emission intensity between 2005 and 2019, and plans to reduce relative CO2 emissions by 40% by 2030. The move is also expected to aid in reducing operations expenses.
In a similar vein, the organization launched a new line of sustainable packaging solutions for banana producers, that aid in maintaining the quality of the fruit at high temperatures of prolonged periods of storage of transportation, and plans to subsequently deploy edge cutters.
Booming E-commerce Industry to Drive Demand for Paper Edge Protectors
Demand for packaging in e-commerce for safe transit is anticipated to grow as purchasing power improves. Lightweight and rightsized solutions used to protect products while shipping them across different geographical regions are likely to augment the demand for paper edge protectors.
Growth of e-commerce will go up due to the convenience offered by online sellers, rising income levels, and advent in technology in the form of smartphones, and improved access to internet.
Countries such as India and China are the largest e-commerce markets in the world and therefore have a significant impact on the growth of the paper edge protectors market. To deliver products safely and in the right conditions, manufacturers and online delivery companies are focusing on protective packaging.
Thus, e-commerce market is projected to offer significant opportunities for the growth of paper edge protectors market.
Adoption of Paper Edge Protectors for Cube Optimization
Cube optimization, commonly referred to as 'right-sizing', maximizes the product-to-package ratio, resulting in the less usage of packaging material. Increasing sales via e-commerce have created a new challenge in the packaging of goods, as they have to travel longer distances through different modes of transport.
At the same time, courier, express, and parcel (CEP) services need to find the most efficient method for distributing packages. So when it comes to shipping, every cubic inch of space becomes increasingly valuable.
Therefore, the paper edge protectors market has a huge opportunity to customize packaging solutions according to respective products.
This not only reduces the cost in terms of packaging material but also in terms of shipping as shipping costs depend on the size and not the product. In addition to this, cube optimization helps the environment as less raw material gets used.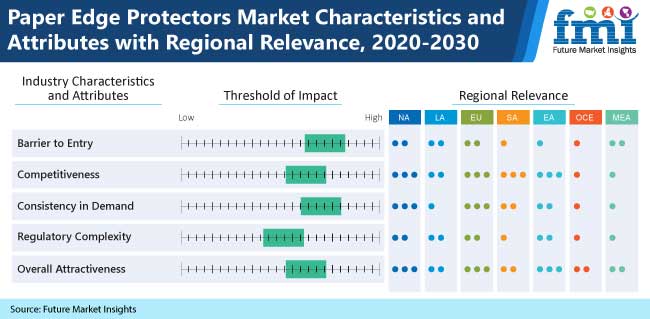 Future Market Insights analyzed that South and East Asia will generate notable demand for angular as well as circular paper edge protectors, as a barrier to entry is relatively less in the regions. Exponential growth opportunities are expected in these regions due to easy availability of raw material and labor.
Furthermore, less startup cost and production expenses are expected to attract manufacturers to reinforce their market position in these regions. The market will find ample of opportunities with intensive manufacturing in sectors such as food and beverage and construction in these regions.
Oceania and Middle East & Africa have less number of key players in the paper edge protectors market. Therefore, lenient market competition is witnessed in the past three years.
As paper edge protectors create a cushioning effect against impact, its demand is consistently increasing in the North America and Europe markets. However, due to increasing deforestation, some of the end users in North America are opting for alternate packaging solutions over paper edge protectors.
Regulatory complexity is anticipated to remain moderate or less in all regions, as this product is made up of 80% post-consumer material and 20% pre-consumer material. Therefore, it is completely recyclable and has a lesser carbon footprint.
Attributing to several benefits of paper edge protectors such as packaging profile protection from deformation caused by cargo straps, reducing the overall weight of the packaging, and scratch prevention through abrasion coating and lamination, the overall attractiveness of the market is expected to remain high during the forecast period.
Sustainability and Cost Reduction to Shape Developments in Paper Edge Protectors Market
Edge protectors, are designed to provide maximum protection to the palletized goods from damage especially during loading and unloading process. Therefore, key players are aiming at material innovations to provide a good aesthetic presentation for branding and promotions.
FMI analyzed that the demand for waterproof coatings-based paper edge protectors has increased. This gives users a wider scope for enhancing brand visibility. Besides this, manufactures are focused on the economic viability of this product.
Paper edge protectors are reusable, recyclable, and made up of low-grade thick sheets. Therefore, it is considered as an economical solution for replacing wooden, plastic, and metal edge protectors.
With the growing demand for less cost involved protective packaging alternatives, sales of paper edge protectors are expected to increase in the near future.
Increased Cold Storage & Shipping to Spur Demand for Paper Edge Protectors
Paper edge protector manufacturers are expected to gain substantial growth opportunities with the expansion of food and beverage packaging market. Advanced materials used for paper edge protectors make the product highly moisture resistant, increasing its demand for cold storage of food and beverage products.
Moisture-proof paper edge protectors have good barrier strength against significant changes in temperature or high-level moisture in refrigerators, which has made it the first choice for food and beverage manufacturers.
Manufacturers are pushing to meet the demand for exclusive paper edge protectors through customizations and good printing quality, intending to grab more attention of the customers. Owing to above-mentioned benefits and growth of the food and beverage industry is likely to have a prominent impact on the market during the forecast period.
Increased Adoption of Eco-friendly Packaging Anticipated to Boost Paper Edge Protectors Market
Paper edge protectors are made from renewable resources such as kraft paper, which makes it a simple process to recycle them and renew them with minimum impact on the environment.
Customer awareness regarding the environment and the hazards of plastic on the environment are likely to increase the demand for paper edge protectors. Paper edge protectors are a viable alternative for other protective packaging formats and have high efficiency, attributes that are making a strong case for the market vendors.
This will fulfil the sustainability needs and also create build a strong brand value amongst the customers as prioritizing environmental concerns becomes the need of the hour.
Rapid Spread of COVID-19 to Slowdown Paper Edge Protectors Market Growth in the Near Term
During COVID-19 pandemic, transport industry witnessed numerous challenges till mid of the year 2020. Due to restricted road transportation, manufacturers are facing scarcity of the raw materials and labor. This resulted in disruption in production across the world and directly impacted sales of the paper edge protectors.
Europe and North America are the mature markets and significant consumption of paper edge protectors was recorded in the year 2019. However, in 2020, sales of paper edge protectors in these regions has been less compared to sales in 2019.
Despite fluctuations in the sales, paper edge protectors are expected to gain attention for secured and damage-free transit of food, beverages, medicines and other life-essential products, amid COVID-19.
The market is most likely to recover post-COVID-19 phase, as some of the countries such as China, the United States of America, and India are resuming their manufacturing activities.
Governments of various countries are taking initiatives for reforming regulations and strategically planning for quick recovery from the losses. This will lead to significant momentum in the production and sales of the paper edge protectors by 2021.
Paper Edge Protectors Market: Regional Analysis
Regionally, Europe has emerged as the most lucrative market for paper edge protectors due to the presence of the key players, which has resulted in the maximum production of edge protectors.
Furthermore, as per European Paper Recycling Council, the paper recycling rate is increased up to 72% in 2019, which has a significant impact on the consumption of recycled paperboard edge protectors.
A gradual shift from plastic edge protectors to paper edge protectors is anticipated, as paper edge protectors are made up of completely recyclable material, which complies with European association's demand to reduce use of plastic material.
East Asia paper edge protectors market is expected to witness consistent growth in the forecast period 2020 to 2030, owing to rising demand from the manufacturing industries such as food and beverage and building and construction among others.
Expansion of manufacturing industries, which is propelling growth in industrial production especially in China and Japan is also expected to indirectly contribute to market growth. Therefore, the global market of paper edge protectors is anticipated to witness a robust expansion in the next decade.
Following to this, North America is expected to account for nearly 1/5th market share in the global paper edge protectors market by 2030 year-end. The market is expected to decline slightly by 20 bps till 2021 amid COVID-19 crisis.
To recover from these losses, North America regulating authorities and manufacturers are planning for a gradual increase in the production of protective packaging solution formats, which will also help to boost paper edge protectors market growth.
Paper Edge Protectors: Competition Landscape
The paper edge protectors market seems to be highly fragmented as many regional and organized players are expected to contribute to the market. Therefore, this market is anticipated to be highly competitive.
Key players are focusing on providing tailored solutions as per the need of consumers. The manufacturers are also emphasizing on optimizing production of paper edge protector volume, diversifying their product portfolio, and increasing their customer reach through acquisitions.
For instance,
In 2019, Kunert Peiting GmbH & Co KG, subsidiary of Kunert Group expanded production capabilities of Germany-based plant. Additional production line is installed for the production of angular edge protectors made up of board.
In 2019, VPK Packaging Group acquired the Europe and China businesses of Corenso. Corenso is an international supplier of cardboard tubes, cores, and paper edge protectors.
Some of the key players operating in the paper edge protectors market are-
Smurfit Kappa Group PLC.
Packaging Corporation of America
Sonoco Products Company
Rengo Co., Ltd.
Pratt Industries, Inc.
VPK Packaging Group NV
Cascades Inc.
Napco National
Cordstrap B.V.
Signode Industrial Group (Crown Holdings)
Pactiv LLC, and many others
Paper Edge Protectors: The Way Forward
The paper edge protectors market is likely to have an upward trend in 2020 – 2030. The global market is expected to expand 1.6 times its current market value and is projected to record a peak Y-o-Y of 4.9% in 2026-2030.
Prominent industries such as warehousing, logistics and transport, and others are anticipated to continue demanding paper edge protectors to protect the palletized cartons and boxes from edges and corners damage.
Paper Edge Protectors Market Report: Scope
| | |
| --- | --- |
| Attribute | Details |
| Forecast Period | 2019-2029 |
| Historical Data Available for | 2014-2018 |
| Market Analysis | USD Million for value and tones for volume. |
| Key Regions Covered | North America, Latin America, Europe, East Asia, South Asia, Oceania, and Middle East & Africa. |
| Key Countries Covered | US, Canada, Brazil, Mexico, Argentina, Rest of Latin America, Germany, Italy, France, Spain, U.K., Russia, BENELUX, Rest of Europe, Rest of Western Europe, India, China, ASEAN, Rest of APEJ, Australia and New Zealand, Rest of South Africa & Pacific GCC Countries, Turkey, South Africa, and Rest of MEA |
| Key Segments Covered | Material type, Packaging type, Level of packaging, End-use, and Region |
| Key Companies Profiled | Smurfit Kappa Group PLC., Packaging Corporation of America, Sonoco Products Company, Rengo Co., Ltd., Pratt Industries, Inc., VPK Packaging Group NV, Cascades Inc., Napco National, Cordstrap B.V., Signode Industrial Group (Crown Holdings), and Pactiv LLC, among others |
| Report Coverage | Market Forecast, brand share analysis, competition intelligence, DROT analysis, Market Dynamics and Challenges, Strategic Growth Initiatives |
| Customization & Pricing | |
Key Segment
By Product Type
By Material Type
Solid Bleached Sulfate (SBS)
Coated Unbleached Kraft Paperboard
Recycled Paperboard
By End Use
Logistics & Transportation
Warehousing
Manufacturing
Food & Beverage
Building & Construction
Personal Care & Cosmetics
Pharmaceuticals
Electrical & Electronics
ChemicalsOthers (Homecare)
Region
North America
Latin America
Europe
South Asia
East Asia
Oceania
MEA
Need specific information?
Talk Show:
The Rise of Intelligent Packaging
Personalized, Connected and Sustainable
November 18, 2021
11:00-11:45 AM PST (USA & Canada)
This is a LIVE session