PAPER PALLET MARKET - KEY RESEARCH FINDINGS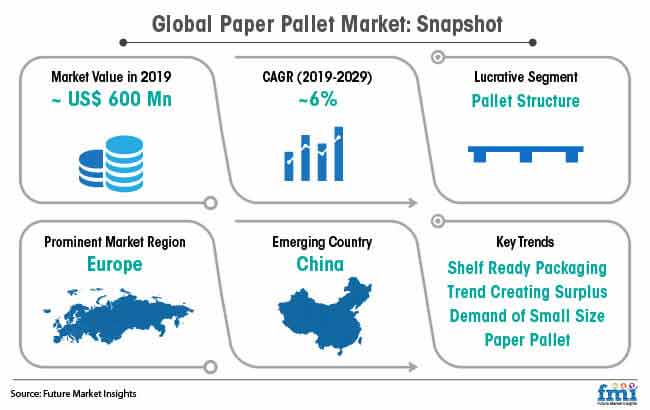 The global paper pallet market was valued at ~US$ 500 Mn in 2018.
The paper pallet market is expected to grow at a CAGR of ~6% during the forecast period of 2019-2029.
Paper pallet continues to gain traction worldwide, on account of being a safer and more hygienic transportation means that ensures extended shelf life of packaged products.
Paper pallet makes use of a lightweight material handling system that prominently boosts its demand.
Europe is the prominent regional market for paper pallet consumption.

Cost effectiveness and lightweight attributes of paper pallet continue to push its adoption across European markets
Rapid transition from alternate pallet options to paper pallet is majorly in line with the growing sanitation requirement.

Honeycomb paper pallet is witnessing increasing preference in the global paper pallet market.

Honeycomb paper pallet is being highly preferred among end users.
With changing market trends, hybrid paper pallet is likely to observe higher adoption rate in the near future.
KEY FACTORS SHAPING PAPER PALLET MARKET
Consistent Demand for Shelf-ready Paper Pallet in Supermarkets and Retail Stores
Paper pallet is available in various sizes in the market. Manufacturers have to design and maintain this product as per regulations of Grocery Manufacturers Association (GMA). Maximum preference for 48inch x 40inch paper pallet is witnessed in several end-use industries which provides safe and easy shifting of goods. On the other hand, the size of paper pallet is customized as per the requirement of end users.
Retail and supermarkets show major preference for small-sized paper pallet which is available in multiple shelf-ready formats. Particularly in electrical and electronics shops, gadgets such as mobile phones, tabs, and cables are displayed directly with the help of paper pallet. Paper pallets have also been in use for displaying confectionery and other food products.
Hybrid Paper Pallet to Enhance Load-carrying Capacity
The structure of pallet is one of the important factors defining the load bearing capacity. Paper pallet is available in honeycomb, corrugated, and hybrid structures. It is anticipated that market share contribution of honeycomb paper pallet is prominent as compared to the rest two counterparts. The corrugated paper pallet has good load sustaining potential. However, with the changing packaging and material handling trends, the market growth for hybrid paper pallet is expected to speed up at a promising pace by the end of 2029 owing to its bend and bow resistant attributes against high loads.
Growing Emphasis on Sustainable Composite Materials
To reduce the environmental impact, several end-use industries are shifting towards paper pallet for material management and safe transportation of goods. Many government bodies emphasize the use of eco-friendly and easily recyclable handling systems.
As per the International Standards for Phytosanitary Measures 15 (ISPM -15) regulations, pallets must be chemically treated for reducing the fungal growth on them. In the absence of this process, several life hazardous bacteria and other contaminants might have evolved, especially in food and pharmaceutical products. The chemical treatment is mandatory in case of pallet pooling where same pallet is repeatedly used by different end users.
Wooden pallets have low shelf life due to high moisture absorbing tendency and risk of fungal growth. Additionally, European Union has stringent rules for plastic usage such as Directive 94/62/EC. End users are thus shifting towards paper pallets, which provide added advantage over these problems.
Cost Efficiency
Use of paper pallet allows for management of costs associated with material handling, inventory management, and recycling process. As it does not require any fasteners such as sharp nails, chances of accidents also reduce to a considerable extent. Apart from this, it is light weight and hence, the labour cost is also cut down. In addition, recycling of damaged paper pallet incurs less cost as compared to other alternatives.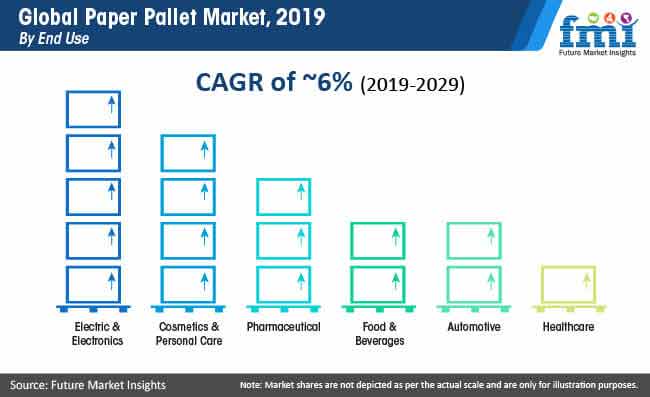 PAPER PALLET MARKET STRUCTURE ANALYSIS
Owing to the increasing demand of paper pallets, many new players are entering in paper pallet manufacturing and accounts for significant market share.
Paper pallet market leaders continue to capitalize on strong portfolios and solid footprint in regional markets.
Smaller companies are focusing on enhancing revenue shares in domestic markets.
FREQUENTLY ASKED QUESTIONS ABOUT THE PAPER PALLET MARKET:
Why would customers purchase paper pallets over wooden pallets?
While the choice of material in pallets mainly depends on the end application, customers' preference for lightweight and sustainable materials is driving demand for paper pallets.
Which geographical region will lead the paper pallet market?
Future Market Insights finds that Europe is the largest market for paper pallets. However, South and East Asian countries are expected to create lucrative opportunities for market players in the coming decade.
What are the most popular alternatives to paper pallets?
Wooden and plastic pallets are significantly high in demand. Despite being heavy in weight, wooden pallets are among the most preferred packaging materials in industries. Plastic, on the other hand, may face regulatory restriction vis-à-vis its applications in the pallets industry.
How much will the worth of paper pallets market be in the future?
Future Market Insights estimates that the global market for paper pallets will reach a valuation of US$ 800 million by 2025.
Paper Pallet Market Riding on USPs - Relative Cost and Sustainability
Over 90% of transported goods demand pallets and solid wood has been the default material choice. Plastic pallets are also a favored alternative; however, make a mere 2-3% of the pallet industry and will face regulatory restrictions in addition to challenges posed by high price point. A shift away from plastic usage and high costs involved in reshipping of used wooden pallets are some factors that are influencing end users to explore viability of paper pallets.
Besides, concerns of safety, hygiene, relative labor & cost intensive operation, and incompatibility with process automation that are gradually moving focus from conventional wooden pallets. Still a hazy spot as perceived by potential investors, paper pallet market is just about 1% of the entire pallet industry. The report intends to help market participants identify how the market trends will eventually translate into profitability.
Prospering Industrial Scene Hints Opportunity in Asian Markets
Developed regional markets account for more than half of the revenue, whereas the lucrative South Asia-East Asia-Oceania cluster represents over a fourth of the total market value. Europe will maintain lead in global paper pallet market, South and East Asian markets will gradually turn out to be the hotbeds of opportunities for investors. Proliferation of key end users, including consumer electronics, cosmetics & personal care products, food & beverages, and pharmaceutical industries will account for the ascending market attractiveness of Asia.
Shift Away from Plastic Signals Green for Paper Pallets
While the industry is witnessing a gradual yet substantial transformational change, growing prominence of paper-based packaging and transportation solutions such as paper pallets will mark an important milestone. Intensifying focus on greener alternatives is driving a new wave of innovation in pallet industry.
Recently, Smurfit Kappa showcased a concept in collaboration with Scania, which involves complete replacement of the expanded polystyrene (EPS) interior and wooden pallet with honeycomb pallets. Companies are realizing the significance of embracing paper pallets for perdurable benefit in market, which is engendering competition in the paper pallet space.
How Growth will Unfold
Manufacturing companies are heavily investing in automation of materials handling processes, palletization & de-palletization machinery, and storage & warehousing equipment. Pallet compatibility to aid with automation has been their top-of-mind concern. While most innovations are centered around customizable corrugated pallets, honeycomb pallets remain highly lucrative when it comes to responding to the industry's shift to automation.
Solid and durable, honeycomb pallets continue to gather maximum traction owing to their vermin-free and cost efficient attributes. They further curtail export and import hassles by relaxing associated regulatory restrictions. With improving standards of operations in goods transportation sector, honeycomb pallets will remain at the forefront in global market.
PAPER PALLET MARKET TAXONOMY
The global paper pallet market is segmented in detail to cover every aspect of the market and present complete market intelligence to readers.
Size
42 inch x 42 inch
44 inch x 44 inch
48 inch x 40 inch
48 inch x 45 inch
Product
Pallet Structure
Honeycomb
Corrugated
Hybrid
End-use
Food & Beverages
Pharmaceutical
Cosmetics & Personal Care
Electric and Electronics
Healthcare
Automotive
Region
North America
Latin America
Europe
South Asia
East Asia
Oceania
Middle East and Africa
Need specific information?