Introduction
Future Market Insights delivers key insights on the Paper Packaging market in its published report, titled "Global Paper Packaging Market: Global Industry Analysis, Size, Share, Growth, Trends, Historic Analysis, 2013-2017 and Forecast 2018 - 2028." In terms of revenue, the global paper packaging market is estimated to expand at a CAGR of 4.1% during the forecast period, owing to numerous factors, about which FMI offers thorough insights and forecasts in this report.
Paper packaging includes flexible and rigid paper packaging formats such as corrugated boxes, paper sacks & bags, cartons, wrapping paper, inserts & dividers, cups & trays, display packaging, clamshells, and tapes & labels. Paper packaging has significant weight advantages that ensure benefits in terms of raw material inputs and distribution efficiencies.
Ban on Lightweight Plastic Bags to Improve Prospects of Paper Packaging
Paper packaging materials can be reused and recycled as compared to other materials such as metals and plastics. Therefore, paper packaging is amongst the most eco-friendly and economic forms of packaging.
The growing demand for flexible paper packaging due to the rise in consumer awareness regarding harmful effects of plastic on the environment is another driving factor for the global paper packaging market. Ban on lightweight plastic bags in some countries is expected to drive the paper packaging market during the forecast period.
Corrugated Boxes & Cartons to Witness Steady Demand Growth through 2028
With the growing demand for packaging in the key end-use sectors such as food & beverages, electrical & electronics, and e-commerce industries, the demand for corrugated boxes and cartons is expected to witness significant growth in the paper packaging during the forecast period. The crucial growth factor in the global paper packaging market is the low-cost and optimum protection characteristics of corrugated boxes and cartons.
Paper packaging is widely used as a secondary and tertiary packaging solution to pack a variety of products in different end-use industries. The demand for paper packaging is expected to witness substantial growth in the next 4-5 years owing to the growing popularity of online shopping in the developed, as well as in developing countries, such as Germany, the U.S., India, and China.
With the rise in online shopping platforms, the demand for paper packaging products, such as corrugated boxes, folding cartons, and other flexible paper packaging solutions that offer optimum protection during shipping and handling will also gain a strong foothold in the global paper packaging market. Paper packaging can be easily recycled and does not pose any threat to the environment.
The global push for recyclability in the paper packaging market will create enormous opportunities for recycling companies globally. It is also observed that recycled paper packaging offers distinct cost advantage for the production of corrugated boxes and cartons and other paper packaging solutions.
Decline in hardwood pulp and lumber production markets in the USA resulting in the decline of boxboard and other hardwood pulp derivatives
The demand for boxboard and liquid paper packaging has also been decreasing in the last few years. All this has resulted in a 25% decrease in demand for hardwood fiber in the past 10 years. For instance, Georgia Pacific recently said that the company is leaving its paper business and will permanently shut down all its paper machines. The company has already shut down its wood yard and pulp mill plant in Port Hudson, LA.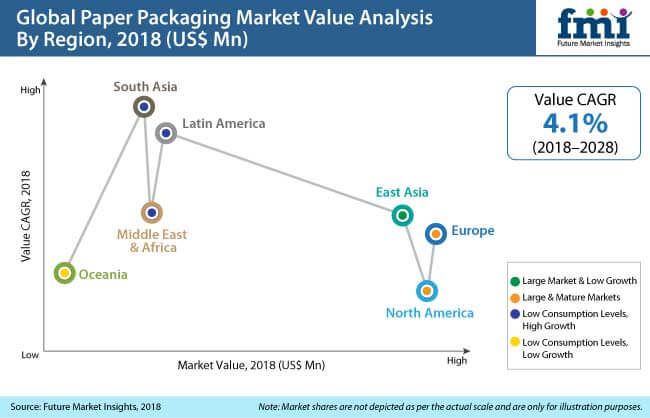 Trends: Introduction of Paper Bottles
A division of L'Oréal USA Seed Phytonutrients has come up with recyclable, compostable, paper-based pump bottle specially designed to be used in shower in 2018. L'Oréal USA has partnered with Ecologic Brands to design this bottle. The external shell of the paper bottle is 100% paper-based and is recyclable and compostable. The shell is made using corrugated board recycled from L'Oréal USA. The labels on this bottle are also compostable and can be recycled with the bottle directly.
East Asia to Account for Maximum Value Share, Strong Support Expected from China
The East Asia paper packaging market includes a country-level analysis for China, Japan, South Korea, and Rest of the East Asia. The East Asia paper packagingmarket represents the highest share in terms of value. The East Asia paper packaging market is expected to expand at a CAGR of 4.2% over the forecast period.
Key players operating in the global paper packaging market include Smurfit Kappa Group Plc, Napco National Paper Products Company, Billerudkorsnas, International Paper Company, WestRock Company, Georgia Pacific LLC, Pratt Industries, Inc., DS Smith Packaging Limited, Stora Enso Oyj, Mondi Group Plc, WestRock Company, Huhtamaki Oyj, Pactiv LLC, Sonoco Products Company, KapStone Paper and Packaging Corp, Rengo Co. Ltd., US Corrugated Inc., Reynolds Group Holdings, Stora Enso, UFP Technologies, ESCO Technologies Inc, Brodrene Hartmann, Mayr-Melnhof Karton AG, and Pratt Industries.
Key Segment
On the basis of material type
corrugated board
specialty paper
box-board/carton board
Kraft papers
molded pulp
On the basis of packaging type
corrugated boxes
cartons
wrapping paper
inserts & dividers
bottle & cup carriers
cups & trays
clamshell
display packaging
bags & sacks
tapes & labels
On the basis of level of packaging
primary
secondary
tertiary packaging
On the basis of end-use
food, beverages
tobacco packaging
healthcare packaging
personal care & cosmetics
homecare & toiletries
electrical & electronics
industrial packaging
E-Commerce
chemicals & fertilizers packaging
Need specific information?