Healthcare Benefits Driving the Market
Rising demand for dietary supplements, sports nutrition products, weight loss products, animal nutrition and personal care will drive growth of the fibers & specialty carbohydrates industry. Fibers and carbohydrates which are advanced play a crucial role in health management. These are required to maintain a balanced digestive system, to regulate blood sugar and to lower levels of LDL (bad) cholesterol. These are used for treating malnourished people, stomach conditions and cardiovascular diseases.
Food & beverage producers opt for natural ingredients for the nutritional benefits they have with their products. Fibers & specialty carbohydrates have applications in the nutraceutical, medicinal and cosmetics industries. The globally increasing popularity of fitness centres and gymnasiums among consumers will substantially boost the demand of dietary supplements.
Post coronavirus outbreak, the market is likely to gain increasing impetus as consumers seek out healthier food to include in their daily diet. However, while the economic impact of Covid-19 continues, the market may witness restraints as governments around the world enforce lockdown restricting free movement.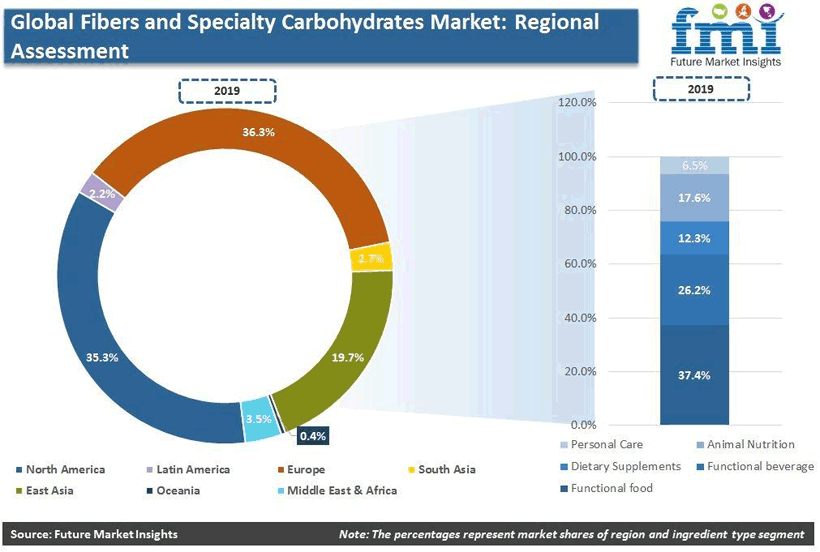 Economic Expansion to Offer Major Growth Opportunities in Developing Nations
Asia Pacific region has ample resources for dietary fiber and carbohydrate production owing to the large scale agricultural production of high fiber content plants and oilseeds, which are the primary raw material for fiber and carbohydrate ingredients.
The emerging economies in the region are witnessing population rise, enhanced living standards, increasing spending power of consumers etc. Infrastructure in the Asia-Pacific region is becoming conducive for investments in nutrition-enrichment of food products. The region is expected to be the fastest growing market for fibers & specialty carbohydrates during the forecast period.
The developing economies are high-potential markets for dietary fiber and specialty (nutraceutical) carbohydrates. Such countries are high in population density, and their per capita income is rising as globalization increases. In addition, with changing lifestyles, consumers are becoming conscious of the health benefits of high fiber content in food. The ever-increasing population and per capita income level will prove to be a booster in demand for healthy food & beverages, leading to increased demand for fibers and specialty carbohydrates.
The Asia-Pacific has enough raw materials and tools for the production of dietary fibers and carbohydrates. Countries such as India, China, and Australia have tremendous agricultural production of high fiber content plants and oilseeds, which are the primary raw material for fiber and carbohydrate ingredients.
Infrastructure in the Asia-Pacific region is becoming conducive for investment to a large extent, thus boosting the fibers and specialty carbohydrates (nutraceuticals) market. Limited transport due to lockdown imposed across various nations is restricting the market's growth. The increasing prices of raw materials required for the manufacturing these chemicals are hampering the growth of the market
Food & Beverages Segment will Stoke Growth Opportunities
Functional food & beverages involve addition of new ingredients or more of existing ingredients and they exhibit health-promotive or disease-preventive functions. In recent years, the move towards preventive healthcare has seen food processing firms collaborate with pharmaceutical companies to undertake required research to diversify their product lines.
Fibers & specialty carbohydrates demand in animal nutrition is expected to witness growth with growing world pet population. The enormously increasing global sports industry would result in increased demand for nutritional powder and beverages, which will fuel the growth of the market for fibers & specialty carbohydrates over the forecast period.
The fibers & specialty chemicals industry bears the challenge of phytochemicals and carotenoids being substituted for their excellent antioxidation properties. Obesity has become a public health problem in most nations in recent years. Obesity results from an imbalance between the amount of energy taken in and spent on metabolism and physical activity. Owing to the rising levels of osteoarthritis, diabetes and other chronic diseases linked to obesity, awareness among global consumers about fitness is growing.
This will increase demand for fabrics and nutritional drinks-widely prescribed weight loss dietary supplements. Obesity is one of the biggest drivers of healthcare costs in North America, which accounted for one third of the total fibers & specialty carbohydrates market share.
How Growth will Unfold
Healthy living and emphasis on health are two of today's most common trends. Rising consumption of food products with a high nutritional content including breakfast cereals and fortified bread due to their growing use as a meal diet is expected to have a major market effect. Furthermore, increasing awareness towards nutritional advantage associated with fibers in food & beverage industry is expected to expand the market size over the next eight years.
The growing concern about obesity and gastrointestinal disorders is expected to encourage the use of nutritionally enriched foods with lower cholesterol levels, which in turn will drive market growth over the forecast period.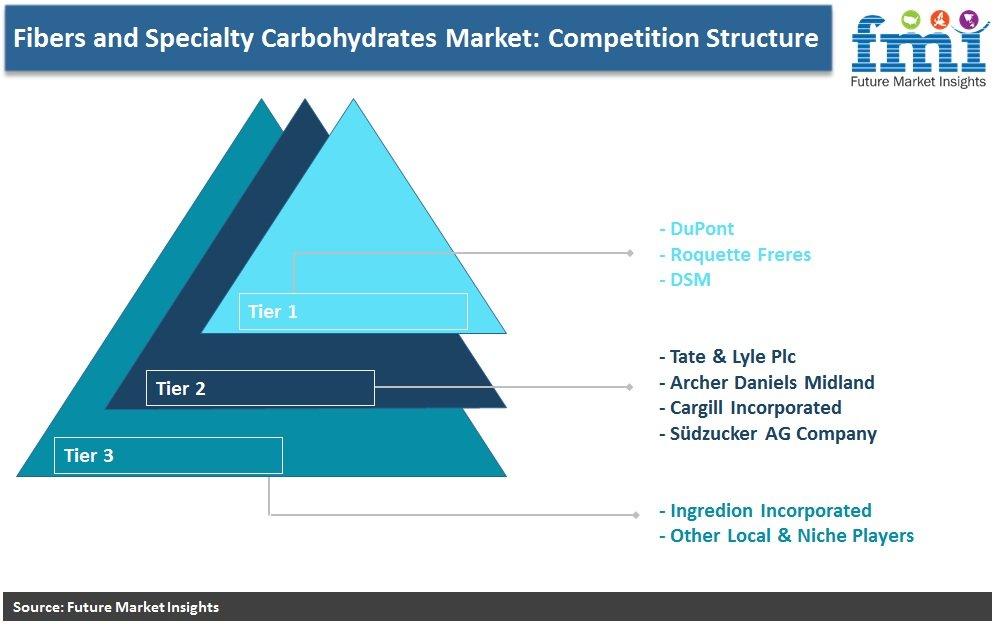 FIBERS & SPECIALTY CARBOHYDRATES MARKET TAXONOMY
The global Fibers and Specialty Carbohydrates Market is segmented in detail to cover every aspect of the market and present complete market intelligence to readers.
Type
Fibers
Speciality Carbohydrates
Application
Functional foods
Functional beverage
Dietary supplements
Animal nutrition
Personal care
Region
North America
Latin America
Europe
East Asia
South Asia
Oceania
MEA
Need specific information?