Fiber drums market analysis: Over 45% of the total revenue is estimated to be generated by the 50-75 gallons segment by capacity type in 2018
The global fiber drums market was valued at US$ 588.3 Mn in 2017 and is projected to expand at a CAGR of 7.1%, during the forecast period.
Fiber drums are used for storing and shipping variety of products including food products and flavourings, dye and colorants, adhesives, rolled sheet material as well as various hazardous chemicals. Fiber drums have circular cross-sections with parallel side walls made of thin paperboard or unbleached kraft paper windings. Further, these layers are bonded by adhesive, which provides stacking and handling strength. Fiber drums have better corrosion resistance as compared to steel or plastic drums as its interior layer is made up of paper that is coated with foil or poly lining.
Moreover, fibreboard lids are being replaced by metal or plastic rings in order to minimize any type of product contamination. As fiber drums are made up of fibreboard, they are extraordinarily lightweight. Hence, they reduce shipping expenses. The global fiber drums market is largely organized in regions such as APEJ and North America. Fiber drums USA market is expected to be largely influenced by the high demand from applications from end use such as chemical, food, and agro-based industries.
Some of the key factors affecting the fiber drums market are the growing retail sector and the increasing preference for lightweight bulk containers such as recyclable fiber drums. The main advantage of using fiber drums is that they are 100% recyclable. Most of the fiber drums used for transportation and storage of liquid products such as adhesives and dyestuff can be lined with different coatings or insoluble materials such as, silicon, polyethylene, or polyester. Performance of the fiber drum is verified by two fundamental tests- drop test and stacking or compression test in order to check the quality.
China has shown an impressive growth in the production of fiber drums. In terms of value, it towers over other countries such as Malaysia and Singapore. The rising concerns for sophisticated packaging solutions towards products by local as well as renowned players have translated into better quality of fiber drums. Therefore, the outlook for the global fiber drums market is expected to be positive during the forecast period.
Global Fiber Drums Market: Drivers and Restraints
Fiber drums can easily be customized and their wide range enables easy adoption with maritime containers and trucks. Portability and ease of handling are the two key factors which are preferred by the logistics and packaging solution-oriented industries. The lightweight of the drum makes it ideal for the transportation and storage of hazardous chemicals. These factors are contributing to the growth of the market globally.
Moreover, the growing retail sector and rise in intercontinental trade are escalating the fiber drums market. Adoption of fiber drums as a packaging solution for dry chemicals has increased particularly in the Asia Pacific region. The fiber drums market has consistently reflected the improvement in product design and value creation for the end user.
However, lack of agility in industrial packaging manufacturers is affecting the market. Furthermore, supply chain complexities make it even difficult, since fiber drums manufacturers are positioned two to three nodes back in the supply chain, where they struggle to withhold the demand variability.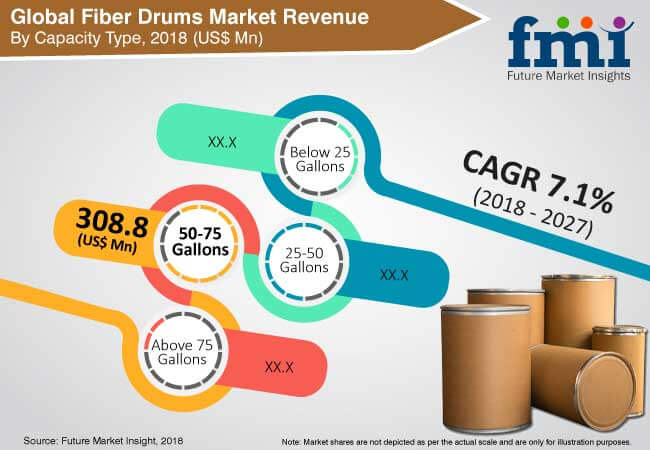 Global Fiber Drums Market: Taxonomy
The global fiber drums market has been segmented on the basis of closure type, capacity, end-use industry, and region.
The closure type considered in the fiber drums market study includes metal closure fiber drums, plastic closure fiber drums, and fiber closure fiber drums. Of these, the metal closure segment accounts for the major share of the global fiber drums market.
On the basis of capacity, the fiber drums market has been segmented into below 25 gallons, 25-50 gallons, 50-75 gallons, and above 75 gallons. Of these, the 50-75 gallons segment will grow at a healthy CAGR in the global fiber drums market.
On the basis of end-use industry, the global fiber drums market has been segmented into five segments that are chemical, food and agro-allied, pharmaceutical, building and construction, and others. The chemical industry segment in the global fiber drums market is expected to heavily dominate the market during the forecast period.
Global Fiber Drums Market: Competitive Landscape
The major manufacturers of fiber drums profiled in this report include Grief Inc., Mauser Group B.V., C.L.Smith, TPL Plastech Ltd., Three Rivers Packaging Inc., Industrial Container Services, Milford Barrel Co. Inc., Enviro-Pak Inc., Orlando Drum and Containers Corporation, Sonoco Product Company, Great Western Containers, Fibrestar Drums Limited, and Patrick J. Kelly Drums, Inc
Global Fiber Drums Market: Key Developments
Key players in the fiber drums market are looking forward to expansion through organic & inorganic methods such as acquisitions & mergers, product launches, etc. For instance,
In July 2016, Mauser Group B.V announced the acquisition of Daniel's Healthcare Group, a manufacturer of medical containers.
In October 2016, Grief Inc. announced increase in prices of fiber and plastic drums due to escalating raw material and other input costs. Existing customers have been notified of the 5.8% increase on fiber drums and the 6.6% increase on plastic drums.
In September 2015, Schutz Container Systems, Inc. launched Schutz Ticket service that organizes free collection and reconditioning of empty fiber drums.
Key Segments Covered
By Closure Type
Metal Closure
Plastic Closure
Fiber Closure
By Capacity
Below 25 Gallons
25-50 Gallons
50-75 Gallons
Above 75 Gallons
By End Use
Chemical Industry
Food & Agro-allied Industry
Pharmaceutical Industry
Building & Construction Industry
Others
Key Regions Covered in the Fiber Drums Market
North America
Latin America

Brazil
Mexico
Rest of Latin America

Europe

Germany
France
U.K.
Spain
Italy
Rest of Western Europe

APEJ

China
India
Australia & New Zealand
ASEAN
Rest of APAC

Japan
MEA

GCC Countries
Turkey
South Africa
North Africa
Rest of MEA
Need specific information?